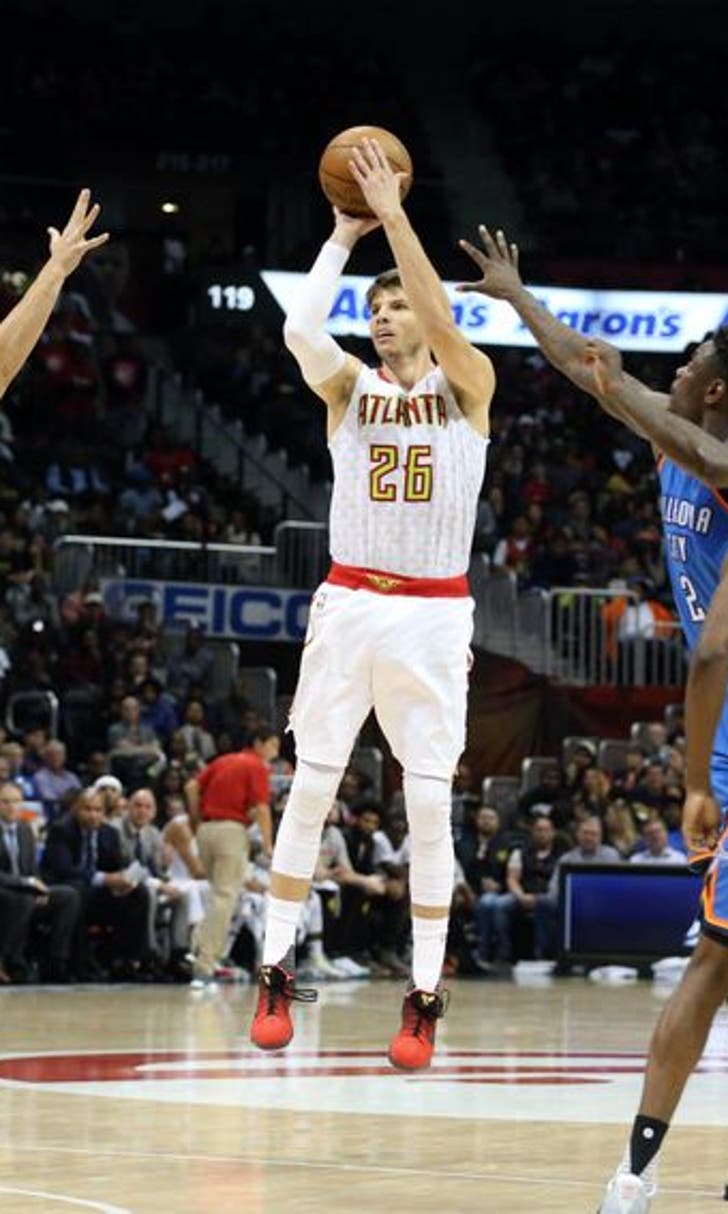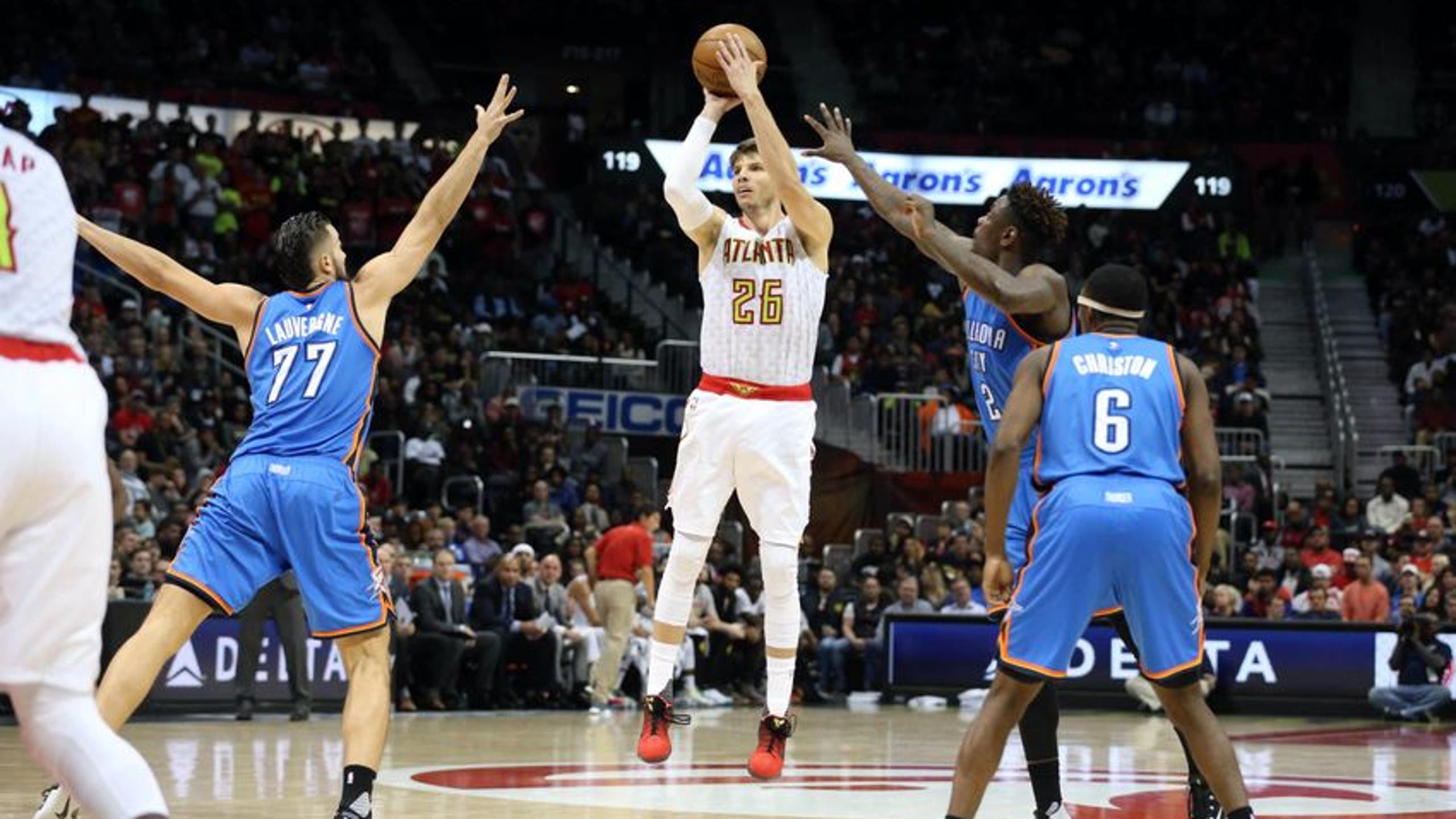 Atlanta Hawks: Kyle Korver Excelling In Bench Role
BY Fansided and Andrew Snyder/FanSided via Soaring Down South • December 19, 2016
The Atlanta Hawks made some changes to their starting lineup after the offense started to sputter. Kyle Korver has shined since being shifted to the bench.
It's no secret that the starting lineup the Atlanta Hawks began the season with struggled to gel offensively. The five-man group of Dennis Schroder, Kyle Korver, Kent Bazemore, Paul Millsap, and Dwight Howard has a net rating of minus 9.4 points per 100 possessions in over 183 minutes played. That's not a recipe for success.
Those struggles, and an injury to Kent Bazemore, caused Mike Budenholzer to start tinkering with the starting lineup. He decided to insert Thabo Sefolosha and Tim Hardaway Jr. into the starting five, sending Bazemore and Korver to the bench.
It remains to be seen whether or not this is a permanent fix for the Hawks. For now, it appears like they're going to stick with it. One player that is benefitting from this change is the aforementioned Kyle Korver.
More from Soaring Down South
Korver has been outstanding in his new role as a sharpshooter off the bench. In six games as a reserve Korver has averaged 11.5 points per game on 46.9 percent shooting and 45.9 percent from three-point range.
Korver's contributions were enormous in a Dec. 16 win over the Toronto Raptors. North of the border, Korver scored 19 points on 6-for-10 shooting in a tidy 23 minutes of action. It was Korver's best performance of the season in what was an extremely important victory for Atlanta.
In 19 games as a starter he hasn't been bad. He just hasn't been as lights out from behind the arc as he has been recently. In those 19 games, Korver averaged 8.5 points per game on 44.4 percent shooting and 39 percent from deep. His net rating was minus 8.5.
This is a logical place for Korver to be at this stage of his career. At 35 he's no spring chicken. He's in the twilight of his career, his defense is not what it once was, and it's unlikely that he'll ever be the same player that shot nearly 50 percent from three-point distance during the 2014-15 season.
That doesn't mean he can't be a valuable contributor on this team as they try and figure out what exactly they are.
Korver was never a star player, but it's still impressive that he's willing to sacrifice his starting spot for the good of the team. Now, you might say he doesn't have a choice, and that's true. Coaches ultimately make the final decisions when it comes to lineup construction, but Korver could have pitched a fit and demanded his role not be changed.
He did the opposite of that.
In a piece by Chris Vivlamore of the Atlanta Journal-Constitution Korver spoke about his move to the bench.
"Fine," Korver said of the decision Tuesday. "We are in a tough stretch and we have to try anything to try to get this going again. I'll do my best whatever the role is."
Korver has started 305 of the 320 games with the Hawks over his five seasons here. For his career, he has started 415 of 984 games. He said there will be little differences coming off the bench.
"I think you have to be ready at full speed right when you go in," Korver said. "You don't get to warm up and then you go in and play. For me, it will be more playing more with a different lineup probably. All season long, with the second unit the ball has been flowing a little more. That's obviously where I'm at my best. At the end of the day, we've got to start getting some wins and that's all that matters."
That is just the type of attitude that coaches wish all their players would have about this type of situation. It sounds silly to say that a player would publicly dispute a decision like this, but it has happened before in the NBA and it will happen again.
This could be the perfect role for Korver on this team. I'm also interested to see how he continues to perform in the funky small-ball lineups Budenholzer has been employing recently.
Against the Charlotte Hornets, a lineup featuring Korver at the power forward spot helped the Hawks claw their way back into the game early in the fourth quarter, before they eventually lost. Budenholzer isn't going to stop tinkering until he figures out how to make this team more consistent. It's hard to blame him.
This team still has some adjusting to do. Their record may be 13-14, but they're not out of the playoff race by any means. The Eastern Conference playoff race is currently one big shrug emoji. There's still a chance Korver will have the opportunity to knock down an important three-pointer late in a playoff game, after starting the game on the bench.
Don't lose hope just yet, Hawks fans.
---
---