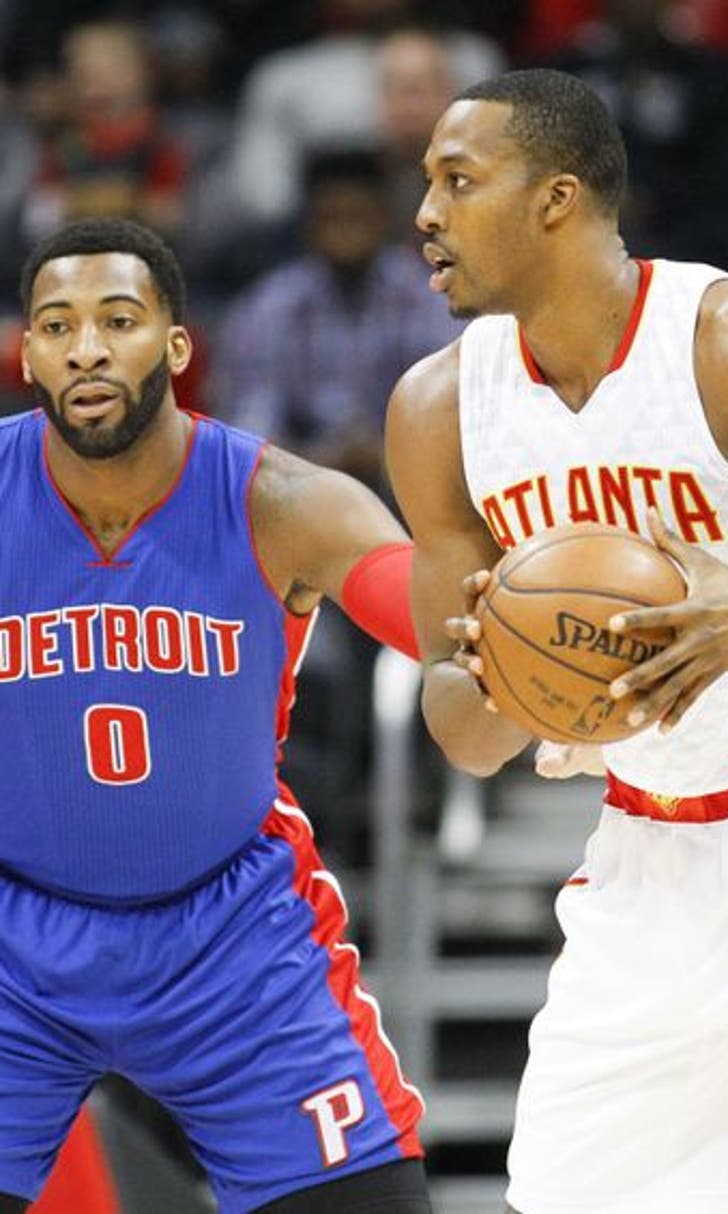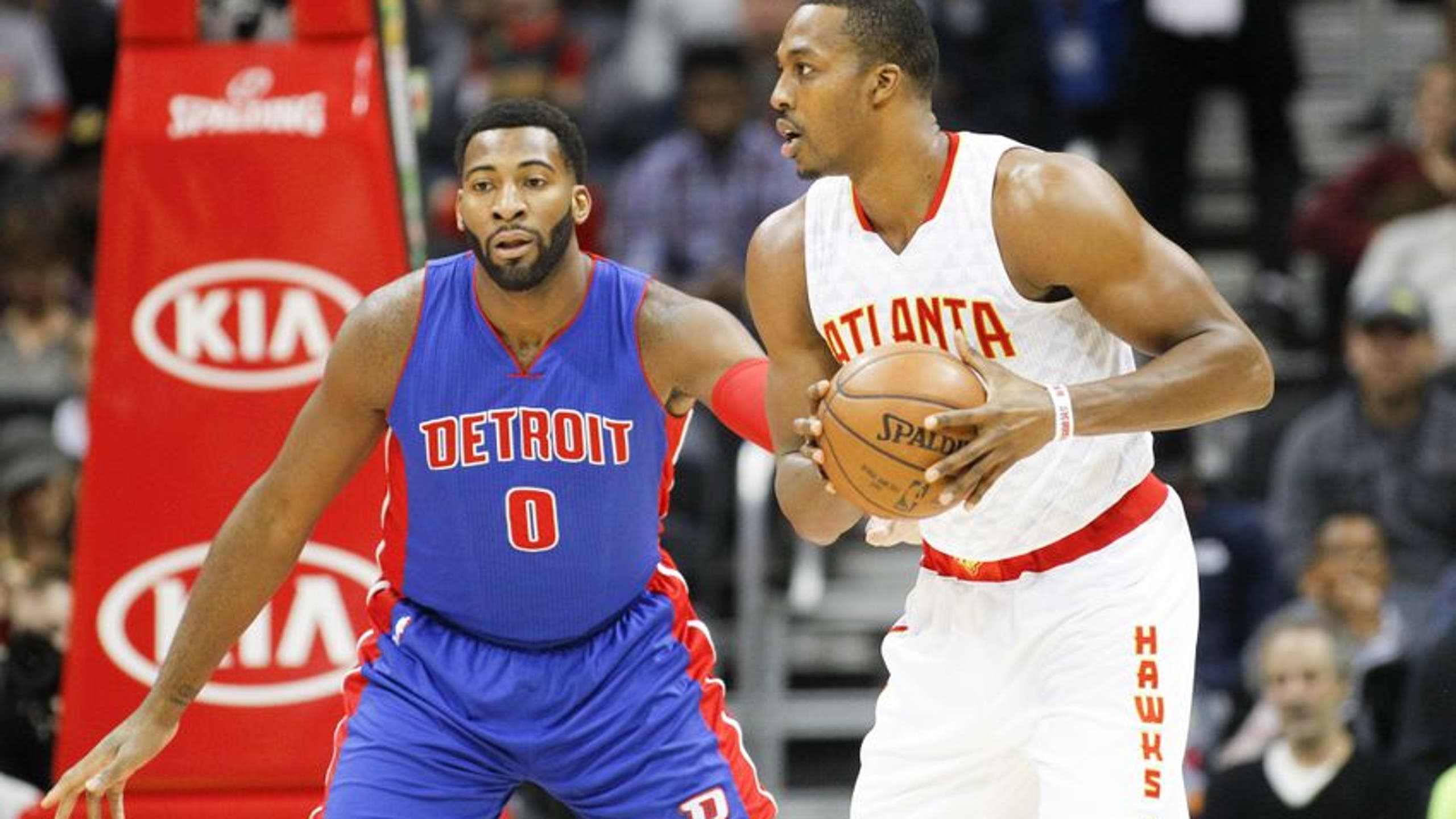 Atlanta Hawks: Grades From 105-98 Win Over Detroit Pistons
BY Fansided and Andrew Snyder/FanSided via Soaring Down South • December 31, 2016
Dec 30, 2016; Atlanta, GA, USA; Detroit Pistons center Andre Drummond (0) defends Atlanta Hawks center Dwight Howard (8) in the first quarter at Philips Arena. Mandatory Credit: Brett Davis-USA TODAY Sports
The Atlanta Hawks took to the court Friday night to take on the Detroit Pistons. Could they put together back-to-back wins?
The Atlanta Hawks are not playing pretty basketball this season. In the grand scheme of things, that's not very important. As long as the team wins nobody is going to care how ugly those wins are.
That was true Wednesday night against the New York Knicks. Both teams shot under 40 percent for the game, but Atlanta came away with a gritty overtime victory. With their three-point shooting troubles, this may be the norm for the Hawks. When they win it will be because of their defense.
Friday night they matched up with a similar opponent. The Detroit Pistons came into the game with the 7th best defensive rating in the NBA, but the 20th ranked offensive rating. Common sense suggested this contest would be yet another slug-fest.
More from Soaring Down South
That looked to be true in the early going. Both teams struggled to put the ball in the basket. At the end of the first quarter the score was tied 19-19. The Hawks shot 38.1 percent for the quarter, while the Pistons shot 34.6 percent. They shot a combined 1-for-11 from three-point range. An offensive clinic it was not.
By halftime, the Hawks had amassed a 51-41 lead. The offense got much better, led by Kyle Korver, Dennis Schroder, and Kent Bazemore. At the half the Hawks were shooting 45.5 percent from the field, despite a 2-for-12 effort from beyond the arc.
They held Detroit to 38.6 percent shooting, with only Jon Leuer scoring in double figures. This clip from the end of the first half sums up the wild ride that was the first half (and really Atlanta's entire season). I apologize for the shaky cam. Denis Villeneuve would be ashamed of me.
Of course, there are two halves to a basketball game. The Hawks started the second half like they were on a mission, beginning the half with a 7-0 run to stretch their lead to 17 points. Lately the Hawks have been either on the wrong side of a blowout, or locked in a tightly contested battle.
This one wasn't exactly a blowout, but the Hawks were in control for most of the second half. The Pistons fought until the end, though. Detroit trimmed their lead to seven points early in the fourth quarter, but a quick 5-0 got the Hawks out of the danger zone.
However, the Pistons would not go away. A dunk from Leuer cut the Atlanta lead to six with 5:56 left to play. A Reggie Jackson layup with just over four minutes to play cut the lead to four points.
The next trip down the floor, Dwight Howard tipped in a lob from Dennis Schroder. He would be fouled on the play and also hit the free-throw. Atlanta's lead was back up to seven points. 95-90 was as close as the game would get after that point.
The two teams traded buckets throughout the final few minutes. Despite a scare or two, the Hawks would hold on for the victory. In the end, Detroit's slow start to the second half was enough to sink them. The final score was 105-98. The win moves Atlanta to 17-16 on the season, and moves the reeling Pistons to 15-20.
2016 is over for the Hawks. They've closed out the year with a win. 2017 starts on Sunday. They'll welcome the San Antonio Spurs to Phillips Arena on New Year's Day. That will one will be tough, but we'll cross that bridge later. For now, let's take a look at the individual performances from the much needed win over Detroit.
Dec 28, 2016; Atlanta, GA, USA; Atlanta Hawks forward Paul Millsap (4) reacts with team mate forward Kent Bazemore (24) after making foul shots against the New York Knicks during the overtime at Philips Arena. The Hawks defeated the Knicks 102-98 in overtime. Mandatory Credit: Dale Zanine-USA TODAY Sports
The Starting Five
Dennis Schroder
PG, Atlanta Hawks
B+This wasn't the same Dennis Schroder Hawks fans have seen throughout the month of December. He still played relatively well, he just wasn't as sharp as he's been lately. Schroder had 17 points and seven assists on 6-for-14 shooting. He was solid from outside, knocking down 2-of-4 three-point attempts. Four turnovers and an inability to finish from two-point range only slightly diminished a solid overall performance.
Kent Bazemore
SG, Atlanta Hawks
B+This game was a step in the right direction for Kent Bazemore. Baze had 10 points, four assists, two rebounds, three steals, and a block. He shot 4-for-8 from the field and missed the only three-pointer he attempted. Bazemore seemed hesitant to shoot from outside. He's been fighting his jumper all season, so this makes sense. Some might see this as a concern. I saw this as a positive. Rather than hurt the team by continuing to launch outside shots, Bazemore looked to get inside or move the ball.
Thabo Sefolosha
SF, Atlanta Hawks
B-It was a quiet game offensively for Thabo Sefolosha. He had just 4 points on 2-for-6 shooting. That doesn't matter. Sefolosha was great on defense, spending time guarding multiple Pistons. Scientists are working on combining Kyle Korver's offense with Thabo Sefolosha's defense into a single player. Man, that would be something.
Paul Millsap
PF, Atlanta Hawks
A+Paul Millsap broke out of his two-game slump in a big way. He was the Hawks best player against Detroit, finishing with 26 points, six rebounds, and five assists on 9-for-20 shooting. That's the Millsap Hawks fans know and love. That's the Millsap Hawks fans are worried about losing to free agency after the season. I just have one question; why does he keep getting hit in the right eye? Against the Minnesota Timberwolves an accidental Dwight Howard elbow caught him in the right eye, leading to swelling and a nasty bruise. Against Detroit, he got hit in that eye again by Andre Drummond on a layup. Stop accidentally hitting Millsap in the face, NBA players. It's not nice.
Dwight Howard
C, Atlanta Hawks
ADwight Howard has been old reliable for the Hawks. He recorded another double-double tonight, scoring 10 points and grabbing 15 rebounds. This is what Howard does now. He gets double-doubles and doesn't cause controversy. It's wonderful to see. He shot an efficient 4-for-7 from the field, and pestered Andre Drummond into shooting 5-for-12 from the floor. Say what you will about Howard, but he can still rebound and he can still defend. Next: The Bench
Dec 30, 2016; Atlanta, GA, USA; Detroit Pistons forward Tobias Harris (34) shoots the ball over Atlanta Hawks forward Mike Muscala (31) and forward Kris Humphries (43) in the second quarter at Philips Arena. Mandatory Credit: Brett Davis-USA TODAY Sports
The Bench
Malcolm Delaney
PG, Atlanta Hawks
B-Malcolm Delaney played 16 minutes, scoring 2 points on 1-for-4 shooting. It wasn't all bad, he also grabbed three rebounds and recorded seven assists. Delaney was a great facilitator on this night, looking to get his teammates involved rather than looking for his own shot. On the defensive end he collected two steals.
Kyle Korver
SG, Atlanta Hawks
AKyle Korver wanted everyone to know that he was at Phillips Arena to get buckets. The man did just that. He played extremely well, he even knocked down a pair of clutch three-pointers when Detroit looked to be making a run early in the fourth quarter. Korver had a season high 22 points on 7-for-13 shooting. He scored in a variety of ways, he didn't just hang out beyond the three-point line. He may be 36, but he's reminding folks this season that he's not done yet. There's still some gas left in that tank.
Tim Hardaway Jr.
SG, Atlanta Hawks
C+It was another rough outing for Tim Hardaway Jr., as he attempts to return from a groin injury. Hardaway shot 2-for-8 from the field and 0-for-3 from three-point range. He finished with four points and two rebounds. After a great start to the season, the last month or so has been a struggle for Hardaway. It might be time to wonder if his three-point shooting will ever return to the level it was during his rookie season. At this point, it's obvious that Hardaway is a better scorer off the bounce than from behind the arc.
Mike Muscala
PF, Atlanta Hawks
B-It was a quiet night for Mike Muscala. Moose played only 18 minutes, ending his evening with five points, five rebounds, and two assists. He was a team high plus 16. Single game plus/minus numbers have too much noise to be significant, but we'll still count that as a positive for Muscala. If your team scores more points than their opponent when you're on the court that's a good thing, right?
Kris Humphries
PF, Atlanta Hawks
B+Looks can be deceiving, but it looks like Kris Humphries is back in the rotation for good. This is the second consecutive game that Humphries has played over Mike Scott. Humphries did Kris Humphries things. He played hard, he grabbed a few rebounds, he made a three-pointer. That's all they need him to do. He scored five points, grabbed two rebounds, and handed out an assist in 10 minutes on the court. Next: The Detroit Pistons
Dec 30, 2016; Atlanta, GA, USA; Detroit Pistons guard Reggie Jackson (1) dribbles against the Atlanta Hawks in the second quarter at Philips Arena. Mandatory Credit: Brett Davis-USA TODAY Sports
The Detroit Pistons
Detroit Pistons
15-20, Eastern Conference
CThe Pistons fought hard, trimming a 17-point second half deficit to four points in the fourth quarter, but their slow start to the second half was too much to overcome. Jon Leuer was fantastic. The former Memphis Grizzly and Phoenix Sun scored 22 points and collected six rebounds. He also shot 2-for-4 from outside. As a team Detroit shot just 29 percent from deep. It's tough win games like that. Georgia native Kentavious Caldwell-Pope struggled, shooting 3-of-11 from the field and scoring just 12 points. Reggie Jackson looked like his old self again. It's been a rough start to the season for Detroit's franchise point guard, but against Atlanta he finished with 20 points and eight assists. The loss makes the Pistons 15-20 on the season. There's so much talent on this roster. It seems crazy that their season has taken such a drastic turn for the worse.Next: The Head Coach
Dec 16, 2016; Toronto, Ontario, CAN; Atlanta Hawks head coach Mike Budenholzer and Toronto Raptors head coach Dwane Casey watch the action during the third quarter in a game at Air Canada Centre. The Atlanta Hawks won 125-121. Mandatory Credit: Nick Turchiaro-USA TODAY Sports
The Head Coach
Mike Budenholzer
Head Coach, Atlanta Hawks
AMy only complaint ever about Mike Budenholzer is that he doesn't play the rookies enough. He didn't play the rookies tonight (one was in the D-League), but I have no problem with it. The man is trying to win games. I get it. It seems like he's found a rotation that he's going to stick with. That rotation being a starting lineup consisting of Dennis Schroder, Kent Bazemore, Thabo Sefolosha, Paul Millsap, and Dwight Howard, and a bench unit that features Malcolm Delaney, Tim Hardaway Jr., Kyle Korver, Mike Muscala, and Kris Humphries. That collection of players has netted the Hawks back-to-back wins. I expect that they'll continue roll with that rotation Sunday against the San Antonio Spurs.Next: An Early Look At 2017 Free AgencyThis article originally appeared on
---
---