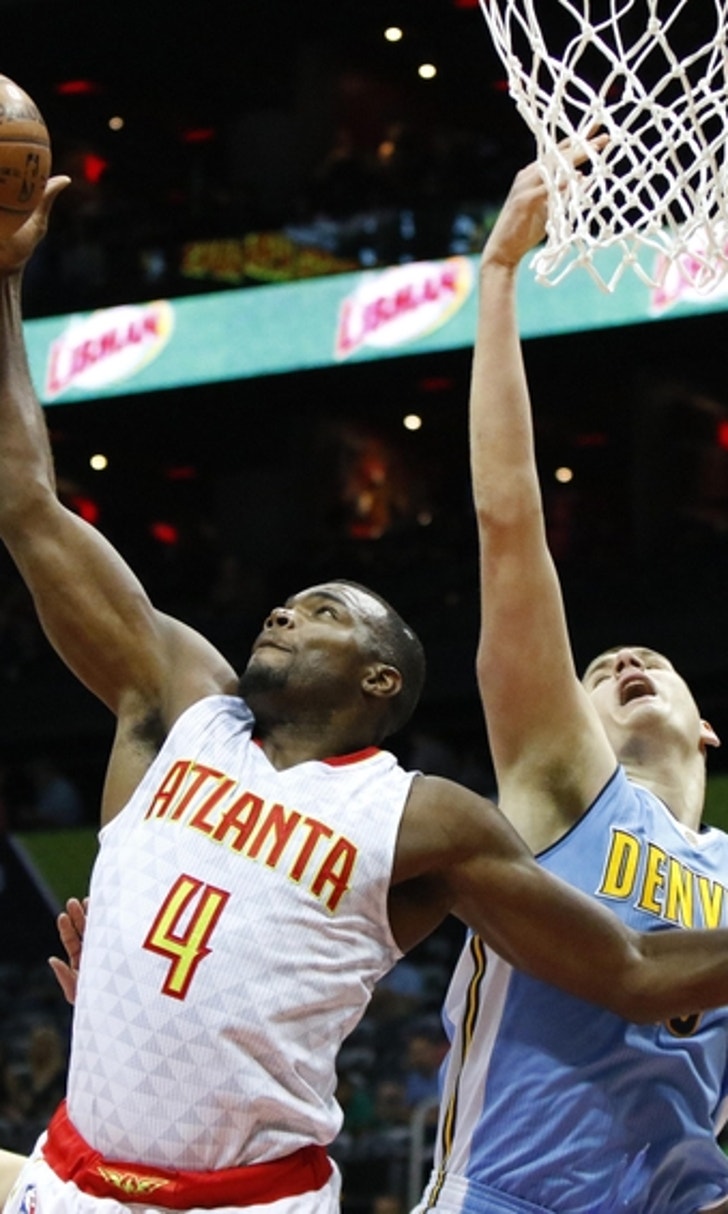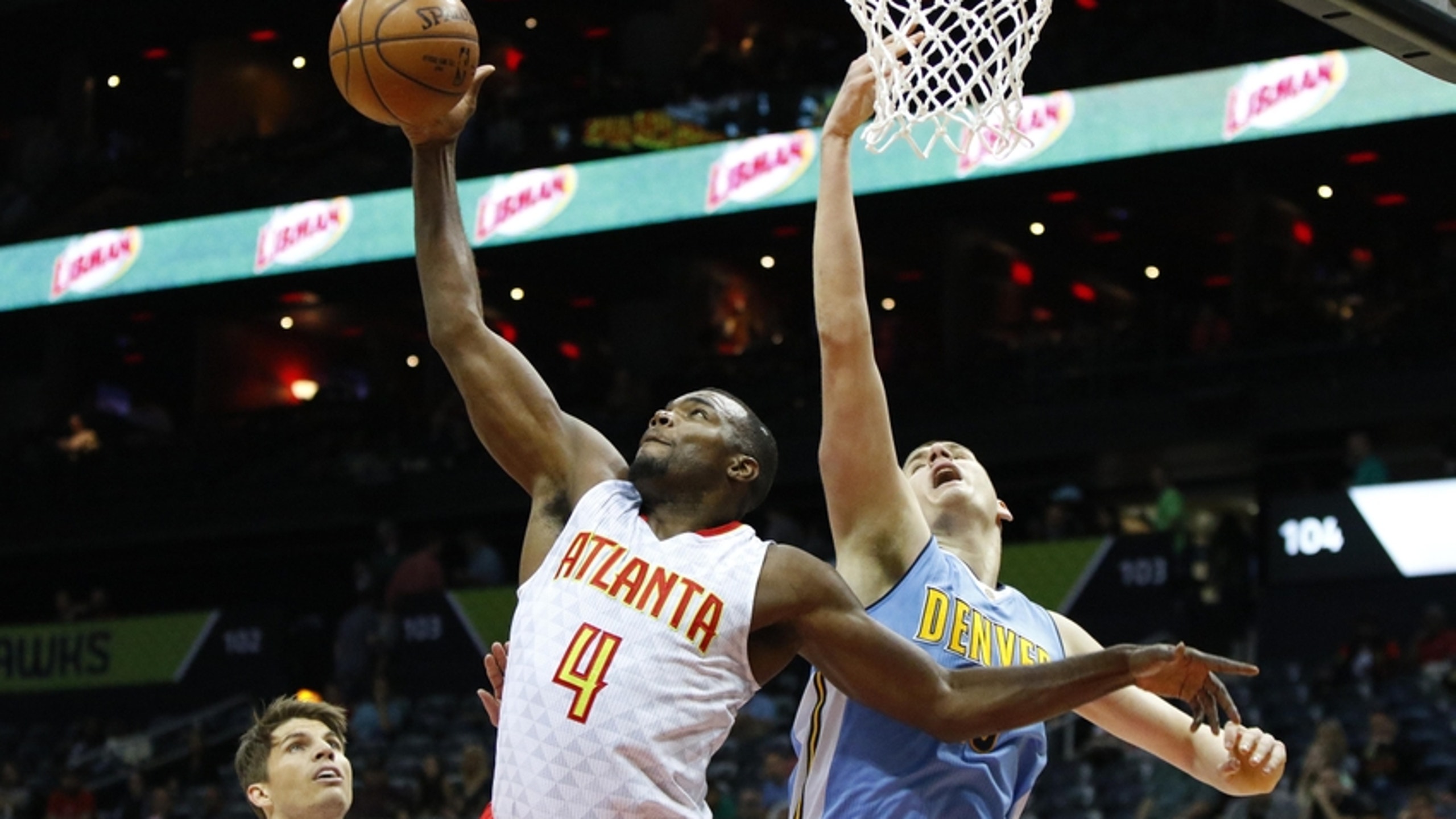 Atlanta Hawks Game Preview: Dec. 23 Denver Nuggets
BY Fansided and Andrew Snyder/FanSided via Soaring Down South • December 23, 2016
Mar 17, 2016; Atlanta, GA, USA; Atlanta Hawks forward Paul Millsap (4) grabs a rebound over Denver Nuggets center Nikola Jokic (15) in the first quarter at Philips Arena. Mandatory Credit: Brett Davis-USA TODAY Sports
The Atlanta Hawks travel to Denver Friday night to take on the Nuggets. What should fans expect from that match-up?
Is it strange that a man with the last name Denver wrote a song about the Rocky Mountains? It actually makes perfect sense, but I digress. The Atlanta Hawks are on the road again. They'll travel to Denver Friday night to take on the Nuggets, in their final game before Christmas.
The story with the Hawks this season has been their inability to find some semblance of an identity. What kind of team are they? I'm not sure that they even know. They've gone win, loss, win, loss in their last four games. Beating two playoff contenders, losing to a playoff contender, and losing to a Western Conference bottom feeder.
Confused? So am I. They have more questions than answers 29 games into the season. Can Kent Bazemore return to form? What's wrong with Dwight Howard's back? When should they play their small-ball lineup? How many minutes should Taurean Prince get? The list of questions goes on.
More from Soaring Down South
They'll continue their quest to answer those questions against Denver. The Nuggets are an interesting team. They were a sexy pick this summer to rise up and compete for a playoff spot in the Western Conference. They're in the mix, but they currently are on the outside looking in with a 12-17 record.
They could be really good in a few seasons. Nikola Jokic and Jusuf Nurkic are talented young big men. Will Barton is a dynamic sixth man. Jamal Murray is a promising young rookie that can score points in a hurry.
The pieces are there to have something special, if they develop at the same pace. I did not mention Emmanuel Mudiay. That's all I have to say about that.
Denver has had their struggles, but the Hawks have shown they can lose to anyone. Strap in for another game that could go down to the wire.
Dec 21, 2016; Atlanta, GA, USA; Minnesota Timberwolves center Karl-Anthony Towns (32) protects the ball against Atlanta Hawks forward Thabo Sefolosha (25) and guard Kyle Korver (26) during the first half at Philips Arena. Mandatory Credit: Dale Zanine-USA TODAY Sports
Key To The Game For Atlanta: To Small-Ball, Or Not To Small-Ball
I can't see Mike Budenholzer breaking out the small-ball starting lineup for this game. Not after they started poorly against Minnesota's front-line on Wednesday night. Since Dwight Howard won't back in action, he'll miss his third straight game with back tightness, it might be time to consider starting Mike Muscala.
The five-man group consisting of Dennis Schroder, Kent Bazemore, Kyle Korver, Paul Millsap, and Muscala is plus 23.5 points per 100 possessions in 43 minutes together. Swap Korver for Sefolosha and you have the makings of a both a well-rounded offensive lineup, and a stingy defensive lineup.
He's not an elite rim protector by any means, but Muscala gives the Hawks two true big men to tangle with Jusuf Nurkic and Nikola Jokic. Then again, Denver likes to go small sometimes, starting Danilo Gallinari or Wilson Chandler as a small-ball four in lineups centered around Jokic.
The chess match begins!
I'd suggest going with a larger lineup, even without Howard, so that the Hawks don't get out-rebounded as severely as they did against the Timberwolves.
Muscala may not be an elite rebounder, but in theory his size gives the Hawks a stronger interior presence. They really just need Howard back and healthy.
Howard returning would solve their rebounding issues pretty quickly. With Howard on the court, their rebound rate increases by 16.2 percent. With Howard, Atlanta would start their larger starting five, and then have the option of playing small-ball when the match-up makes that the best option. Sadly, they'll be without him for at least one more game.
If Howard had played, I would project a slow-paced, grind it out type of game. Without him it could be a high-scoring shootout. With these Hawks you never know.
Dec 19, 2016; Denver, CO, USA; Denver Nuggets forward Nikola Jokic (15) shoots the ball as Dallas Mavericks forward Dwight Powell (7) defends during the first half at Pepsi Center. Mandatory Credit: Chris Humphreys-USA TODAY Sports
Key To The Game For Denver: Keep Nikola Jokic On The Court
Is Nikola Jokic Denver's best player? That might still be Wilson Chandler (my vote goes to Jokic), but Jokic is definitely their best center. For them to win he needs to be on the court and productive. That means playing him big minutes, and keeping him out of foul trouble. That's easier said than done for the Nuggets.
Jokic is currently averaging 17.3 points and 11.2 rebounds per 36 minutes on 57.3 percent shooting. His true shooting percentage is 63 percent. The guy is an offensive monster. He might even be Marc Gasol's heir as the best passing center in the NBA.
He played a hefty 38 minutes recently against the Dallas Mavericks. In that game he finished with 27 points, 15 rebounds, and nine assists on 13-for-17 shooting. 21-year-old centers  that nearly put up triple-doubles are hard to find. Jokic is the real deal.
The problem is, he's only averaging 24 minutes per game. Part of that is Nuggets coach Michael Malone trying to figure out how to find enough minutes for both Jokic and Jusuf Nurkic. The other issue is Jokic's fouling problems.
Jokic averages 3.1 personal fouls per game and frequently find himself on the bench because of his fouling tendencies. When he plays, he's Denver's best player. If he's hacking away at opposing big men then he can't stay on the court.
It would behoove Atlanta to go at Jokic early to try and get him out of the game. It would behoove Denver to not let that happen. Game on.
Dec 20, 2016; Los Angeles, CA, USA; Denver Nuggets forward Wilson Chandler (21) drives the ball defended by Los Angeles Clippers guard Austin Rivers (25) during the first quarter at Staples Center. Mandatory Credit: Kelvin Kuo-USA TODAY Sports
Opposing Player To Watch: Wilson Chandler
Because I mentioned Nikola Jokic extensively, I thought I'd go in a different direction for this one. Wilson Chandler is having a great season, quite possibly the best season of his career. His versatility is what makes him so valuable to Denver.
He can be a creator on the wing, and he can be a scorer. He's a very good defender, and a solid rebounder. When needed, he can go down low and play power forward. He's a match-up nightmare for most teams.
On the season, Chandler is averaging 16.8 points and 7 rebounds per game on 44.6 percent shooting and 34.7 percent from three-point range. He's Denver's leading scorer, and best wing defender.
Thabo Sefolosha will likely draw the task of defending Chandler, if he plays on the wing. Paul Millsap will guard him if he plays power forward. Keeping Chandler, and Danilo Gallinari in check, will go a long way in shutting down Denver's offense. Atlanta has the personnel to do that in Sefolosha, Millsap, and Bazemore.
Something to watch this season will be whether or not Denver elects to trade Chandler. If they fall too far out of playoff contention they should consider moving him to a contender. If he continues to play as well as he has they could acquire some nice assets for him.
For now, he's a Nugget and the Atlanta Hawks have to figure out how to guard him.
Dec 21, 2016; Atlanta, GA, USA; Atlanta Hawks guard Dennis Schroder (17) knocks the ball out of the hand of Minnesota Timberwolves forward Shabazz Muhammad (15) during the first half at Philips Arena. Mandatory Credit: Dale Zanine-USA TODAY Sports
Prediction
I'm 0-2 on predictions this week. Stay hot, Snyder. This is the game where I get back on track. Despite Denver's young talent, playing in high altitude, and Atlanta's inconsistency, I expect the Hawks to get back .500 heading into Christmas.
Dennis Schroder will continue his recent hot streak. The three-point shooting woes that brought them down against the Timberwolves will be nonexistent. Paul Millsap will do his best to get Nikola Jokic into foul trouble, and the Hawks will lock-down defensively as they did for stretches against Minnesota.
Atlanta will come away victorious, making it even harder to get a read on this team. If this season is a puzzle it's one of those 200,000 piece puzzles that takes you six months to complete. Is that a thing? I don't do puzzles.
Prediction: Hawks 102 Nuggets 96 
---
---