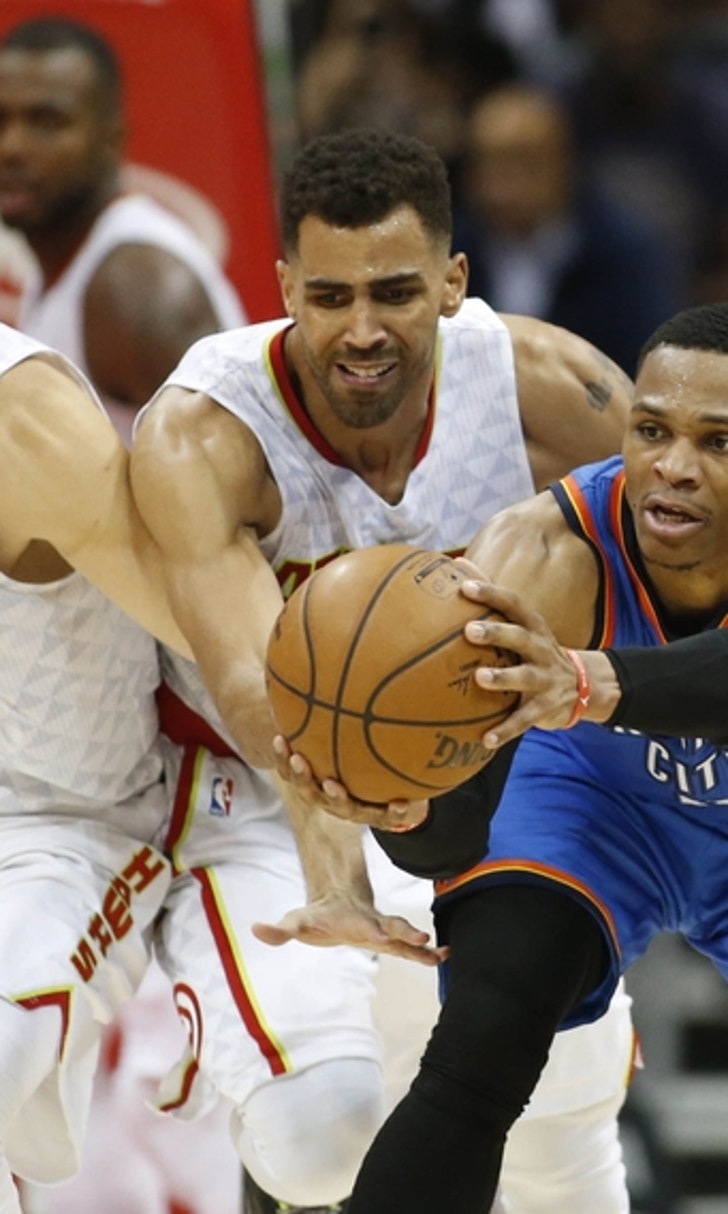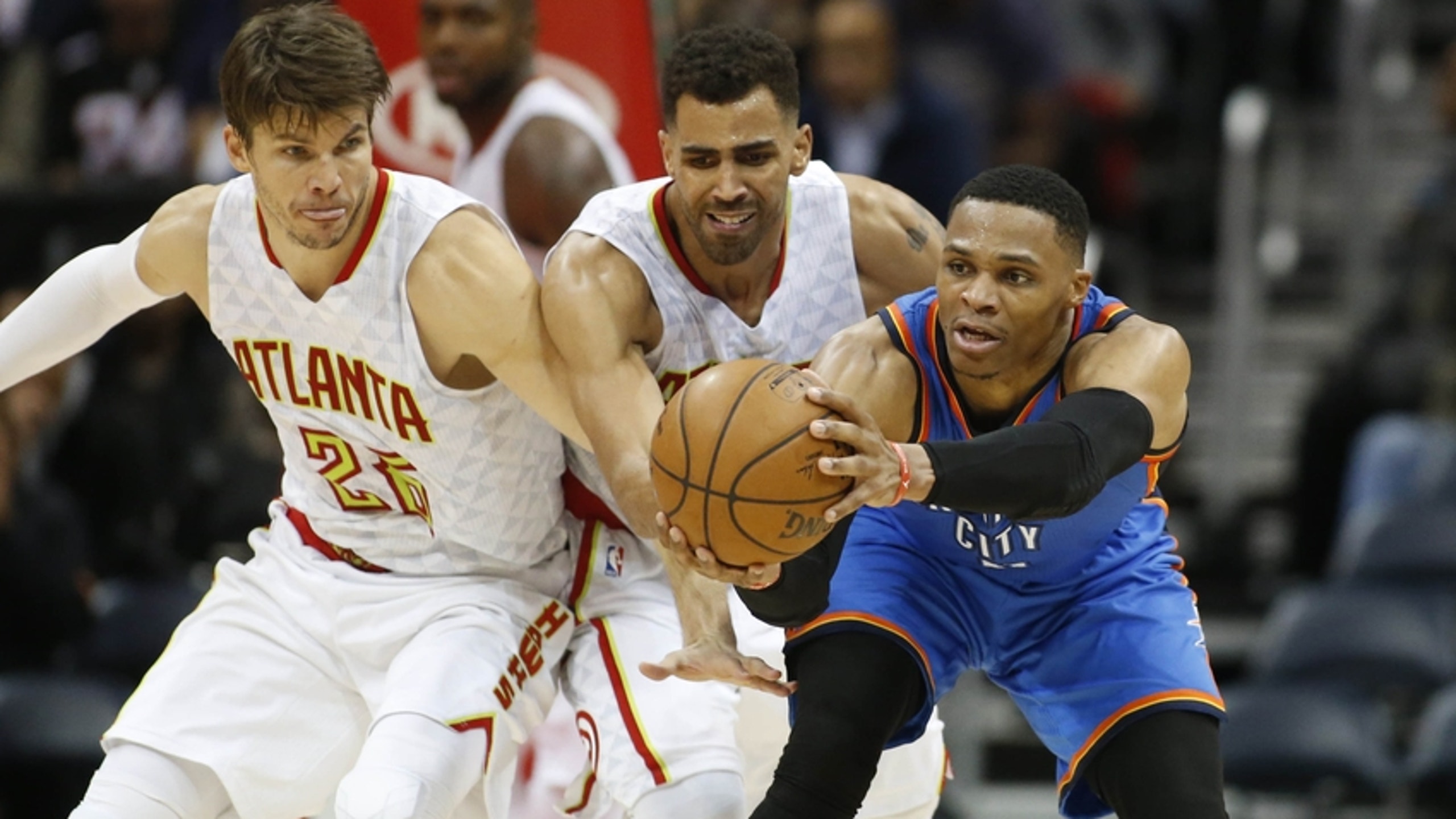 Atlanta Hawks Game Preview: Dec. 19 at Oklahoma City Thunder
BY Fansided and Andrew Snyder/FanSided via Soaring Down South • December 19, 2016
The Atlanta Hawks return to the court Monday night to take on the Oklahoma City Thunder. Can they get back on track against a tough opponent on the road?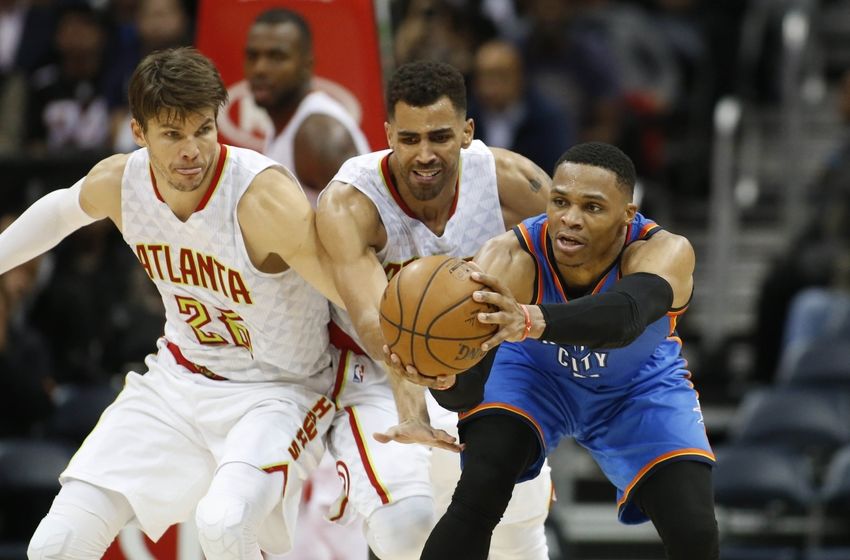 The Atlanta Hawks got back on track Dec. 16 against the Toronto Raptors. The win had the appearance of a season-changing victory. Instead of following that up with another triumph, starting a winning streak, they laid an egg.
The next night they took a step back, losing to the Charlotte Hornets at Phillips Arena. The inconsistency remains, but they must move on. The past is the past, and the future holds a difficult opponent on the road.
Tonight, the Hawks will travel to Oklahoma City to take on Russell Westbrook and the Thunder. This will be their second meeting of the season. Their first tussle didn't go well for Atlanta.
On Dec. 5 at Phillips Arena the Thunder walked away with a 102-99 victory. That was the first game of the season that saw Kyle Korver relegated to a bench role in favor of Thabo Sefolosha. In general, the Hawks struggled on offense.
More from Soaring Down South
They shot a tolerable 44.2 percent from the field, but just 31.8 percent from outside. 18 turnovers, including four from Dwight Howard in 19 minutes, were also an issue. Overall, it wasn't a terrible performance from Atlanta, but it was bad enough that they came away with the loss.
They had a difficult time containing Westbrook, after he struggled with his shot early in the proceedings. Westbrook finished with 32 points, 13 rebounds, and 12 assists on a relatively efficient 10-for-22 shooting. That's Westbrook just doing Westbrook things.
This is a big game for Atlanta. Of course, every game is important when you're struggling. A win in Oklahoma City could get the team headed in the right direction as they move to a stretch in their schedule that features several winnable games in a row.
Dec 3, 2016; Toronto, Ontario, CAN; Dennis Schroder (17) of the Atlanta Hawk and Dwight Howard (8) head back to the bench in the third quarter at an NBA game against the Toronto Raptors at Air Canada Centre. Raptors won 128-86. Mandatory Credit: Kevin Sousa-USA TODAY Sports
Key To The Game For Atlanta: Move The Ball , Knock Down Three-Pointers
The ball-moving Hawks of 2014-15 aren't walking through that door, but the Hawks are still at their best when they're moving the ball. In their recent win against the Raptors they did just that. They finished with 26 assists. Only one player that played failed to record an assist. That was Kris Humphries who played only a single minute. Dennis Schroder finished with a team high six assists.
Sharing is caring.
In that victory the Hawks also shot 11-for-25 from three-point range. Kyle Korver knocked down six off the bench, and Schroder even made two. It was a welcome change from their season-long brick-fest. Atlanta is 24th overall in three-point percentage. They're shooting a cool 33.2 percent. That's not how you get Capone.
You could say that the key to this game is stopping Westbrook, but I just don't think that's going to happen. Atlanta is better off letting Westbrook get his and trying to get their offense to replicate the success they had in Canada. Unless of course the defense that was present during their 9-2 start decides to come back. If it doesn't it may be best for them to win in a shootout.
Is that crazy? Maybe. If the three-pointers don't fall it could get ugly. But, the Hawks don't only rely on outside shooting. They have a go-to-guy.
Dec 5, 2016; Atlanta, GA, USA; Atlanta Hawks forward Paul Millsap (4) looks to make a move on Oklahoma City Thunder guard Victor Oladipo (5) in the third quarter of their game at Philips Arena. The Thunder won 102-99. Mandatory Credit: Jason Getz-USA TODAY Sports
Key To The Game For Oklahoma City: Slow Down Paul Millsap
For all the talk surrounding the Hawks many changes this season, Dennis Schroder taking over for Jeff Teague, and Dwight Howard coming home, it's obvious that Paul Millsap remains their best player.
If the three-pointers aren't falling, the ball isn't moving, and the offense is sputtering as it has all season, Paul Millsap can darn near win the game by himself. This guy is really good at basketball. His numbers may be modest, he's averaging 17 points and 8 rebounds per game on 46.3 percent shooting this season, but he's always got the potential to explode and carry the Hawks victory.
He proved as much in the playoffs last season.
In Atlanta's last meeting with the Thunder, Millsap led the way with 24 points, five rebounds, four assists, and three steals on 8-for-14 shooting from the floor. It was the jack of all trades performance Hawks fans have come to expect from Millsap, and the Thunder had no answer for him.
Domantas Sabonis is a promising rookie, but he's no match for Millsap on either end of the court. The only player that might be able to give Millsap trouble down low is Steven Adams, but he'll have his work cut out for him with Dwight Howard.
Millsap causing trouble, and drawing attention, in the post may be the key to unlocking Atlanta's outside shooting.
Dec 17, 2016; Oklahoma City, OK, USA; Oklahoma City Thunder guard Russell Westbrook (0) is interviewed after the win over the Phoenix Suns at the Chesapeake Energy Arena. Westbrook nets his fiftieth career triple-double. The Thunder defeat the Suns 114-101. Mandatory Credit: Jerome Miron-USA TODAY Sports
Opposing Player To Watch: Russell Westbrook
Did you think I was going to say Nick Collison? As polarizing as he is, there is no denying that Russell Westbrook is an absolute superstar. What he is doing this season is nothing short of amazing. The guy is a robot that was designed in a laboratory specifically to get triple-doubles and win basketball games. If Westworld was about Westbrook getting buckets it would be much better than whatever the hell it currently is.
His season averages are astounding. Westbrook is averaging 30.4 points, 11 assists, and 10.5 rebounds per game on 42.3 percent shooting and 32.7 percent from three-point range. Yes, he's been inefficient, but the man is averaging a triple-double. I think we can let it slide.
The Thunder are 16-11 and are currently the 7th seed in the Western Conference after losing Kevin Durant to the Golden State Warriors. Most teams would crater after losing a player of Durant's caliber. Westbrook won't let that happen.
I'm not sure how the Hawks will contain him. I'm not sure how anyone can contain him. Their only hope is if Schroder can irritate him on the perimeter and goad him into taking bad shots and committing foolish turnovers. Forcing Westbrook into taking long jumpers is the blueprint, it's just easier said than done. In the past his recklessness could be used against him. That hasn't been the case lately.
Dwight Howard's defense at the rim will also be important, because Westbrook is definitely getting into the paint whenever he wants. It might behoove Budenholzer to put Thabo Sefolosha or Kent Bazemore on him for significant stretches of the game just to try and give him a different look defensively.
If Westbrook has an off-night shooting are Victor Oladipo, Steven Adams, Enes Kanter, and Andre Roberson enough to win the Thunder a game against a quality (albeit struggling) team?
Dec 5, 2016; Atlanta, GA, USA; Atlanta Hawks guard Dennis Schroder (17) looks to pass against Oklahoma City Thunder forward Domantas Sabonis (3) and center Steven Adams (12) in the second quarter of their game at Philips Arena. The Thunder won 102-99. Mandatory Credit: Jason Getz-USA TODAY Sports
Prediction
This Hawks team is difficult to predict. They've knocked off the Toronto Raptors and the Cleveland Cavaliers, but they've also lost to the Washington Wizards. The Hawks are like a box of chocolates. You never know which team you're going to get.
There is no doubt that they could beat the Thunder if they play their best game. They could also get blown out in a game where Westbrook posts yet another triple-double. The extreme variance is real.
In the end, I think Russell Westbrook will be too difficult contain, and Atlanta's outside shooting woes will rear their ugly head. I still think the Hawks will eventually make the leap back over .500, but it will take some time.
Prediction: Thunder 98 Hawks 90 
---
---