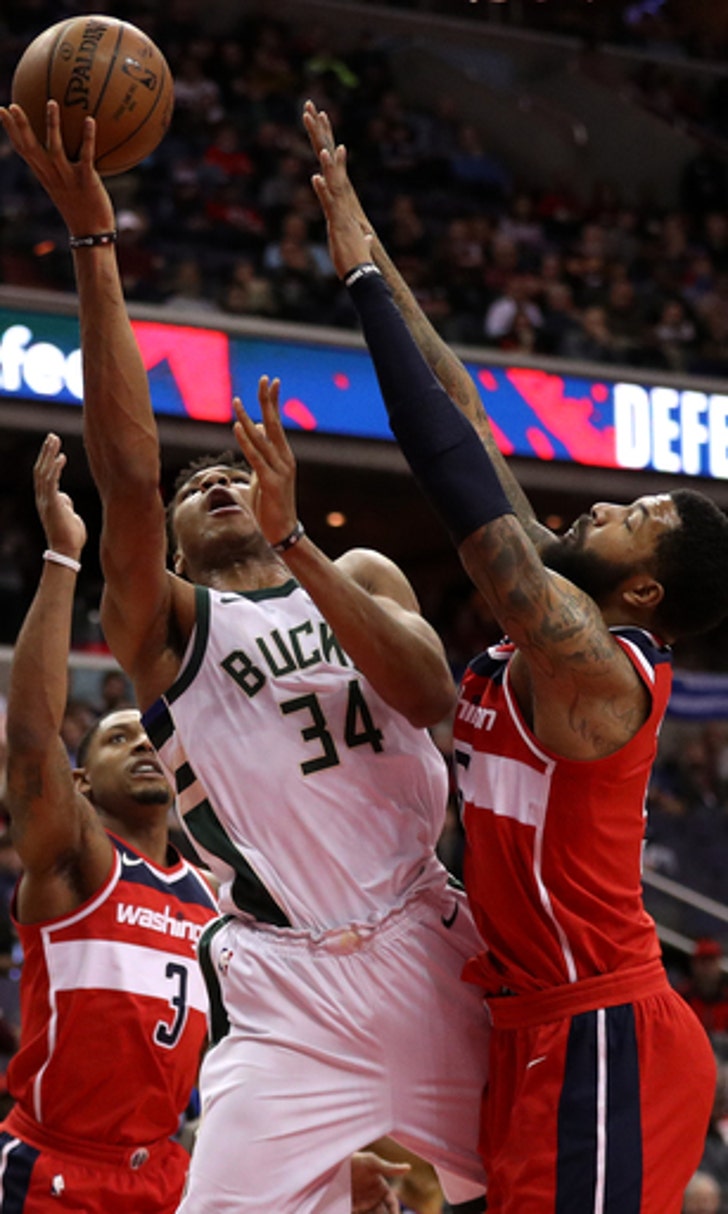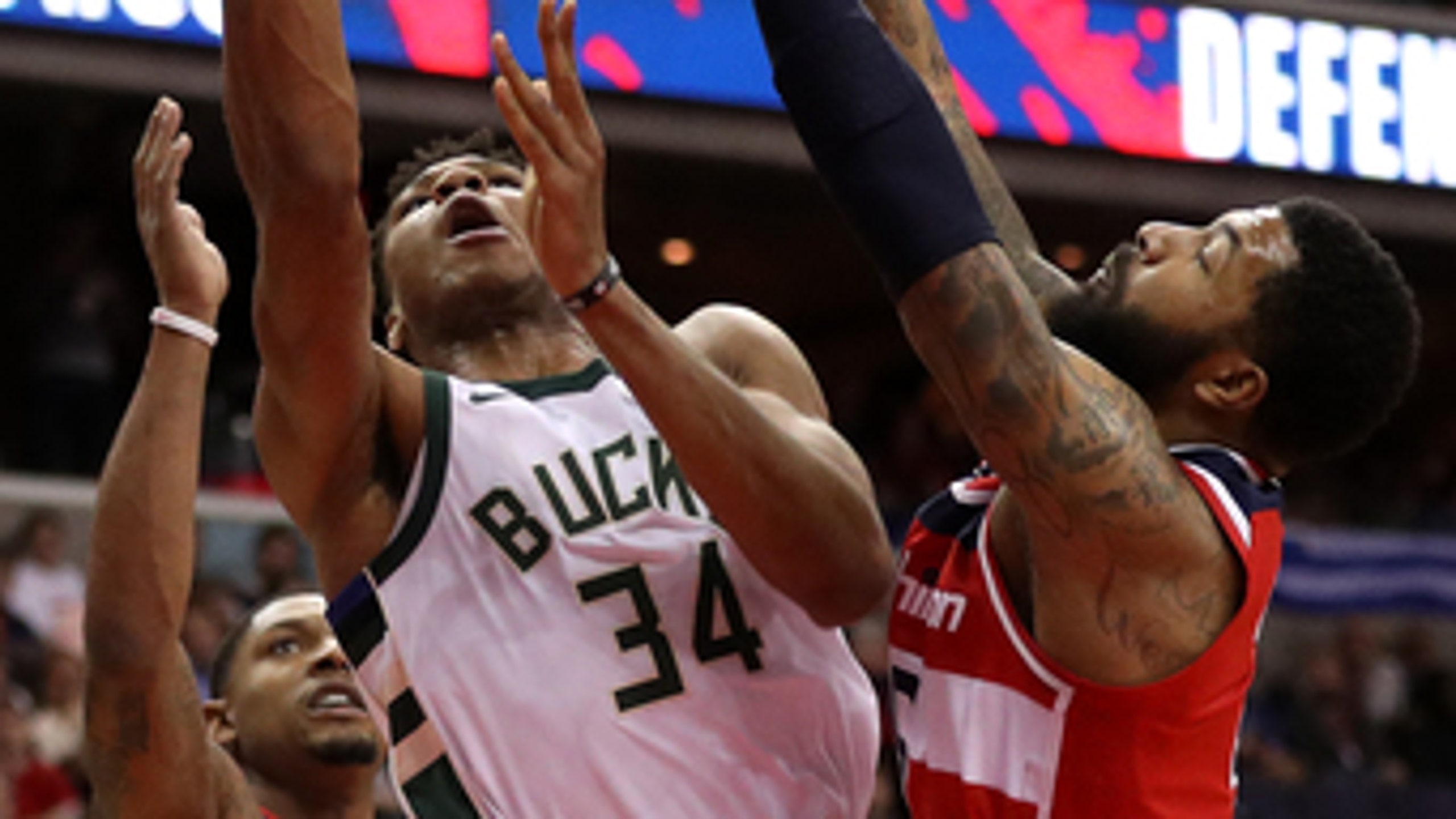 Antetokounmpo takes over again as Bucks beat Wizards 104-95 (Jan 15, 2018)
BY AP • January 15, 2018
WASHINGTON (AP) Now that he has this basketball thing figured out, Giannis Antetokounmpo showed he wouldn't make a bad long snapper in football, either.
Antetokounmpo hiked the ball through his legs to teammate Khris Middleton for a fast-break dunk and the highlight of his all-around dominant performance as the Milwaukee Bucks beat the Washington Wizards 104-95 on Monday. Antetokounmpo scored 27 points and grabbed a career-high 20 rebounds in the Bucks' second road victory against the Wizards in 10 days.
''It's not important,'' Antetokounmpo said of his 20 rebounds. ''I was just in the right spot, and the ball just came into my hands.''
The Wizards got 27 points and nine assists from John Wall and 19 points off the bench from Kelly Oubre. But just like on Jan. 6 when these teams last met, Antetokounmpo was the difference in Milwaukee pulling away in a tight game late.
He and guard Eric Bledsoe, who had 23 points, led the Bucks on an 11-0 fourth-quarter run, and Antetokounmpo was able to dribble out the clock to ''M-V-P!'' chants from some fans in attendance.
''He was all over the floor tonight,'' Bledsoe said. ''That's the things we need from him night in and night out.''
What the Bucks didn't expect was Antetokounmpo being able to snap the ball through his legs to Middleton with 6:50 left.
''That was a heck of a play by one of the best players in the world,'' coach Jason Kidd said. ''To be able to do that, to understand where his teammates are on the floor and the response that fast of hiking the ball to Khris just shows how good he really is.''
Unfamiliar with football, Antetokounmpo asked if that's what a pitcher does. Told that was the job of a long snapper, the Bucks' leader smiled.
''Yeah, I could be a football player,'' he said.
THREE-BALL
The Bucks, who came in ranked 28th in the NBA in 3-point shooting at 34.6 percent, made half of their attempts against the league leaders in 3-point defense. Milwaukee attempted 16 3-point shots, which is what Kidd wants to see.
''You've got to keep shooting,'' said Kidd, whose 1,988 3-point field goals rank ninth in NBA/ABA history. ''The shooters have to keep shooting. Got to believe that the next one's going in.''
TURNOVER TIME
Washington's 24 turnovers were a season high and six short of the franchise record. The Wizards kept it close despite giving the ball away much more than usual.
''That really hurt us,'' coach Scott Brooks said. ''It has been the last few games, no question. We have to stop it from happening. It's costing us a great opportunity. Basically 24 turnovers is basically one entire quarter of not playing offense. It's hard to win that way.''
FIGHTING BROOKS
In the fourth quarter when these teams last met, Milwaukee's Matthew Dellavedova tackled Washington's Bradley Beal around the neck and brought him to the ground, leading to a flagrant-two foul. Though the Wizards steamed over the incident, Brooks is glad there's competitiveness but fewer fights in the NBA than when he played.
''The league has done a remarkable job of controlling the flare-ups,'' Brooks said. ''You fine and you suspend, that's the way to get it. You can't just fine guys. You've got to suspend guys, and that controls that.''
Brooks recalled the only $2,000 fighting fine of his playing career when he got into a tussle during a 1993 playoff game with now-Indiana Pacers coach Nate McMillan.
''He's a lot bigger than I was,'' Brooks said. ''Not a good decision on my part. But I made a lot of those.''
TIP-INS
Bucks: Khris Middleton scored 19 points and Malcolm Brodgon 16. ... Were one of three teams to play back-to-back afternoon games Sunday and Monday, along with the Miami Heat and New York Knicks.
Wizards: Beal continued his fourth-quarter struggles, going 0 of 4. He was 3 of 23 in his previous six fourth quarters. Beal finished with 19 points ... Foul trouble limited F Markieff Morris to six points in 24 minutes. ... G Jodie Meeks was out of the rotation for the second time in three games.
UP NEXT
Bucks: Host the Miami Heat on Wednesday.
Wizards: Visit the Charlotte Hornets on Wednesday.
---
More AP NBA: https://apnews.com/tag/NBAbasketball
---
---