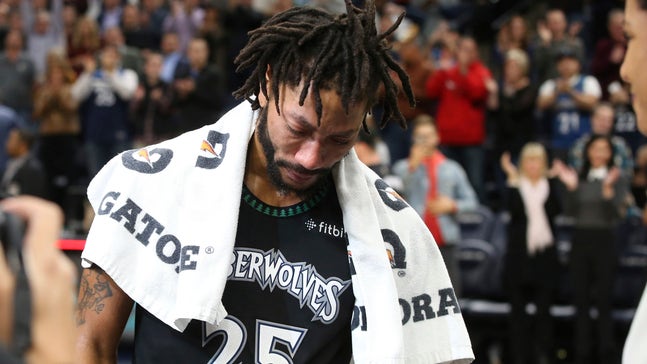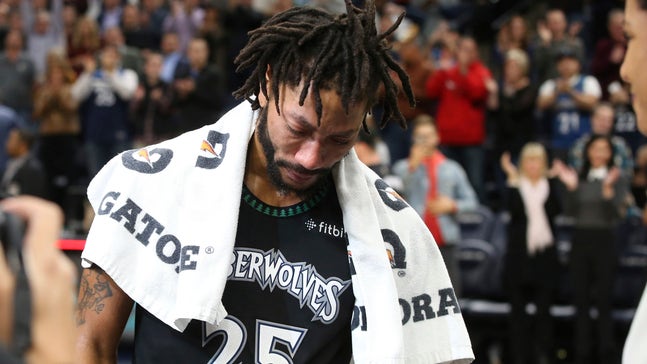 'A hell of a night': Derrick Rose savors his career-high 50
Updated
Mar. 4, 2020 7:21 p.m. ET
During the 2017-18 regular season, Derrick Rose didn't score 50 points in all of January.
Or February.
Or March.
Or April.
He was hurting, always in and out of the lineup, never in rhythm. Those problems, all his years of problems, seemed so long ago Wednesday night, when Rose was better than ever — finishing with a career-high 50 points that lifted the Minnesota Timberwolves over the Utah Jazz 128-125.
"I played my heart out," Rose said. "My teammates told me before the game, just play my game. And tonight was a hell of a night."
That it was, by every possible measure.
Rose became the fourth player already this season — it's barely two weeks old — to score at least 50 in a game, joining Blake Griffin, Stephen Curry and Klay Thompson.
And if the 50 wasn't enough, Rose sealed the win by blocking Dante Exum's 3-pointer with about two seconds remaining.
Moments later, Rose walked off the floor in tears. The game had made the 2011 NBA MVP cry before. Only this time, the emotion was all joy.
"I know the person that he is, the character that he has," Wolves coach Tom Thibodeau said. "And it shines through."
Rose has dealt with four knee surgeries, took time away last season to figure things out while dealing with ankle issues and sat out nearly two full seasons when he should have been in his prime.
A night like this showed what is still possible.
"In every story, there's a beginning, a middle and an end," Thibodeau said. "And I think the end is going to be great for him."
Rose tried to play it cool afterward, then acknowledged that he was still "jittery as hell" — and that was about an hour after the game.
"It means everything," Rose said.
The Wolves mobbed Rose on the floor when it was over. They doused him with water in the locker room. And around the league, players couldn't wait to show him love.
"What he gives to his mind and body just to play one game is something I watched being his teammate," said LeBron James, who played with Rose in Cleveland last season. "When you talk about perseverance, that is the true definition of it. ... Even when a superhero is knocked down, he is still a superhero at the end of the day. And Derrick showed why he is a superhero."
"Every Basketball fan in the world should feel good for DRose," wrote Miami guard Dwyane Wade, also Rose's teammate in Cleveland. "Tonite was an example of never giving up on yourself and when others believe in you. Amazing things can happen. I'm smiling like i scored 50! Congrts to a good dude!"
Houston star Chris Paul weighed in, as did Bulls great Scottie Pippen.
"Hard work is undefeated," wrote Portland's CJ McCollum.
An offensive outburst like this seemed, at best, improbable for Rose, considering he hadn't even topped 35 points in any game since that MVP season.
Thibodeau coached Rose in Chicago, and has seen him at his best and his worst. He knows the adversity, the struggle, everything Rose has gone through for the better part of the last decade.
"The only thing that really matters to him is that you win," Thibodeau said.
It's been a rocky season already for the Wolves, who have been dealing with the Jimmy Butler saga since before camp — Butler didn't play Wednesday, with the team calling it a break for needed rest. Butler requested a trade prior to the season but remains on the roster.
None of that seemed to be on anybody's mind when the final horn sounded against the Jazz. Rose was all that mattered.
And a night like this, he said, was worth the wait.
"It's all just coming together," Rose said. "But it took six, seven years."
---
---