Nerlens Noel
Nerlens Noel
76ers welcome new boss with ... FIFTY-ONE point loss
Published
Dec. 7, 2015 9:47 p.m. ET

PHILADELPHIA
With Jerry Colangelo sitting courtside, the Philadelphia 76ers gave their new man in charge an up-close look at just how far away they are from becoming a competitive franchise.
Tim Duncan, Manu Ginobili and Kawhi Leonard all sat out and the San Antonio Spurs still rolled past the Sixers, 119-68 on Monday night.
LeMarcus Aldridge led the Spurs with 26 points and nine rebounds and Tony Parker scored 12 points.
Coach Gregg Popovich rested Duncan and Ginoboli against the hapless Sixers and Leonard was ill.
It's hard to imagine it would have been much worse for the Sixers had the trio played.
"That's embarrassing," third-year coach Brett Brown said.
The Sixers fell to 1-21 hours after Colangelo was named Philadelphia's chairman of basketball operations. Colangelo, the chairman of USA Basketball, would also serve as an adviser to team ownership.
He had a front-row seat for the mess of a roster team president Sam Hinkie assembled over three seasons that rank among the worst in any era in professional sports.
There are no quick fixes in Philadelphia.
The 51-point loss was the fifth-worst in franchise history, according to STATS:
** Jan. 2, 1993: 154-98 at Sacramento, 56 points.
** March 6, 1993: 149-93 at Seattle, 56 points.
** Nov. 13, 2014: 123-70 at Dallas, 53 points.
** Feb. 27, 1992: 136-84, 52 points.
Robert Covington, Nik Stauskas and Nerlens Noel each scored 13 points for the Sixers. Jahlil Okafor, back from a two-game suspension for his role in a Boston street fight, scored 10 points. Brown, a longtime Popovich assistant in San Antonio, brought Okafor off the bench because of an illness.
"I'm going to push this game aside and that's really all I have to say about this game," Brown said.
The Spurs led by 44 points at the end of three quarters and hit the 100-point mark with 10 minutes left in the game.
"What's tough is, I know (Brown's) a hell of a coach," Popovich said. "But it's not a fair battle. Talent for talent, it's ridiculous."
The Spurs just milled around the court during timeouts in the fourth quarter, nothing really to say with the game so far out of reach. Aldridge, Tony Parker, Danny Green, Kyle Anderson and Matt Bonner all started for the Spurs. Anderson failed to score in the first quarter and the Spurs still led 33-17.
"Philly just doesn't have the firepower to get back," Popovich said. "The talent's just not there to get down like that and get back."
The highlight came in the fourth quarter when San Antonio's deep, deep sub Boban Marjanovic received rousing ovations with each basket. He hit a jumper in the final minute that brought the crowd to their feet, and fans -- of both teams -- chanted his name as he sprinted off the court.
Marjanovic scored 18 points on 8 of 10 shooting, well above his career high of six points set against Brooklyn in October.
"There were a lot of Spurs fans in the arena," Parker said, laughing.
The Spurs shot 62 percent (47 of 76) and made 21 of 25 free throws. The Sixers scored only 12 points in the second quarter and broke the 20-point mark in the third (23).
"In this league, you can't have just young guys. You need veterans," Parker said. "I feel bad a little bit for Brownie."
TIP-INS
Spurs: The Spurs have won 15 of 17 games. ... The Spurs beat the Sixers for the 10th straight time. ... The Spurs had 52 points in the paint.
76ers: Allen Iverson attended the game and received a huge ovation when he was introduced on the big screen. ... Okafor had 21 points and 12 rebounds against the Spurs on Nov. 14.
STUFF THE STAT SHEET
All 12 Spurs who played scored. Jonathon Simmons scored 14 points off the bench. They routed the Sixers with only four 3-pointers and no player hit more than one.
UP NEXT
Spurs: At Toronto on Wednesday night.
76ers: At Brooklyn on Thursday night.
---
---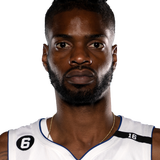 Get more from Nerlens Noel
Follow your favorites to get information about games, news and more
---