Robert Covington
Robert Covington
76ers-Timberwolves Preview
Published
Nov. 22, 2015 5:01 p.m. ET

The Minnesota Timberwolves initially appeared to be much improved defensively, but regression seems to have struck.
Shutting down the hapless Philadelphia 76ers shouldn't be too difficult, however.
Minnesota will still be seeking its first home victory Monday night against visiting Philadelphia.
The Timberwolves (5-8) gave up 106.5 points on 48.7 percent shooting in 2014-15, both the worst marks in the NBA. They allowed 98.5 and 41.2 during a 4-2 start, but have dropped six of seven with those numbers climbing to 106.4 and 47.3.
Even in Friday's 96-85 home loss to Detroit - just the second time in eight games they held the opposition below 100 - their offense didn't show up. Minnesota was 3 of 13 from 3-point range and 17 of 25 from the free-throw line.
"We can't score," coach Sam Mitchell said. "We're getting shots. We're missing them. We've just got to score better."
The team's starting guards, Andrew Wiggins and Ricky Rubio, were 1 for 7 from beyond the arc.
"I feel like we missed a lot of easy shots," Wiggins told the team's official website.
Mitchell is inserting Kevin Martin into the starting lineup in hopes of jump-starting the struggling offense. He will replace Tayshaun Prince in the first five and Wiggins will slide from shooting guard to small forward.
The Timberwolves were overwhelmed around the basket once again, surrendering 54 points in the paint, and they've given up 164 over the last three games.
Philadelphia (0-14) shouldn't be a tough assignment though, averaging 90.1 points on 41.4 percent shooting with 18.9 turnovers - all league worsts.
The 76ers blew their largest lead of the season Saturday, a 17-point edge early in the third quarter of a 96-91 loss at Miami. They were held without a field goal after Nerlens Noel's dunk with 7:14 remaining in the game until Robert Covington converted a layup with three seconds left.
"We were in a position to get our first win and we just couldn't get into anything at the end of the game," coach Brett Brown said. "I give credit to a veteran Miami team. Defensively they were fantastic and we just had a hard time finding a shot. We were in a late-clock a lot in the last five minutes and it's a part of cruel path that we are going to evidently have to take."
Philadelphia has now lost 24 in a row dating back to last season, two games shy of the longest losing streak in NBA history they endured in 2013-14. The 76ers were 0-17 last year before winning 85-77 at Minnesota.
The Timberwolves are 0-6 at home, their longest winless stretch at the Target Center to open a season since starting a franchise-worst 0-10 in 1994-95. They're giving up 107.5 points per game at home.
"It sucks not being able to win at home," said Wiggins, who is shooting 38.6 percent there compared to 45.7 elsewhere. "I know the fans want to see it and we want to be able to win at home you know. But we're going to get back in the gym (Saturday), practice, see what we're doing wrong, fix it and try to get the win next game."
---
ROBERT COVINGTON trending
---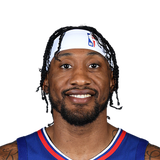 Get more from Robert Covington
Follow your favorites to get information about games, news and more
---
ROBERT COVINGTON trending