NASCAR Cup Series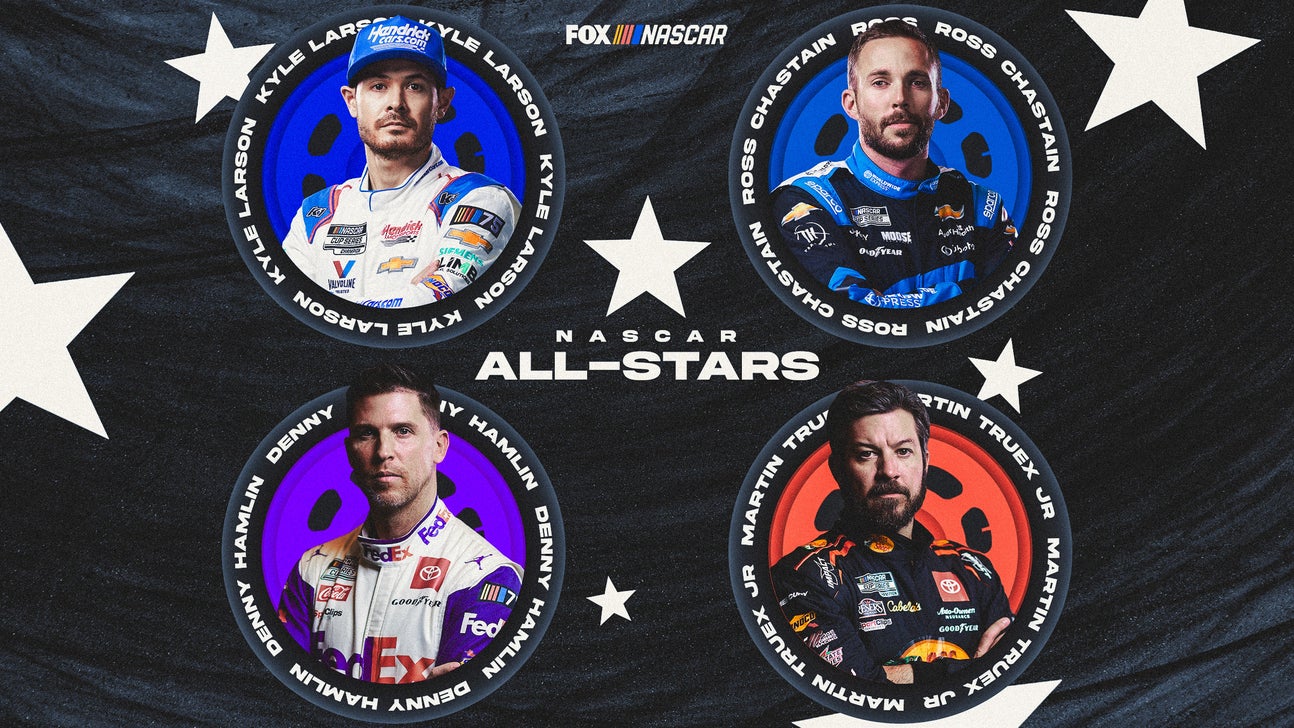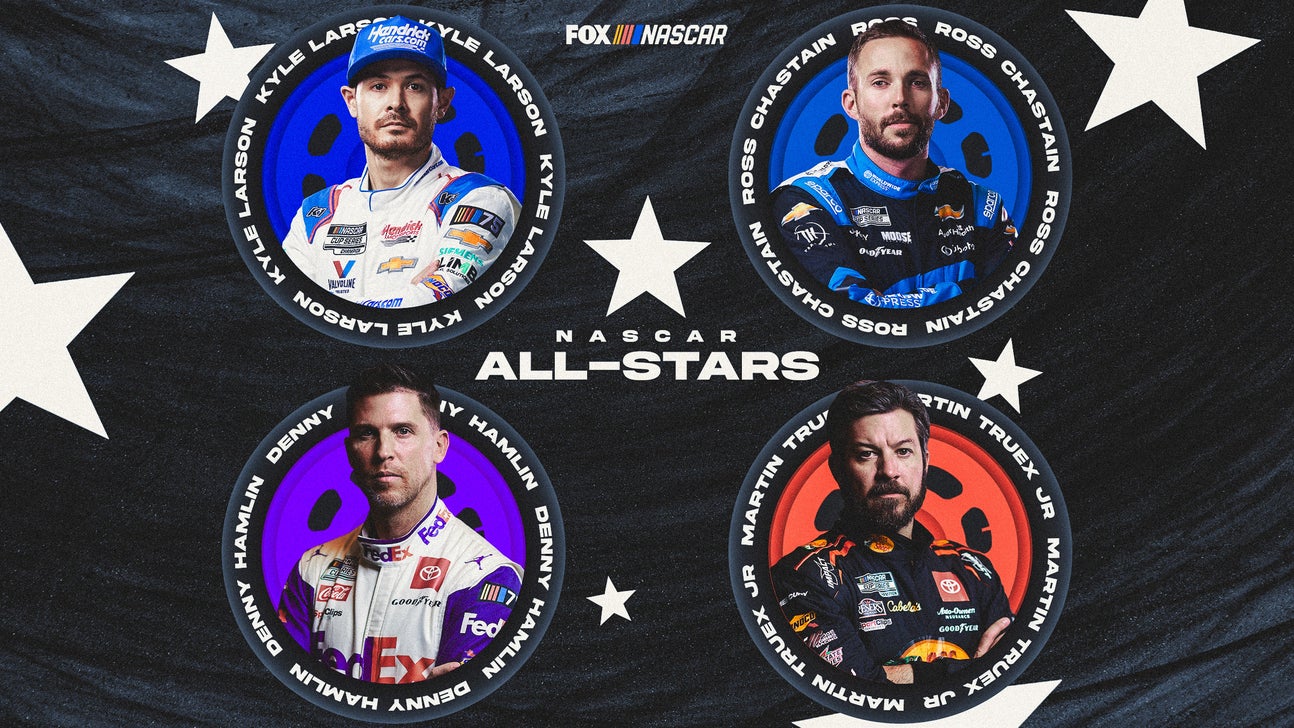 NASCAR Cup Series
NASCAR All-Star selections: Drivers, crew chiefs and more
Updated
Jul. 11, 2023 3:03 p.m. ET
It's MLB All-Star week (Tuesday, 8 p.m. ET on FOX) and while the NASCAR Cup Series All-Star race was a couple of months ago, this had me thinking about if NASCAR truly had All-Star teams, who would be on them this season?
For the sake of this quest, I have split NASCAR into two "divisions" — Chevrolet All-Stars and Ford/Toyota All-Stars. And then I am picking four drivers, four crew chiefs and four utility personnel for each All-Star team. Why four? Well, think of this as a four-car organization.
The choices are based primarily on performance so far in 2023, although, hey, sometimes the heart and head can reach at least a little bit in the past.
So here goes nothing. The lists in each category are in alphabetical order. Statistics used are through the Chicago street course race (the midway point of the 36-race regular season).
TEAM CHEVROLET
Drivers
Busch has three wins this year driving for Richard Childress Racing. He's fifth in the standings. Has he been a little bit inconsistent? Yes. But he's for sure been impressive with his three wins coming at three different styles of tracks — a larger intermediate (Fontana), a superspeedway (Talladega) and a smaller intermediate (WWTR Gateway). 
Byron, like Busch, has three victories this year (his fourth win came after the cutoff for this piece). He sits second in the standings and would be the points leader by more than 50 points if he hadn't had a points penalty earlier this season. He also has been a little bit inconsistent — but so has everyone else, quite frankly.
He's third in the standings but he might not have made this list if he had not won a couple of weeks ago at Nashville Superspeedway. You have to win to be an All-Star. Plus he gets people talking, and that's a good thing (most of the time).
Larson is eighth in the overall standings midway through the year and fourth among the Chevrolet drivers. And yet he has spent weeks where he has been atop my power rankings among all drivers. It's not just because of his two wins (plus his All-Star win), but his relative speed on a weekly basis.
Crew chiefs
Randall Burnett
The crew chief for Kyle Busch doesn't just have three wins this year, he has six wins since the start of the 2022 season. He has gone virtually seamlessly from Tyler Reddick to Busch, two very talented drivers but two very different personalities.
Rudy Fugle
The crew chief for William Byron has a way of being intense but also letting his people breathe. He can go with the flow among the best of them, and that appears to be the style Byron needs (and likely would work well with other drivers, too).
Mike Kelley
Kelley's driver isn't on this list, but he helped guide Ricky Stenhouse Jr. to not just a Daytona 500 victory but to sitting 14th in the standings after the first 18 races of the year. Their marked improvement shows that Kelley knows something about this car to make a difference.
Phil Surgen
Surgen quietly has guided Ross Chastain to his solid season with some of the fastest cars on the circuit. He has played a pivotal role in putting Chastain in position to win races, as well as last year as a leader in the ownership transition when Trackhouse took over Chip Ganassi Racing following the 2021 season. (Editor's note: Surgen was inadvertently left off this initial list).
Utility
Cliff Daniels
Daniels isn't on as a crew chief, which he probably should be considering how well he guides Kyle Larson. But his intensity might not be for everyone. Yet Daniels has proven time and time again to be one of the smartest in the garage. Could we have put Chad Knaus here in a technical director role? Sure. But Daniels often is looked at as Knaus 2.0 and so he gets the nod to help oversee the program.
Richie Gilmore
The president of ECR Engines not only knows how to build a fast engine, but his history in the sport running race teams and working with various drivers gives him value in a variety of areas.
A co-owner of Legacy Motor Club, the seven-time Cup champion can mentor and guide any of the people on this team. Plus he has driven the car a couple of times, so he has his pulse on what the drivers feel and need.
Derek Kneeland
Kneeland spots for Kyle Busch and has transitioned well to working with Busch, who had the same spotter for several years while at Gibbs. Kneeland also races a late model when he can, so he is very relatable to drivers and the situations they face.
TEAM FORD/TOYOTA 
Drivers
Bell was fourth in the standings halfway through the year. Granted, his one win came on the unique Bristol dirt, but he's been fast plenty of weeks. Plus on this group of older drivers, there had to be a young driver on this list. 
Hamlin has one race win, but he's been relatively solid nearly every week. Plus he's also a team owner so he has an additional perspective. And he's a podcaster. What more does he have to do to engage with the fans?
Harvick is seventh in the standings and he really shouldn't be, considering that there have been plenty of races where he hasn't seemed to have the speed as others. He has seven top-10s, the fewest of any driver on this list along with Hamlin, but he also has no poles and fewer top-5s. It certainly could be argued that Ryan Blaney, with more top-5s and top-10s should be on this list but in this relative tie, I'll give the edge to Harvick as it is his last year and he hasn't seemed to lack any intensity.
He's the series points leader at the halfway mark. He doesn't have the most top-5s nor the most top-10s, but he has two wins and just one DNF this year. Truex is just steady, and with the Next Gen car and the way races play out, that is a huge benefit.
Crew chiefs
Chris Gabehart
Hamlin's crew chief is always looking at things from a variety of angles. And yet once he gets to the race, he makes it seem so simple. Plus, he helps keep Hamlin focused. 
Jonathan Hassler
While his driver, Ryan Blaney, isn't on this list, we'll give him the nod to give that No. 12 team some representation. If it wasn't for the three weeks prior to Atlanta, there would be no question whether they should be on this list. The fact that Blaney had a dominant car for much of the Coke 600 is a sign that Hassler is coming into his own as a crew chief.
James Small
Some of the Truex fans might argue that Small holds Truex back, but the fact they scored the most points over the first half of the season shows he is bringing fast cars more often than not, and those cars are fast from start to finish. Plus, he is fun to listen to on the radio as the king of one-liners (some NSFW).
Adam Stevens
Stevens, who won a couple of Cup titles with Kyle Busch, continues to be one of the top crew chiefs in the garage as he has helped keep Bell in the mix most weekends.
Utility
Kurt Busch
While he hasn't raced in nearly a year because of a concussion, the former Cup champion is still an integral part of 23XI Racing and sees things from a driver's perspective that few others see. Plus he has incredible knowledge of the cars.
Michael Jordan
The co-owner of 23XI Racing is here because ... he's Michael Jordan. What else needs to be said? If you can have him on your team, you have him.
Coleman Pressley
Joey Logano's spotter not only is one of the best spotters in the business, but as he's shown during some of his appearances on Xfinity race telecast, he has a great grasp of strategy and giving the, well, thousand-foot view of any situation.
Doug Yates
The longtime engine builder and former team owner brings expertise and enthusiasm to everything he does. What more do you want?
Bob Pockrass covers NASCAR for FOX Sports. He has spent decades covering motorsports, including the past 30 Daytona 500s, with stints at ESPN, Sporting News, NASCAR Scene magazine and The (Daytona Beach) News-Journal. Follow him on Twitter @bobpockrass, and sign up for the FOX Sports NASCAR Newsletter with Bob Pockrass.
Top NASCAR stories from FOX Sports:
FOLLOW
Follow your favorites to personalize your FOX Sports experience
---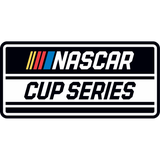 Get more from NASCAR Cup Series
Follow your favorites to get information about games, news and more
---