Toronto Blue Jays
Toronto Blue Jays
Rays shuffle rotation for series with Blue Jays (Jun 13, 2017)
Published
Jun. 12, 2017 8:03 p.m. ET

TORONTO -- The Tampa Bay Rays revised their pitching rotation for the two-game series against the Toronto Blue Jays that opens Tuesday at the Rogers Centre.
Right-hander Jake Faria (1-0, 1.42 ERA) was recalled from Triple-A Durham on Monday, and he will start Tuesday against Blue Jays right-hander Marco Estrada (4-4, 4.07).
Jake Odorizzi, who was supposed to start Tuesday, will start the second game on Wednesday instead.
The move was made because right-hander Matt Andriese left his start Saturday with a stress reaction in his hip that likely will keep him out until August. Andriese, who is 5-1 with a 3.54 ERA in 12 starts, was placed on the disabled list Monday.
Faria made a victorious major league debut last Wednesday. He held the Chicago White Sox to three hits, two walks and one run in 6 1/3 innings after allowing hits to two of his first three hitters. He struck out five during Tampa Bay's 3-1 win.
"You could tell he was amped and probably throwing some balls up in the zone," Rays manager Kevin Cash said. "His energy, anxiety, whatever you want to call it, was not helping. But he was able to correct a lot of those issues really quickly for a young pitcher in that type of atmosphere."
Faria, 23, is 6-1 with a 3.07 ERA in 11 starts with Durham.
"He showed zero fear of attacking and getting outs within the zone," Cash said of Faria's debut. "That's a big ask for a young guy to come in and come get some of these hitters out. But you've got to prove and establish that you're willing to get them out in the zone, not looking for a chase every single time they're going to swing. And he did that."
Faria was returned to Durham after the Wednesday start but did not pitch again in the minors before being recalled.
The Rays visit Toronto after a 5-2 homestand that ended Sunday with a 5-4 win over the Oakland A's. The teams split a doubleheader on Saturday after Tampa Bay won the opener Friday.
"Outstanding effort," Cash said Sunday. "It's been a long couple of days. Just really impressed about the way the guys continue to respond."
The Blue Jays are coming off a 3-3 trip that ended Sunday with a 4-0 win over the Seattle Mariners at Safeco Field in the rubber match of a three-game series.
"On the road, your goal is to come out 50-50, and if you can do better, it's a bonus," Blue Jays third baseman Josh Donaldson said. "I felt like we played well the last two days. At home is where we have to put in our work."
Both teams had Monday off.
The Rays and Jays have played well lately. The Rays are 7-1-1 in their past nine series and have won 11 of their past 18 games and 15 of their past 25. They have spent their entire season within three games of .500. Tampa Bay (34-32) is third in the American League East.
The last-place Blue Jays (31-32) have not been able to get closer than one game below .500 all season.
They started the season at 2-11 but can reach .500 with a win over the Rays on Tuesday. They have won 13 of their past 19 games and are 24-15 since April 29.
The Blue Jays can take encouragement from the return from the disabled list of J.A. Happ and Francisco Liriano, with Aaron Sanchez expected to return soon as well. The rotation also has been bolstered by the successful conversion of Joe Biagini from reliever to starter.
As the starts become longer, a well-worked bullpen should return to a more normal workload.
"That always helps, but everything revolves around pitching in this game. If you're going to win anything you've got to pitch," Blue Jays manager John Gibbons said. "The bullpen has been really good, but it takes a toll on those guys when the starters can't go a certain distance. It's not going to happen all the time, but one thing we proved last year out of the groove we've had here is that's what they can do.
"I think they threw more innings probably than anybody in baseball as a starting staff. That's key, you struggle in one area it always affects something else in this game. But they all seem to be kicking into gear, and that was big for them (Sunday)."
Estrada will be trying for his first win since May 27. He is 0-2 with a 10.67 ERA in two starts in June. He is 0-2 with an 8.18 ERA in two starts against the Rays this season and is 1-6 with a 3.75 ERA in 12 career games (eight starts) against them.
---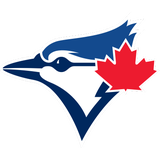 Get more from Toronto Blue Jays
Follow your favorites to get information about games, news and more
---