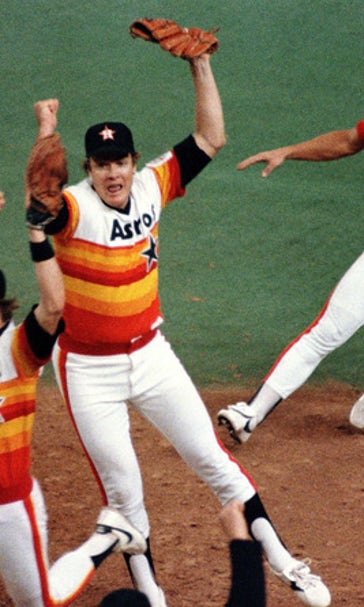 Rainbow resurgence: Bright Astros jerseys now a fan favorite
October 27, 2017

HOUSTON (AP) Once mocked, now fashionable, those rainbow jerseys of the Houston Astros are back in full bloom at the World Series.
The Astros won't be sporting them Friday night for Game 3 against the Los Angeles Dodgers. But they've become a fan favorite decades after they debuted, and Minute Maid Park undoubtedly will be peppered with the out-of-the-box style.
Count model Kate Upton in that crowd. She liked the bright colors so much, she recently wore them on the field while celebrating with her fiance, Astros ace Justin Verlander.
No surprise, in fact. The man who designed them said the team was looking to play to a certain demographic.
''We were trying to appeal to women,'' recalled Jack Amuny, who turns 80 next month.
The revolutionary pattern was introduced in 1975 and the Astros wore a version with only minor tweaks until 1986. From the start, it caught the eyes of the baseball world: The pullover jersey featured various hues of red, orange stripes and yellow stripes, plus a navy blue star to the left of center.
They didn't have an official name - while rainbows seem to be the most popular way to describe them, they're also referred to as tequila sunrise because of the cocktail that features similar color scheme.
Nolan Ryan pitched his fifth no-hitter in them, Mike Scott and Larry Dierker also threw no-nos in the gear.
Joe Sambito, a star reliever who spent 1976-84 wearing those uniforms in Houston, wasn't sure about them as a rookie. He grew to like them over the years.
''It was just a wild time and if you've seen photos of ... the way styles were back then, it was really kind of crazy in retrospect,'' he said. ''It was more of the culture and a sign of the times. People wanted change and it was a time when people started expressing themselves in different ways.''
He believes one reason they made such a splash is because baseball uniforms had been so basic for so long.
''You don't go from a big sedan to a Jetsons mobile in one year,'' Sambito said referring to the space-age cartoon. ''But it seems like what happened with the Astros baseball uniforms was that it was just so different than anything else that had ever been used that people were kind of stunned by it - especially of the colors.''
Though they haven't been the team's uniforms for more than 20 years, they're Houston's go-to throwback. The Astros have worn them 10 times since 1999, including on June 24 when Lance McCullers came off the disabled list and pitched.
''That's an iconic jersey for us, for the Astros organization,'' McCullers said Thursday. ''Nolan, Scott, a lot of guys when you think of Astros baseball, you think of those guys, and that jersey.''
There certainly weren't always such warm feelings about them. When they were released, some called the outfits the ugliest uniforms in the history of baseball.
Amuny, the freelance graphic designer who created the design for ad agency McCann Erickson, didn't exactly brag about his role in their inception.
''I got a lot of criticism about it and there was a lot of snickering,'' he said.
Sambito said some of the players didn't love them at first, but no one complained too loudly.
''We were in the big leagues,'' he said. ''You want to wear a solid white uni? There's one in Triple-A for you. I don't think you had any takers there.''
Amuny, who lives in suburban Houston, didn't receive much guidance when he began the project.
''My assignment was to design something different and I had no restrictions,'' he said.
Since this was the early 1970s, all the work was done by hand, with Amuny cutting strips of paper and lining them up in a sequence of hues from light to dark.
''I'm a very conservative person and I was doing something that was really wacko in that no other major league team had a uniform where the top was a different color than the bottom,'' he said. ''So I think that was a little off. I was just trying to do something that was bright.''
He also said the team hoped to attract more female fans with the uniform redesign.
''The Astros I don't think at that time had a real good team and they were trying to fill that dome,'' Amuny said of the almost 68,000-seat Astrodome.
The only change the Astros made to Amuny's original design was moving the star from the center of the stripes.
And for the record, Amuny didn't get rich off the celebrated style.
''Back then I was charging about $50 an hour, so it couldn't have been a whole lot of money,'' he said with a chuckle.
Not that he feels badly about that.
''It comes down to the satisfaction and the enjoyment of designing something that worked. That's the big kick I get out it,'' he said.
Besides, he has a nice little keepsake of his handiwork.
''I ordered one, a Nolan Ryan jersey, and he autographed it for me on the day that he pitched a no-hitter with that jersey on,'' Amuny said.
Among those who liked the look was Steve Sax, a rookie with the Dodgers when they faced the rainbow-wearing Astros in the playoffs in 1981.
''I played for two franchises that had a lot of tradition, the Dodgers and the Yankees, and we didn't have uniforms like that,'' he said this week at Dodger Stadium. ''No one did. That wide band and all those colors, that was very `70s and `80s. I know some people made fun of those Astro uniforms. I thought they were kind of cool.''
He's far from the only one, with Esquire magazine calling them the best uniforms in a piece written before the start of the World Series.
''This is, hands down, the best baseball uniform of all time,'' the magazine wrote. ''You killed it Astros, you killed it.''
Baseball uniforms aren't exactly high fashion, but the style is so loved that even a woman who spends her days on catwalks in places like Paris and Milan has embraced the style.
Celebrating with Verlander after Game 7 of the AL Championship Series last weekend, Upton stunned in a $200 Mitchell & Ness reproduction of the warmup sweater the team wore bearing the design. The navy button-up sweater with the signature stripes and ''Astros'' in white letters is so popular that it's sold out on the company's web site. The team store at Minute Maid Park also sold out during the ALCS.
It's been a staple in the closet of nearly every Houston rapper over the years. But the affinity for the jersey certainly isn't limited to the locals. Big Boi, one half of Atlanta duo Outkast, rocked it in a video in 1998 and New York-born rapper and producer Sean ''Diddy'' Combs donned one in a video in 2003.
Houston rapper Paul Wall had a custom Nolan Ryan replica made that features anaconda skin on the letters and logo.
''We don't get a lot of love outside of Houston from other cities or other artists, so when we see somebody from out of town wearing one of our Houston jerseys, we recognize it,'' he said. ''When we saw Outkast representing wearing an Astros jersey, we were all excited about that.''
In their first trip to the World Series in 2005, the Astros were in their brick red and black uniform period that lasted from 2000-12. Soon after Jim Crane bought the team, the club redesigned them. While they didn't bring back the rainbows, they did revert to the classic team colors of orange, navy blue and white.
And though they won't be donning those fabled duds as they try to win the first championship in franchise history, it's worth noting that when Sports Illustrated featured George Springer on the cover of the magazine in 2014 with the headline: ''Your 2017 World Series Champs,'' he was wearing the rainbow throwbacks.
''The rainbows are something that I think will forever be associated with the Astro organization, because it should be,'' McCullers said. ''They're a great look and fans love them.''
---
More AP baseball: https://apnews.com/tag/MLBbaseball
---
---