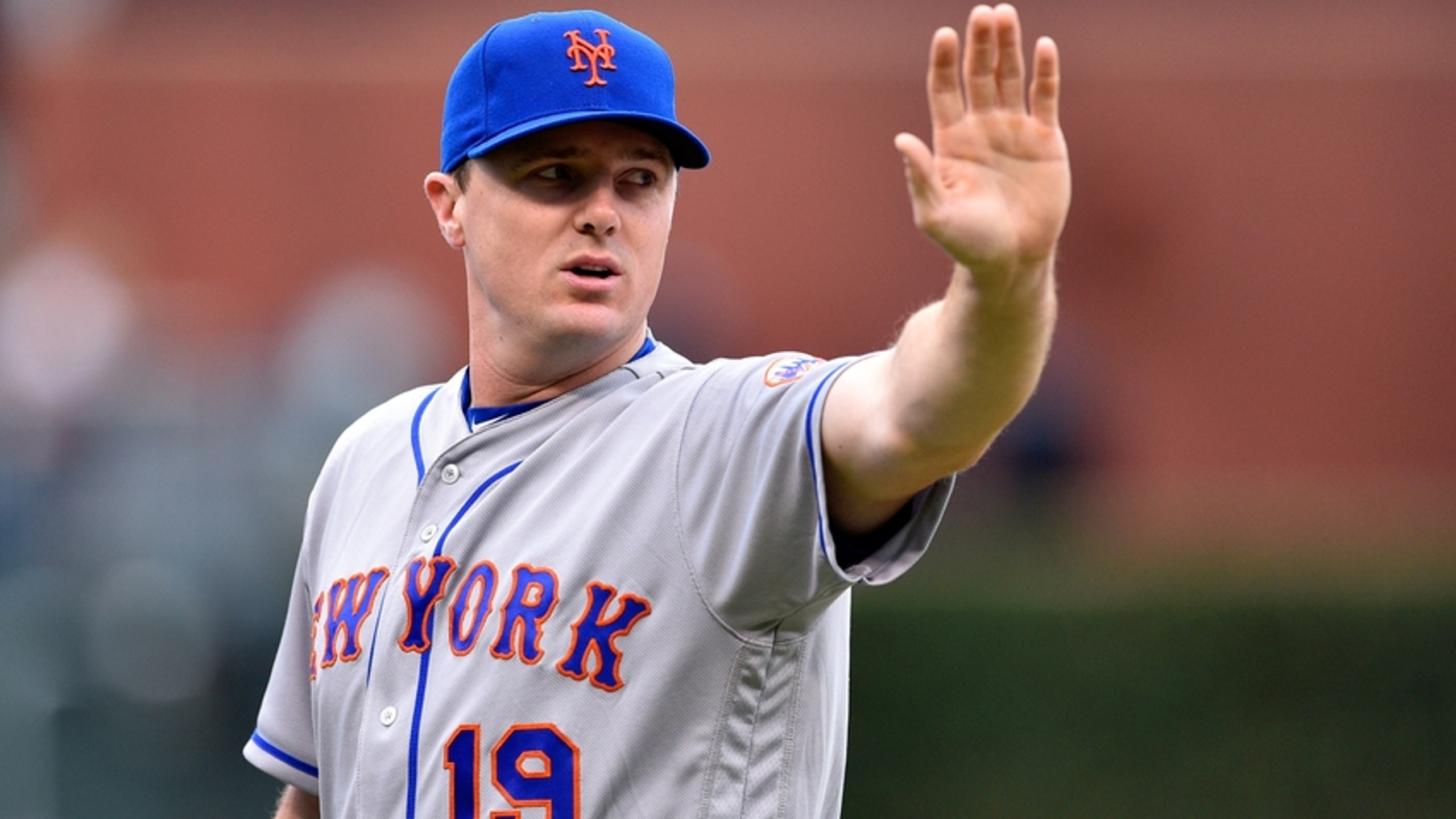 Philadelphia Phillies: Considering Blue Jay Bruce
BY Fansided and Tal Venada/FanSided via Call to the Pen • December 23, 2016
Bruce Makes Himself at Home at the Bank. Photo by Bill Streicher – USA TODAY Sports.
While the lowballing continues by the Canadian team for the left-handed slugger, the right fielder is still on the radar for general manager Matt Klentak of the Philadelphia Phillies.
The Blue Plate Special:
In the bargain bin, some can rummage through it and find a gem at the bottom in a nondescript corner.
If you could listen to Ross Atkins, the GM of the Toronto Blue Jays, you'd hear about his balancing act. Yes, Atkins is negotiating with Jose Bautista's agent but is quite vocally refusing to up his proposal. Initially, Bautista rejected a $17.2 million QO (qualifying offer). Simultaneously, Atkins wants a bargain from the front office of the New York Mets regarding Jay Bruce. The Toronto executive reminds Sandy Alderson, the decision-maker of the Mets, that his four starting outfielders are making Bruce a salary dump.
On the other end of the line, Alderson is holding his ground with Atkins because Bautista might sign elsewhere. The Jays GM knows his contemporary's reputation is to win every trade, and Alderson doesn't mince his words. No deal! That stated, only the Blue Jays are considering Bruce but other organizations – like the Phillies – are letting the market play out. Ergo, Klentak can wait until March's end and then decide if he wants to go in that direction.
Just yesterday, Double D, a poster from another site, asked what the plan is for the Philadelphia Phillies. Well, Klentak prefers salary dumps and contract-year players: Jeremy Hellickson, Charlie Morton, Pat Neshek, Howie Kendrick, Clay Buchholz, Joaquin Benoit and Andres Blanco. But keep in mind, the five agreements the GM absorbed were and are bounce-back candidates. What does Klentak expect as a success ratio? Fifty percent.
IN OTHER WORDS:

"Just give me 25 guys on the last year of their contracts; I'll win a pennant every year." – Sparky Anderson 
Next: 2017's Team Breakdown for Jay Bruce
If Bruce Plays Elsewhere, Quinn Will Battle Altherr for the Right Field Job. Photo by Bill Streicher – USA TODAY Sports.
FOOD FOR THOUGHT:    

"I knew we were in for a long season when we lined up for the national anthem on Opening Day and one of my players said, 'Every time I hear that song I have a bad game.'" – James Leyland 
Although Klentak only picked up Hellickson and Morton last season, the result for the young exec was 50 percent. In other words, Double D, which two will be successful in 2017? Will it be Neshek, Kendrick, Benoit and/or Buchholz?
Bruce:
A Charlie Blackmon move depends on an acceptable proposal, and a Michael Saunders signing relies on other clubs' transactions. As for Bruce, he like Blackmon and Saunders is merely a possibility, but New York (NL) will have to settle for less if the Blue Jays bring back Bautista on a one-summer deal. Locally, right fielder Bruce, a left-side bat with pop, could have a spot on the red pinstripes; however, then Roman Quinn would have to percolate for three months with the Triple-A Lehigh Valley IronPigs. Also, if Toronto doesn't need Bruce, Alderson will have a problem, and who can solve it with a salary dump? Klentak.
Bruce Circles the Bases During His September Hitting Streak. Photo by Steve Mitchell – USA TODAY Sports.
The Numerical Bible:
This review is not a sabermetrics article, which means no heavy statistical analysis. But because some readers rely on stats, this is only a reference: no reason to articulate the importance of these numbers.
These numbers do not include any postseason activity.
Bruce:
Hitting:
Next: Storyline: Signing Michael Saunders, Phillies?
More from Call to the Pen
This article originally appeared on
---
---