Clayton Kershaw
Clayton Kershaw
Kershaw gets $93M deal, leaving Harper, Machado atop market
Updated
Mar. 5, 2020 12:33 a.m. ET
NEW YORK (AP) — Washington outfielder Bryce Harper and Boston closer Craig Kimbrel were among just seven free agents who received $17.9 million qualifying offers from their former clubs Friday, when Los Angeles Dodgers pitcher Clayton Kershaw agreed to a $93 million, three-year contract rather than test the market.
Left-handers Patrick Corbin (Arizona), Dallas Keuchel (Houston) and Hyun-Jin Ryu (Los Angeles Dodgers) also received qualifying offers as did outfielder A.J. Pollock (Diamondbacks) and catcher Yasmani Grandal (Dodgers).
Players have until Nov. 12 to accept. If a team makes a qualifying offer to a player who signs a major league contract with another club before the June amateur draft, his former club would receive a draft pick as compensation at the end of the first round.
Only five of 73 players given qualifying offers have accepted since the process began in 2012.
The Chicago Cubs exercised their $20 million option on left-hander Cole Hamels, who went 4-3 with a 2.36 ERA in 12 starts after he was acquired from Texas on July 27. The Cubs traded left-hander Drew Smyly to the Rangers, clearing his $7 million salary from the payroll. That is $1 million more than the Rangers would have owed the Cubs if Hamels' option had been declined, which would have triggered a $6 million buyout and allowed him to go free.
Kershaw terminated a $215 million, seven-year contract that had $65 million remaining at $32 million next year and $33 million in 2020. The new deal calls for a $23 million signing bonus, payable in equal installments on June 30 in each of the next three years, and annual salaries of $23,333,333. He can earn $4 million annually in performance bonuses, in four $1 million increments for 24, 26, 28 and 30 starts, which could raise the deal's value to $105 million over three years.
He also can gain award bonuses of $1.5 million for winning the NL Cy Young Award or $500,000 for finishing second or third in the voting.
"There's been a lot of people saying that I'm in decline or not going to be as good as I once was," said Kershaw, whose Dodgers lost in the World Series for the second straight year. "I'm looking forward to proving a lot of people wrong with that."
Kershaw, who turns 31 in March, has spent all 11 of his big league seasons with the Dodgers.
"It was more valuable to me to just stay here," he said. "A chance to win every single year, it doesn't come around like this in LA very often."
Top free agents prefer to seek multiyear contracts, but given the greater priority placed on draft picks in recent years, Ryu and Grandal might face a difficult market and consider accepting the offers.
A free agent can be made a qualifying offer only if he has been with the same team continuously since opening day and has never received a qualifying offer before. Because of those rules, Manny Machado and Josh Donaldson were among the players who were ineligible to receive offers. The amount is the average of the top 125 major league contracts this year by average annual value.
Harper and Machado are the top players available on the market, though Machado's value may have been damaged by a rocky postseason in which he hit .227, showed a remarkable lack of hustle and was fined $10,000 for stepping on a first baseman's foot.
Others among the 160 available free agents include right-handers Nathan Eovaldi and Charlie Morton, left-handers J.A. Happ and CC Sabathia, relievers Zach Britton, Andrew Miller, David Robertson and Jeurys Familia, outfielder Michael Brantley, third baseman Mike Moustakas, infielder Daniel Murphy, designated hitter Nelson Cruz and utilityman Marwin Gonzalez.
Kershaw was among four players who became free agents and immediately re-signed this week, joined by St. Louis right-hander Adam Wainwright, Yankees outfielder Brett Gardner and Dodgers outfielder David Freese.
Cleveland is interested in re-signing Brantley but did not want to commit $17.9 million for one year.
"We could not have any more respect for any individual than we have for Michael," general manager Chris Antonetti said. "He's the guy that epitomizes, as I've shared before, all of the things we look for in a player. He's exceedingly productive on the field. He defines professionalism in the clubhouse, and he's an extraordinary teammate. The interest and desire is there. What we will have to work through is, can we make the pieces fit?"
---
---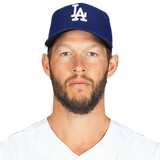 Get more from Clayton Kershaw
Follow your favorites to get information about games, news and more
---