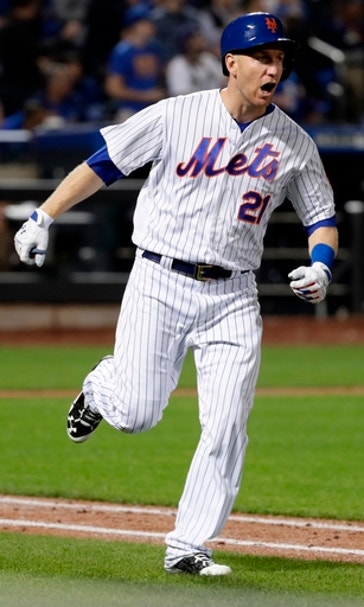 Frazier homers twice, Mets top Brewers 6-5 to win 9th in row
April 14, 2018
NEW YORK (AP) Todd Frazier and the New York Mets are grinding out win after win after win, and he already has devised the team gesture.
Frazier hit his first two home runs with the Mets , new catcher Jose Lobaton tripled in his first at-bat with the team , and New York extended its winning streak to nine with a 6-5 victory over the Milwaukee Brewers on Friday night.
Mets players are celebrating throughout games with a salt-and-pepper shaker motion promoted by Frazier to signify their grinding approach.
''Put a little seasoning on the year,'' he said, giving the alternate rationale. ''We've got to have fun. It's baseball. You feel like a little kid.''
Steven Matz ended an 11-start winless streak dating to June 28 as New York became the first major league team from New York City to start 11-1 since the 1955 Brooklyn Dodgers. Under new manager Mickey Callaway, the Mets are on their longest winning streak since 11 consecutive victories in April 2015.
''We expect to win,'' said Frazier, who also singled and walked. ''Once you expect to win and you truly believe, I think there's no going wrong.''
The gregarious New Jerseyite - he limited his postgame remarks to two minutes in order to head to Toms River for his son's Little League game Saturday - popularized a thumbs-down salute with the Yankees last year after he homered during a Tampa Bay-Yankees game moved to Citi Field and a Mets fan was caught making the motion to him.
''When we made offseason acquisitions, we had the clubhouse atmosphere in mind,'' Callaway said. ''Bringing Jay Bruce back, getting Adrian Gonzalez, getting Frazier, signing Jose Reyes back, those are all huge pieces in your clubhouse that help create that relaxed atmosphere that we're seeing and that fight that we're seeing throughout the game.''
It was 68 degrees on the first warm home night of the season, contributing to a crowd of 34.921.
''It felt like playoff atmosphere,'' Frazier said. ''I guess they know what we got. We know what we're capable of.''
Signed after a successful run with the crosstown Yankees during the second half of last season, Frazier homered against Zach Davies (0-2) leading off the second in his 37th at-bat with the Mets, a drive to center off the housing of the Home Run Apple.
After Hernan Perez tied the score with a two-run homer in the fourth against Matz (1-1), Frazier lined a home run to left starting the bottom half to put Mets ahead for good. New York opened a 6-2 lead in the fifth, which included Bruce's RBI double, Gonzalez's sacrifice fly and Dan Jennings' run-scoring wild pitch.
Matz, who had lost seven straight decisions, yielded Ryan Braun's two-run, opposite-field homer to right-center in the sixth after Bruce allowed Domingo Santana's leadoff fly to fall for an error. Matz gave up four runs - three earned - and three hits in 5 1/3 innings.
Seth Lugo allowed Travis Shaw's eighth-inning homer, and Robert Gsellman retired Jett Bandy on an inning-ending comebacker. Jeurys Familia got three straight outs to remain perfect in seven save chances and deal the Brewers their first loss in six one-run games this year.
Lobaton came up from Triple-A Las Vegas to help fill the catching void created when Travis d'Arnaud tore a ligament in his right elbow, which will require season-ending Tommy John surgery, and Kevin Plawecki went on the disabled list with a broken left hand, an injury sustained Wednesday when he was hit by a pitch. Plawecki is expected to be sidelined for three to four weeks, and Lobaton will split time behind the plate with rookie Tomas Nido.
Lobaton tripled in the second past a diving Braun down the left-field line. It was his fourth big league triple and first since April 22, 2016. He became the first Mets player to triple in his first at-bat with the team since pitcher Eric Cammack at the Florida Marlins on July 5, 2000 - his only big league plate appearance.
Davies, a 17-game winner last year, needed 64 pitches to get through three innings and gave up five runs and seven hits in 4 1/3 innings. He fell behind in the first when Yoenis Cespedes hit an RBI single.
''Zach's fastball command wasn't great, which is kind of a rare night for Zach,'' Brewers manager Craig Counsell said.
CAIN IS ABLE
Brewers CF Lorenzo Cain returned after missing two games because of a strained left quadriceps and went 1 for 2 with a pair of walks on his 32nd birthday. He was shaken up when Santana ranged over from right to catch Bruce's sacrifice fly and Santana's knee collided with Cain's quad.
''It's so loud out there,'' Cain said. ''We didn't pick each other up until the ball was coming down.''
Cain reached on an infield hit in the seventh - Frazier's backhand snag at third saved a double - and then was thrown out by Cespedes trying to go from first to third on Santana's single to left.
''That's a mistake, for sure,'' Counsell said.
FASHION FOCUS
Mets outfielder Michael Conforto wore socks sporting the New York City skyline.
TRAINER'S ROOM
Brewers: OF Christian Yelich (right oblique) hit in a batting cage and hopes to be activated Sunday, the first day he is eligible. ... C Manny Pina missed his second straight game because of right calf tightness.
UP NEXT
RHP Matt Harvey (0-0, 3.60 ERA) starts for the Mets on Saturday night and RHP Chase Anderson (0-1, 3.38 ERA) pitches for the Brewers.
---
More AP baseball: https://apnews.com/tag/MLBbaseball
---
---