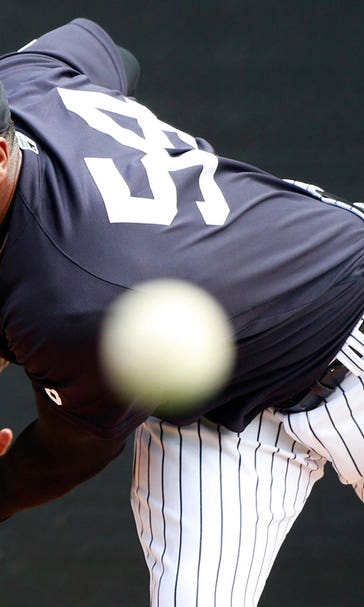 Aroldis Chapman set to be activated by Yanks after serving suspension
May 8, 2016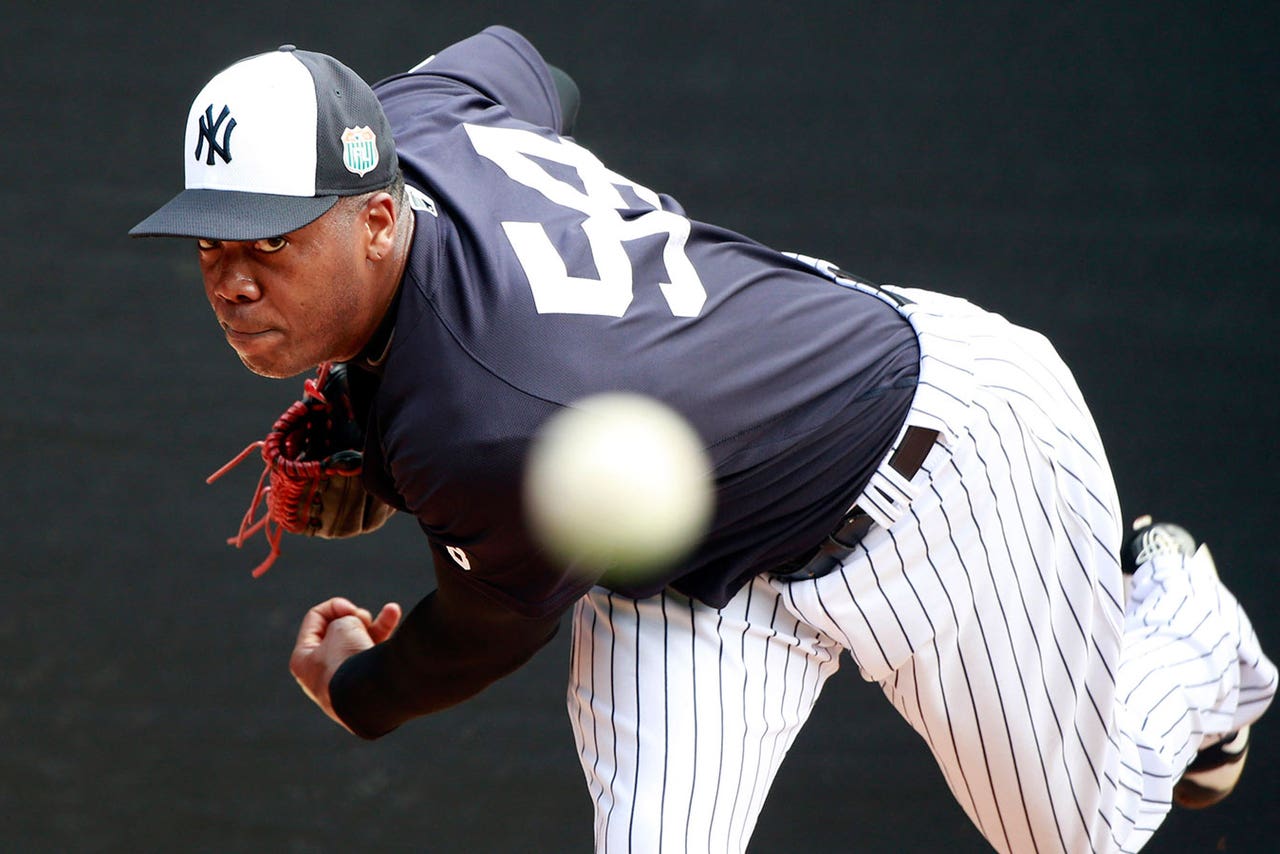 NEW YORK -- Aroldis Chapman's nameplate and No. 54 are in place above his locker, which has already been stocked with T-shirts, caps, jerseys and gloves.
No question about it, the New York Yankees are ready for the long-awaited arrival of their new star closer.
Chapman is set to be activated Monday after serving a 29-game suspension under baseball's domestic violence policy. The left-hander from Cuba, a four-time All-Star with a fastball that regularly exceeds 100 mph, will immediately move into the ninth-inning role for an imposing relief corps that already features Dellin Betances and Andrew Miller.
"We have a chance to be maybe the best bullpen in baseball," Chapman said through a translator Sunday at Yankee Stadium, with two sparkling chains dangling from his neck and a shiny earring in each lobe. "The quality of arms that we have, it's amazing."
To some, the addition of Chapman gives the Yankees an embarrassment of riches in the late innings, only incrementally strengthening an area of strength on a last-place team that's struggled to score and get steady starting pitching.
New York entered Sunday night with 91 consecutive wins when leading after eight innings. The team was 83-2 over the past two seasons when ahead after seven, and 73-4 when in front after six. That's all since Miller, the 2015 Mariano Rivera Reliever of the Year in the American League, signed on as a free agent.
But the Yankees are eager for Chapman's help, especially after designated hitter Alex Rodriguez and veteran pitcher CC Sabathia went on the disabled list last week. And they've been waiting to try out their three-headed bullpen force since Chapman was acquired from Cincinnati for four prospects in December.
"He's an established closer, he's a guy that throws incredibly hard, he's got incredible stuff and he's got a great track record," Miller said.
"There's no reason to think he doesn't make us better, and whether that's shortening a game or letting us maybe work some days where we get a day off or maybe you can avoid some of those times Dellin's got to go out and get four or five outs or get up and down, I think that that certainly helps us. Staying fresh is important and hopefully he contributes to that."
New York manager Joe Girardi said he'll probably talk to Miller and Betances about their new roles. They might be used based on matchups, or one could often pitch the seventh inning with the other getting the eighth.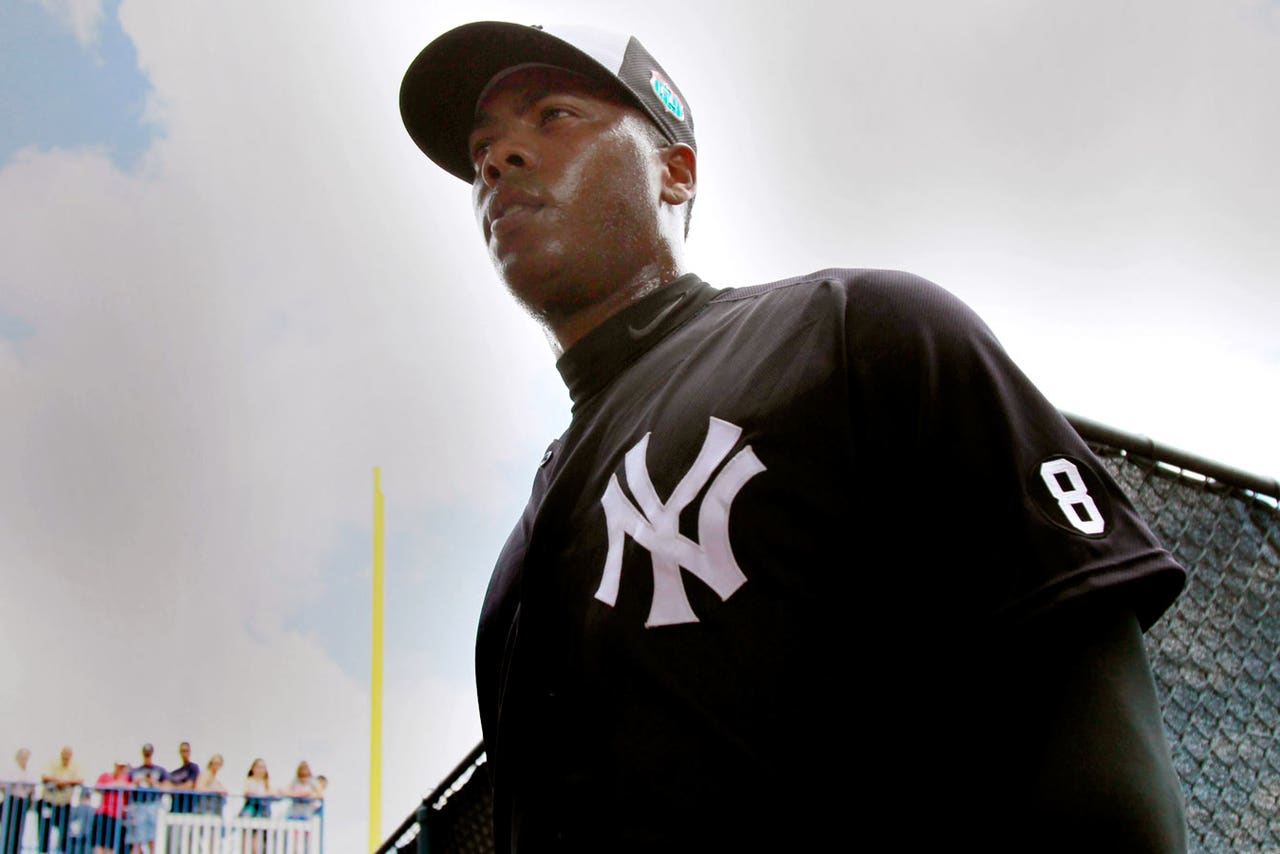 Miller has said all along he'll cede the closer role with no fuss, despite all his success the past two seasons.
"What do you want me to do? You want me to throw a fit? I think the goal here is to win," he said Sunday. "Wins are what's fun at the end of the day. It doesn't matter if you're saving games for a last-place team."
Chapman has been tuning up by pitching against minor leaguers during extended spring training games in Florida. He said it was difficult being away from his teammates and not being able to help, but he kept up with the Yankees by watching games on his iPad.
In the meantime, he also completed the process of becoming a United States citizen, something he said he's very proud of and happy about.
"It was a long time in Tampa but I feel great, I feel ready and I'm happy to be here, happy to have the opportunity to help the team," he said. "I'm super excited and happy that the manager has given me that vote of confidence in letting me be the closer. At the same time, I'm very humble (about) Betances and Miller moving down in the order to allow me to pitch the ninth."
Chapman, who can become a free agent after the season, threw the 62 fastest pitches in the major leagues last year, ranging from 102.36 to 103.92 mph, according to MLB's Statcast data. He'll join the Yankees for the opener of a four-game home set against World Series champion Kansas City.
"I like to give my best and put on a good show for the fans," Chapman said.
The reliever agreed to a 30-game suspension in early March under baseball's new domestic violence policy. New York's original schedule had him eligible to return May 9, but the Yankees' April 10 game at Detroit was postponed because of bad weather and has not yet been rescheduled.
However, a provision in Chapman's agreement stated he would be credited for any rainouts.
A day after accepting the suspension, Chapman apologized for using a gun and insisted he never hurt his girlfriend, 22-year-old Cristina Barnea.
Barnea told police he pushed and choked her during an Oct. 30 incident at his home in Davie, Florida. Chapman said there was an argument but he was pushed down by Barnea's brother, then got a handgun and fired eight shots into a wall and window while locked in his garage.
Prosecutors declined to file charges, citing conflicting accounts.
"I learned a lot from it," Chapman said. "The good thing is that's something that is behind me now. I want to focus on baseball, being here with my teammates, having the opportunity to hopefully contribute."
---
---