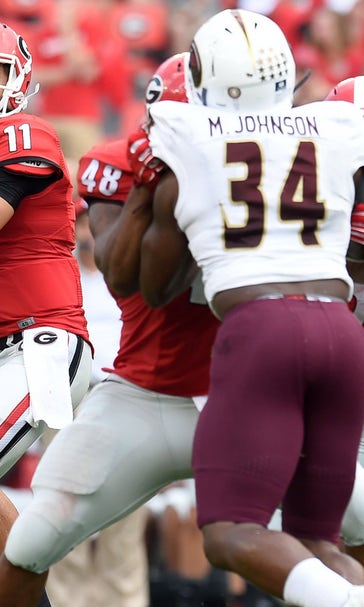 Lambert doesn't mind game manager label
September 9, 2015

The term game manager is typically reserved for a quarterback who lacks the skill to lead a team, thus it's more of a slight than anything. However managing the game is exactly what Georgia has asked their new starter Greyson Lambert to accomplish. 
"As a quarterback, honestly, I feel like we're supposed to manage the game," Lambert said to Dawg Nation. "However we do that, people do it in different ways. Sometimes we'll spread it out, and sometimes we'll grand and pound. So however we have to play to win the football game I think that's our job."
Lambert certainly got that job done Saturday, leading the Bulldogs to a 51-14 fourth quarter lead before the game was called due to inclement weather. Don't confuse Lambert's current role to mean he cannot win the game through the air, just that the Bulldogs won't call for him to do that until it's necessary. 
"I think all of that stuff will just come with the more games that we play," Lambert said. "Depending on the defensive scheme and what they do, that's how we base our gameplan, obviously. If they play this way then maybe they will allow for more balls to go over the top. And if they play this way then maybe a lot of the underneath stuff is open. So it all just depends on what we see and how the gameplan shapes up.
"Everybody wants to throw for 500 (yards) and five touchdowns, but as long as we're getting the win that's kind of my job."
With conference games against Alabama in Athens, and on the road to Tennessee and Auburn, if Lambert holds onto the job until those games, he'll need to contribute more for the Bulldogs to win in those games. Give Lambert time, as eight weeks ago he was still in school at Virginia, where he was throwing the ball early and often in some games. 
"I've thrown it, I think, 38 times, but usually when you're throwing it that many times it's for a lot of negative reasons," Lambert said. "I'm totally fine with winning the ballgame however we can."
(h/t Dawg Nation)
---
---