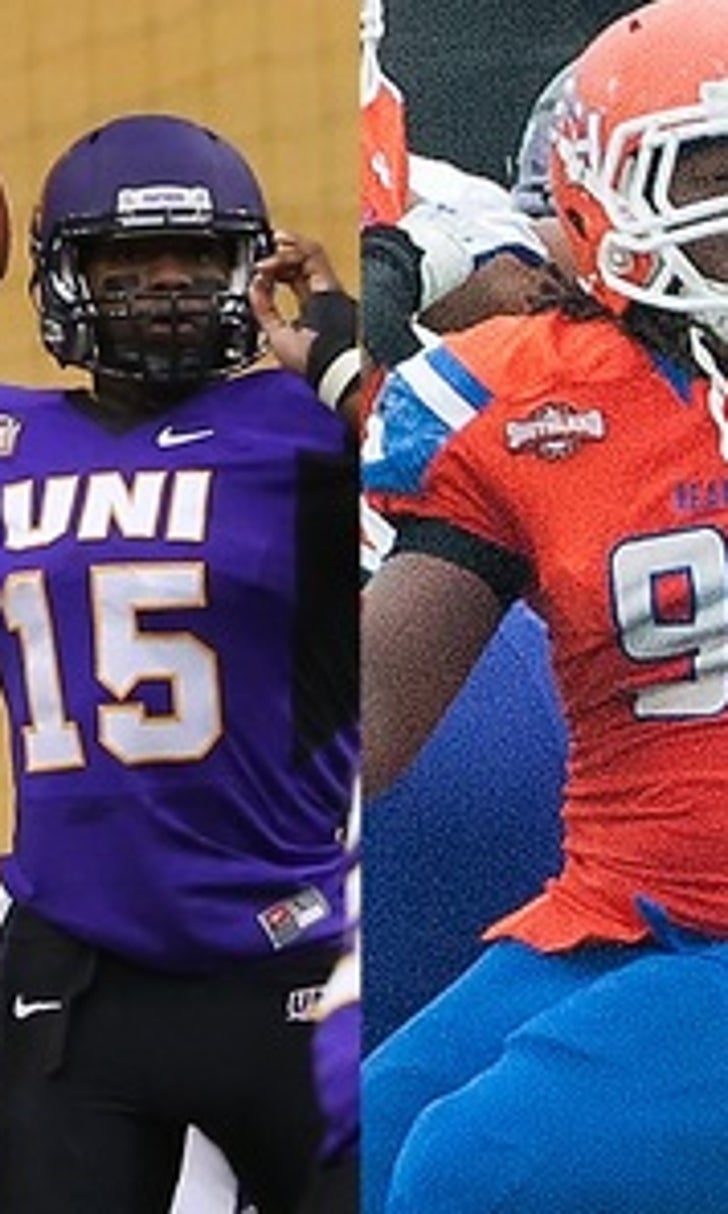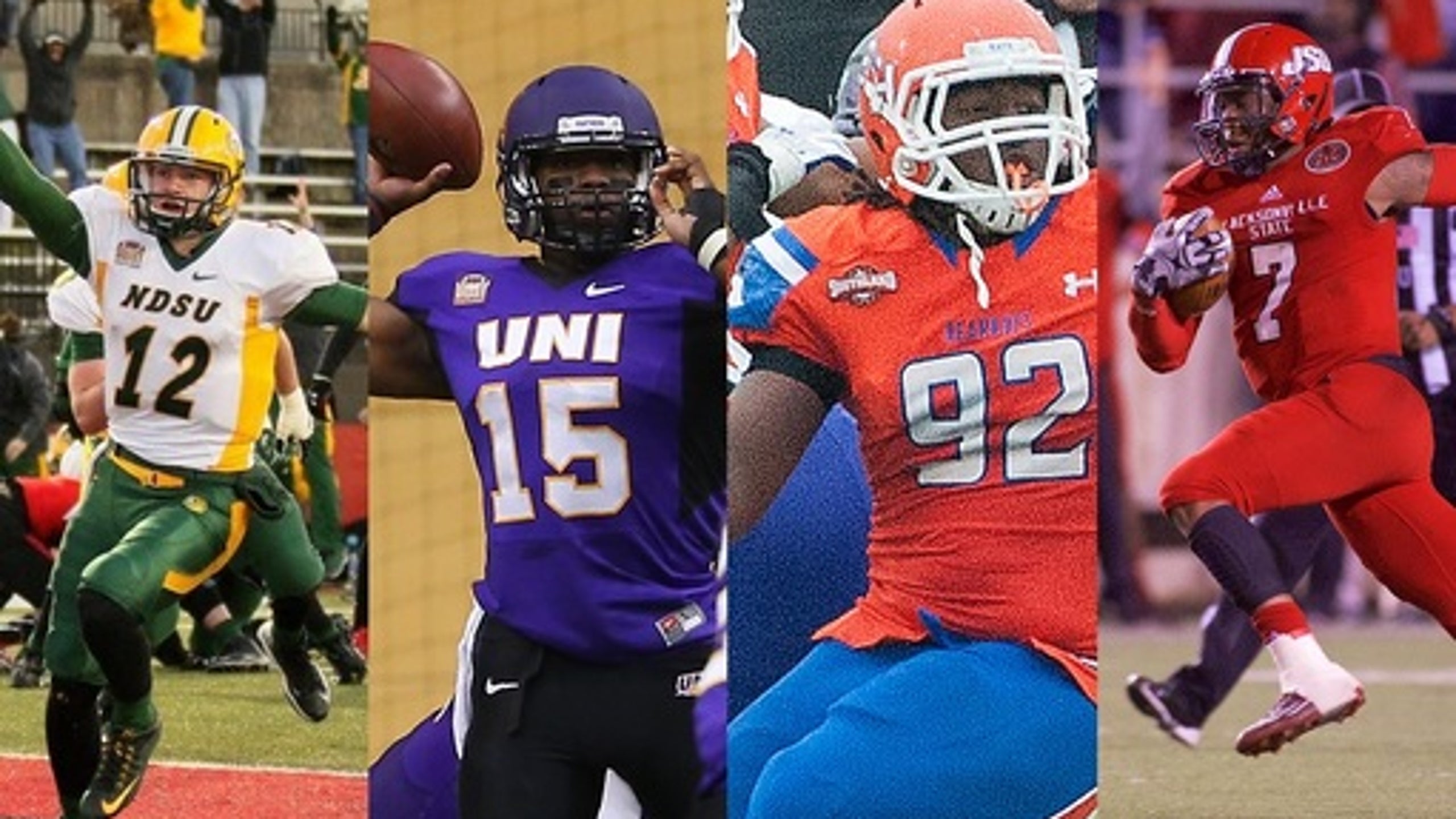 A sneak peek to FCS 2016
BY foxsports • January 12, 2016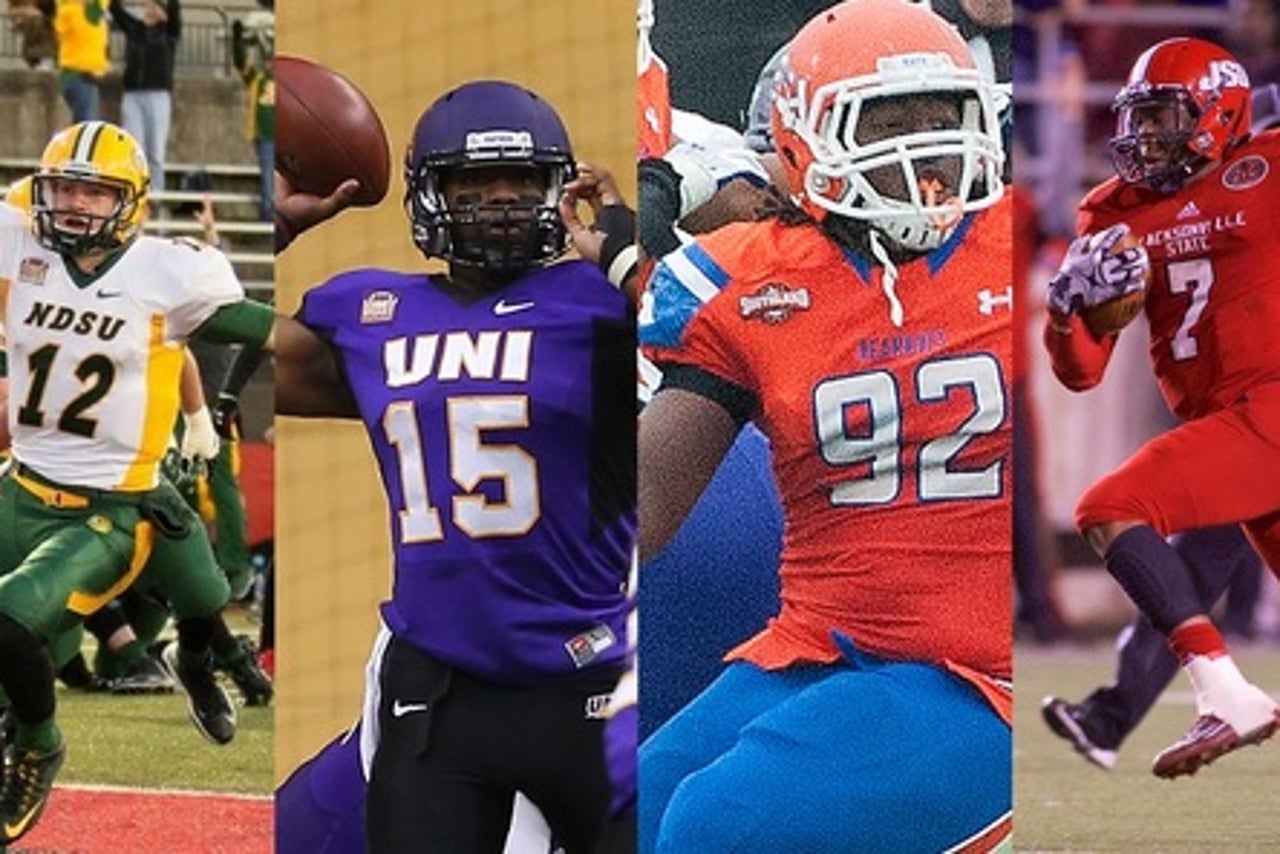 (STATS) - And the team favored to win the FCS national title in 2016...
If you aren't saying North Dakota State, then you haven't been paying attention.
With a veteran team set to return next season, the five-time reigning FCS champion Bison could very well add a sixth straight title to their collection.
Northern Iowa could give NDSU's dynasty the toughest time in the always-loaded Missouri Valley Football Conference, and Southland Conference power Sam Houston State knows how to make a deep run in the postseason, although the Bison have been there to slam the door on the Bearkats and everybody else. They certainly did that to Jacksonville State in the national championship game this past Saturday.
Knowing the FCS standard, it's not too early to look at FCS 2016 through a Sweet 16 countdown of teams. OK, we'll also throw in Montana so Griz fans won't be fuming at us (they sent such nice Christmas cards).
Northern Arizona, Portland State, Towson and Youngstown State just missed the cut here, but they now have some bulletin board material.
One final note: The early top five all return experienced quarterbacks.
---=
17. Montana (8-5, 6-2 Big Sky; 2015 final ranking: 14) - The Griz defense has been strong in recent years, but it will lose eight starters from coach Bob Stitt's impressive first season, which included wins over North Dakota State, Northern Arizona, North Dakota, Eastern Washington, Montana State and South Dakota State. All-Big Sky defensive tackle Caleb Kidder is the key returnee on defense. Of course, Stitt is known for offense and he gets back quarterback Brady Gustafson, leading rusher John Nguyen and wide receiver Ellis Henderson to a veteran unit. The road portion of the schedule is particularly difficult. FBS opponent: None.
16. McNeese State (10-1, 9-0 Southland; 2015 final ranking: 7) - There is continuity with defensive coordinator Lance Guidry elevated to the next Cowboy up, replacing head coach Matt Viator after he left for Louisiana-Monroe. But the only team to go unbeaten in the 2015 regular season has suffered big losses, including quarterback Daniel Sams and safety Wallace Scott, the Southland Conference's defensive player of the year. The strength of their DWA (Defense With Attitude) will be up front with defensive tackle Isaiah Golden as the anchor and defensive end Brian Hines returning from injury. The offensive game plan will shift to running back Ryan Ross and wide receiver Kent Shelby as juniors. The Cowboys figure to add some FBS transfers. FBS opponent: Louisiana-Lafayette.
15. James Madison (9-3, 6-2 CAA Football; 2015 final ranking: 11) - Losing a home playoff game in consecutive seasons will motivate the Dukes, who have to replace coach Everett Withers after he took the Texas State job. The offense will remain high-powered behind running backs Khalid Abdullah and Cardon Johnson, and quarterback Bryan Schor is more acclimated to the No. 1 role after being thrown into the mix when Vad Lee was injured in late October. And then there are the four All-CAA first-teamers at the new coach's disposal: wide receiver Brandon Ravenel, offensive lineman Mitch Kirsch, linebacker Andrew Ankrah and cornerback Taylor Reynolds. Great talent, but a team that's underperformed in the postseason. FBS opponent: North Carolina.
14. William & Mary (9-4, 6-2 CAA Football; 2015 final ranking: 12) - The Tribe offense will be ahead of the defense, with four-fifths of the offensive line returning to set up quarterback Steve Cluley, tailback Kendell Anderson, wide receiver/returner DeVonte Dedmon and tight end Andew Caskin. With three All-CAA first-teamers gone on defense (defensive tackle Tyler Claytor, linebacker Luke Rhodes and free safety DeAndre Houston-Carson), coach Jimmye Laycock is factoring some redshirt freshmen into the mix. Having All-America kicker Nick Dorka and punter Hunter Windmuller back helps give the Tribe some of the best special teams in the FCS. FBS opponent: North Carolina State.
13. Eastern Washington (6-5, 5-3 Big Sky; 2015 final ranking: unranked) - Let's go 13 in case it all turns unlucky for the Big Sky power. Unstoppable wide receiver Cooper Kupp, the national offensive player of the year, seeks to complete one of the greatest careers in FCS history. Quarterbacks Jordan West and Reilly Hennessey will battle for the starting job - the winner gaining from depth in the skill positions with the likes of wide receivers Kendrick Bourne and Shaq Hill and running back Jabari Wilson. But coach Beau Baldwin must replace seven seniors on the offensive line - yikes - and is still trying to get a stronger defense to match the high-scoring offense. This past season's young unit must grow up quickly behind senior defensive end Samson Ebukam. The non-conference schedule (at Washington State and North Dakota State and versus Northern Iowa) is probably too tough. FBS opponent: Washington State.
12. North Dakota (7-4, 5-3 Big Sky; 2015 final ranking: unranked) - What the Fighting Hawks have is running back John Santiago coming off a freshman season in which he averaged nearly 237 all-purpose yards against Big Sky opponents. What they don't have are Eastern Washington, Montana and Portland State on their 2016 conference schedule (advantage UND). Still, quarterback Keaton Studsrud and the offense have to improve, and the interior of their offensive line will be new. The defense appears suited to overcome the big loss of leading tackler Will Ratelle with the return of three starters who were lost to injury in 2015, including Ratelle's sidekick at linebacker, Taj Rich. Coach Bubba Schweigert and his squad are motivated by the fact they were one of the last two teams left out of the 2015 playoff field. FBS opponent: Bowling Green.
11. Illinois State (10-3, 7-1 Missouri Valley; 2015 final ranking: 5) - It's time to get to know sophomores-to-be Jake Kolbe and George Moreira, who are expected to take over for quarterback Tre Roberson and running back Marshaun Coprich, respectively. Considering the loss of that dynamic duo, it will be hard for the Redbirds to match the success of the past two seasons. But they return the other nine offensive starters, including big-play wide receiver Anthony Warrum and a physical offensive line led by center Mark Spelman. Recruiting has risen under coach Brock Spack, and it needs to show because they suffered key losses at defensive end and linebacker. FBS opponent: at Northwestern.
10. Chattanooga (9-4, 6-1 Southland; 2015 final ranking: 9) - At least the Mocs can say they have experience with replacing a three-time conference player of the year - defensive end Davis Tull a year ago - as they face it with quarterback Jacob Huesman. His loss might seem like too much, but the Mocs lose only five starters (two on offense and three on defense). People around the program are excited about left-handed signal-caller Alejandro Bennifield, who is smaller than Huesman but has outstanding speed and a lot of potential. Running back Derrick Craine is coming off the program record for rushing yards in a season, and Corey Levin will pave the way up front. Defensive end Keionta Davis replaced Tull quite well with a Mocs single-season record of 13.5 sacks. FBS opponent: at national champion Alabama.
9. The Citadel (9-4, 6-1 Southern; 2015 final ranking: 13) - The Southern Conference title race will be excellent. Few teams are going to slow the Bulldogs' triple option (South Carolina and Coastal Carolina didn't), so the SoCon co-champions will continue their upswing in coach Mike Houston's third season. Although they must replace two starters on the offensive line, the offense returns three players who rushed for over 750 yards - quarterback Dominique Allen and backs Tyler Renew and Cam Jackson. Cornerback Dee Delaney is a first-team All-America and Eric Goins is an underrated kicker. FBS opponent: North Carolina.
8. Coastal Carolina (9-3, 4-2 Big South; 2015 final ranking: 16) - As they transition toward the FBS and the Sun Belt Conference in 2017, the Chanticleers will play as an FCS independent and won't be eligible for the FCS playoffs. They may as well have an asterisk attached to them because they might struggle to gain backing from Top 25 voters, like Georgia Southern and Appalachian State in 2013. The impending FBS move should yield a higher level of incoming talent, and the Chants already have a terrific offense, led by All-America running back De'Angelo Henderson, wide receiver Bruce Mapp and a veteran line, even if replacing three-year starting quarterback Alex Ross appears impossible. The defense isn't as strong as the offense, but defensive tackle Jabarai Bothwell, linebacker Alex Scearce and cornerback Kamron Summers will return. Plus, coach Joe Moglia will have lights-out special teams. FBS opponent: None announced (a little strange, eh?).
7. South Dakota State (8-4, 5-3 Missouri Valley; 2015 final ranking: 15) - Sam Zenner, the younger brother of three-time 2,000-yard rusher Zach Zenner, will get into the offensive mix as a redshirt freshman. But the Jackrabbits may not need the extra production considering they return quarterbacks Zach Lujan and Taryn Christion, All-America wide receiver Jake Wieneke, All-Missouri Valley tight end Dallas Goedert and a Brady Mengarelli-led group of running backs. Defensive mainstay T.J. Lally is gone at linebacker, but the defense will remain physical with one of the nation's deeper groups of defensive tackles, led by Cole Langer. The Jackrabbits have been to the playoffs in four straight seasons and would have gone further than the first round this season with a better draw (a road assignment at Montana was brutal). FBS opponent: TCU.
6. Charleston Southern (10-3, 6-0 Big South; 2015 final ranking: 6) - With Coastal Carolina dropping out of the Big South, the defending champion Buccaneers will be favored over Liberty, although they continue to keep their fingers crossed that coach Jamey Chadwell remains in Charleston after three highly successful seasons. After reaching the national quarterfinals in their first FCS playoff appearance, the Bucs' record-setting defense will bring back defensive end Anthony Ellis and linebacker Solomon Brown, and their exceptional run game will have a senior trio in Darius Hammond, Mike Holloway and Ben Robinson working behind left tackle Erik Austell. The feeling is the Bucs will add a transfer quarterback to keep the momentum going. FBS opponent: Florida State.
5. Richmond (10-4, 6-2 CAA Football; 2015 final ranking: 4) - It will be hard to overcome the loss of running back Jacobi Green, and the Spiders will have a new offensive coordinator after Charlie Fisher's departure to Western Illinois, but the national semifinalists will return significant talent in addition to the momentum of this season. Quarterback Kyle Lauletta finished No. 2 in the FCS in passing yards (3,598) as a sophomore and will combine again with wide receiver Brian Brown. Linebacker and leading tackler Omar Howard, safety David Jones (nine interceptions) and defensive ends Winston Craig and Andrew Clyde are standouts on a defense with eight returning starters. FBS opponent: Virginia.
4. Jacksonville State (13-2, 8-0 Ohio Valley; 2015 final ranking: 2) - The FCS runner-up will have first-team All-America quarterback Eli Jenkins back for his senior season, but the Gamecocks will suffer key losses. Coach John Grass is an attractive candidate to FBS programs as well. When the changes settle, though, the Gamecocks will likely have FBS transfers filling in some holes. There's a big one at running back with the loss of Troymaine Pope, who set the Ohio Valley Conference single-season record with 1,788 rushing yards. Josh Clemons will get a look at the top spot if the NCAA clears him for a sixth season of eligibility. Besides Jenkins, the key returnees are wide receiver Josh Barge, offensive linemen Casey Dunn and Justin Lea, defensive end Darius Jackson, linebacker Joel McCandless and defensive end LaMichael Fanning (ACL tear) if he pursues a sixth season as well. FBS opponent: LSU.
3. Northern Iowa (9-5, 5-3 Missouri Valley; 2015 final ranking 8) - UNI will continue to prepare for the arduous Missouri Valley schedule with another tough non-conference slate - this time, trips to Iowa State and Eastern Washington sandwiching a home date against Montana. But none of those teams should be anxious to deal with the Panthers' two 1,000-yard rushers, quarterback Aaron Bailey and running back Tyvis Smith, working behind a veteran offensive line (four returning starters). The secondary will be ravaged by graduation, so that's the biggest concern for a defense that will get back first-team all-conference selections Brett McMakin (linebacker) and Karter Schult (defensive end). FBS opponent: Iowa State.
2. Sam Houston State (11-4, 7-2 Southland; 2015 final ranking: 3) - The Bearkats have enough returning talent to make a run at what's been an elusive national title this decade (they've reached two national finals and two other semifinals in the last five seasons), but they have to improve defensively after a season in which they made too many mistakes in their losses. The best of coach K.C. Keeler's 17 returning starters (eight on offense, nine on defense) is P.J. Hall, a beast at defensive end. Also, both quarterbacks (Jared Johnson and Jeremiah Briscoe), leading rusher Corey Avery and leading receiver Yedidiah Louis return to a high-powered offense that was the FCS leader in yards per game. FBS opponent: at New Mexico.
1. North Dakota State (13-2, 7-1 Missouri Valley; 2015 final ranking: 1) - Why stop now after becoming the first team in NCAA history to win five straight national titles? Coach Chris Klieman's Bison will return a veteran team, including 14 players who started in the FCS championship game this past weekend. They won't be inexperienced at quarterback, as originally thought, considering Carson Wentz's wrist injury allowed Easton Stick to go 8-0 as a starter this season. The Bison will again flatten opponents with four returning starters on the offensive line and running backs King Frazier, Bruce Anderson, Chase Morlock and Lance Dunn. Leading receivers RJ Urzendowski and Darrius Sheppard also return. The front seven of the defense will be fierce again with linebacker Nick DeLuca and defensive end Greg Menard leading the way, while strong safety Robbie Grimsley is a star in the making in the secondary. If you're nitpicking, the Bison have to replace starting cornerbacks C.J. Smith and Jordan Champion and punter Ben LeCompte. Same old, same old with the Bison? Yeah, in a big way. FBS opponent: Iowa.
---
---