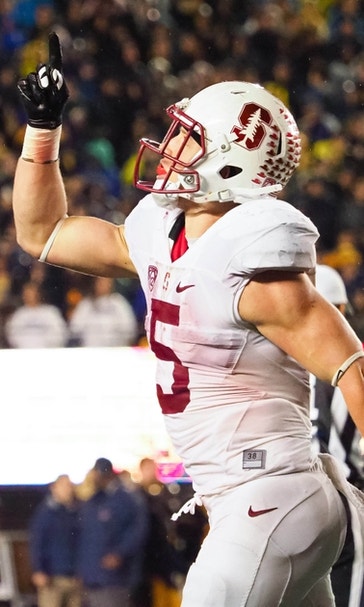 10 Most watchable Bowl Game matchups
BY Fansided and Jordan Luth/FanSided via Saturday Blitz • December 15, 2016
Saturday Blitz provides you with the 10 most watchable bowl games.
The regular season has come and gone and bowl season is finally here. It was an exciting season filled with great plays and great games. The first bowl games are scheduled for Dec. 17 and they will go all the way until the championship game on Jan. 9.
Of the 40 bowl games that are played, the College Football Playoff will be most highly anticipated of those games, but there are some other great games besides the College Football Playoff. With that comes knowing what bowl games will be more entertaining to watch than the others. Just how good are the new years six games this year? Are there some bowl games that may be better?
With that, here are the 10 bowl games that you will not want to miss during this year's bowl season.
Honorable Mentions
Here are a few honorable mentions are some games that will entertain but didn't quite make the top 10.
West Virginia's only losses on the year were to Oklahoma and Oklahoma State. Those two teams played for the Big 12 Championship. Miami finished the year on a four-game win streak and held teams to around 18 points a game on average.
Nebraska could secure its first 10-win season since 2012 with a win over Tennessee. The attraction here is the QB matchup of Joshua Dobbs and Tommy Armstrong Jr. The game will most likely come down to their play.
It's not the sexiest of all the bowl games, but this game screams offense. Each averages 40 points or more per game. Western Kentucky ended the year on a seven-game win streak to get to 10 wins, including putting up 58 points in the conference USA championship game.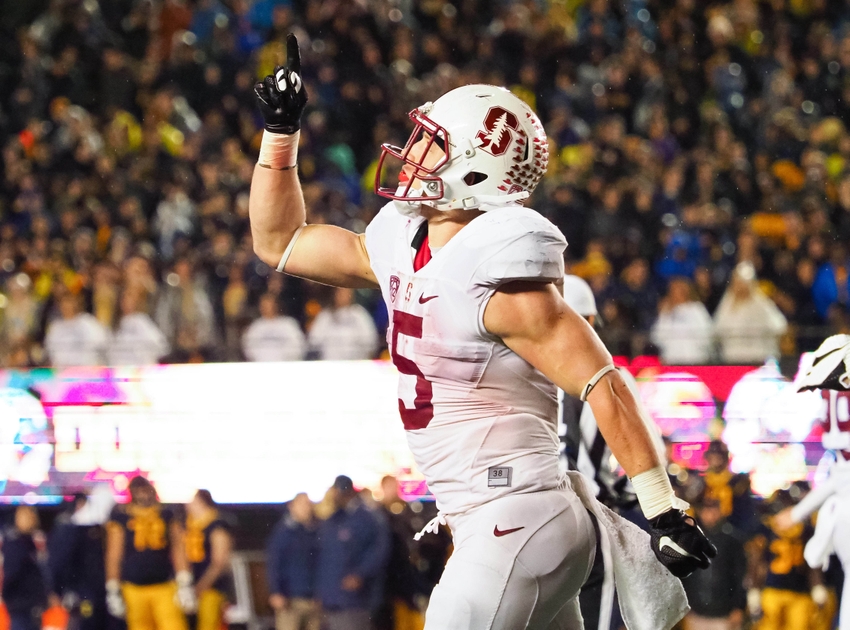 10. Hyundai Sun Bowl (Dec. 30): North Carolina vs. No. 18 Stanford
Stanford started the year hot, stumbled a little in the middle, lost 10-5 against Colorado and then finished hotter then they started. Meanwhile, North Carolina looked like a team that may have been able to challenge for the ACC championship. They dropped two of their last three games and their chances for the ACC championship were gone.
Christian McCaffrey, who many thought may challenge for the Heisman this year, will be featured for Stanford in this game. He ran for 1,600 yards this year and finally got his first road touchdown. In fact, he had back-to-back road games at the end of the year in which he ran for three touchdowns in each. McCaffrey broke out of that mid-season slump real quick.
For North Carolina, they feature a QB that may be the second quarterback taken in the NFL draft behind Deshaun Watson in Mitch Trubisky. That is if he decides to go pro. Trubisky definitely has the making of a pro-style QB. This year he threw for 3,468 yards, 28 touchdowns and only four interceptions. His career interception total at North Carolina is eight. That's it.
With these star players playing at their best, it may be the supporting cast that will be a factor in deciding a winner. Prediction: Stanford 30, North Carolina 24
Oct 21, 2016; San Diego, CA, USA; San Diego State Aztecs running back Donnel Pumphrey (19) runs for a second quarter touchdown against the San Jose State Spartans at Qualcomm Stadium. Mandatory Credit: Jake Roth-USA TODAY Sports
9. Las Vegas Bowl (Dec. 17): Houston vs. San Diego State
Houston started the year with a huge win over No. 3 Oklahoma. They started 5-0 and were ranked as high as No. 6 in the country. Some tough road losses, such as at SMU, took their potential playoff hopes away. San Diego State comes in after winning the Mountain West Conference championship. The Aztecs are a well-rounded team with an explosive running back.
San Diego State has what might be the best RB in the country in Donnel Pumphrey. Pumphrey rushed for over 2,000 yards this year and had 16 touchdowns to go with it. Pumphrey was even in the Heisman talks for a little while and it's very clear why. As of right now, Pumphrey is second on the all-time NCAA Division 1 rushing list. He is 108 yards away from being the all-time leader. It'll be a bit of a homecoming for him as well. Pumphrey was born in North Las Veags. He is sure to make an impact.
Houston, on the other hand, has lost their head coach Tom Herman. Herman is now the coach at Texas and Major Applewhite will take over as the head coach. Houston still has a great QB in Greg Ward Jr., and if they are to win, he will have to play lights out. He is their catalyst and a big game from him will be a great thing for Houston.
Will the Houston team that beat Louisville and Oklahoma show up? Or will it be the team that lost to SMU? The difference is dramatic as they will have to try and stop Donnel Pumphrey either way. Prediction: San Diego State 31, Houston 21
Nov 28, 2015; Stillwater, OK, USA; Oklahoma Sooners quarterback Baker Mayfield (6) runs the ball for a touchdown in the second half against the Oklahoma State Cowboys at Boone Pickens Stadium. The Sooners defeated the Cowboys 58-23. Mandatory Credit: Mark J. Rebilas-USA TODAY Sports
8. Allstate Sugar Bowl (Jan. 2): No. 14 Auburn vs. No. 7 Oklahoma
After losing two games early in the year to Houston and Ohio State, Oklahoma bounced back by winning nine straight games and the Big 12 championship. Auburn followed a similar path for most of the year. They too lost two games early, followed by an impressive win streak. The only difference is that Auburn's offense hit a wall at the end of the year. They only put up a combined 19 points in their final two SEC games.
Oklahoma is led by their two Heisman finalists, QB Baker Mayfield and his favorite target, WR Dede Westbrook. Mayfield and Westbrook finished third and fourth in the Heisman voting this year after both of them put up great seasons. Auburn will have the daunting task of stopping the Mayfield to Westbrook connection. If they are able to hold Westbrook in check, they will have to then deal with the Sooners RB duo of Joe Mixon and Samaje Perine. Mixon ran for over 1,000 yards and Perine ran for just under 1,000 yards on the year. Oklahoma is loaded on offense and will look to strike fast and strike often.
Auburn will have their hands full on defense, but if a rather spotty offense can show up, they could stick around in this game longer than people believe. The Tigers also feature a 1,000-yard running back in Kamryn Pettway. They are ranked 20th in points allowed per game at 15.6 as well. Auburn's defense will be key to their success. If they can hold down the Sooners offense, their chances increase. Their offense will still need to make its presence felt as well.
If Auburn's offense can keep up, this game is sure to be interesting late into the fourth quarter. If not, it may be over early. Prediction: Oklahoma 38, Auburn 24
7. Goodyear Cotton Bowl Classic (Jan. 2): No. 15 Western Michigan vs. No. 8 Wisconsin
Wisconsin comes into the Cotton Bowl after blowing a huge lead in the Big Ten championship against Penn State. Meanwhile, Western Michigan comes in as MAC champions with an undefeated record.
When it comes to Western Michigan, how can you not talk about P. J Fleck? In four years, Fleck has taken this team from a one-win season to a bowl game to the first bowl game win in Western Michigan program history and now to a New Year's Six game with an undefeated record. WR Corey Davis will be huge for the Broncos if they are going to win. He will have to challenge the Wisconsin secondary and make big plays in the passing game.
Wisconsin is built on their defense and on their ability to run the ball. Corey Clement ran for 1,304 yards and 14 touchdowns this season. Wisconsin's defense ranked 19th in points against thanks to players like Vince Biegel and T.J. Watt. They only allow 15.5 points per game. That's a huge difference when compared to the amount of points that Western Michigan puts up which is almost 44 a game. Wisconsin's front seven will dictate this game. If they play well, Wisconsin will play well. If they are off, then Western Michigan will be in this game.
Western Michigan may have two wins over Big Ten schools this year, but this will be their toughest test since arguably Week 1. Prediction: Wisconsin 24, Western Michigan 17
Nov 19, 2016; Boulder, CO, USA; Colorado Buffaloes quarterback Sefo Liufau (13) celebrates a rushing touchdown by running back Phillip Lindsay (23) (background) in the fourth quarter against the Washington State Cougars at Folsom Field. The Buffaloes defeated the Cougars 38-24. Mandatory Credit: Ron Chenoy-USA TODAY Sports
6. Valero Alamo Bowl (Dec. 29): No. 12 Oklahoma State vs. No. 10 Colorado
These former Big 12 opponents meet for what should be one of the best non-New Year's Six games. Both teams finished as runners-up in their conferences and will now have a chance to play each other and finish their seasons on a high note.
Oklahoma State fits in with the stereotype that is associated with the Big 12, which is huge offensive production and not much defense to be played. They may rack up close to 40 points a game on average, but they also give up almost 30 points a game as well. They are led by their QB, Mason Rudolph, who only threw four interceptions all year to go along with his 25 touchdowns and 3,777 yards passing. He is the key for the Cowboys in this game. They will need to light up the scoreboard like they did all season.
For Colorado, a potential X-factor in this game could be their running back, Phillip Lindsay. He ran for almost 1,200 yards and scored 16 touchdowns this year. If the Buffs starting QB, Sefo Liufau is still a little banged up come game day, Lindsay could have his name called a lot in this game. If Liufau is good to play, the Buffs will have strong senior leadership guiding the way.
This game will be a fun renewal of an old Big 12 rivalry, and is sure to be entertaining throughout the whole game. Prediction: Oklahoma State 28, Colorado 24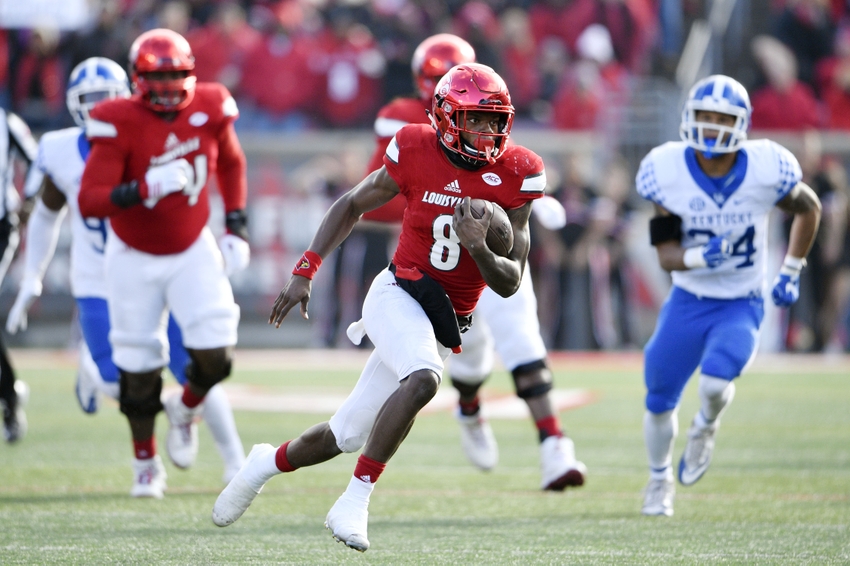 5. Buffalo Wild Wings Citrus Bowl (Dec.31): No. 20 LSU vs. No. 13 Louisville
Heisman trophy winner Lamar Jackson takes on previous Heisman hopeful and soon to be first-round draft pick Leonard Fournette in a bowl game named after a fruit and sponsored by a sports bar. These are the times to be alive. In all reality, the Jackson vs. Fournette matchup is what makes this game so interesting. This will be Leonard Fournette's last game at LSU and Jackson is coming off the Heisman win.
Fournette got dinged up a few times this year and ended up missing five games during the season. In that time,, LSU unleashed their other big-time running back Derrius Guice. Guice ran for almost 1,300 yards and had 14 touchdowns. This combination of power and speed, which both posses, could have this Louisville defense on its heels. This will also be Ed Orgeron's first game as the official head coach at LSU. He took over for Les Miles early in the year when Miles was let go. LSU's defense will have to have a big game. They have the task of stopping Lamar Jackson, which is not easy.
Lamar Jackson was officially named the Heisman trophy winner for this year, an accomplishment most people saw coming. However, Louisville is coming into this game on a down note. They did not finish the season the way that they wanted and this was not the place they felt that they could end up at. Louisville's chances come down to the performance of Lamar Jackson. Will he play like he did against Florida State, a game Louisville won 63-20, or will he play like he did against Houston, a game they lost and got totally dominated in?
Both teams have something to prove. Who wants it more? Prediction: Louisville 27, LSU 21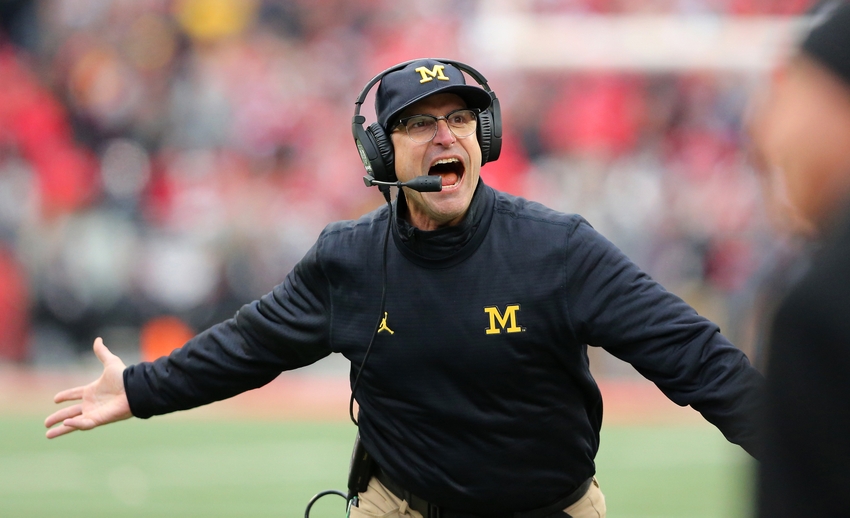 4. Capital One Orange Bowl: No. 6 Michigan vs. No. 11 Florida State
Watching Jimbo Fisher and Jim Harbaugh getting heated on sidelines may be a bonus to this already great matchup. Both teams had their eyes set on the CFP when the year started. Both fell just a bit short.
Michigan was a win away from the Big Ten Championship game and were in position for a CFP spot. A loss to Ohio State changed that and they are now here in the Orange Bowl. The team as a whole has not changed since that Ohio State game. This defense is still one of the best in the country, especially at stopping the run. They are 10th in points allowed, allowing only 12.5 points a game. Of course they also have Heisman finalist Jabrill Peppers who will be all over the field looking to make plays and have a positive impact on defense, special teams and offense.
Dalvin Cook ran for over 1,600 yards for the second straight year. He may not have gotten as much attention as he has gotten in the past, but that is something that can't be over looked. Odds are Cook is headed to the draft so this could be his last game for Florida State. Florida State will need their offense to be kicking on all cylinders for this game. Michigan's defense is rock solid and theirs has been not so good at times this year. Keeping the ball away from Michigan and wearing down their defense could be strategy used to keep themselves in the game.
In a matchup of old school powerhouses, defense will turn into offense and the Michigan defense is better. Prediction: Michigan 35, Florida State 21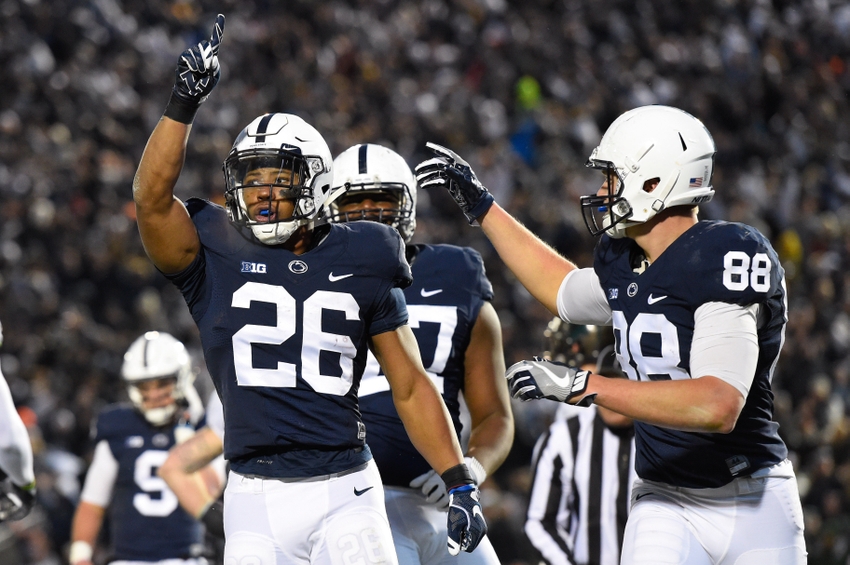 3. Rose Bowl Game (Jan. 2): No. 9 USC vs. No. 5 Penn State
USC started the year 1-3 before finishing on an eight game win streak. During that win streak, they beat both Colorado and Washington. Those teams were in the Pac 12 championship game. As for Penn State, they own what might be the best win of the year with their victory over Ohio State. They haven't lost since that game.
USC is one of the hottest teams in college football right now and are led by their freshmen QB Sam Darnold. Darnold played a very limited role in the team's first three games. They switched to him in Week 4 and it has been his team since that point. All he has done is go 8-1 and lead the Trojans to the Rose Bowl. The last time that USC made the Rose Bowl was in 2008 where they actually played none other than Penn State. They won that game 38-24. This USC team is a lot of fun to watch and they want to finish the year with a big win.
Penn State shares a lot of things in common with USC. They both had a big mid-season turnaround that got them to where they are now. They also both have QBs that are performing very well as of late, along with some of the best running backs in college football. Trace McSorley and Saquon Barkley have been great for Penn State this year and are huge reasons as to why the are the Big Ten champions and are in the Rose Bowl. If Penn State is to win, these two will have to play at their best.
This game features a ton of young talent that are soon to become household names. Both teams can score so a shootout may be in store. Prediction: USC 27, Penn State 24
Dec 3, 2016; Atlanta, GA, USA; Alabama Crimson Tide cheerleaders and mascot celebrate in the confetti after the SEC Championship college football game against the Florida Gators at Georgia Dome. Alabama defeated Florida 54-16. Mandatory Credit: Jason Getz-USA TODAY Sports
2. Chick-fil-A Peach Bowl (Dec. 31): No. 4 Washington vs. No. 1 Alabama
In the first CFP semifinal game, Washington will get their shot at the seemingly untouchable Crimson Tide. Washington's only loss this year is to USC and they are riding high after winning the Pac-12 Championship. Meanwhile Alabama is doing its thing as they always do and come into this game undefeated and they look unbeatable.
Alabama is the only team to make the CFP every year that it has been in play. This is their third year in the Playoff and it's the second time that they are the No. 1 ranked team. Alabama's defense allows under 12 points to their opponents per game, which is ninth best in the country. Offensively they are so well rounded. The Alabama backfield features three backs that have run for over 500 yards this season. Then there is freshmen QB Jalen Hurts. Hurts has run for over 800 yards and 12 touchdowns while also throwing for over 2,000 yards. Hurts does have a minor turnover problem. He has thrown nine interceptions this year and this may be where Washington could swing momentum in the game.
Washington has a very explosive offense that is led by their QB Jake Browning. Browning threw for over 3,000 yards and 42 touchdowns on the year. 31 of those touchdowns were to John Ross and Dante Pettis. The Huskies receivers should be a hand full for the Alabama secondary as they are both fast and physical. Washington also features a 1,300-yard rusher in Myles Gaskin. Washington has so many threats to attack the Bama defense with. This may be the most loaded offense that Alabama has faced this year, and Washington won't go away easily.
Alabama is heavily favored and that's justifiable. They are undefeated and haven't lost a game since September of 2015. They are defending champs and are looking for a repeat.
Prediction: Alabama 31, Washington 17
Nov 26, 2016; Columbus, OH, USA; Ohio State Buckeyes running back Curtis Samuel (4) celebrates after scoring the game winning touchdown against the Michigan Wolverines in the second overtime at Ohio Stadium. Ohio State won the game 30-27 in double overtime.Mandatory Credit: Greg Bartram-USA TODAY Sports
1. PlayStation Fiesta Bowl (Dec. 31): No. 3 Ohio State vs. No. 2 Clemson
This is the most exciting game this bowl season. Ohio State didn't win the Big Ten, but they are the best team from the conference despite losing to the B1G champions in Penn State. Clemson is looking for another chance at the title after falling short last year. Whoever wins, it will be the third year with one of these teams in the final.
While the argument can be made that Ohio State was not the better team when they played Michigan, none of it matters. The Buckeyes won and with that win they were able to put themselves into the CFP. Besides J.T Barrett, Curtis Samuel is the player to watch for the Buckeyes. He has over 800 yards receiving and over 700 yards rushing with the ability to beat you in a variety of ways. J.T Barrett and Deshaun Watson will be an interesting quarterback battle as well. While Watson may be the better talent, Barrett is a good game manager and will make sure that Ohio State stays in the game.
Clemson has a chance to make it back to the CFP final and possibly play Alabama for the second straight year. Deshaun Watson will have to lead the charge for the Tigers. They have so much talent on the offensive side of the ball that it will be hard to slow them down, if not impossible. When the Tigers defense struggles, their offense picks up the slack. Clemson will want to return to the finals at all costs after a tough loss last year. Ohio State will need to bring everything they have to beat them.
Urban Meyer has only lost two bowl games, one of those was to Clemson. I have a feeling this might be three. Prediction: Clemson 38, Ohio State 30
More from Saturday Blitz
This article originally appeared on
---
---