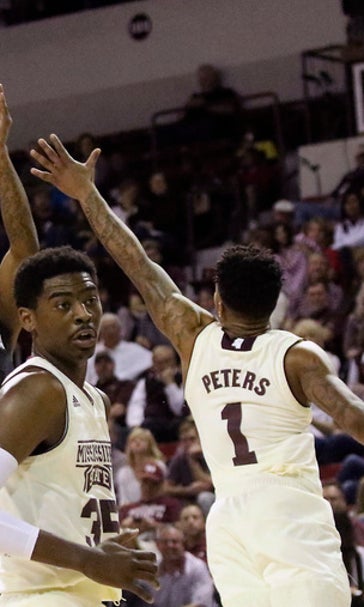 Thornwell leads No. 19 South Carolina over Miss. St 77-73 (Feb 11, 2017)
February 11, 2017

STARKVILLE, Miss. (AP) South Carolina's Sindarius Thornwell scored 28 points on Saturday night. He also guarded Mississippi State star Quinndary Weatherspoon for much of the game and helped hold him to just five points.
They were two huge reasons the 19th-ranked Gamecocks pulled away for a hard-fought 77-73 road victory over Mississippi State.
Even so, South Carolina coach Frank Martin was barking at Thornwell close to the end of the game, upset that his best player had fallen for a shot fake.
Martin grinned. He knew he was nitpicking.
''That's the kind of stuff I have to get mad at him about because he does everything else perfect,'' Martin said.
Thornwell's big night and Chris Silva's 15 points helped South Carolina (20-5, 10-2 Southeastern Conference) bounce back from a 90-86 four-overtime loss to Alabama on Tuesday.
This game was close and hard-fought, too: Mississippi State led 64-63 with 5:17 remaining, but the Gamecocks scored the next nine points to pull away for the road win.
''We executed,'' Thornwell said. ''With older guys on the court, we've been in that situation numerous times. Just trying to finish the game and not wanting to lose two in row kept us motivated.''
Mississippi State (14-10, 5-7) was led by freshman Tyson Carter, who scored a career-high 22 points. That helped the Bulldogs stay in the game because Weatherspoon - the Bulldogs' leading scorer who averages more than 17 per game - didn't score until the final few minutes.
The Bulldogs have lost six of their past eight games.
''We're just still making some mistakes - some small mistakes,'' Carter said. ''Maybe giving up an open shot or an open layup or giving up an offensive rebound.''
Thornwell was coming off a 44-point, 21-rebound performance in the Alabama loss. He was nearly as dominant during Saturday's first half, scoring the Gamecocks' first 10 points on the way to 19 before halftime. He finished the game 9 of 15 from the field, 3 of 5 from 3-point range and 7 of 8 on free throws.
But it was his defensive work on Weatherspoon and others that might have been the most impressive.
''He's really good,'' Martin said. ''He understands film. He studies player, tendencies and where teams try to get guys shots. That's a credit to him, plain and simple.''
Mississippi State kept up with the Gamecocks for most of the night.
Carter came off the bench to score 16 first-half points for the Bulldogs and the game went into halftime tied at 36.
FOUL DISCREPENCY
Mississippi State's fans spent much of the game yelling at the officials. The reason for their irritation was simple: The Bulldogs were called for 27 fouls, while the Gamecocks only had 15.
CARTER'S BIG GAME
Carter's 22 points were stunning considering he's had a hard time getting playing time over the past two months. He had scored just 26 points in the previous 10 games combined.
BIG PICTURE
South Carolina: The Gamecocks were able to bounce back from a gut-wrenching home loss to Alabama. Thornwell was great in the first half and South Carolina made several smart plays down the stretch to get high-quality looks near the basket.
Mississippi State: The Bulldogs continued to slide down the SEC standings. It was a great performance for Carter, who shot 8 of 13 from the field, including 5 of 10 from 3-point range. But the quiet night from Weatherspoon was tough to overcome.
UP NEXT
South Carolina: The Gamecocks return home to face Arkansas on Wednesday.
Mississippi State: The Bulldogs go on the road to face Georgia on Tuesday.
-----
More AP college basketball: www.collegebasketball.ap.org and https://twitter.com/AP-Top25 .
---
---