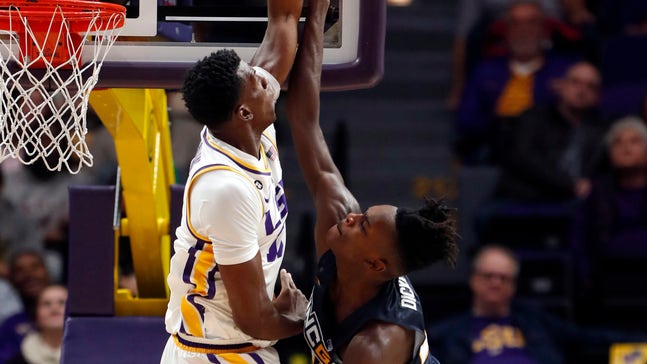 Reid, Waters help No. 23 LSU hold off UNC-Greensboro 97-91
Updated
Mar. 4, 2020 12:36 p.m. ET
BATON ROUGE, La. (AP) — Naz Reid and Tremont Waters came through big on the offensive end for No. 23 LSU. The Tigers needed all of their production to hold off North Carolina-Greensboro.
Reid scored 29 points and Waters had 21 points and 10 assists as LSU beat North Carolina-Greensboro 97-91 Friday night.
The Tigers (2-0) led by 16 points with seven minutes remaining in the game, but they needed to withstand a late rally by the Spartans. UNC-Greensboro went on a 22-11 run to pull to 93-88 with 13 seconds to play.
Skylar Mays and Waters each made a pair of foul shots in the final seconds to preserve the victory for LSU. The Tigers made 28 of 31 foul shots in the game. Ja'vonte Smart joined Reid and Waters in double figures for the Tigers with 13 points.
"The two things that saved us obviously were our rebounding and making more free throws than they attempted," LSU coach Will Wade said. "It's really tough to win when you give up 19 3s and turn the ball over 17 times. It is also hard to score 97 points when you turn it over like that. Give our guys credit."
Greensboro made 19 shots from behind the 3-point line, including 13 in the second half. That outside shooting enabled the Spartans to cut into a sizeable LSU advantage. Kyrin Galloway made four 3-pointers in this stretch to spark the Spartans rally.
LSU came up with a couple of stops in the final seconds. Then, both Skylar Mays and Waters sank a pair of foul shots to preserve the victory for LSU. The Tigers made 28 of 31 foul shots in the game.
Galloway finished with a career-high 32 points for Greensboro (1-1). Francis Alonso added 20 points, while Isaiah Miller had 13 and Demetrius Troy 11.
"LSU proposed a lot of challenges on the defensive end of the floor," Greensboro coach Wes Miller said. "I was happy with the way we shot the ball from 3 and some of the shots we created with our offense. You make 19 3s and lose tells you that you're not doing things defensively and rebounding."
LSU trailed for most of opening 11 minutes. Alonso scored eight points to help Greensboro move out to an 11-5 lead. LSU stayed within striking distance of the Spartans and tied the score at 23 on a basket by Kavell Bigby-Williams with 9:35 remaining before halftime.
After a 3-pointer by Alonso put Greensboro ahead 27-25, the Tigers answered with 12 consecutive points. A three-point play by Mays gave LSU the lead at 30-27. Reid's 3 capped the 12-0 run and put the Tigers on top 37-27 with 5:05 remaining in the first half.
"That run was really big for us," Reid said. "We just need to get more stops. That is something we will work on more. I didn't really realize how well I was shooting. My teammates did a good job getting me the ball and I was able to put it in the basket for them."
LSU added on to its advantage over the final minutes of the opening half. Waters converted a three-point play and Marlon Taylor made a 3 to help the Tigers go ahead 49-36 at the half.
HOT SHOOTING
LSU was quite accurate all night against the Spartans. The Tigers shot 56 percent from the field (30 for 54), including 50 percent on 3-pointers (9-of-18). LSU made its first 22 free throw attempts before Emmitt Williams missed one with 2:39 remaining in the game. The Tigers made 90 percent of their foul shots (28 of 31). Mays was the only Tigers player who did not make at least 50 percent of his field goal attempts.
SWAPPING ROLES
The 6-foot-10 Reid made four of his six shots from behind the 3-point line. The 5-11 Waters made only two 3s. Waters was able to get to the rim against the Greensboro defense. Waters was 5 for 7 at the foul line. Waters' 10 assists were one shy of his career-high which came last season against Arkansas.
CAREER NIGHT
Alonso, who scored 23 points in the Spartans' season-opening victory against North Carolina A&T, had a productive game against LSU. Alonso shot 7 for 12 from the field, including 5 for 9 on 3s, as he scored 20 points. But, it was Galloway, who led the Greensboro comeback. Galloway scored 25 of his 32 points after halftime. Galloway made eight of his 10 3-point shots. Galloway had never made more than two 3-pointers in a game. He had never scored more than 15 points for the Spartans.
BIG PICTURE
LSU: The Tigers have opened the season with victories against two mid-major teams who won conference championships last season. LSU defeat Southeastern Louisiana, which won the Southland Conference title, in its first game. Greensboro won the Southern Conference championship last season.
UNC Greensboro: The Spartans fell behind by double digits late in the first half, but they made things close in the final minutes due to their 3-point shooting. Greensboro, which lost two of three road games to ACC teams last season, has one more power conference opponent on its schedule — at Kentucky next month.
UP NEXT
LSU: Hosts Memphis on Tuesday.
UNC-Greensboro: At North Carolina-Wilmington on Tuesday.
---
---