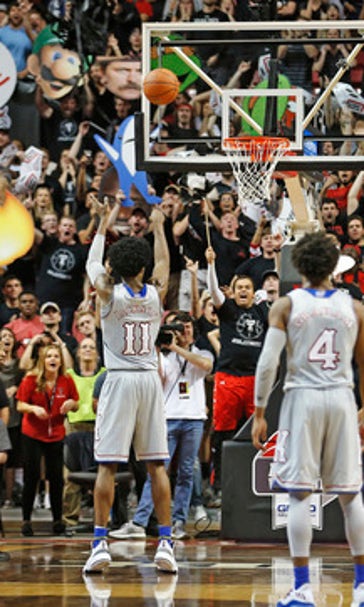 No. 3 Kansas beats Texas Tech 80-79 (Feb 11, 2017)
February 11, 2017

LUBBOCK, Texas (AP) After Josh Jackson missed the first free throw with 2.8 seconds left in a tied game, he told himself not to think about missing the next one.
He didn't, and a possible game-winning shot fell short, sealing an 80-79 victory for No. 3 Kansas over Texas Tech on Saturday.
Jackson, a freshman, finished with 31 points and 11 rebounds.
''After I missed the first one, just tried not to think about me missing it too much because I find often that when I think about missing one, then I think about missing another one,'' Jackson said. ''And it just happens. So, I just kept telling myself to knock it down.''
Landen Lucas scored 13 points and Frank Mason III had 12 points for Kansas (22-3, 10-2), which has a crucial week upcoming: the Big 12 leaders will face the second and third-ranked conference teams this week in West Virginia and Baylor.
''Anytime you get it handed to you, and get an opportunity to play that same team, that should be motivation enough,'' Kansas coach Bill Self said of facing West Virginia, which beat Kansas earlier this year.
Keenan Evans finished with 25 points and Niem Stevenson had a career-high 22 points and 10 rebounds for Texas Tech (16-9, 4-8). Zach Smith finished with 21 points and 10 rebounds.
After Kansas inbounded the ball with 5.4 seconds left, Jackson was fouled on a drive and missed the first free throw before making the game-winner.
''He did such a good job of driving downhill,'' Self said. ''I don't know if it was a fair play for Zach (Smith) because I don't believe he was guarding Josh. Josh's man fell, and Zach had to take Josh. So, (Jackson) was able to get a head of steam driving at him downhill.''
On Texas Tech's inbound with 1 second remaining, the Red Raiders managed an off-balanced shot attempt from Evans that fell short.
Mason, the Jayhawks' leading scorer, fouled out and was held under his 20.4 points per game average.
''I think you give our guys some credit for that,'' Texas Tech coach Chris Beard said. ''I think we contributed to Frank not playing the game that he'd like to play. I thought we were dialed in defensively. I thought we put pressure on him to play defense.''
Texas Tech used a Kansas scoring lull midway through the second half to get back in the game. During that stretch, the Jayhawks managed just one field goal in a 4-minute stretch.
Kansas trailed 77-75 with 2:17 remaining after Justin Gray hit two free throws for the Red Raiders. A dunk by Jackson tied the game with 2:05 left and Kansas did not trail after that point.
BIG PICTURE
Kansas: After two losses in its last five games entering Saturday, Kansas built on a three-point win against Kansas State with a tight road victory against the Red Raiders.
Texas Tech: The Red Raiders have not beaten Kansas since 2009 and came close to upsetting a No. 3 ranked team at home for the second straight season. Last year, Texas Tech knocked off then-No. 3 Oklahoma.
BIG PLANS
Beard complimented Jackson after the game by joking that he might not be a college player for long.
''I thought about asking him like after the game, `Hey, Jackson, can I borrow a couple hundred dollars?''' Beard said. ''`I'll pay you back next year when you're in Lubbock. Because he's not coming back to Lubbock. He'll be a one-year player in the Big 12. He's special.''
UP NEXT
Kansas hosts No. 13 West Virginia on Monday.
Texas Tech plays No. 6 Baylor at home on Monday.
---
More AP college basketball:www.collegebasketball.ap.organdhttps://twitter.com/AP-Top25.
---
---