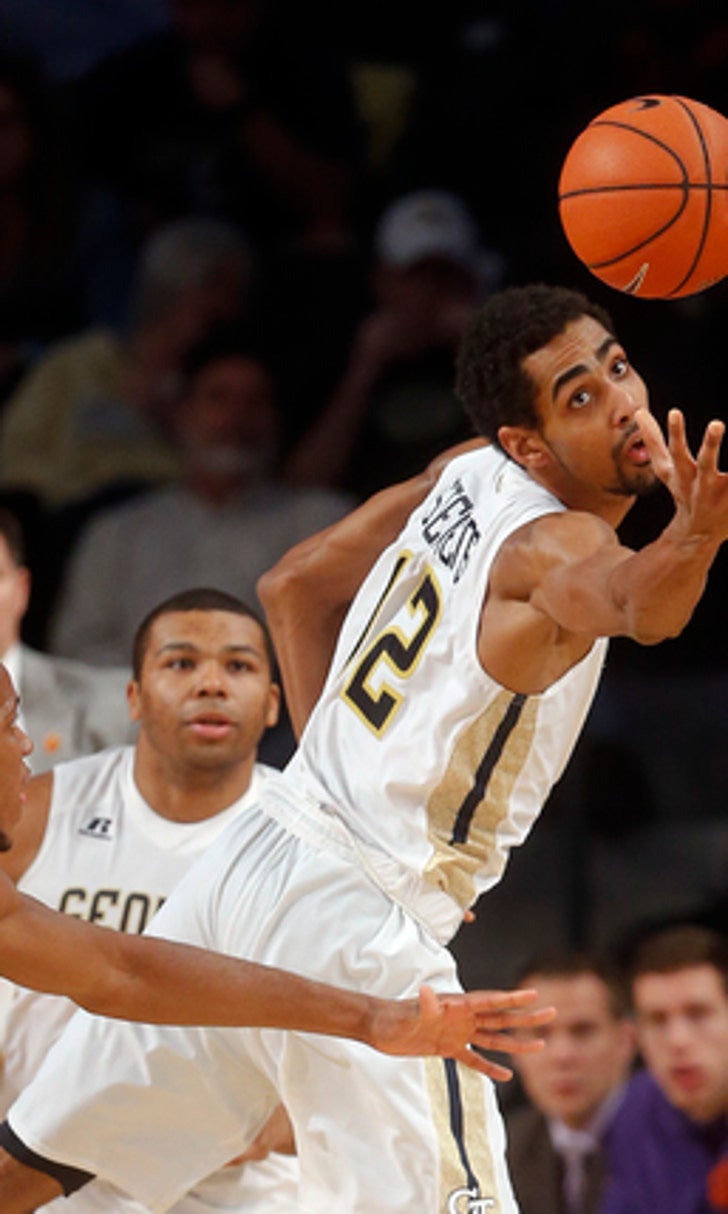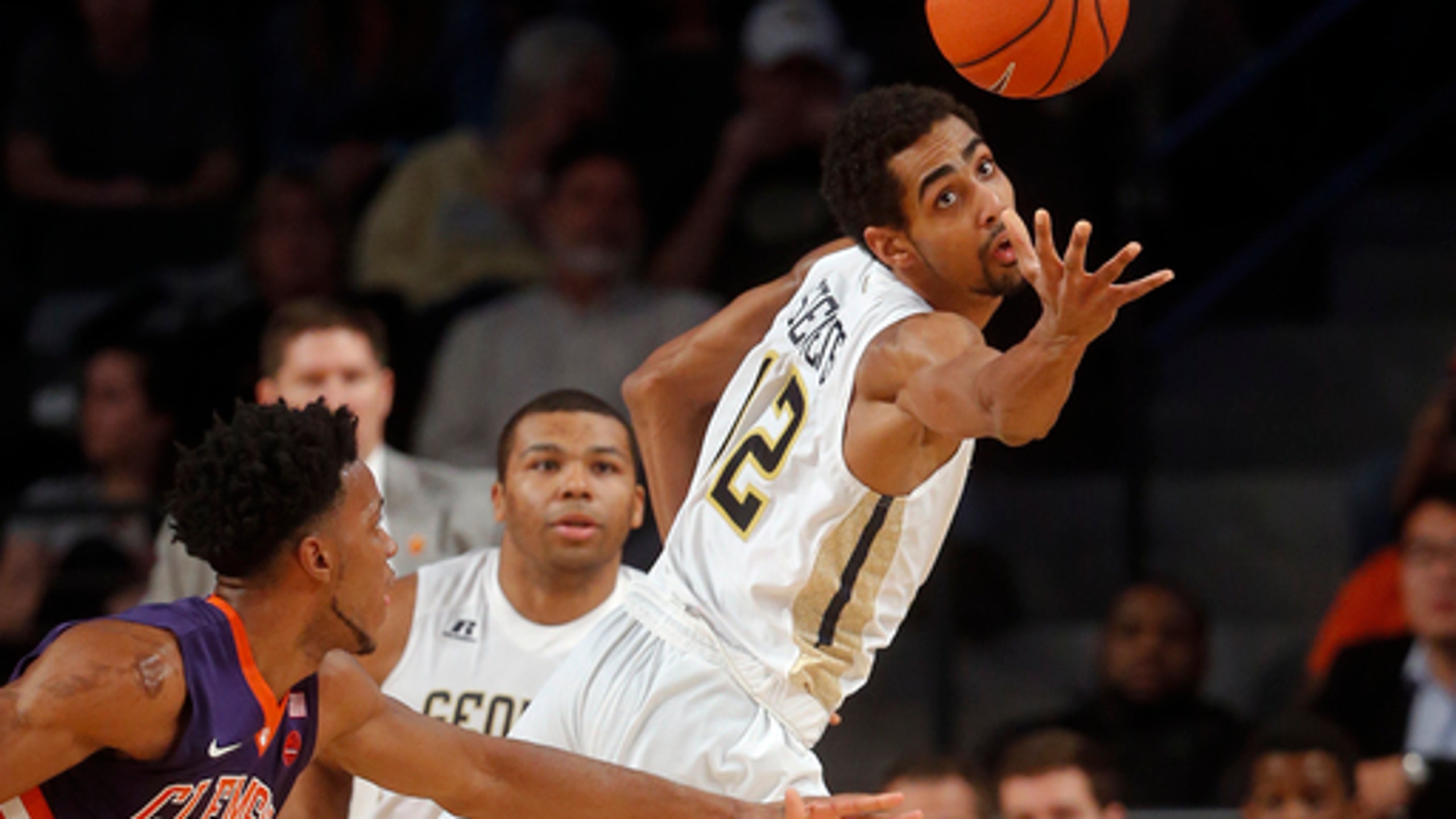 Lammers, Stephens power Georgia Tech past Clemson (Jan 12, 2017)
BY AP • January 12, 2017
ATLANTA (AP) Ben Lammers kept waiting for Clemson to make a late push and get back in the game.
Georgia Tech was too stout.
''It was good to go into the last few minutes with that little bit of a cushion,'' Lammers said. ''Plus we also had the momentum going from the last 10 minutes of the game, so that definitely helped.''
Lammers had 23 points and 10 rebounds, Quinton Stephens added 16 points and Georgia Tech beat Clemson 75-63 on Thursday night.
The Yellow Jackets, who upset North Carolina and played Louisville tough, don't have much experience but they pulled off another surprising performance at home under first-year coach Josh Pastner.
Josh Okogie finished with 13 points, and Tadric Jackson scored 10 for the Yellow Jackets (10-6, 2-2 Atlantic Coast Conference). Georgia Tech was projected to be among the league's worst teams this season.
Jaron Blossomgame scored 20 points, and Avry Holmes added 14 for Clemson (11-5, 1-3). The Tigers have lost three straight.
Clemson cut the lead to five on Gabe DeVoe's 3 with 3:15 remaining, and Stephens missed a 3 at the shot-clock buzzer on the ensuing possession, but Okogie grabbed a rebound and fed Stephens for a dunk that made it 63-55. The lead swelled to 13 a couple of minutes later on Jackson's 3.
Lammers, a junior, has blossomed under Pastner, ranking third in the ACC in rebounding average and field-goal percentage.
''He makes it hard at the rim on offense,'' Clemson coach Brad Brownell said. ''You can't score over him. Offensively, he can score at the rim with his jump hook. He's making 17-foot jump shots. He's a very good high post passer. He's an elite-level player in this league.''
The Jackets outrebounded Clemson 40-29.
BIG PICTURE
Clemson: Brownell was 11-1 in the series before losing the last three games. Georgia Tech won in the ACC tournament last year with a veteran team of transfers, but this group of Jackets is the nation's least experienced team.
The Tigers have plenty of experience with two graduates, a senior and a junior in its starting lineup, and the matchup looked favorable. But Clemson missed 16 of its first 21 field-goal attempts and it had just two leads, both early in the second half by one point.
Starters Shelton Mitchell and Donte Grantham combined to go 1 for 14 from the field.
''We just never got into a great rhythm,'' Brownell said. ''I thought Jaron fought his way to 20 points tonight, but we didn't have many other guys play well.''
Georgia Tech: Pastner was visibly furious at Jackson's effort on defense midway through the first half. The emotional display seemed to pay off.
Just as a media timeout started after Sidy Djitte's tip-in cut the lead to four, Pastner stormed onto the floor on Georgia Tech's end, flailed his arms and yelled at Jackson. The coach barked at him a few seconds later near the bench before calming down and bringing the team together to discuss strategy.
Jackson, the team's third-leading scorer this season, returned midway through the second half and quickly hit a 3 in front of the Tech bench to put the Jackets up 43-40. He scored eight of points and had four rebounds in the second half.
''I laid into him pretty hard,'' Pastner said. ''I was very upset that he didn't get a rebound, which was a 50-50 ball. But to his credit, he responded and he made big plays in the second half. He came through for us.''
MAKING A SPLASH
Okogie began the night with 211 points, the most by a Jacket freshman since 2006-07 when Thaddeus Young, in his only season before heading to the NBA, scored 211 in 14 games.
UP NEXT
Clemson: Hosts Virginia on Saturday.
Georgia Tech: Visits North Carolina State on Sunday.
---
---