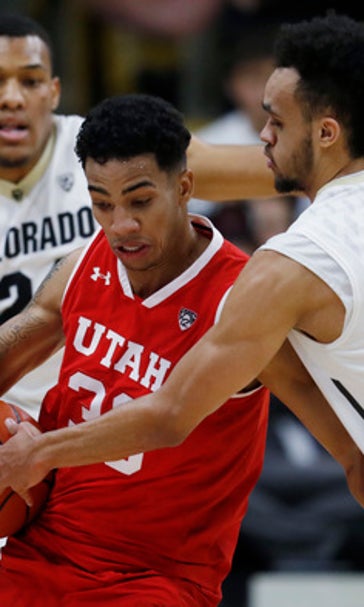 Kuzma scores 25 as Utah beats Colorado, 86-81 (Feb 23, 2017)
February 24, 2017

BOULDER, Colo. (AP) Utah's road struggles found a cure in what has become a friendly place for the Utes.
Kyle Kuzma scored 21 of his 25 points in the second half and Utah continued its dominance of Colorado with an 86-81 win on Thursday night.
David Collette added 14 points for the Utes (18-10, 9-7 Pac-12), who won their seventh in a row over Colorado (16-13, 6-10) despite foul trouble. Collette and Lorenzo Bonam each had four fouls by midway through the second half and Kuzma played the last 18:27 with three fouls.
Bonam fouled out with 20 seconds left.
''I haven't lost here,'' Kuzma said of the Coors Events Center. ''I don't think I have ever lost to Colorado. That's a great feeling. Colorado is my favorite team to play.''
The Utes had lost four straight road games before breaking through against Colorado.
''We haven't been a really good road team this year,'' Kuzma said. ''Closing out games is kind of a problem for us. We held it down tonight.''
Derrick White had 31 points and four blocks for the Buffaloes, who struggled defensively. Utah shot 55.3 percent and hit 25 of 323 free throws.
''Our defense wasn't good enough tonight,'' Colorado coach Tad Boyle said. ''Utah came in here and just schooled us.''
The Utes led 71-61 with 4:34 left but had to hold on down the stretch. White scored seven points and three free throws by Dominique Collier got the Buffaloes within two.
After Tyler Rawson split two free throws Collier missed a 3-pointer with 30 seconds left that would have tied it.
Colorado's press nearly created a couple of turnovers but Utah was able to break it and hit their free throws down the stretch.
''We needed that one stop to put us over the edge in this one,'' said White, who also had six rebounds and five assists.
The Utes used a 17-5 run to take a 12-point lead with 5:25 left in the first half. The Buffaloes trailed by eight at halftime but went on a 7-2 run at the start of the second half to get within 39-36.
BIG PICTURE
Utah: A big win as the Utes try to push for an NCAA Tournament bid. They finish out at home and have a chance to end the Pac-12 regular season at 11-7.
Colorado: The Buffaloes have not been able to solve Utah for three years, and it will likely mean a trip to the NIT. Colorado's last win over the Utes was Feb. 1, 2014, in Boulder.
UTES SHORT A PLAYER
Utah freshman Devon Daniels was suspended from the team for violating team rules, according to the team.
''Devon Daniels has been suspended from the team indefinitely, due to conduct detrimental to the team,'' coach Larry Krystkowiak said in a statement.
Daniels started 26 out of the first 27 games for Utah and is averaging 10.4 points.
UP NEXT
Utah: The Utes host California next Thursday 2 in their penultimate conference game. Utah lost to the Bears in double overtime on Feb. 2.
Colorado: The Buffaloes host Stanford on Thursday. Colorado beat the Cardinal on Feb. 2 for its second conference win.
---
---