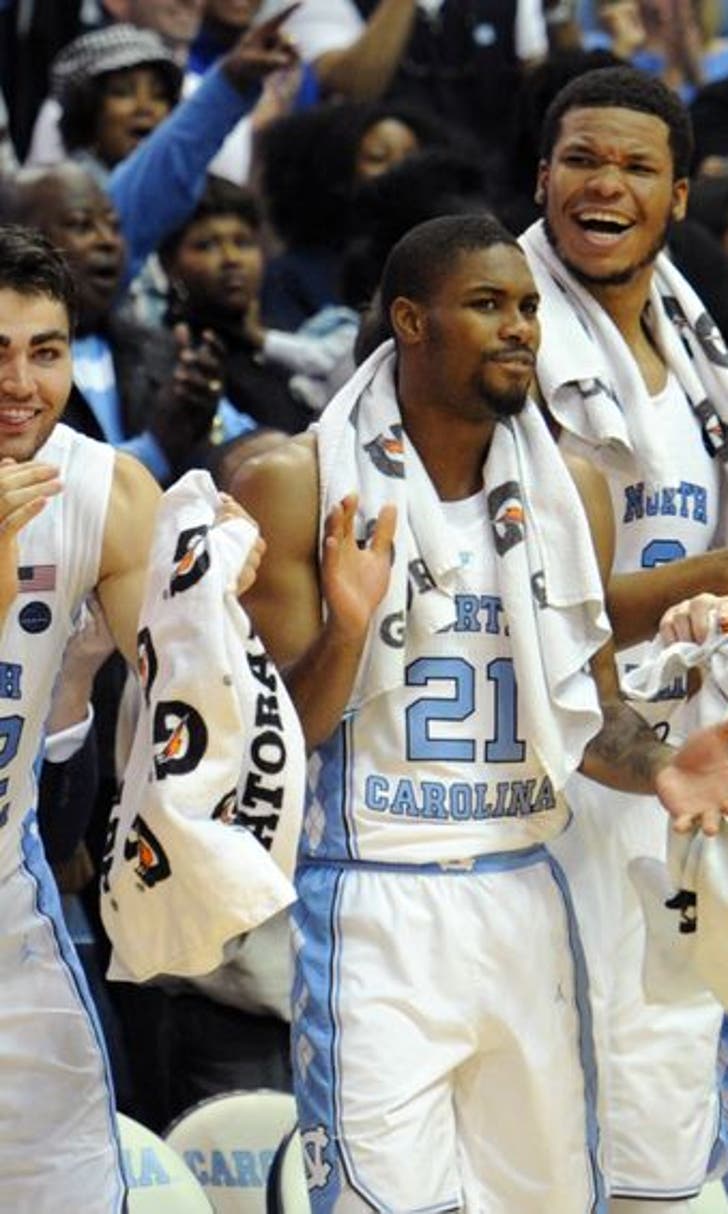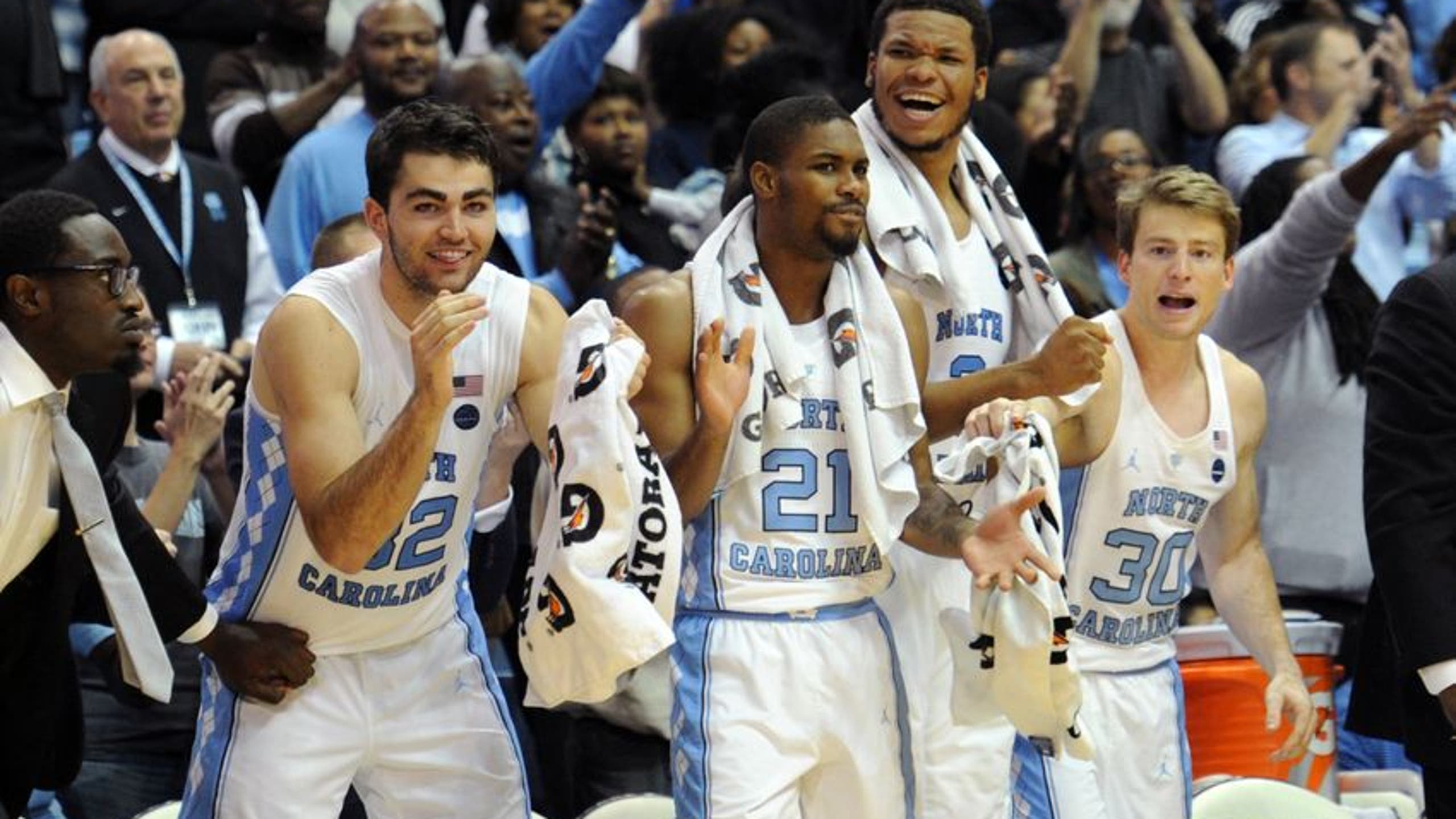 Kentucky Basketball: North Carolina Preview
BY Fansided and Chad Adams/FanSided via Wildcat Blue Nation • December 17, 2016
Kentucky Basketball: A big rivalry is renewed when the Cats take on North Carolina today, a study in two teams that mirror each other in pedigree, size, speed and title aspirations
Dec 11, 2016; Chapel Hill, NC, USA; North Carolina Tar Heels forward Luke Maye (32) and guard Seventh Woods (21) and forward Kennedy Meeks (3) and guard Stilman White (30) celebrate in game against the Tennessee Volunteers during the second half at Dean E. Smith Center. North Carolina won 73-71. Mandatory Credit: Evan Pike-USA TODAY Sports
Today yet another rivalry renews, as Kentucky takes on North Carolina in Las Vegas' T-Mobile Arena in the CBS Sports Classic, another reminder of the Cats' place among college basketball's elite, much like its foe. And that's just the beginning of the similarities in this marquee matchup.
Kentucky, ranked 6/7 in the polls, and North Carolina, ranked 7/6, respectively, are both currently projected as No. 2 seeds in the NCAA Tournament. A win today could be an emphatic booster to a resume for one of these squads to claim an all-important No. 1 seed for the tourney. So today's game could literally springboard a deep March run. GAME TRACKER
But these teams are also case studies in up-tempo basketball this season. Make no mistake, both North Carolina and Kentucky will seek to run at every opportunity – off misses or makes, off steals and likely from the opening tip. Transition basketball is key to both of these offenses.
"I think both of us will be trying to slow down the other team as far as 'get back,'" coach John Calipari said in a news conference.  "You'll hear (North Carolina coach Roy Williams say), 'Get back!' And you'll hear me, 'Get back!' We'll both be yelling that probably 100 times a half. They're fast. We're fast. It probably will come down to, if you don't get it quickly, who's the better execution team? They've got juniors and seniors and older players and we're playing freshmen. So, you tell me. So we're gonna have to figure out how to be efficient. The game we lost it was one-on-one basketball. The synergy you need – alright, they stopped us; now we gotta play. Now we gotta create for each other. We weren't ready for that. Hopefully we're a little more ready this time."
kentucky
Busting Brackets 2dNCAA Basketball: Five games to watch on superb Saturday of college hoops
More headlines around FanSided:
2d - UNC Basketball: Three Keys to Victory vs Kentucky4d - NCAA Basketball: Player of the Year power rankings (Edition Three)4d - Georgia basketball, rest of the SEC faces an important weekend5d - UNC Basketball: Top five John Calipari teams vs top five Roy Williams teams5d - Kentucky Basketball: Wildcats roll past Hofstra in BrooklynMore News at Wildcat Blue Nation

While both teams are fast, they're both big as well, as both Kentucky and North Carolina look to impose their strength in the paint. Despite Kentucky's size, the Cats were out rebounded by both UCLA and Hofstra recently, while the Tar Heels bring in the top rebounding margin, plus 14.8 per game, in the country.
"They're big, physical and go to the glass," Calipari said. :I don't believe a team can be good at everything. You're not. As a coach, you decide what your strengths are and let's become really good at those things and hide the things that we don't do well. Their strength is that they can really get out and fly. Their other strength is that they're really good in the post. They're big and they fight for position. They try to have two feet in the lane or they seal you over the top. The third thing is that when they shoot it – are you ready for this – half of their misses they rebound for the season. What would you do if you were them, all you Basketball Bennies out here? Are you worried about turning it over or shooting it? Basketball Bennies? You shoot it because half of those you're going to get back when you miss. You're either making them or you miss and half of those you get. That's why they shoot it quickly is because they rebound it."
Look for Calipari to potentially experiment with lineups today if Kentucky struggles to either run or rebound with the Tar Heels. In recent games, Mychal Mulder has again emerged as a threat off the bench, while Dominque Hawkins continues to be an elite on-ball defender. At times this season, Bam Adebayo and Isaac Humphries have shared time on the court, as have Wenyen Gabriel and Derek Willis, who often sub at the same stretch-four position. These substitution patterns give Cal the ability to play big to match North Carolina's size, or play small with four guards, putting Mulder at the four-spot, to try to out-run the Tar Heels.
"We're gonna try everything," Calipari said. "I may play four guards. Mychal Mulder was like a four at (junior college). So I could put he, Isaiah Briscoe, two guards and a big guy. Maybe we'd be better that way. Maybe they have to change. I mean, we'll try stuff, and that's the greatest thing about not having to go game to game. 'We gotta win.' This isn't like the football season where if you lose this one, that one you've got no chance for a national title. That's not what it is, but we have different things we have to try. I do want to give everybody a chance to prove either they should be playing or not. Coaches don't make those decisions. Players make those decisions."
While many Kentucky fans lament the loss of home-and-home games against traditional rivals such as Indiana, today's matchup, on a neutral court against a top-10 team, is emblematic of what Calipari is all about – using the season to create an NCCA Tourney gam environment, preparing the Cats for a March Madness run.
"I like all home games now as I get older, and we're still going to play road games," Calipari explained. "But, the neutral game – one, like it's the television of it, and two it's postseason. And what I care about is postseason here. It's not game to game. It's postseason. That's what we play for. That's why, again, we've done pretty well postseason the last seven years. One year, Nerlens (Noel) gets hurt and it kind of changes direction, but that's what we're playing for. In postseason you don't go on an opponent's court in front of 19, 20 thousand people going nuts, drunk, screaming, yelling and that's who wins, who loses. Obviously, you've gotta play some road games to get some home games. I'd like to play our league road games and that's it, but can't do it."
And what a better matchup to build for the tournament with what is likely to be another classic showdown with North Carolina, one of Kentucky's oldest rivalries, where the two clubs seldom meet when the stakes aren't extremely high. Like UCLA, today's game serves as a great litmus test to show how far this young Kentucky team has progressed this season, as the Tar Heels will be a tough out.
More from Wildcat Blue Nation
"They're an unbelievable rebounding team," Calipari said. "They're fast. If you don't run with them, then you're giving up layups. They have skilled guys, both inside and outside. They can either play fast or slow and still beat you. They've been in close games, which tells you they're not afraid. Tennessee had a chance to beat them and they come back and win the game. They're not going to get rattled. They're a veteran team. Roy (Williams) is a hall of famer. It'll be a hard game for us. I keep telling myself, folks, that this is a process and I have to keep staying in the moment. We can't go life or death from game to game when you're starting four freshmen. You just can't do it. I get into the same mode as our fans like, 'Oh my gosh. We lost.' You're not getting eaten. It's a process. We've had teams here lose nine and 10 games and get to the NCAA championship game – the NCAA final game. But, I didn't remember the grind of that. I can just tell you that it's tough because every game that we play is a big game for somebody. It needs to be a big game for us, and it's hard because these kids aren't machines. They're not computers. It's hard."
North Carolina is one very few programs in the country to own an all-time winning record against Kentucky, 23-14. However, Kentucky is 4-2 in the Calipari era. Tip-off is scheduled for 5:45 EST on CBS.
---
---