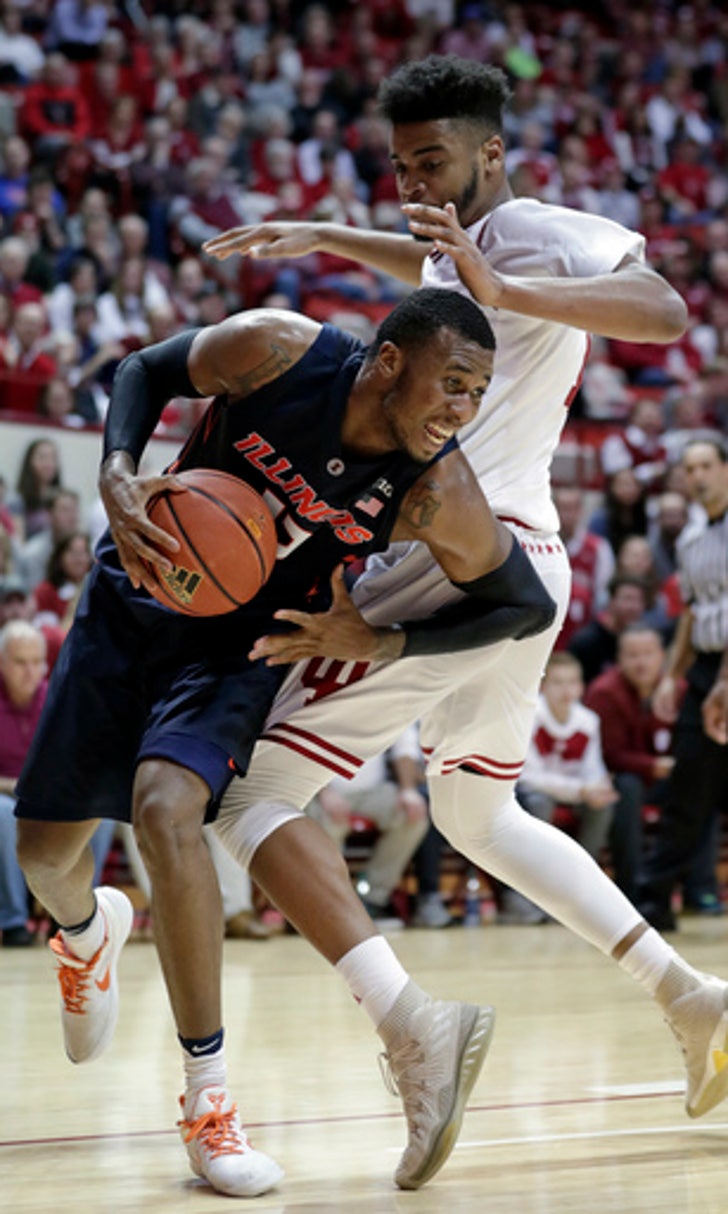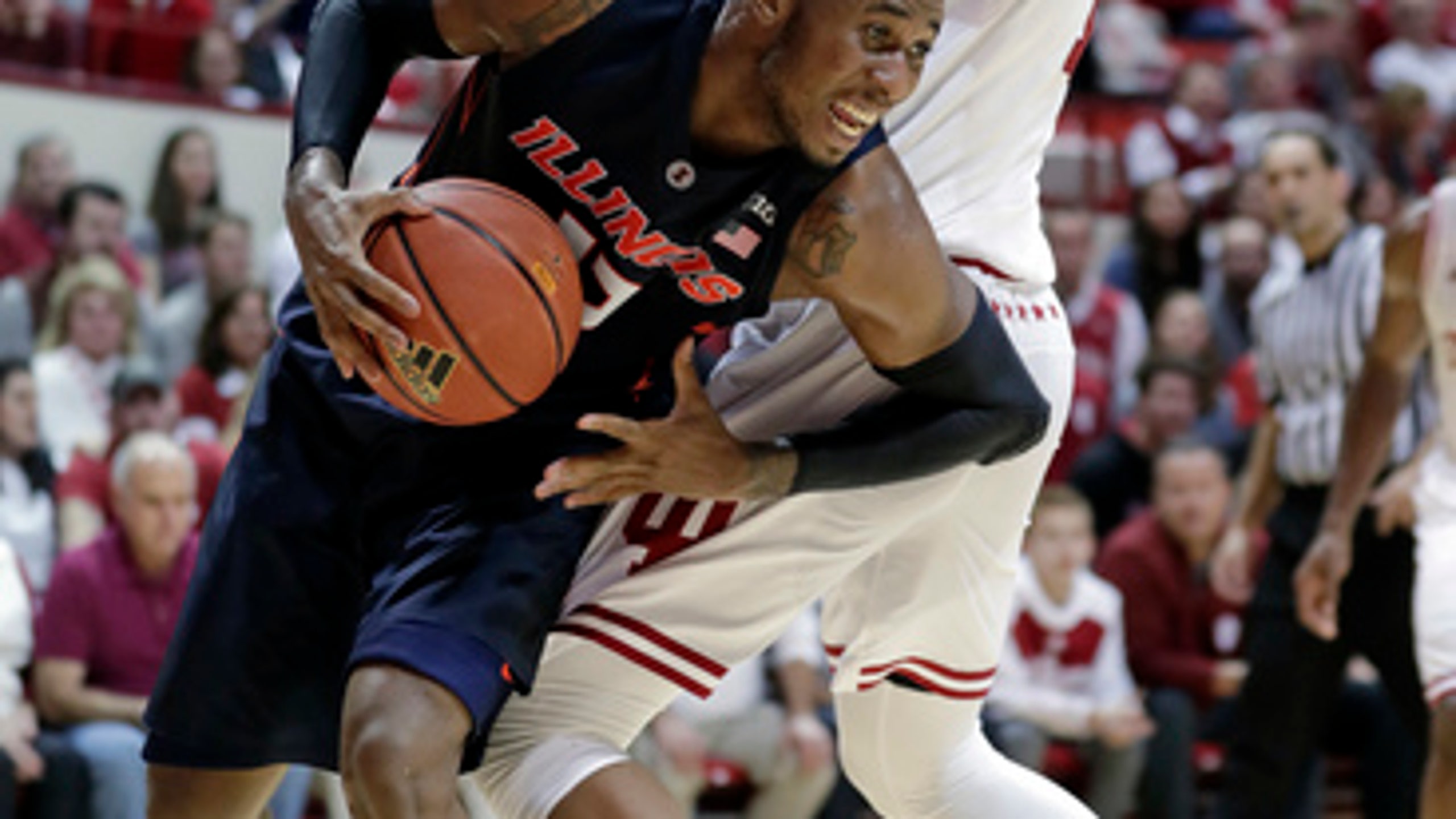 Indiana's defense delivers knockout punch against Illinois
February 15, 2018
BLOOMINGTON, Ind. (AP) When Illinois tried to negate Juwan Morgan's offensive impact Wednesday, the Indiana forward found other ways to finish the job.
His supporting cast pitched in, too.
Morgan was one of three Hoosiers to score 14 points, posted his eighth double-double this season and blocked a career-high five shots to lead Indiana past the Fighting Illini 78-68.
''He's doing it almost every game,'' coach Archie Miller said. ''He's blocked a lot of shots, he gets rebounds, he gets steals. I think what he's done for our team on both ends of the floor has been really big.''
Unlike previous games, the Hoosiers (15-12, 8-7 Big Ten) managed to give Morgan a break from the heavy-lifting.
Robert Johnson and Aljami Durham each finished with 14 points. Justin Smith added 13 and Josh Newkirk wound up with 11.
The balanced attack also provided an opportunity for Morgan to showcase his full range of skills. While going 4 of 8 from the field and 6 of 7 from the free-throw line, he grabbed 10 rebounds, had four steals and three assists - coming up just short of career highs in rebounds and assists and matching his best single-game total for steals.
It was enough to get Indiana a third consecutive win and a split in the season series with Illinois (12-15, 2-12).
''I think we're playing as well as we have all season,'' Miller said.
Leron Black had 20 points and seven rebounds before fouling out to lead the Illini. Kipper Nichols added 16 as Illinois lost is fourth straight and for the 10th time in 12 games.
But after Indiana took its first lead during a 14-0 first-half run, the Illini never recovered.
After falling into a 35-25 halftime deficit, largely because of poor 3-point shooting, Illinois adjusted by repeatedly going inside. For a while, it worked.
The Illini methodically cut into the deficit, closing to 51-49 with 12:26 left. They could have made it a one-point game - if Nichols completed the 3-point play.
Instead, he missed the free throw and the Hoosiers countered with an 8-2 spurt to make it 59-51. Johnson's 3 with 7:24 left extended the margin to nine and Illinois couldn't get closer than six again.
''We had to be tougher with the basketball, we probably had six or eight balls knocked out of our hands at the rim,'' coach Brad Underwood said. ''And we missed huge momentum plays. I think we had three or four of those and those are just as deflating to us as it would be to the other team when we finish those plays.''
BIG PICTURE
Illinois: The struggles continue. Foul trouble, poor shooting and allowing too many easy baskets were a recipe for disaster. And that's exactly the Illini got - again.
Indiana: The Hoosiers continue to build momentum as the season winds down. With two winnable road games up next, a strong finish is exactly what Indiana fans hope to see.
KEY STATS
Illinois: Trent Frazier scored 12 points and had five assists. ... The Illini were 1 of 12 on 3s during the first half, scoring a season-low 25 points. ... Illinois shot 40.7 percent from the field overall, was called for 24 fouls and went 20 of 30 from the free-throw line. ... The Illini have not won this season when allowing 75 or more points.
Indiana: The Hoosiers shot 64.7 percent from the field in the second half and a season best 59.1 percent for the game. ... Devonte Green left midway through the second half with an what Miller called an ankle injury. He did not return, but Miller said he didn't expect him to miss any games. ... The Hoosiers had a 34-23 rebounding advantage and were 20 of 29 from the free-throw line.
UP NEXT
Illinois: Hosts Nebraska on Sunday.
Indiana: Will go for the season sweep Saturday at Iowa.
---
For more AP college basketball coverage: http://collegebasketball.ap.or and http://twitter.com/AP-Top25
---
---