Chris Bosh's rift with the Miami Heat is getting worse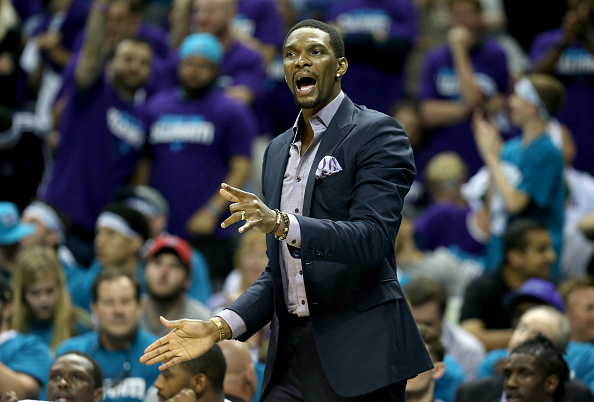 After dropping a pivotal Game 5 at home on Wednesday night, the Miami Heat face elimination the next time they take the court. And, just like every game they've played since the All-Star break, Chris Bosh won't be around to help.
But why? Bosh insists he's healthy enough to play and even traveled on the team's charter flight back from Charlotte on Monday — something he hadn't done since February. The Heat won't budge, though. They continue to put his health above everything else, and, unfortunately, the disagreement has created an apparent rift between both sides that's getting messier by the day (via Miami Herald):
Bosh and his wife have taken to social media to let their followers know he's ready and willing to get back on the floor:
A couple main issues are at play. First, is Bosh actually healthy? The team's stance is clear and their intentions are in the right place. Bosh's physical well being is the priority over how they conclude the 2015-16 season, as it most definitely should be, 10 times out of 10.
.@chrisbosh: "I still got it" #Heat #HeatNation #BringBoshBack pic.twitter.com/0dhI3jwHbm

— /r/Heat (@Heat_Reddit) April 27, 2016
#BringBoshBack RT @EthanJSkolnick: @My_view_in_life They're really missing Bosh now

— Adrienne Bosh (@MrsAdrienneBosh) April 26, 2016
Beyond that, there's a real question of whether adding Bosh to the lineup would actually make them a better team at this stage in the year. He hasn't played NBA minutes in two months, and in that time Miami found success adopting a speedy brand of small ball that's helped open up the offense.
Throw a rusty Bosh in at the four, even if it's for 15 minutes off the bench, and all of a sudden the identity that carried them to a three seed gets thrown off track. It's a tricky situation for both sides, but the Heat have no incentive to keep Bosh out if he's truly healthy enough to play. So, maybe everyone should calm down, take a deep breath and come back even stronger next year.
Spoelstra trying to steal a couple of minutes w/ McRoberts against Zeller. Would be a good time for Chris Bosh to rip off suit. (Kidding…)

— Ethan J. Skolnick (@EthanJSkolnick) April 28, 2016