Feel the Energy: Getting to know D-Leaguer Maxie Esho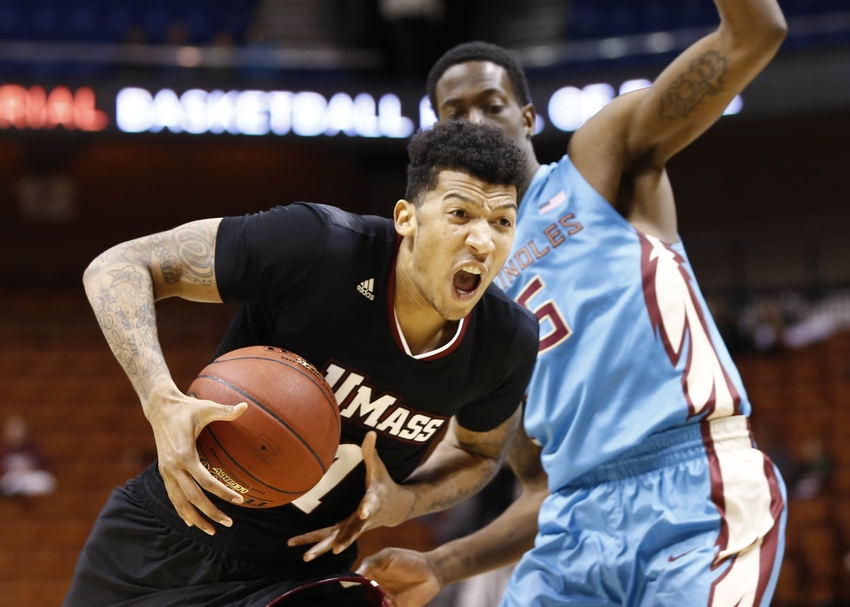 With the Memphis Grizzlies' season kicking off in late October, that also means the return of their D-League affiliate, the Iowa Energy.  Last year, three players—James Ennis, Russ Smith and Jarell Martin—played minutes with the Grizzlies after excelling with the Energy. In a series of analyses, we'll go through the roster in an attempt to decipher who has the greatest chance to earn a call-up to the NBA in 2016-2017.
Maxie Esho, Forward
Making his way into professional basketball undrafted after the 2015 NBA draft, Maxie Esho has had to make his way into basketball the hard way, but shows the potential to get his shot in the NBA. Esho will be on the Iowa Energy and will be looking to develop upon a promising season last year and hopefully be a starter for the upcoming season.
In college, Esho showed a lot of promise and versatility, a huge advantage in today's NBA. Esho played both forward spots at UMass and was capable at each position with his ability to hit the 3 when needed, defend both positions well (0.7 steals and 0.8 blocks per game in his college career), and could rebound at an above-average level (8.9 per 40 minutes).
D-League stats: 35 games, 15.8mpg, 5.9ppg, 3.5rpg, 0.4apg, 0.6spg, 0.4bpg, 1.1topg, 10.7 PER, .441 FG%, .265 3PT%, .733 FT%
NBA Stats: N/A
Odds of receiving a call-up?
Esho can play both the SF and PF positions, but is primarily a PF. He has solid post-up abilities, which fit in Memphis' offensive schemes and could easily learn them and be able to post up small forwards and small-ball power forwards. He has the grit and offense that Memphis fans love. But can he be NBA caliber?
Esho looked good in the D-League and in college, but there's question marks surrounding his ability in the NBA against the 'big-boys'. He has the potential to be in the NBA but he has to put in a lot more work and could have a story like Jeremy Lin or Kent Bazemore. However, firstly Esho has to focus on becoming a starter on the Iowa Energy and be able to showcase his abilities more to new Grizzlies coach, David Fizdale.
He could easily slide up to the Grizzlies if there's an injury crisis, but he has to showcase his abilities more in the D-League. If he can play his game and improve on all of his fundamentals more (such as more consistent jump shot) he could be a great fit for the Energy, but also hopefully get a call-up to the Grizzlies and could easily play minutes for the Grizzlies as a reserve forward.
Keep tabs on Esho in this upcoming season and hope he has the D-League's next Cinderella story.
https://www.youtube.com/watch?v=Xdjz4kLCy-I
More from Beale Street Bears
This article originally appeared on