Brett Brown Stayed With Embiid the Night His Brother Was Killed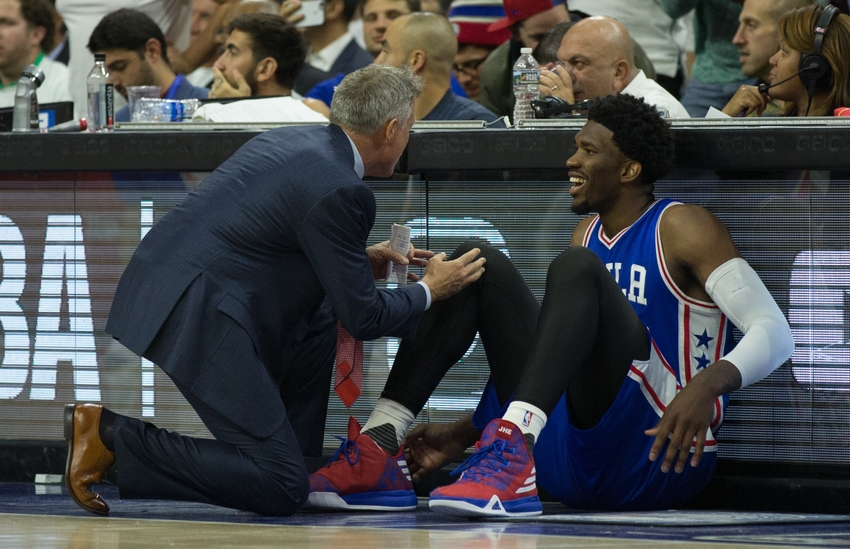 Philadelphia 76ers head coach Brett Brown stayed with Joel Embiid in his apartment the night his brother was murdered by a reckless driver.
There has been a lot of criticism going around regarding Philadelphia 76ers head coach Brett Brown this season. Despite the fact that his roster is still not up to winning par, and despite the fact that the team still has been unable to put Ben Simmons and Jerryd Bayless on the floor, people are starting to point to Brown for his questionable substitutions and late-game play calls as a reason for lost games.
Among all of that, Brown still proves to be a great speaker, motivator, and relationship type of guy with many of these young Sixers players. One of the people he's closest with, rookie center Joel Embiid, knows that Brown will be there for him at any point not only as a coach and mentor, but as a friend and a shoulder.
It was revealed in Friday's edition of The Vertical Podcast with Adrian Wojnarowski that Brett Brown spent the night in Joel Embiid's apartment the day that Embiid found out his brother had been tragically killed by a reckless driver back home in Africa. The driver drove into a schoolyard and struck Embiid's brother, who he hadn't seen in a while due to being back home trying to pave his career path for the NBA.
Although the night was certainly dark for Embiid, it was impactful for Brown too. Here's what Brett had to say about the evening:
"That for me, was one of the darkest nights of my life, to see Joel in the state that he was in, and to feel very helpless on anything you could do to help other than to be with him. It was a long night."
While Brown makes it seem like he didn't really do much for Embiid that night, him being there for him, spending the night in his apartment is probably seen as one of the defining moments in Embiid's career where he knew the Sixers cared about him and knew that the Sixers were right for him.
More from The Sixer Sense
This article originally appeared on