An Interview With The Man Who Caught A-Rod's 3000th Hit, Zack Hample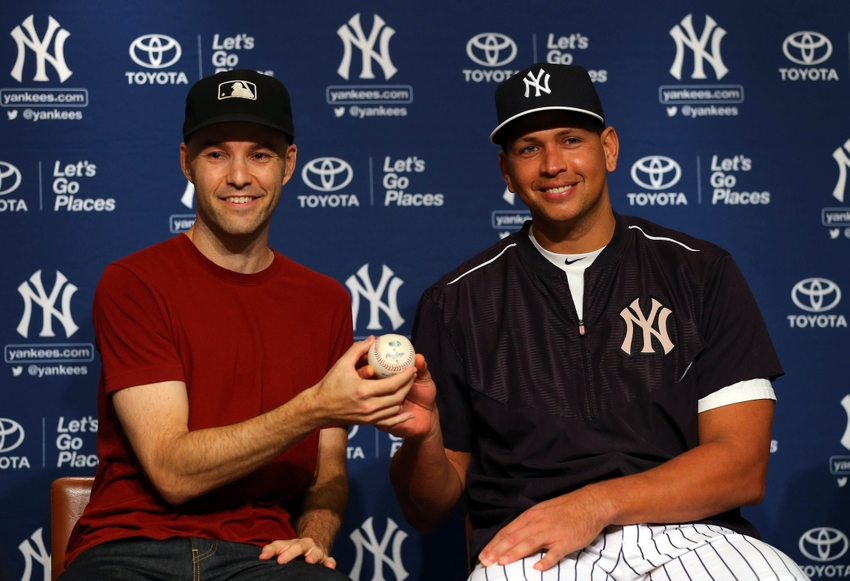 Zack Hample is a famed "ball hawk" who should be known to all New York Yankees fans for him catching Alex Rodriguez's 3000th hit.
Zack Hample has a passion for collecting baseballs and goes across the country to snag them to add to his illustrious collection. As of today, Hample has over 9000 baseballs in his collection which includes the final home run at Shea Stadium which is one of his most prized possessions.
It is outstanding what this man does, he catches a baseball every time he goes to a game and once even snagged over 30 balls while attending a single game. He has the art of "ball hawking" down to a science and studies each stadium and player to determine where he should play them also where the best sections are to catch a ball.
What Hample does not only is enjoyable for him, but he also donates a ton of money to one of his favorite charities, Pitch in for Baseball. This organization is a non-profit that provides baseball and softball equipment to underprivileged children all around the world. Hample raised over $190,000 for this charity throughout the 2016 season which was surely put towards a good cause.
He has written three different books, "How to Snag Major League Baseballs", which was published in 1999,  "Watching Baseball Smarter," which was published in 2007, and "The Baseball" which was published in 2011.
Hample is surely an impactful personality throughout the baseball world who was nice enough to take some time out of his busy offseason schedule and conduct an interview with Yanks Go Yard:
Most Memorable Moments
Patrick Hennessy: So, you have caught over 9000 baseballs throughout your life while attending games, are there any in particular that are most special or memorable to you?
Zack Hample: I would say the last Mets home run ever hit at Shea Stadium is the most meaningful one to me, even more than A-Rod's 3000th hit because I grew up as a Met fan and even though I don't have a favorite team anymore, Shea Stadium was kind of like my second home for a long time… and the last home run that the Mets ever hit there happened to be the only home run that I ever got during a game at Shea Stadium. So, you know with A-Rod, that ball just represented one player's accomplishments but the Mets home run kind of represented an entire organization so for me that's really the most meaningful one.
Patrick Hennessy: I see, so do you even remember when and where you snagged your first baseball?
Zack Hample: I got my first baseball at Shea Stadium in June of 1990.
Patrick Hennessy: Wow, so it has been a while…
Zack Hample: It sure has been
Patrick Hennessy: How did this all start? Have you always had a passion for snagging baseballs?
Zack Hample: It began really before I caught my first ball. When I watched baseball on TV as a very little kid and I saw baseballs fly into the crowd and the TV cameras would zoom in on the fan who got them, celebrating like crazy and I just basically wanted to experience that someday so that's when the passion began… and then years later when I got my first ball, it's like it multiplied from there. I wanted it so bad, not just one, I wanted another, and another and another.
Patrick Hennessy: So basically it became like an obsession?
Zack Hample: It definitely became an obsession.
Favorite and Least Favorite Stadiums
Patrick Hennessy: Out of all of the major league stadiums you have attended, do you have a favorite/least favorite?
Zack Hample: Umm, Camden Yards is my favorite stadium of all time and I also love Globe Life Park in Arlington, Texas. My least favorite… let's just say the one I find most difficult right now is Citi Field. There are places where I might snag fewer baseballs per game but there's more room to maneuver and security is not as hard.
There are just a lot of rules at Citi Field and the configuration is very difficult for what I do. I used to love Citi Field a number of years ago when the Stadium opened even earlier and the crowds weren't as big and security wasn't as mean to me but you know, things change over time so there may come a day where I love Citi Field again and some other place gives me problems but yea Camden Yards would be the one I'd most want to go to now and Citi Field would probably be at the bottom of my list.
Patrick Hennessy: Now, many people, especially Yankee fans, were introduced to you when you caught Arod's 3000th hit, when you were walking into the stadium that day how good did you think your odds were?
Zack Hample: I thought there was a chance but not a very good chance. I would have worn a better shirt for starters if I really thought I was gonna catch the ball. I was just wearing a kinda faded U2 t-shirt and I'm not even really a U2 fan, I just grabbed that shirt and threw it on. I would have not said some stupid things the day before, I would have dressed a little better, I would've maybe prepared what to say better to the media when I was swarmed by reporters and again I said some stupid things.
So, yeah I definitely thought there was a chance. I was leaving work at my family's book store and the last thing I said before I left for the stadium was I basically told my mom A-Rod had 2,999 hits and I was just basically like if he happens to hit a home run and if I happen to get that ball it would be life changing and she just jokingly made some praying gesture and I walked out the door. Just a few hours after that I was holding the ball in my hand, it was just really incredible.
Comparing the Old and New Yankee Stadium
Patrick Hennessy: So now let's talk about the new Yankee Stadium for a bit, are there some things you like/dislike about the new Yankee Stadium where comparing it to the old one?
Zack Hample: Well, let's see… I think there's something that makes it both easier and harder for catching baseballs. The biggest thing that makes it tougher is that there is no more cross-aisle that extends through the seats. So in the old stadium, you could walk right through the seats from section to section and you could even get away sometimes with standing in one of the tunnels until someone asked you to move or it got too crowded, but you could hang out there for a batter or two and if they hit one, you could maneuver left and right in the aisle… and in fact, it's because of that aisle that Jeffery Maier became famous and interfered with that ball.
I mean of course fans can still interfere now but it was just very easy to run back and forth behind the right field wall on the short porch of the old stadium. So, I miss that. The key to catching balls in the seats is to move left and right, now at the new stadium the only way to move is if there happened to be empty seats.
So in other words, if the old Yankee Stadium was sold out, you would still be guaranteed to have the cross-aisle where you could move around. Now if you're at a sold out game at the new stadium, you seriously have nowhere to go except maybe up and down on a staircase and that's a lot harder to do than run left and right.
So just the mobility is a lot worse at the new stadium. What I think is better about it is that the seats in fair territory extend out towards the gaps, so in other words, there are seats now in left center and right center that there weren't in the old stadium. Or they were bleachers and you'd have to have a separate ticket for that. I feel like there are slightly more catchable home runs at the new stadium just in terms of what will actually land in the seats that people have a chance for. It's a small difference but it does make a difference if you go there enough.
You know, the new stadium is obviously extremely fancy and expensive which feels good on my butt when I'm sitting in that padded chair day after day, but I also miss the grittiness of the old stadium. I actually recently discovered old home video that I filmed in 1996 at the old Yankee Stadium and I edited it recently and I'm going to post it soon and I added some commentary 20 years now after the fact when I filmed it and one thing that I talked about in the video is just how a lot of people including me miss the old stadium because it had character and it was a fun place.
I really don't know if there's anybody out there who doesn't miss the old Yankee Stadium, it certainly had flaws… the concourses were narrow, the aisles were narrow, it was grungy in a lot of places, chipping paint, and just all kinds of things like that but I've never met one person that prefers the new Yankee Stadium. I'm sure there are people who like it a lot and I like it in some ways but I think everyone missed the old stadium on some level.
Patrick Hennessy: So when you say that, do you think the Yankees ownership made the right decision by building the new one?
Zack Hample: That's hard to say, I mean in terms of their bank accounts then yea they definitely made the right decision. There's a lot more money to be made with premium seats at the new stadium, but it's like what would happen if the Cubs or Red Sox tore down Wrigley Field or Fenway Park and put something really fancy in its place. Now those stadiums are even more special and unique in some ways than the old Yankee Stadium because the old Yankee Stadium, of course, had been renovated in the 1970's but even though it had been around for a while it didn't really have the true old world feel but just the thought of being the iconic place where Babe Ruth, Lou Gehrig, and Yogi Berra played.
Patrick Hennessy: You mentioned that Yankee Stadium is good when there are empty seats, well last year you has that scenario play out and you were practically all by yourself in the stadium after a long rain delay… what was this like to have free range to go practically anywhere you wanted?
Zack Hample: It was a dream come true to be in such a huge stadium that's normally so strict and to practically have the whole place to myself. Security always makes people stay in their ticketed section, but when there were only a few dozen people and it was after 2am, everyone was allowed to go anywhere except the Legends and Champions areas. Most people clustered around the dugout. I stayed in the outfield, and there was no one else there.
The Next Generation of Yankees
Patrick Hennessy: With the recent Baby Bomber movement and the influx of young talent to the big league roster, what is your opinion on the new look Yankees as opposed to the former veteran filled club?
Zack Hample: I think that the team is gonna be just as exciting to watch but in a different way. It used to be that the old guys were the draw but then when the old guys stopped performing then the team stopped playing as well. Now you have all these young guys who are really amazing. I mean Aaron Judge, yea he struck out a lot and his batting average wasn't great, but I don't even know if Mike Trout hit above .200 in his rookie season.
I think Judge is gonna be amazing, Gary Sanchez looks like the real deal, I wouldn't be surprised to see him take a step back in 2017… he hit like 20 home runs in a third of a season this year, it's possible that he plays a full season and only hits about 24. We'll see but these guys are legit and their gonna have good long careers and other players coming up too, a lot of prospects.
I think the Yankees are actually gonna be a dominant team in a few years because you have this amazing young talent that they're really not gonna be paying much for. These guys are gonna be earning the league minimum for a few years or at least not earning multi-year multi-million dollar contracts.
I think you're going to see really an amazing combo of young talent and then they'll still probably bring in some established superstar players. So I think there are great times ahead for the Yankees. I think we are going to see a Yankees/Cubs World Series in a few years…
Patrick Hennessy: Wow, that's a bold prediction…
Zack Hample: Yep, I think it's gonna happen
Patrick Hennessy: If you could pick any player past or present to sit down and watch a game with, who would they be?
Zack Hample: I guess the obvious answer is probably Babe Ruth, because he's so iconic and transcends baseball and was the greatest player of time without a doubt when you consider that not only was he the best or one of the best hitters of all time but he was also a dominant pitcher so there is absolutely no doubt that he was the best baseball player ever.
He just had a larger than life personality and it seems like he would have been a riot to hang out with. So from a baseball standpoint and just keeping you on your toes and making you laugh , Babe Ruth would be awesome to hang out with.
Beyond Baseball
Patrick Hennessy: What do you do to spend your time in the offseason when there are no baseball games for you to attend?
Zack Hample: Another good question and I do get asked that quite a bit. I posted a recent video on YouTube that kind of answered that question, I took my first attempt of vlogging and I took it in sort of a weird style where the video was made up of video clips that each lasted two seconds and I really took people through a week of my life.
You know, when it's not baseball I have a lot more free time and I fill it up doing other things. I'm much more social, I see more friends, more family, I eat healthier, I exercise more, I spend a lot of time obsessing over music and I can pay more attention to my writing group and my girlfriend and the list goes on and on.
I have a much more well-rounded life when it's not baseball season and I actually enjoy my life more when it's not baseball season which I think a lot of people have a hard time believing, but when it's baseball I'm all in so there's really not much time for anyone or anything else. It's fun but it definitely leaves me wanting more and I definitely get exhausted. Not that I'm complaining but it's just interesting to really compare the two lives that I live. There's baseball-season Zack and offseason Zack. I'm really enjoying myself now that there's no baseball.
Patrick Hennessy: Over the years have you been able to create any relationships with any players?
Zack Hample: The player I have gotten to know best is Heath Bell, three-time all-star, former closer on the Padres where he really made his mark. I just met him in 2005 when he was a September call-up with the Mets and he just couldn't really stick in the major leagues.
There was nobody at Shea Stadium back then, I mean the team was awful and they were routinely under 20,000 fans per game and they used to open two and a half hours early, so 4:40 PM on a weekday when a team is bad you could imagine there weren't that many people out there. So a lot of the players got to recognize me and Heath was the friendliest and actually took an interest in chatting with me one day.
I saw him over the years with different teams and different stadiums and he remembered me and we just built up a nice friendship and exchanged numbers and hung out numerous times outside of stadiums so that's pretty cool. Jeremy Guthrie is also awesome, he's one of the friendliest guys, it's too bad these two players have retired because it was just really great being able to go to a stadium and seeing someone I was friends with outside of the stadium. So yeah, it's really cool how those things developed over the years.
Patrick Hennessy: This one might be tough for you to answer, but do you ever see yourself stopping?
Zack Hample: I hope so. You know, there are ball hawks out there who are in their 60's and they are in good shape, they are trim, their fit, they run around, and obviously you slow down a bit as you age but just even seeing guys in their 60's that can do it , it makes me wanna stay in shape so I can do it. I don't think I'll ever stop going to games and catching balls, but I could see my pace slowing way down.
I may have a family some day, my career might change, my health might change, but I don't think my passion for it will ever change. I might not want to go to 100 games a year, you know It's possible that my motivation will change but I can imagine just walking away from baseball or trying not to catch balls. It's fun and it's just become such a big part of my life that it would be difficult to walk away from after putting in so much time and effort.
Patrick Hennessy: Well, that's all the questions I have for you. Thank you very much.
Zack Hample: Thank you, I appreciate it.
Follow Zack On Social Media:
This article originally appeared on