Why Ohio State's domination of Oklahoma should scare Alabama
NORMAN, Oklahoma — As the skies cleared and Ohio State came on to the field Saturday evening for its weather-delayed pregame warmups, coach Urban Meyer stayed just inside the tunnel for a few minutes to watch the waning moments of Alabama's win over Ole Miss on the Memorial Stadium video board.
Meyer's own program is quickly becoming the Alabama of the North. No matter how many stars the Tide lose to the NFL, you never doubt Nick Saban's ability to reload.
Time to start doing the same for Meyer.
On Saturday, he brought a 70-man travel roster that included 30 true or redshirt freshman to a stadium where the home team had lost just eight games in 17 years. He left with a 45-24 beheading of an Oklahoma team that reached last season's College Football Playoff to up his five-year record in Columbus to a staggering 53-4.
Meet the new Buckeyes, same as the old Buckeyes. They recruit, they win, they reload, they do it again.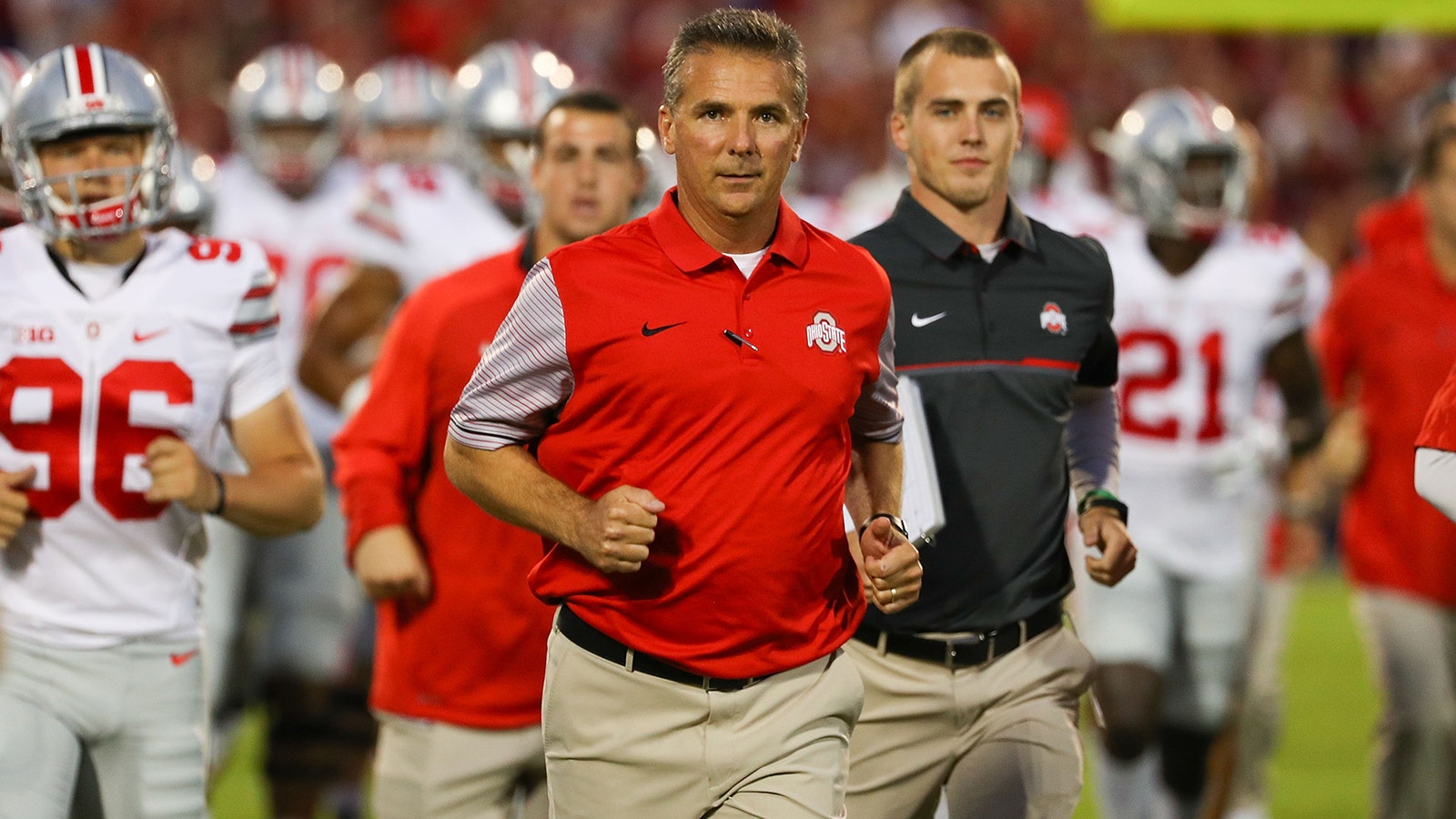 "I had to swallow hard when I saw the guys who were getting on those buses and those planes, thinking, 'My gosh, this is a young team,'"Meyer said afterward. "They're no longer inexperienced. They went on the road and played at Oklahoma, one of the five hardest places to play, against a very talented team."
The returning Buckeyes heard all offseason about just how much they'd lost — 16 starters, including 12 NFL draft picks — and how hard it would be for the next wave to replace those guys.
"We we took it as a chip on our shoulder," said sophomore safety Malik Hooker. "We wanted to prove that even though a lot of guys were leaving we could be twice as good, if not better."
That's a lofty goal when the guys who left went 26-2 the past two seasons. But they made their case Saturday night.
Ohio State receiver Noah Brown came into the contest with four career receptions. He left having caught four touchdowns.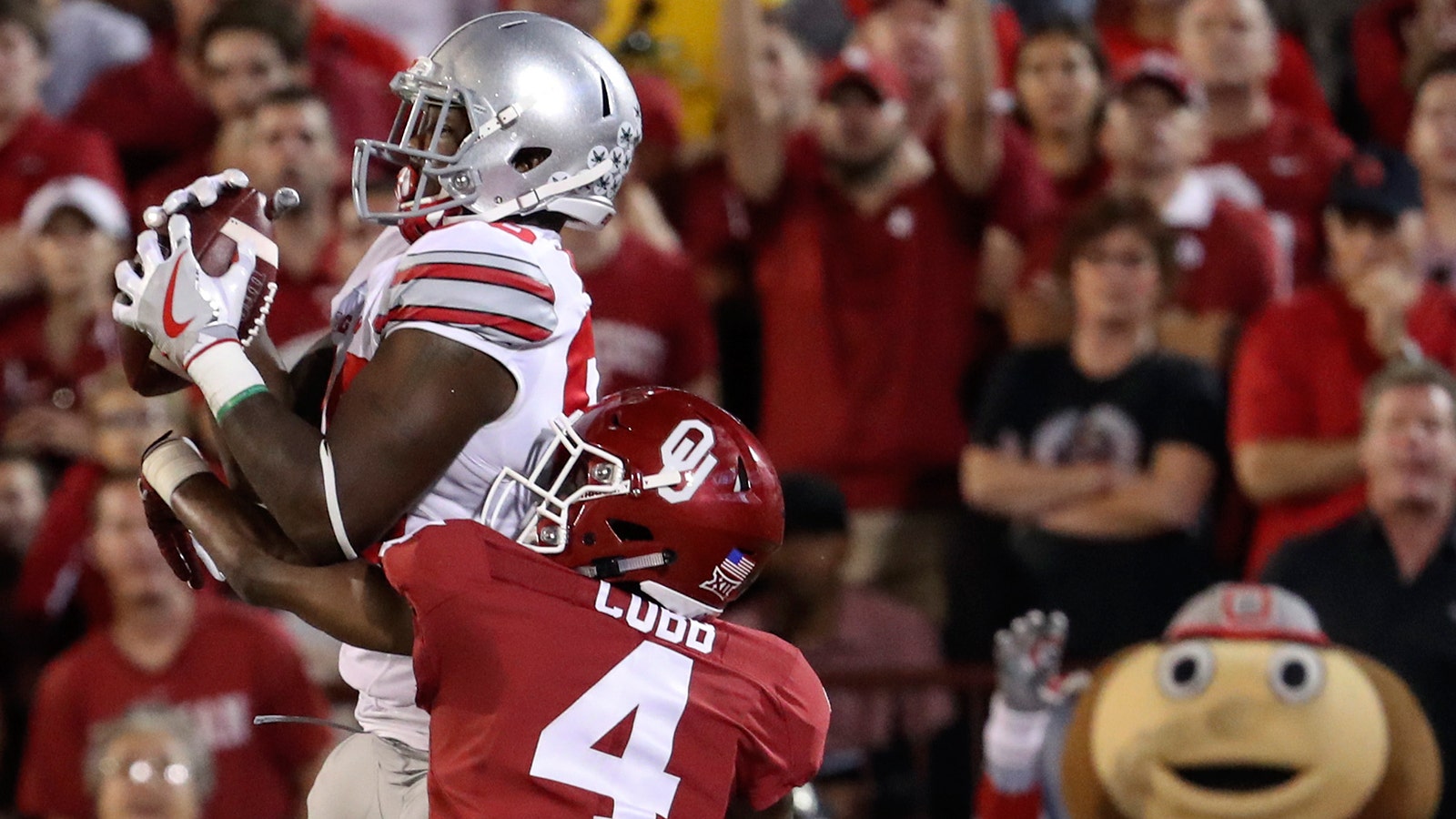 Ohio State running backs Mike Weber and Curtis Samuel — one playing his first game against a Power 5 opponent, the other making his second career start — rushed for 221 combined yards. That topped acclaimed counterparts Samaje Perine and Joe Mixon's 138 combined yards.
Oklahoma's preseason Heisman candidate, Baker Mayfield, threw two crushing first-half interceptions, one of them a pick six. Ohio State's oft-forgotten 2014 Heisman Top 5 finisher, J.T. Barrett, was a near-flawless 14-of-20 with four touchdowns and 74 yards rushing.
"We got our asses kicked," said a candid Mayfield. "J.T. Barrett played well, they capitalized on our mistakes. They played better than us."
And defensively, this was a mismatch. Ohio State continued its ball-hawking ways, notching its eighth and ninth interceptions only three weeks into the season. Linebacker Jerome Baker took a tipped pass and returned it 68 yards for the defense's fourth touchdown of the season.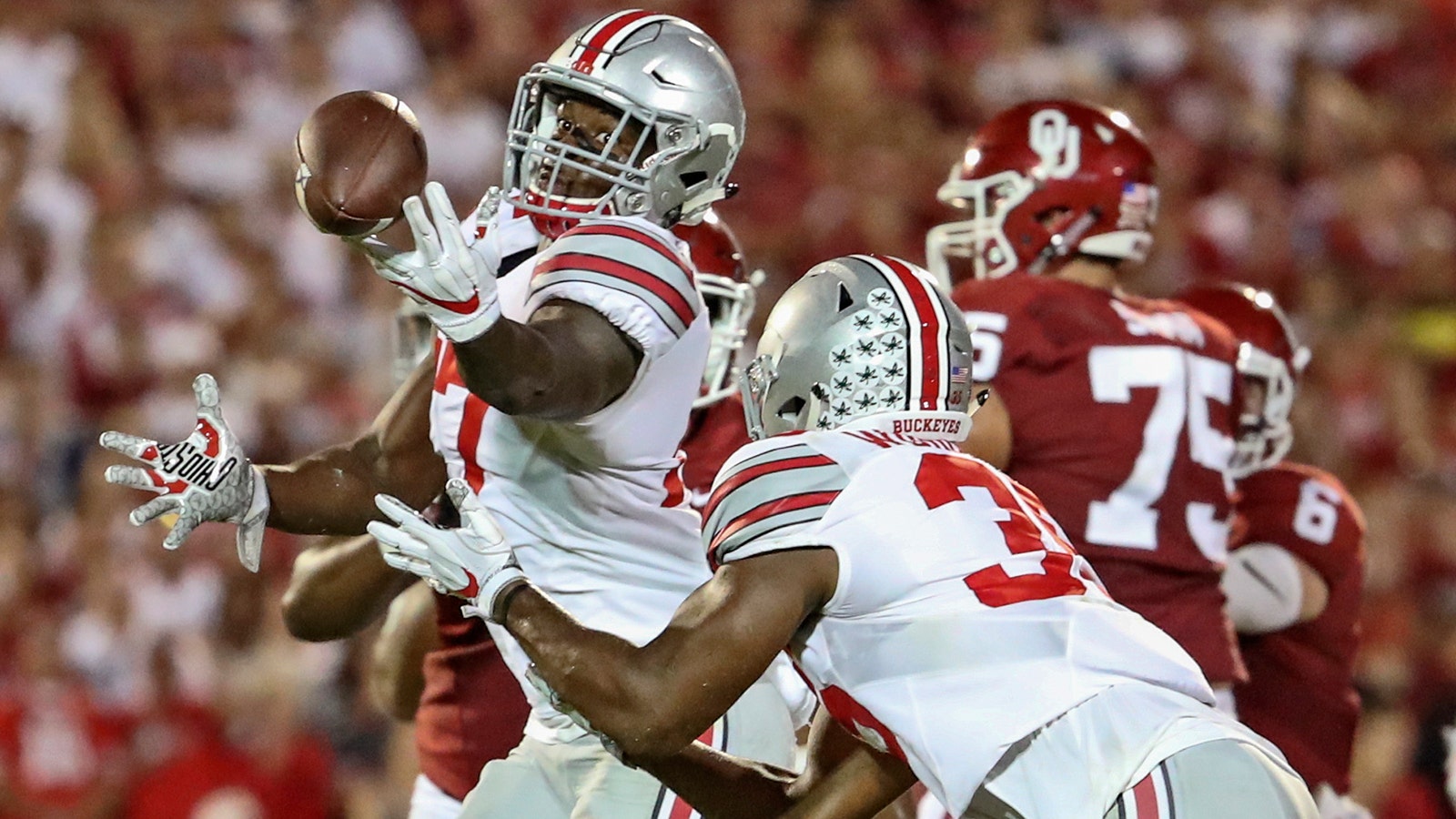 That's two more than it's allowed.
"We wanted to go out on the national stage and prove that we're one of the best defenses in the country at stopping the run and getting to the quarterback," said defensive end Sam Hubbard. "I think we rose to the occasion with a lot of young guys who had never even been on the road."
Conversely, Oklahoma's defenders repeatedly looked a step slow as Samuel beat them to the edge or Barrett escaped their pressure. And three different Sooners cornerbacks — Parrish Cobb, Michiah Quick and Ahmad Thomas — tried in vain to defend keep the ball out of Brown's hands in the end zone.
(In Quick's case, there's not much more he could have done.)
Are you kidding?!

Noah Brown with the FILTHY Touchdown catch for @OhioStateFB! #OSUvsOU
https://t.co/3KVgmKjYQW

— FOX College Football (@CFBONFOX) September 18, 2016
On a day when the AP Top 3, Alabama, Florida State and Ohio State, all played ranked opponents on the road, the Buckeyes were the only one of the trio to win convincingly. (Florida State, um, lost 63-20.) They will surely be in everyone's latest projected playoff field, only stopping to pause due to the fact recent Ohio State nemesis Michigan State also posted a nice road win Saturday at Notre Dame.