The Alabama Officiating Bias Is Very, Very Real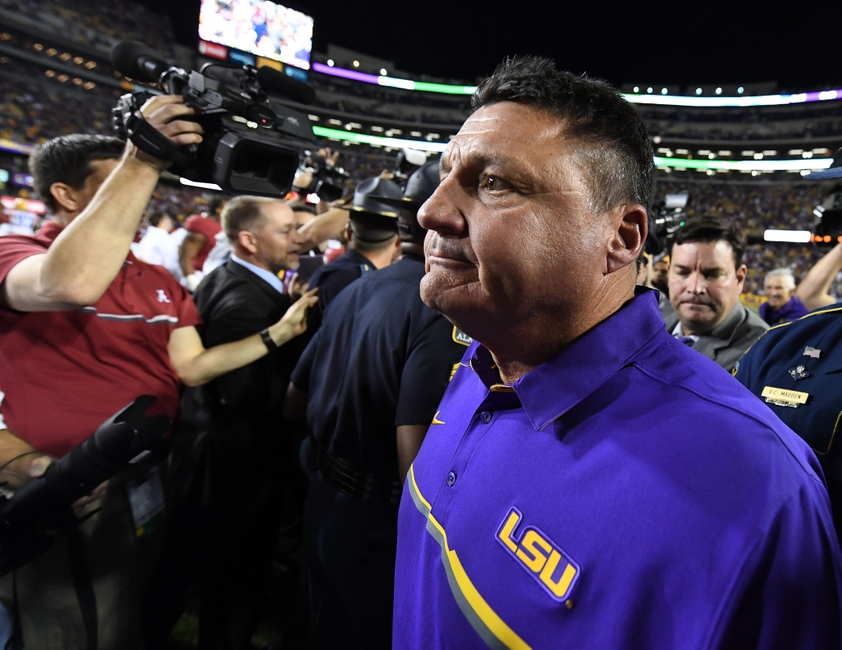 The legend of the "Alabama refs" is one with a very rich history. For going on probably a decade now, fans of just about every team in the Souther Eastern Conference have complained almost religiously about the way the game is officiated whenever their team plays against the Crimson Tide.
Whether it was a horribly incorrect call against a team just as they were getting momentum or a blatant missed call late in the game, we all have a new story to tell every single time our team plays Nick Saban and Alabama.
A couple of weeks ago in the LSU-Alabama game, we saw more of the same from the SEC officiating crew as the Crimson Tide topped the Tiger in a very tight game.
The most notable referee-related incident on the night came on the play that would ultimately decide the outcome of the game. Alabama quarterback Jalen Hurts ran the ball into the end zone to give the Crimson Tide a 7-0 lead, one that they would never relinquish. But, on the play, it was very clear that THREE Alabama players were either holding an LSU defender or blocking one in the back. I can understand missing one, but when three players on a team are committing blatant, visible fouls and no call is made, there's something going on there. If you didn't see the play, take a look:
I'd give anything to be on the phone call when the league office explains this one to Orgeron pic.twitter.com/E3ZnOEgoEh

— Death Valley Voice (@DeathValleyFS) November 7, 2016
You really can't script it any better folks. It's the fourth quarter of a high-stakes game involving Alabama. Things are tight and Nick Saban's team is in very real danger of losing the game. On queue, his team gets a huge boost from the officials, and the play in question swings both moral and momentum. Alabama wins, and the losing team is told to stop crying by the obnoxious Crimson Tide fanbase.
There are tons of examples just like that one. Not all are as dramatic, but Alabama is constantly getting help from the officials. Here are just a few I found with just a quick YouTube search.
LSU 13 vs ALABAMA 1 REFEREE BLOCKS FOURNETTE AND LAUGHS ABOUT IT
LSU gets screwed by Refs against Alabama (2009)
BAMA PRIVILEGE: What Saban Is Allowed To Do Without Flags!
(these videos were not able to be embedded, as due to the copyrighted gameplay they are only allowed to be played on YouTube)
Want your voice heard? Join the Death Valley Voice team!
These are just a few incidents. Things just like these, and sometimes worse, happen on a near weekly basis to opponents of the Tide. It's basically a Hollywood script at this point, one that all of us have suffered from as the SEC facilitates help for it's most prestigious coach and football program.
I may sound like a biased, sore-losing fan, and while that's exactly what I am, the pattern of actions by Alabama, the officials, and the conference is something that is far more than just an excuse for why my team lost a football game. It's deliberate, immoral assistance to the league's top program.
To boost the credibility of what I am saying, I reached out to three other site experts here on the FanSided network who also have seen their team get screwed over by the officials for years-upon-years. Take a look at what they have to say on the situation and the impact it has had on their respective schools over the last few seasons.
Surprise surprise, this wasn't called on Hurts' touchdown run… pic.twitter.com/AioRCQjUX8

— TexAgs (@TexAgs) October 22, 2016
The national narrative tends to forget that Alabama was trailing Texas A&M in the second half of their game this year. The momentum had shifted towards the Crimson Tide after Jonathan Allen returned a fumble for a touchdown, but that play happened at the end of the third quarter. The Aggies were down 12 with a full 15 minutes of football to play until Jalen Hurts iced the game on a long touchdown run. Myles Garrett was being drug down by his face mask on the play by an Alabama offensive lineman, but the referees didn't throw any flags. Holding gets "missed" in SEC games, but a face mask isn't hard to notice. A comeback from A&M was unlikely at that point, but not impossible. That no call effectively sealed the Aggies fate.
And then there was a completely ridiculous enforcement of the targeting rule. It's a bad rule and needs to be changed. Period. Regardless of that, Aggie cornerback Donovan Wilson was ejected at the end of the first half for a blow to head, while Alabama linebacker Mack Wilson was not. To make matters worse, Wilson made helmet to helmet contact on back to back kickoffs like the one below. The Aggies got treated to a "one strike and you're out" policy, while Alabama conveniently saw no players ejected at any point in the game.
This is why Speedy Noil is no longer in the game. Geez. pic.twitter.com/JYSTyxen7e
Arkansas is no stranger to the "Bama Privilege" given out by SEC officiating crews. While it hasn't decided the outcome of a game for the Hogs, it still has been pretty apparent that they can get away with a lot more. Some of the worst of it came from the Tide's secondary. If the SEC wanted to have film of missed pass interference calls to use as training videos, just show the 2016 Arkansas vs Bama game.
The worst "blown call" was after a pass down the sideline was ruled incomplete. No biggie right? Well, when the play was replayed you can clearly see about 6 inches of the jersey being pulled off the Arkansas receiver and the Bama corner pulling on his arm. Wouldn't you know it during the replay, if you look right behind this play, the ref is looking RIGHT AT THE JERSEY BEING PULLED!
This went on that whole game.It's like that every year for the Crimson Tide. Either it's touchdowns called back for ghost holds against Arkansas or Bama defenders getting away with tackling receivers before the ball gets halfway to them. It's hard enough for any team to beat Bama but for us to have to beat Bama and the refs is impossible. I would love to see a well-called game involving Alabama.
When DVV asked me to add my comments on the Alabama Ref myth, I jumped at the opportunity. Ole Miss has faced Alabama for years, and there have been multiple instances where the referees helped out the Crimson Tide to defeat the Rebels.
This very year, the referees reversed a touchdown, that was clearly a touchdown.
L O L pic.twitter.com/t45yEAd2Xa

— ragan freeze (@raganfreeze) September 18, 2016
Above is a picture of the play in question. One can tell that the ball is easily across the goal line before Judd's body is down.
But this year is not the only time Ole Miss has been shafted by Bama refs.
Remember 2012, when the referee clearly moves the ball forward for a first down for the Tide? You don't? Well here is a video of said incident.
The referee in question clearly looks for the marker before moving the ball past said marker.
Wonder how the referees get away with this? Well, the Coordinator of Football Officials is Steve Shaw, an Alabama graduate.
I know our friends from Bama Hammer will talk about us whining and complaining, but remember what Alabama fans said about the Ole Miss NCAA investigation? "We just want to have a fair playing field."
Same goes for this issue. It isn't fair that teams have to compete with Alabama as well as the referees calling the games.
I would like to thank my fellow FanSiders for taking the time to help me with this post. This article is not nearly as in-depth as it could be, as if the three of us got together we could probably write a book on Alabama Refs. Hopefully after reading what we have to say, you'll no longer see talk about officiating bias as an excuse, but rather a very clear reality.
More from Death Valley Voice
This article originally appeared on