Oregon's QB battle awaits Vernon Adams and Jeff Lockie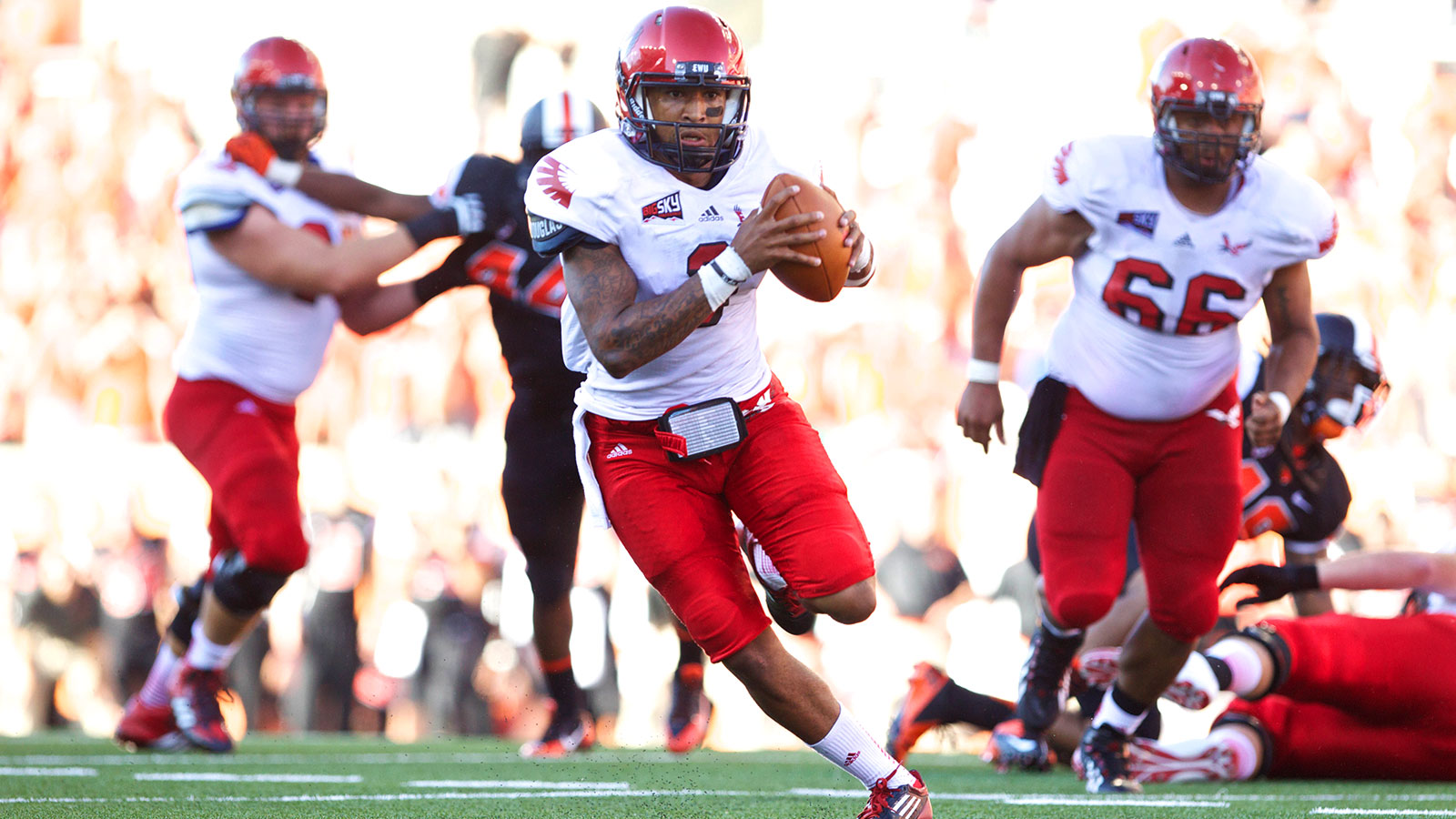 It's the question that's likely to define Oregon's 2015 season: Whom will be the starting at QB come September 5?
With all due respect to Oregon's stable of QBs, there are only two choices: junior QB Jeff Lockie and incoming graduate transfer Vernon Adams Jr.
It's easy enough to whittle the numbers down to two, but choosing whom will take the first snap for the Ducks come September will be an agonizing and long process for head coach Mark Helfrich and offensive coordinator Scott Frost.
The Oregon QB question essentially comes down to this: does Oregon prefer the in-program experience and familiarity of Lockie or does it want the dynamic playmaking abilities and in-game experience of Adams?
It's an impossible choice at this point, especially considering Adams won't officially be a Duck until he graduates from Eastern Washington in June.
Right now, and until further notice, the job is Lockie's to lose, despite the Adams-related hype.
"(Lockie) has the upper hand [in the quarterback competition] as the guy that is the most experienced," head coach Mark Helfrich said, according to Bleacher Report's Ben Kercheval. "He's confident in how he goes about his business. I think the guys around him on offense and defense believe in him.
That being said, don't discount the two-time Walter Payton Award runner-up. He's got the goods.
In his three years at Eastern Washington, Adams led his team to a 28-6 record and was named Big Sky Conference Offensive Player of the Year in 2013 and 2014. During his career, Adams completed 64.8 percent of his passes for 10,438 yards, 110 touchdowns and 31 interceptions in 34 games. His 110 touchdown passes are the most in Big Sky conference history and ranks No. 10 all-time at the FCS level.
Adams is also an elusive rusher, though he's not going to be mistaken for Oregon's former QB and 2014 Heisman Trophy winner Marcus Mariota when he escapes the pocket. In his career, Adams has rushed for 1,232 yards and 11 touchdowns.
Adams, for his part, is ready to take on Lockie and clearly has his eyes on a bigger prize. "I'm going to try to win this starting spot and lead Oregon back to the national championship," Adams said, according to Andrew Greif of The Oregonian. "And win it."
While Adams may lack experience at the Pac-12 level, it's not exactly like Lockie has been exposed to the game-in and game-out grind of the second-best conference in America, either. Remember, Lockie has only attempted 41 passes in his entire career at Oregon. Adams had more attempts than that in a single game against Washington in 2014.
Speaking of those attempts against Pac-12 teams, Adams has proved (over a small two game stretch, albeit) that he's more than capable of competing against Pac-12 opponents. In his only two contests against Pac-12 opponents (Oregon State and Washington) €"Adams threw for 886 yards and 11 touchdowns while also accounting for over 100 yards and two touchdowns on the ground. His Eastern Washington team shocked Oregon State with a 49-46 victory in 2013 and almost took out Washington in 2014 before ultimately falling a bit short.
Say what you will about the small sample size, but those numbers would be remarkable for Marcus Mariota and the Ducks, let alone Adams and Eastern Washington.
Adams has immense talent and is now coming into a situation that will provide him with some of the best skill position players in the entire country. Oregon returns a plethora of dynamic playmakers, including Royce Freeman, Thomas Tyner, Darren Carrington, Devon Allen, Charles Nelson and Bralon Addison, among others.
But the question is this: Will Adams be able to maximize his opportunities in such a short period of time?
Adams is expected to join Oregon in mid-June. That means he will have just over 80 days to prepare for Oregon's first game. Coincidentally, that game will be against Eastern Washington.
Is 80 days enough time to beat out Lockie, who has spent years with the Ducks, knows the playbook backwards and forwards and, more importantly, has a legitimate connection with his teammates?
While Lockie may not be the extraordinary playmaker that Adams is, he proved during the Oregon spring game that he is ready for the moment and that his time has come.
In that Oregon spring game, Lockie completed all nine of his passes for 223 yards and three touchdowns in a single half of work. More importantly, Lockie seemed to impress his head coach.
"I thought (Lockie) did a pretty good job of what he was asked to do," Helfrich said, according to The Oregonian's Grief. "We were pretty limited in what we did, but as far as what he needs to do and what he needs to do to be 'the guy,' he had a very good spring."
The Ducks have a major QB battle on their hands. It's a good problem to have, but it's a problem nonetheless.
It stands to reason that both Lockie and Adams will play against Eastern Washington. The Ducks could also implement a two-QB system for the entire season, should Helfrich see it fit to do so.
However, Oregon's second game of the season comes against Michigan State in East Lansing. The last thing the Ducks want is a QB controversy heading into that matchup. Moreover, as the old adage goes, if you have two QBs you don't have any.
Lockie is the favorite right now. Adams is the underdog. However, don't go to Vegas and place a bet on Lockie just yet. If the past in any sort of indicator, you may want to place your bets on Adams.
The Ducks have had three noteworthy QB competitions since Chip Kelly arrived as offensive coordinator in 2007. Each of the favorites heading into fall camp (Justin Roper, Nate Costa and Bryan Bennett€") have ultimately been beaten out for the job by the underdog (€"Jeremiah Masoli, Darron Thomas and Marcus Mariota).
Oregon's QB battle may not be the sexiest in the country, especially considering Ohio State's massive conundrum, but it is undoubtedly one of the most important.
Which direction will Mark Helfrich and company go? Will they go for the dynamic underdog or the reliable favorite?
The question remains. It's unlikely to be settled any time soon.