Mississippi State football: the history of Davis Wade Stadium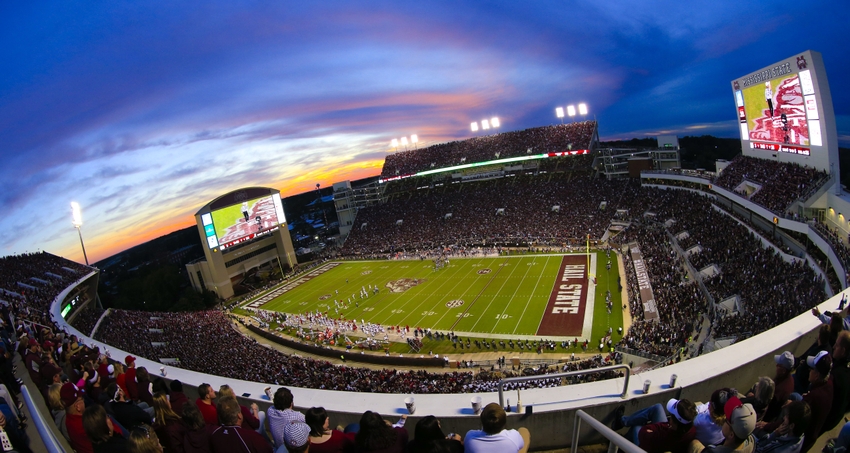 Davis Wade Stadium has been home to the Mississippi State Bulldogs football program since 1914. 
This is a walk through the 102-year history of Davis Wade Stadium – also known as Scott Field to many as that was the name until 2001. It's an interesting historical perspective of the stadium in which the Bulldogs play, but also a review of Mississippi State football history.
1914-1935
Mississippi A&M moved from the Hardy Athletic Field to the "New Athletic Field" in 1914. It was just a grassy area on campus to play football and run track. It wasn't until 1920 that it was named "Scott Field" after Olympic sprinter Don Magruder Scott – who was also a football player for the Aggies (as we were known back then).
The first season was a successful one, 6-2 under E.C. Hayes, including a 4-0 mark on the New Athletic Field. Imagine being a fan at that time – pulling up to the game in your horse and buggy, and either standing on the sidelines to watch or getting a better view atop your carriage.
The program had mixed results for a while, joining the Southern Conference in 1921, then installing 3,000 permanent stands in 1928. The stands in total held 6,000, half of which were removable.
A&M changed their name to 'Mississippi State College', and the nickname to 'Maroons' in 1932. Then in 1933 we joined up with the newly formed SEC. Only Sewanee from the SEC would come to Starkville to play in those first few years – and we beat them soundly…. of course, their tenure in the SEC was short-lived.
Here is a picture of what the games looked like during this time period.
All of this was building to the great years that would follow.
1936-1947
This era featured concrete stands on the West side and steel bleachers on the East side for a total capacity of 20,000. This time is often referred to as the 'golden years' of MSU football (or Mississippi State College as it was known at the time).
Aerial view of the stadium at this time
The inaugural year of the newly expanded Scott Field was a tremendously successful one.  Scott Field played was host to a 26-6 win over Mississippi to end a 10-game winless streak vs. the (newly named) Rebels. A 7-2-1 record led the Maroons to their first bowl invitation: the Orange Bowl (loss to Dequesne 13-12).
Ralph Sasse was head football coach from 1935-1937.
Major Ralph Sasse (football coach 1935-37), right, posing w/ MSU's first mascot, Ptolemy. Sasse got him from Memphis. pic.twitter.com/YTb70Q6DGv

— The Flying M (@MSUhistory) June 27, 2014
The Maroons opened this new era 13-0 in home games at Scott Field. The first loss came to Centenary (LA) in 1938.
In 1939, Allyn McKeen took over as head coach. He is without a doubt Mississippi State's most successful coach in football history going 65-19-3 (.764).
Not too many big games were played at home in McKeen's first two years, but when he got his first chance at a ranked team at home he beat #11 Ole Miss 19-0 in 1940. That team still holds the only undefeated season in school history as they finished 10-0-1 with an Orange Bowl victory over #9 Georgetown. Tennessee finished the year undefeated and untied for the SEC crown. State was one of just five undefeated teams in the country, however, we finished 9th in the final AP poll.
The undefeated 1940 Miss. State Maroons (10-0-1). On top is QB Harvey Johnson, who died in WWII a few years later. pic.twitter.com/cg3lQKcuXU

— The Flying M (@MSUhistory) June 30, 2014
1941 is considered by many to be Mississippi State's best season. Perhaps adding to the justification of a national championship banner, the Maroons only played three home games that year – and only one of them was a SEC game (Florida). State beat Alabama 14-0 on the road, however, the Tide claim a national title. Our team was 8-1-1 but unable to travel to a bowl game due to the travel conditions after the bombing of Pearl Harbor, thus Alabama was able to play Texas A&M in the Cotton Bowl despite Mississippi State's SEC championship that year.
Close up view of the stadium just prior to a game.
The next few years were really good, however, they did not feature many big games at Scott Field. In fact, only four SEC games were played in Starkville despite playing in 25 conference games during this span. And three of those four home SEC games were against Ole Miss.
1942: 8-2
1944: 6-2
1945: 6-3
1946: 8-2
1947: 7-3
*no games were played in 1943 due to World War II.
These "golden years" under Allen McKeen were exceptional. A 61-15-2 record from 1939-1947. The program won six games vs. ranked opponents during this time, and was ranked in the top 20 in six of the eight years, but only 1940's win over #11 Ole Miss occurred at Scott Field. It's a shame that the student body and fans alike were unable to see such great Mississippi State teams play on their home field in the biggest games.
1948-1985
Now we'll take a look at the the era of having concrete stands on both sides of the stadium for a capacity of 35,000.
Here is a view of the stadium, facing north, during this time.
Technically the 35,000 only lasted from 1948-1982 because the endzone seating was taken out for the 1983 season which reduced the capacity to 32,000 until the 1986 expansion with the West side upper deck. Nevertheless, we'll include those final three years in with the 35K era.
Here's are the top 10 games played at Scott Field during this time period. It is hard to find 10 games in this era because most of the big matchups were played in Jackson, at nuetral sites or we just played our "home game" on the opposing team's field. Pretty much the only ranked SEC team to visit Starkville during this time was Ole Miss. There was some very very questionable decision making by the athletic department back then. If you wonder why our stadium is smaller than most in the SEC, stuff like that is why.
10. 1953: 7-7 tie vs. Ole Miss
MSU was pretty good in 1953, getting as high as #11 in the AP poll after beating #17 Tennessee on the road. This tie wasn't a win, but it did end a six game losing streak to the Rebels.
9. 1951: 6-0 over #13 Georgia
The Maroons bounced back from a loss at #1 Tennessee the previous week to shutout a ranked Georgia team.
8. 1957: 7-7 tie vs. #7 Ole Miss
In Mississippi State's best year of the 1950s, they jumped up to #13 after beating LSU just prior to the Egg Bowl. Ole Miss was a very good team who finished the year 9-1-1 with a Sugar Bowl victory.
7. 1965: 27-9 over Southern Mississippi
The end result of the '65 season (4-6) wasn't too good, but at one point the Bulldogs were ranked #9 in the country after beating #8 Florida on the road. They came home to play a good Southern Miss team, who finished 7-2 that year, and took care of business.
6. 1978: 55-27 over #15 Florida State
Bob Tyler had a number of big wins at MSU, but this was his biggest at Scott Field and it came in his last year. It was Bobby Bowden's third year in Tallahassee when the Dawgs took it to them.
View of the stadium, facing south, during this time
5. 1963: 10-10 tie vs. #3 Ole Miss
The early 60s were the glory years for OM (as we all know) and 1963 was no different as they won the SEC. The Rebs were undefeated when they came to Starkville so this tie was an impressive feat. It propelled MSU to its first bowl game in 23 years – the Liberty Bowl in Philadelphia, PA.
4. 1982: 27-24 over #6 LSU
Emory Bellard had some really good teams in the early 1980s. The '82 team struggled, however, losing six straight games coming into the penultimate game of the season where they would take down an Orange Bowl bound LSU team that had just beat #8 Alabama the week prior and would beat #7 Florida State the next week.
3. 1981: 14-10 over #13 Miami (Fl)
Coming off the big 1980 season MSU was ranked highly and continued their success to the middle of the season, entering their home game with Miami 4-1 and ranked #16. Jim Kelly was the QB for the Hurricanes who were just starting to be dominate under Howard Snellenburger – they finished the year 9-2 and ranked #8.
2. 1984: 16-14 over #9 LSU
It hard to believe because of what's happened the last 29 years vs. LSU (3-26 vs. the Tigers), but MSU actually won five in a row from 1980-1984. This was the final victory in that streak, and it came vs. a very good Tiger team like most of them did – they played Nebraska in the Sugar Bowl that year.
1. 1950: 7-0 over #4 Tennessee
This was Tennessee's only loss in 1950 – a year in which they claim a national title. Here is an excerpt from that team's Wikipedia page:
Led by head coach Robert Neyland, the Volunteers lost only one game, a 7–0 upset at Mississippi State in the second game of the season. The Vols handed #3 Kentucky, coached by Bear Bryant, its only loss and defeated #2 Texas in the Cotton Bowl Classic en route to an 11–1 record.

Big Seven champion Oklahoma finished the regular season 10–0 and was named national champions by the AP Poll, but lost to Kentucky, who Tennessee earlier defeated, in the Sugar Bowl. Tennessee was the only top five team that year to win their bowl game. Thus, Tennessee was voted national champions by a preponderance of selectors, with 18 to Oklahoma's 11.
MSU only finished 4-5 that year under Slick Martin, but this was a great win considering just how good the Volunteers were that year.
1986-2001
In 1986, Scott Field was expanded with the addition of an upper deck on the West side. Seating capacity went from 32,000 to 40,656.
Picture of the new upper deck in 1986
In 1990, the 11,642 square foot M-Club building opened in the south endzone. It was built over the Turman Field House, which was used for locker rooms.
In 1997, MSU installed a Sony Jumbotron in the south endzone. It seemed big at the time, but was just a fraction of the size of present video boards.
Here's a list of the top 10 games/moments from this era:
10. 1998: 42-0 over Vandy
The 1998 defense was stifling. They didn't allow anything to Vandy all day in the route. This game started the march to Atlanta.
9. 1992: 30-6 over #13 Florida
Coming into Week 4 of the 1992 season Jackie Sherrill had already beaten LSU, Auburn and Ole Miss, been to a bowl game and castrated a bull. MSU was ranked #24 but that didn't stop a Florida columnist from saying some terrible things about Starkville just prior to their Thursday night game at Scott Field. The Bulldogs stomped the defending SEC champion #13 Gators 30-6.
8. 1994: 24-21 over #23 Tennessee
Peyton Manning's first career game was spoiled by a late comeback in 1994. Eric Moulds made a couple of catches on the closing drive, but the biggest was on 4th & 12 from the 30 yard line when he makes a great grab for a 22 yard gain with under two minutes to play (it comes at 1:32 in the video below).
The offense would go to 4th down again at the goal line but converted for the winning score with under a minute left. MSU won the game over #23 Tennessee, 24-21.
7. 1999: 17-16 over LSU
LSU led 10-0 in the game before State got on the board with a safety. Then it was 10-5 at halftime. The Dawgs used a 14 play, 6:30 minute drive to win the game by scoring on a one yard TD run with under two minutes remaining.
Only 467 total yards for both teams combined in this game. It was a struggle, but State pulled it out. That's our only win in Starkville over LSU the last 12 meetings.
6. 1999: 23-22 over Kentucky
1999 was the year of late 4th quarter heroics. Pig Prather's INT on the MSU 13 yard line vs. Memphis, the comeback on the Plains, the last minute touchdown to beat LSU, the Egg Bowl and this two minute drill from Matt Wyatt and the game-winning 40 yard field goal from Scott Westerfield.
This win preserved MSU's #8 ranking and undefeated record. 8-0 still stands at the best start to a season in program history.
5. 1991: 13-6 over #13 Texas
This wasn't the time Jackie Sherrill castrated a bull in front of the team – that came just a year later. But the end result was the same each year – a Bulldog win over the Longhorns.
One of Sherrill's first orders of business upon taking the job at MSU was to ensure all home games be played at home….in Starkville at Scott Field. That included this game, just the second of his tenure at Mississippi State. A 13-6 win over #13 Texas.
In a defensive struggle, State took a 10-3 lead into the half and held on in the 2nd half. Both teams only combined for 460 yards of offense as Jackie's brand of playing defense and special teams worked for the upset.
This game was a statement. A statement to say that Mississippi State wasn't going to lay down anymore. It put the program on the map under JWS and MSU went to a bowl game that year….and had winning records in 7 of his first 10 years with some big wins along the way.
4. 2000: 47-35 over #3 Florida
One of the most fun games to watch in the history of Davis Wade/Scott Field was 2000's 47-35 thumping of #3 Florida. Big plays and memorable moments were all over the place, but perhaps the most memorable was the Gators self-inflicted 3rd & 57 in the 4th quarter. Beast man Steve even named his blog after the sequence of plays.
3. 1996: 17-16 over #8 Alabama
The 1980 victory over #1 Alabama is regarded as one of the biggest wins in MSU history and for good reason – but after it occurred the Bulldogs lost the next 15 games vs. the Tide. Then in 1996, Jackie Sherrill was able to beat his alma mater for the first time with a 17-16 upset in Starkville.
Alabama was ranked #11 at the time and MSU was just 3-5 on the year with some fans looking for a change at the head coaching position. This win re-established JWS and led to a three game winning streak vs. the Tide and four of five. What's more, it laid the foundation for one of the best four year stretches in program history (1997-2000).
2. 1999: 23-20 over #23 Ole Miss
Take your pick here – the "kick and the pick" or "CJ Sirmones is still open".
MSU was down 20-6 in the 4th quarter but came storming back. Wayne Madkin hit Sirmones to tie the game. Then David Cutcliffe decided to throw the ball from his own 20 with less than 30 seconds left – it was tipped and kicked by Robert Bean, then intercepted by Eugene Clinton and brought back into field goal range for Scott Westerfield who won the game on a 44 yard kick.
1. 1998: 22-21 over #9 Arkansas
In 1998, Arkansas started the year 8-0 under first year head coach Houston Nutt. They played at #1 (and eventual national champion) Tennessee and lost in what became known as the Clint Stoener fumble game. Despite the loss they moved up from #10 in the polls to #9 – and they could still clinch the SEC West with a victory in this game.
But the Dawgs and Wayne Madkin had something different in mind. Madkin (freshman – threw for 224 yards) led a three-minute drive where he hit Kelvin Love to convert on 3rd & 18 and then a few plays later he hit Kevin Cooper to convert on 4th & 15. Brian Hazelwood booted a 27 yard field goal through uprights (barely) which were soon taken down by the students. MSU 22, Arkansas 21. The win gave State the tiebraker (both teams finished 6-2) they needed to win the West and advance to the SEC Championship Game.
2001-2013
During the 2001 season, construction of an upper deck on the east side of the stadium was completed. Capacity increased from 40,656 to 55,082. At this time, only the playing surface would be called 'Scott Field', and structure itself called 'Davis Wade Stadium'.
Permanent metal bleachers were installed in the north endzone in 2002. A 117′ x 47′ video board was built in 2008 above the M-Club.
Here's a picture of the stadium at this time.
Top 10 games during this time period:
10. 2010: 24-12 over Georgia
This was Mark Richt's worst year at Georgia, but it is significant because it was the first time State beat UGA since 1974. Granted, we don't play them very often so the losing streak was 9 games spread out over 36 years, but it was a gratifying win that ended our two game losing streak at the time and propelled the 2010 team to a 9-4 season.
9. 2001: 16-14 loss to South Carolina
We all know what happened on September 11, 2001. In the days that followed all sports across the country were postponed – MSU's game with BYU was played after the Egg Bowl. But the following week games were scheduled to resume, leaving Mississippi State's Thursday night matchup with South Carolina as the first college football game to be played after the terrorist attacks.State lost the game 16-14. It was a game that was the first in many, many losses over the next six years, but this moment is about the celebration of the American spirit that took place that night.
You can watch the entire game in this video, but definitely watch the first 10 minutes.
8. 2009: Boobie runs over Houston
This is more of a "moment", but I had to get our all-time leading rusher and Bulldog favorite Anthony Dixon in here with this run vs. Houston in 2009. State lost the game 31-24 to a good Cougar team coached by Kevin Sumlin, but not before Boobie made this incredible highlight reel play…
6. 2012: 41-31 over Tennessee
One of MSU's all-time greats made a play when we needed someone to make a play.
State went into halftime with a 27-14 lead but the offense struggled in the second half. The third quarter brought the game closer, 27-24, and UT was poised to take the lead with their potent offense. Then Johnthan Banks strips the ball from Devrin Young and recovers the fumble.
The 30 yard field made things easier for the offense as Tyler Russell led them to a quick TD score to put MSU back up by 10. The Bulldogs went on to win the game making their record 6-0 for the season.
5. 2007: 17-14 over Ole Miss
In a game that MSU expected to win at home against an Ole Miss team that was 0-7 in the SEC, we found ourselves down 14-0 in the 4th quarter before Coach O went for it on 4th down at midfield. That changed the momentum and before you knew it the score was 14-7 and we had the ball in the redzone ready to tie it.
Unfortunately, Wesley Carrol threw an interception to end the threat – but after a defensive stop Derek Pegues created some magic with this thrilling punt return for a touchdown to tie the game with just under three minutes to play.
After another defensive stop MSU got the ball back with just over 40 seconds to play. Carroll drove 34 yards in 25 seconds to step up the game-winning 48 yard field goal by (the bloody toed) Adam Carlson.
4. 2009: Johnthan Banks pick-6 vs. Tim Tebow
I know this play happened in a loss, but if we had won that game this would be #1. I'd say it's the second loudest Davis Wade ever was before the current expansion.
A 100-yard inception return for a touchdown by a true freshman off a Heisman Trophy winner QB and two-time national champion, vs. the #1 team in America, in a game that was still in doubt….mostly because of this play. Electrifying.
3. 2013: 17-10 over Ole Miss
Dak Prescott's 4th & 2 conversion in overtime of the Egg Bowl, scoring the go-ahead (and game-winning) touchdown.
Despite only playing 29% of MSU's drives in the game (4 of 14), Prescott led MSU to 49% of its total yards (146 of 296) and 59% of its points (10 of 17). Dak was 11 of 20 for 115 yards passing and ran it 9 times for 29 yards and this touchdown.
2. 2009: 41-27 over #20 Ole Miss
One of the most fun games to watch in this era of football at Davis Wade was the 2009 Battle for the Golden Egg. MSU won the game 41-27, putting an explanation point on the end of Dan Mullen's first season in Starkville.
Ole Miss was a preseason top 10 team – State had a losing season in 7 of the previous 8 seasons. Coming into the game OM was 8-3 and nationally ranked while MSU was just 4-7. This game was a huge momentum shifter and Coach Mullen ignited the rivalry as he addressed the fans at DWS after the game.
I know one thing, there's certainly one program in this state that's definitely on the rise and going the right way!
1. 2007: 17-12 over #21 Alabama
After six long years of losing and losing and losing MSU finally had more than three wins in a season. In fact, the Bulldogs were on the cusp of bowl eligibility when Nick Saban's #21 Crimson Tide came to Starkville in 2007.
Down 9-3 just before the half and Alabama driving, Anthony Johnson intercepted John Parker Wilson's pass and took it the distance for one of the most exhilarating moments in MSU history! It is the loudest Davis Wade has ever been.
Mississippi State won the game 17-12 and finally went back to a bowl game.
2014-present
Construction on the north endzone expansion of Davis Wade was completed just prior to the start of the 2014 season. It raised capacity from 55,082 to 61,337.
In only a couple of years with the 60K+ crowds and dual HD video boards there have been a few really big games.
State lost its three home games vs. ranked teams in 2015: #14 LSU, #3 Alabama and #19 Ole Miss – but they fared much better in 2014.
In a pair of games that took place on back-to-back weekends in early October, you could say MSU reached its pentacle so far. The Bulldogs beat #6 Texas A&M first…
Mississippi State would have no time to celebrate, however, as #2 Auburn was coming to Starkville the next week. Pundits who were projecting their own College Football Playoff top four (because the official ones were a couple of weeks away from being released) universally ranked Auburn #1 and Mississippi State #2.
At no time in history before this game had MSU been ranked in the top five – but now they were number three. Rather obviously, this was the first ever top five game in program history.
To make things even more exciting, ESPN's College Game Day set up in Starkville for the first time ever. The game was also broadcast by CBS – the first time in nine years MSU hosted the SEC game of the week on that network.
More from Maroon and White Nation
This article originally appeared on