Michigan Football: Garrett Moores wins Holder of the Year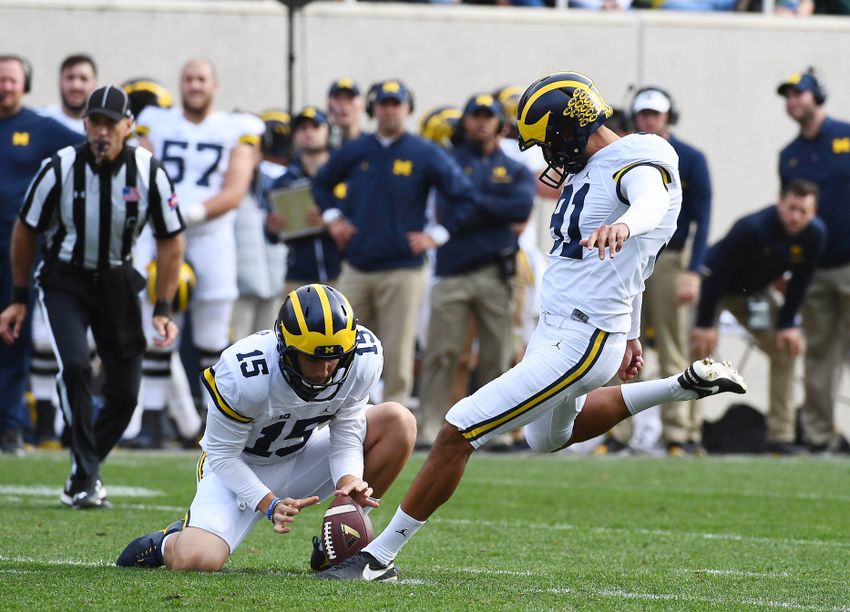 Michigan football holder Garrett Moores won the award for best holder in college football, and he had an arousing acceptance speech.
Usually when you're talking about Michigan football, it's got something to do with Heisman trophies.
From Desmond Howard's pose to the Old 98 of Tom Harmon, the football program has had some special players come through its doors. This year, Jabrill Peppers is competing to be the first two-way player to win the Heisman since another Wolverine won it back in 1997.
Peppers is the heir to Charles Woodson's legacy by making it to New York City.
Yet Michigan will be represented in the individual awards, even if Peppers doesn't win the Heisman. That's thanks to holder Garrett Moores, a senior quarterback, formerly of Detroit Catholic High School.
Moores won't win the Davey O'Brien Award for best quarterback, as that went to Heisman candidate Deshaun Watson. What Moores won is even bigger: the Mortell Holder of the Year. You can see his acceptance speech below, complete with a janitor interruption:
Here is my full acceptance speech for the 2016 Mortell Holder of the Year Award. Thank you to @SonnyEquipment for the great video work!〽️pic.twitter.com/PRpnw07s7z

— Garrett Moores (@gmoores11) December 9, 2016
Former Minnesota holder Pete Mortell breathed the Mortell Award into existence. With no award for the holders, Mortell bestowed the honor and glory upon himself. Check out his announcement below:
"Your hands are too slow" they said.
"Your cadence has no rhythm" they said. This one's for the state of Minnesota. pic.twitter.com/HkgGRK0aL1

— Peter Mortell (@PMortell1) December 1, 2015
College football has now accepted the award as one of its own. Moores was up against Memphis' Evan Michael and Texas A&M's Conner McQueen. Moores helped kicker Kenny Allen to a perfect 52 for 52 on extra point attempts and a 16-for-20 record on field goals. Moores even got a congratulations from the first winner himself.
Congrats @gmoores11! This year, in all of college football, no one held their kicker's balls better than you. #HOTYpic.twitter.com/Oy9eyogGwJ

— Peter Mortell (@PMortell1) December 9, 2016
Now Garrett Moores will have his name go down in history with other Michigan football greats. No word from Schembechler Hall on whether they will put up a plaque for Moores.
This article originally appeared on