The 10 most absurd things Jim Harbaugh has done since arriving at Michigan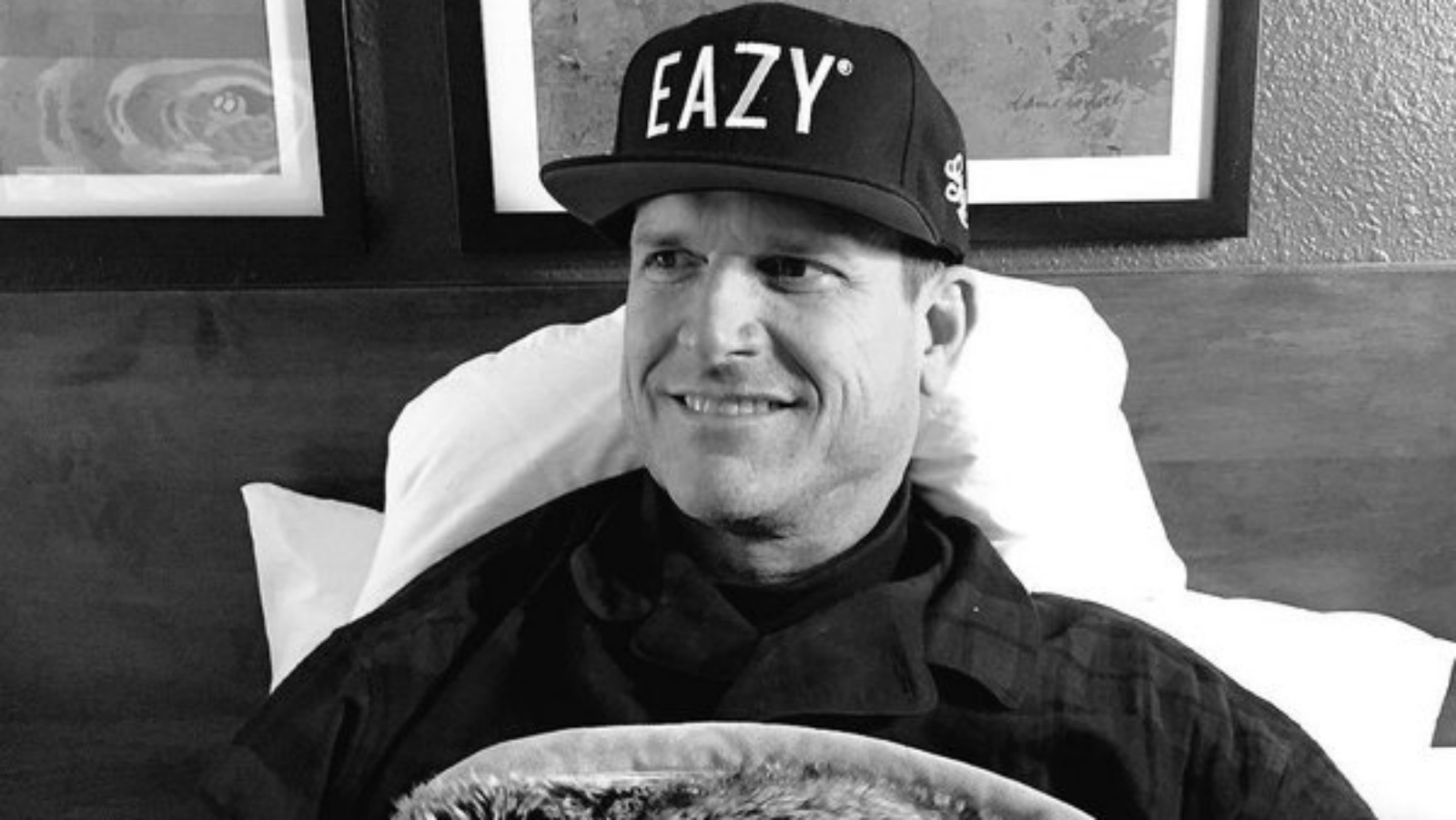 Whether we want to admit it or not, here's the simple truth: 2016 will be remembered as 'The Summer of Harbaugh.' Ahhhhh screw it, let's take it one step further: 2016 has been the year of Harbaugh!
From sleeping on a recruit's (hopefully) couch, to producing his first rap video and taking a sick spring break trip to Florida (and a sicker summer satellite camp trip to Australia), Harbaugh has been all over the football map, like a crazed televangelist selling the Michigan football brand to hundreds of thousands of people all over the world. In the process he has riled up a recently-dormant fan-base, all while driving his biggest competitors crazy.
Thankfully though (at least for those outside Ann Arbor), even after the wild success of the 'Summer of Harbaugh' it's time to turn our attention away from sleepovers and summer camps, and actually talk football, with Big Ten Media Days kicking off Monday morning.
Harbaugh will be on the podium, and as we turn our attention to the stuff on the field, let's also take a moment to reflect back on all the crazy stuff he's done off of it, during his brief 18 months as the Wolverines head coach.
Here are the 10 most absurd things Jim Harbaugh has done since arriving at Michigan.
This one pre-dates his time at Michigan, as the friendship between Harbaugh and Judy Sheindlin (better known as Judge Judy) dates back to Harbaugh's time in San Francisco.
Still, that relationship has only blossomed since Harbaugh arrived at Michigan, as he went out of his way to congratulate her on a new contract extension, and even urged Barack Obama to appoint her a Supreme Court justice.
That Jim Harbaugh, what a friend!
After dipping his toes into the satellite camp tour waters in the summer of 2015 (with a mere 10 camps in seven states), Harbaugh blew things out this summer, with a satellite camp tour that made Taylor Swift's '1989 World Tour' look like mere child's play. In total, Harbaugh and his staff hit 38 stops, in 21 states and two countries, and did it in a little under a month (take that, T-Swift!).
Thank you so much for the kind wishes @CoachJim4UM, best of luck this year at Michigan!

— Judge Judy (@JudgeJudy) March 5, 2015
A shout out from @JudgeJudy would make anyone's day, thank you! The BEST! & Excellence are easy to spot, Judge Judy is it's highest level.

— Coach Harbaugh (@CoachJim4UM) March 5, 2015
That included a stop in Australia — yes, Australia — which according to TravelMath.com is a mere 19 hours and 27 minutes from Ann Arbor.
At this point, the only question I have is this: Assuming satellite camps are legal next year, how the heck is Harbaugh going to top the satellite camp tour of 2016? Hold a camp on the moon?
On second thought, maybe I better not give Harbaugh any new ideas.
I've already spent part of the summer attacking this subject, when, back in late June, I embarked on quite possibly the most important journalistic enterprise of my career: Ranking Jim Harbaugh's satellite camp jersey choices from best to worst. Seriously, if that article doesn't win me a Pulitzer, I don't even know why they bother handing out the awards anymore.
Still, that was over a month ago, so at the very least it feels important to slightly re-hash the subject here. After all, who else could so effortlessly go from wearing a form-fitting John Stockton jersey in Utah, to a Ray Lewis jersey in Baltimore, before switching right into a Cal Ripken jersey, all while remaining stylish in crisp, pleated khakis.
The answer: No one.
To which I ask: Who's got it better than us?
Jim Harbaugh is repping Kobe Bryant at the LA camp this morning. pic.twitter.com/GoOEneOQ5E

— Isaiah Hole (@isaiahhole) June 25, 2016
Speaking of which …
The latest, and maybe greatest moment of the 'Summer of Harbaugh' came early last week, when he teamed with recording artist 'Bailey' to produce Michigan football's first rap single: 'Who's Got it Better Than Us?'
The song, which comes from a phrase coined by his father, features Harbaugh himself dropping the signature track, and to be blunt, he might be redefining the entire rap genre as we know it.
While it's too early to tell if the rap game has been changed forever, what I do know is this: 'Who's Got it Better Than Us?' has proven to be the signature track of the entire summer, right up there with 'Can't Stop the Feeling!' by Justin Timberlake, and 'Cake by the Ocean' by … whoever the guy is that sings it.
Heck, I wouldn't be surprised if Jim Delany uses it as his walk out music at Big Ten Media Days on Monday.
Long before Harbaugh dipped his own toes into the rap game, he made sure to pay tribute to those who came before him.
There was the time that he gave Big Sean a shout out on Twitter, and also when he had Wolverines legend Denard Robinson present Lil Wayne with a Michigan jersey at a local concert.
However, my favorite 'Harbaugh meets the rap game' moment of his entire reign may be one of the most underrated moves of his entire time at Michigan. That's when he posed for this picture rocking a G-Eazy hat.
The picture alone also leads to so many questions, including the most important one of all: Why the heck is Harbaugh huddled under a bunch of blankets? Does the album give him the warm and fuzzies inside?
Only Harbaugh knows, and really, that's the genius of him: He's always keeping you on your toes.
Want to know the true impact of 'The Summer of Harbaugh?' How about the fact that this 'controversy' — surrounding a team trip to Florida for spring break — feels like it literally happened five years ago. Then again, as the old saying goes: "Time flies, when you manage to make headlines every single week, for six months straight."
Congrats to our friend @BigSean on his first #1 album, Dark Sky Paradise- A Winner all the way! #GoBlue pic.twitter.com/wuXPlVYb83

— Coach Harbaugh (@CoachJim4UM) March 7, 2015
In terms of the actual trip itself, well, outside the controversy it created (since practices were at IMG Academy, home to some of the top high school players in the country), it actually served a real football purpose, with many players (including star tight end Jake Butt) describing how much they enjoyed the experience.
While we're on the subject of the spring break trip, let's never forget …
S/O to @G_Eazy for representing THE BAY in Ann Arbor Sat night & thanks 4 my new hat! Much Appreciated! Means A Lot! pic.twitter.com/OXSOfFUfyl

— Coach Harbaugh (@CoachJim4UM) March 31, 2015
Spending so much time in Florida this year — and Arizona the year before — it only seems fitting that Harbaugh (and his team) took in a few spring training baseball games in their downtime.
Of course with Harbaugh, it isn't just about 'taking in a game' it's about 'creating a scene while taking in a game' which he did by serving as first base coach for the Tigers back in January.
And oh by the way, there was one final thing that happened while the Wolverines were in Florida for spring break …
It started with bickering over Kirby Smart and Butch Jones about that trip to Florida, and peaked later in the summer when he called out Nick Saban, after Saban went out of his way to try and not mention Harbaugh by name.
However, while Saban got all the attention, maybe the single greatest dust-up of the off-season came in a back-and-forth spat between Hugh Freeze and Harbaugh over satellite camps.
Remember this? And remember how Freeze went out of his way to criticize the satellite camp culture and blame it for taking him away from his family in the summer months?
Oh it, happened. But in the end, Harbaugh got the last laugh when he said this:
Mercy, talk about a bomb being dropped, huh?
Another thing that is quintessential Harbaugh, and also feels like it happened roughly 47 years ago. Remember when, during a recruiting visit, Harbaugh chose to sleep over at the house of five-star defensive end prospect Connor Murphy (whose brother Trent, for the record, played for Harbaugh at Stanford)?
Jim Harbaugh took over 1B coaching duties for the Detroit Tigers today. UM football is in Bradenton for spring prac. pic.twitter.com/ndzwGyCg8Y

— Julianne Pelusi (@JulianneWTOV9) March 2, 2016
Of course you remember, because, well, how could you forget? It made plenty of waves around the internet, with plenty calling it pseudo-creepy.
Forget creepy though, that's just Harbaugh being Harbaugh.
As a matter of fact, I officially think it's time for us to add this phrase to our football lexicon: "It's not creepy if it's Harbaugh." Because honestly, it isn't. It's just Harbaugh being Harbaugh.
"Amazing" to me- Alabama broke NCAA rules & now their HC is lecturing us on the possibility of rules being broken at camps. Truly "amazing."

— Coach Harbaugh (@CoachJim4UM) June 1, 2016
By the way, doesn't "It's Not Creepy If It's Harbaugh" sound like the perfect follow-up track to "Who's Got It Better Than Us?"
While Murphy didn't ultimately sign with Michigan (instead choosing USC), 28 other high school superstars did. And when the ink went dry on their Letters of Intent, well, it happened in the most grandiose way possible: At the single, greatest Signing Day event ever held.
You remember what I'm talking about, right? The one where stars like Tom Brady and Derek Jeter showed up, and the whole thing was streamed live on 'The Player's Tribune?'
It's just the latest proof that when it comes to the marketing and promoting of his program, as well as just general, overall absurdity, Harbaugh is one step ahead of everyone else in college football.
We'll start to find out Monday whether it's the same on the field as well.
Aaron Torres covers college football for FOXSports.com. Follow him on Twitter @Aaron_Torres or Facebook. E-mail him at ATorres00@gmail.com.
It was a Netflix & Chill kind of night with @CoachJim4UM @umichfootball @espn #sleepover pic.twitter.com/yezUaYc6bK

— Connor Murphy (@CMurph_90) January 20, 2016