How the revamped defense has sparked the Miami Hurricanes' strong start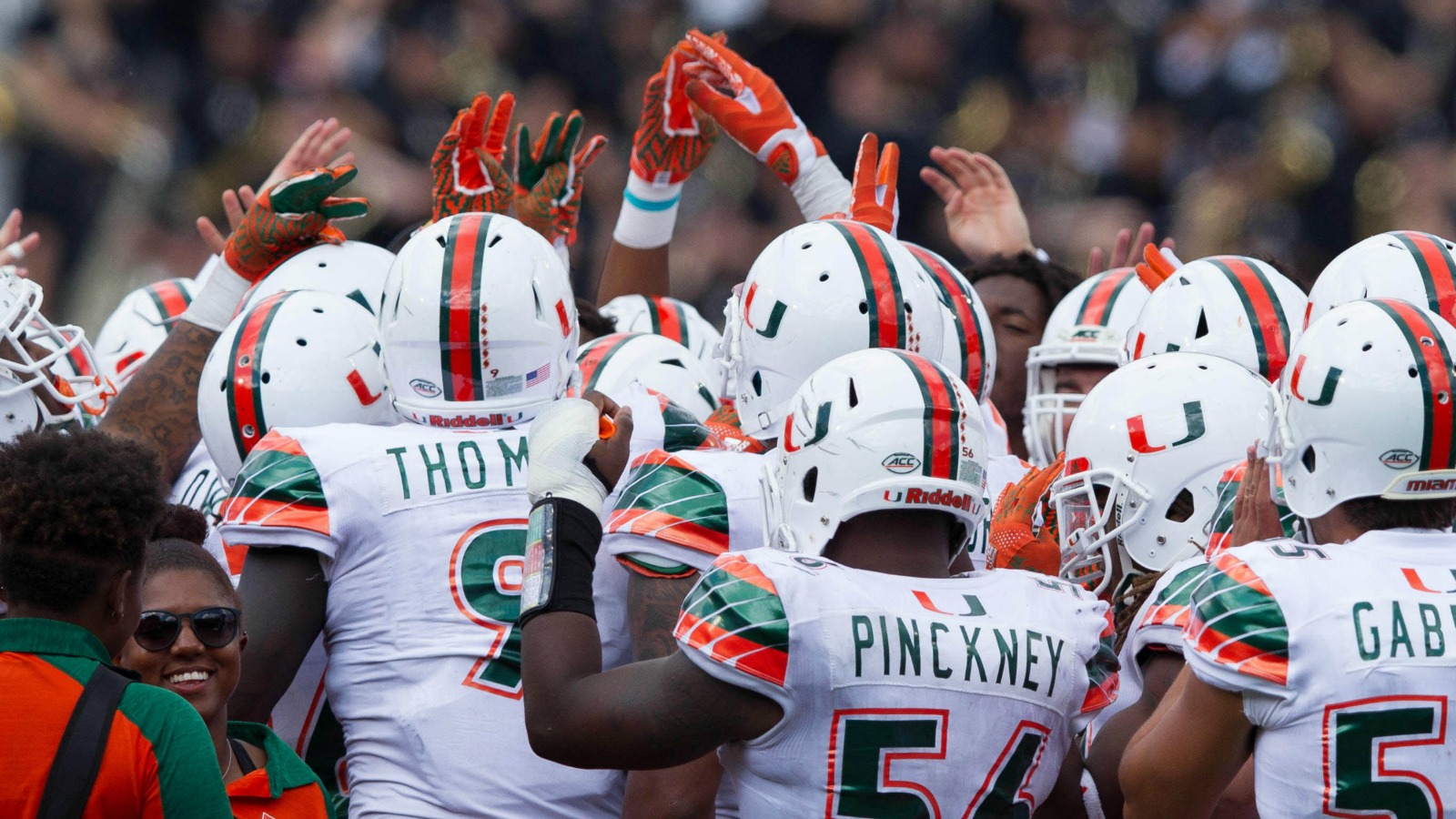 Every expert's trendy upset pick last weekend went splat. Fast.
Miami was up 21-0 at Appalachian State before most of those same gurus knew the game had even kicked off. The final score: The U 45, App State 10. The most impressive part of the Canes beatdown was that Miami dominated a rushing attack that rolled up 184 yards in the opener at Tennessee, limiting the Mountaineers to just 2.6 yards per carry and only 2-for-13 on third downs.
The Canes' revamped defense, starting three freshmen linebackers, was expected by many to be in over its head in a raucous road setting, facing a zone-blocking team with a lot of deceptions and wrinkles. It's a scheme that tests how disciplined a defense will be because every player has to maintain his gap responsibility and if even one defender is looking at the wrong thing, a big play can — and often does — unfold.
Miami had crushed its first two opponents — Florida A&M and FAU — by a combined 108-13, but in that first game, a 70-3 win over FCS FAMU, the Canes did have all sorts of alignment errors. New UM defensive coordinator Manny Diaz was concerned about the potential for pre-snap problems against App State, so he and his staff worked very hard to make sure his young defense was well-versed in getting lined up right and getting their eyes right, meaning don't get caught looking where they shouldn't.
The preparation is paying off. UM ranks No. 3 in the nation in fewest yards per carry at 1.57. Last year, UM ranked No. 115 at 5.26 ypc. It's even more impressive when you consider the Canes lost their top returning pass rusher (Quan Muhammad) and top returning tackler (Jermaine Grace) essentially on the eve of the season for rules violations. Without the speedy Grace, UM is relying on a trio of freshmen linebackers—Shaq Quarterman, Mike Pinckney and Zach McCloud—who have proven to be one of the biggest reasons for optimism around Coral Gables.
"The good thing about all those guys is they don't play slow," Diaz told FOX Sports Sunday. "You expect young guys to be tentative because they're not sure what to do. These guys are mature dudes. They play fast."
One of the Canes' rising stars on the defense is junior defensive end Chad Thomas, a former five-star recruit who is blossoming under new D-line coach Craig Kuligowski. The former Mizzou assistant had developed more than his share of difference-making defensive linemen in his decade-plus with the Tigers. The 6-5, 255-pound Thomas had three of UM's 12 TFLs at Appalachian State to go with nine tackles and 1.5 sacks.
"This was his best game so far," Diaz said of Thomas. "What I like about Chad is he was very physical at the point of attack.
"Our guys are playing so hard and so fast. People are just rallying to the ball so quickly."
As much talk as there's been around Miami about a shift to a different scheme with Diaz bringing back a 4-3, it's been more about the details and the effort that has sparked a new defense, rooted in leveraging the ball, where everyone starts to trust each other.
Diaz has put an increased emphasis on this over his last three years as a defensive coordinator as he's embraced the Pete Carroll's "Hawk Tackling" style. The two work hand-in-hand, Diaz said. In laymen's terms, leveraging the ball means keeping contain on the backend, so the defensive backs set a hard edge that the ball-carrier is forced to cut back and that puts even more of a premium on always keeping the ball on the defender's inside shoulder.
"It's so obvious but it's such a huge thing," Diaz said. "It's so big in college football now because the game is played in space so much now. It's a constant point of emphasis in every drill we do. It's all we do."
To hammer home that point, Diaz and the defensive staff show poor examples on film of players not leveraging the ball.
A prime example for Diaz of doing things the right way is veteran cornerback Corn Elder. Diaz said App State threw it his way only twice in the entire game, but the coach loved what he saw from Elder. "He did a great job of setting an edge, so the safety knew where to go. A lot of people don't notice those plays during the course of the game."
Up front, the Canes do have some intriguing talent for Kuligowski to work with. In addition to Thomas, there's the sophomore defensive tackle tandem of Kendrick Norton, a 305-pounder, and RJ McIntosh, a 6-4, 290-pounder, who have been consistent and very tough at the point of attack. Better still, they can each make an impact against the run and as pass rushers. Joe Jackson, a 6-5, 250-pound true freshman defensive end is another name to remember. The former basketball standout has three TFLs and two sacks in his first three college games.
Behind the rejuvenated defense is an offense led by talented junior QB Brad Kaaya. Miami has surged up to No. 15 in the polls, but the games will get much harder now. The Canes visit 3-0 Georgia Tech and its vexing option attack next week and then host FSU the following week. A little buzz is building down in South Florida, but it's worth remembering there have been a few false starts around UM in the past decade. After all, Mark Richt took over a program that has finished ranked in the Top 25 only once since 2005. It's a proud program that had backslide off the national radar. But now there are some very positive signs.
"The great thing about these players is that they've really bought into everything that coach Richt has brought to the program," Diaz said. "They've really been on-board. It's been very cool.
"Coach Richt has brought a level of accountability. It gets oversimplified that every problem (connected to any coaching change) was the old coaches' faults. The accountability also shifts to them (the players) — 'Prove why you're at Miami.' "
It's a challenge that both coaches and players have apparently embraced.