Calls to Fire Tennessee Vols Coach Butch Jones are Ridiculous and Prove He's a Victim of His Own Success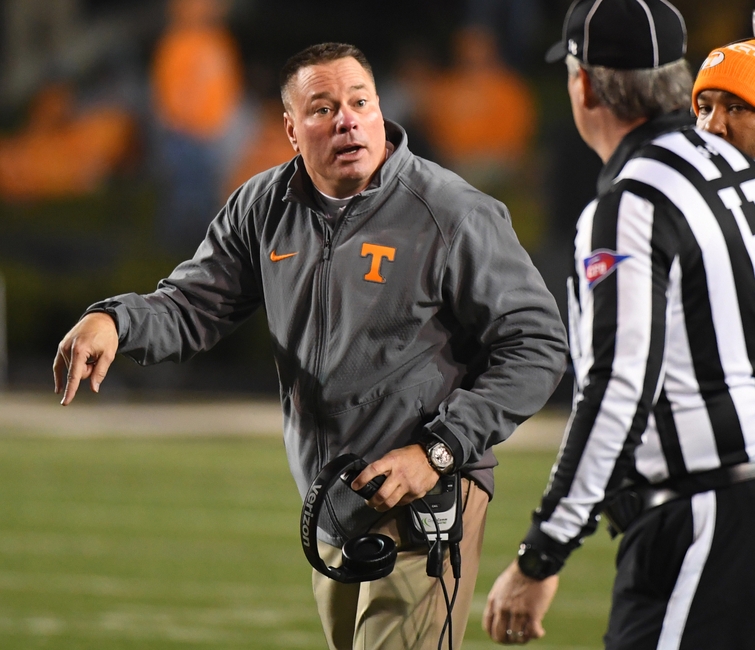 Tennessee football head coach Butch Jones is on the hot seat after the Volunteers lost to the Vanderbilt Commodores. But that's a ridiculous notion.
If investors treated the stock market the way college football fans treat their coaches, we'd have a crash every year. Butch Jones is just the latest in a series of coaches who would be a solid investment that too many impatient fans pull out of too early.
After losing to the Vanderbilt Commodores 45-34 Saturday night in Nashville, Vols fans are rightfully disappointed. They have gone through their second straight 8-4 season in a year when they expected to win the East.
With a senior quarterback and all the signs that show Jones was all in for this year, it's safe to call this year a major disappointment.
And now, fans are looking to fire Butch Jones as a result. After all, this is Tennessee. There was no excuse for his team not to perform this year, and with championship talent, they came up massively short.
How can you justify that?
Here's how: Disappointing seasons happen.
Whenever a team enters a season, there is a 50/50 chance that they will meet their expectations. A coach usually gets fired after they failed to meet expectations in the first year that they had any.
This is the first year under Jones that Vols fans felt they could have championship expectations. And with a 50/50 chance at that, he came up on the short end of the stick. It should be noted that he came up short after a massive wave of injuries that left him with no defensive tackles and no healthy safeties by the end, which is why the defense struggled so much.
That doesn't mean cut bait, though, even if conventional wisdom among all fan bases is to do just that. Yes, you expect to see improvement every year under a coach as you try to build a national champion.
But it doesn't always happen that way.
In the 1990s, there was this one coach who took over a Power Five program that failed to really improve the team after four years. His records at first were 6-5-1, 6-6, and 7-5. Then, with expectations to finally take the next step his fourth year, he went 6-6 and missed a bowl.
That coach was Nick Saban, and the school was Michigan State. Fans wanted him gone too. The only reason he got an extra year was due to a major upset over the Ohio State Buckeyes in 1998.
However, while fans wanted him gone, the athletic department saw all the improvements he was making. And he broke through in 1999 with a 9-3 record, then left to take the LSU job and turned into a legend.
If you stick with good coaches, eventually you'll break through. Cutting bait after one disappointing season is a terrible idea.
Let's take it back to the stock market. If you invest in a company in the middle of a major recession and the stocks are dirt cheap, you may have a goal of cashing in on those stocks once they reach a certain value.
If, through three years, the stocks have slowly improved their value and you have an expectation that they'll reach the initial value you hoped by their fourth year, what will you do if the value doesn't go up that year?
Will you immediately pull out your stock and sell it? Of course not! You'll hold off and wait. So it may have had one stagnant year in four years, but overall, the assets are more valuable than they were when you first purchased them. You won't panic after just one year.
Nobody in their right mind sells their assets in the stock market because of one bad year.
So why, just because of one disappointing year when he failed to meet expectations, would you want to get rid of Butch Jones? Why would you ignore all the good he has done?
Jones is about to secure his third Top 10 recruiting class in four years. He took over a program that had suffered through three straight losing seasons and five straight seasons with six losses or more and slowly got it back into the Top 25. His teams have faced very few off the field issues, and academics are way up.
Thanks to where he has put the program, the Vols don't have to be all in for a year. They came up short this year, but they have the talent to be right back in the mix next year. After all, they only have 10 seniors, six of whom were not regular contributors this year.
So while they came up short, the football program is not going anywhere under Jones.
Yes, there's a lot to criticize him for. Maybe his on-field coaching cost the Vols in three games this year. Maybe he's not great at thinking on his feet. He very well could be guilty of burning redshirts when he shouldn't.
And he probably needs to hire a new strength coach after this year.
But if you look at the big picture and overall body of work, Jones has not done nearly enough to warrant being fired yet. He has returned the Vols to relevance, and it's because of him that Tennessee even has championship expectations in the first place now.
So firing him is a major over-reaction.
More from All for Tennessee
This article originally appeared on