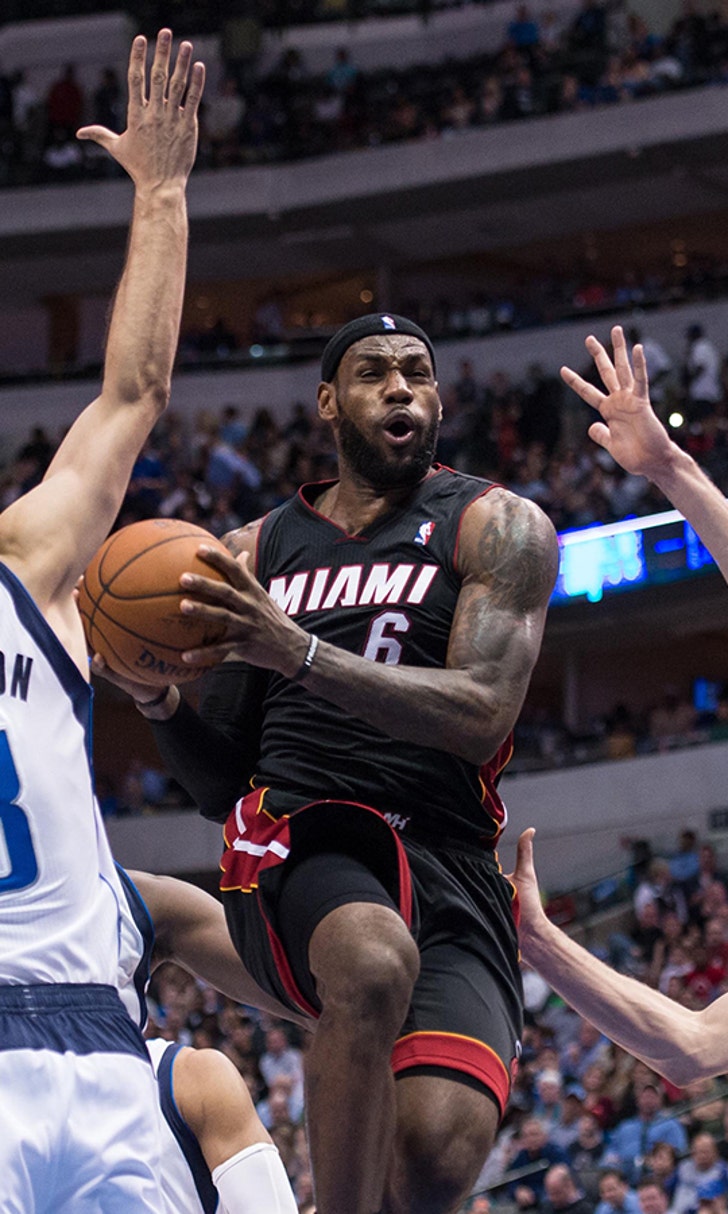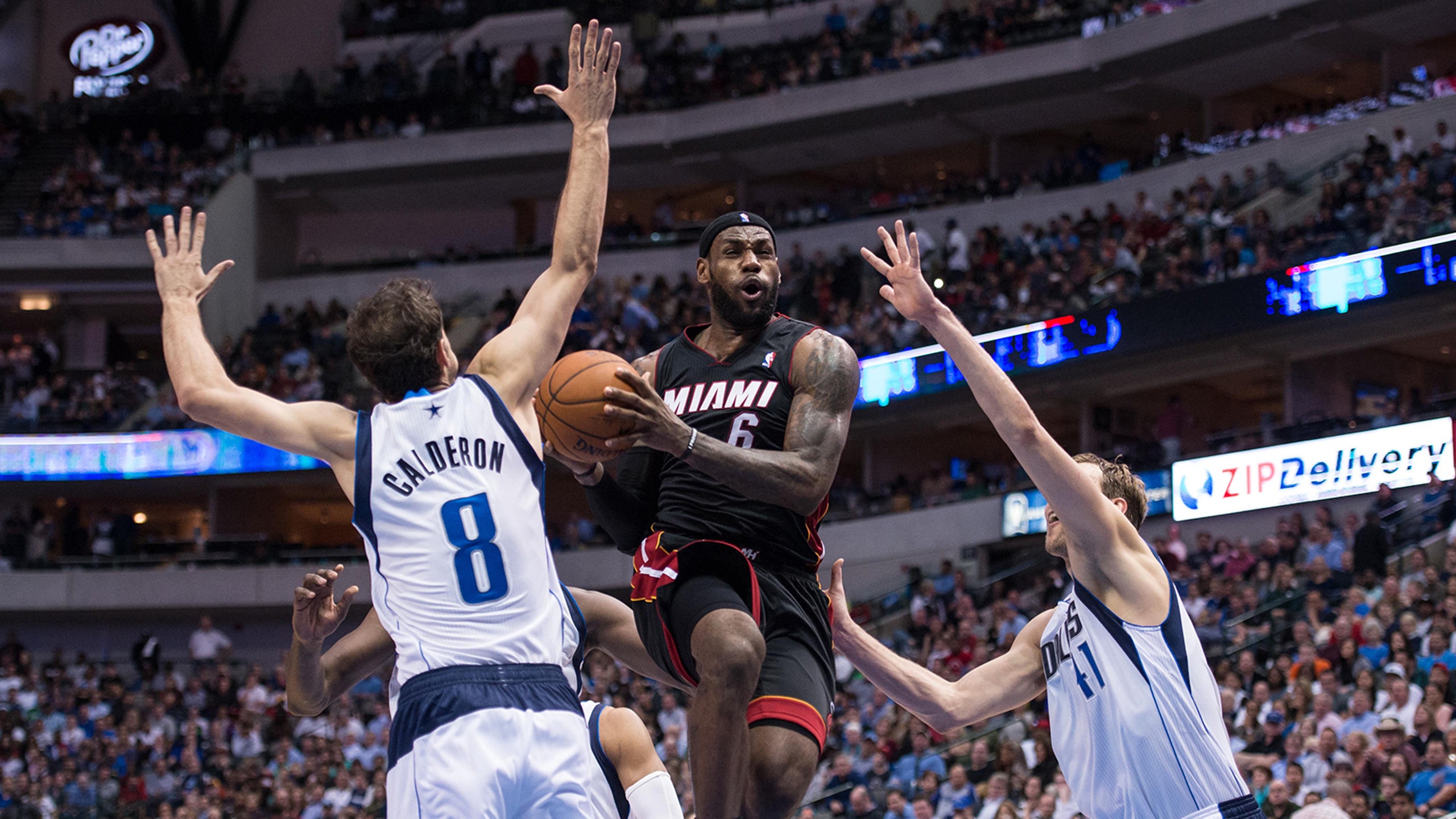 The Mavs' 2011 title team created monster that is LeBron James
BY foxsports • February 19, 2014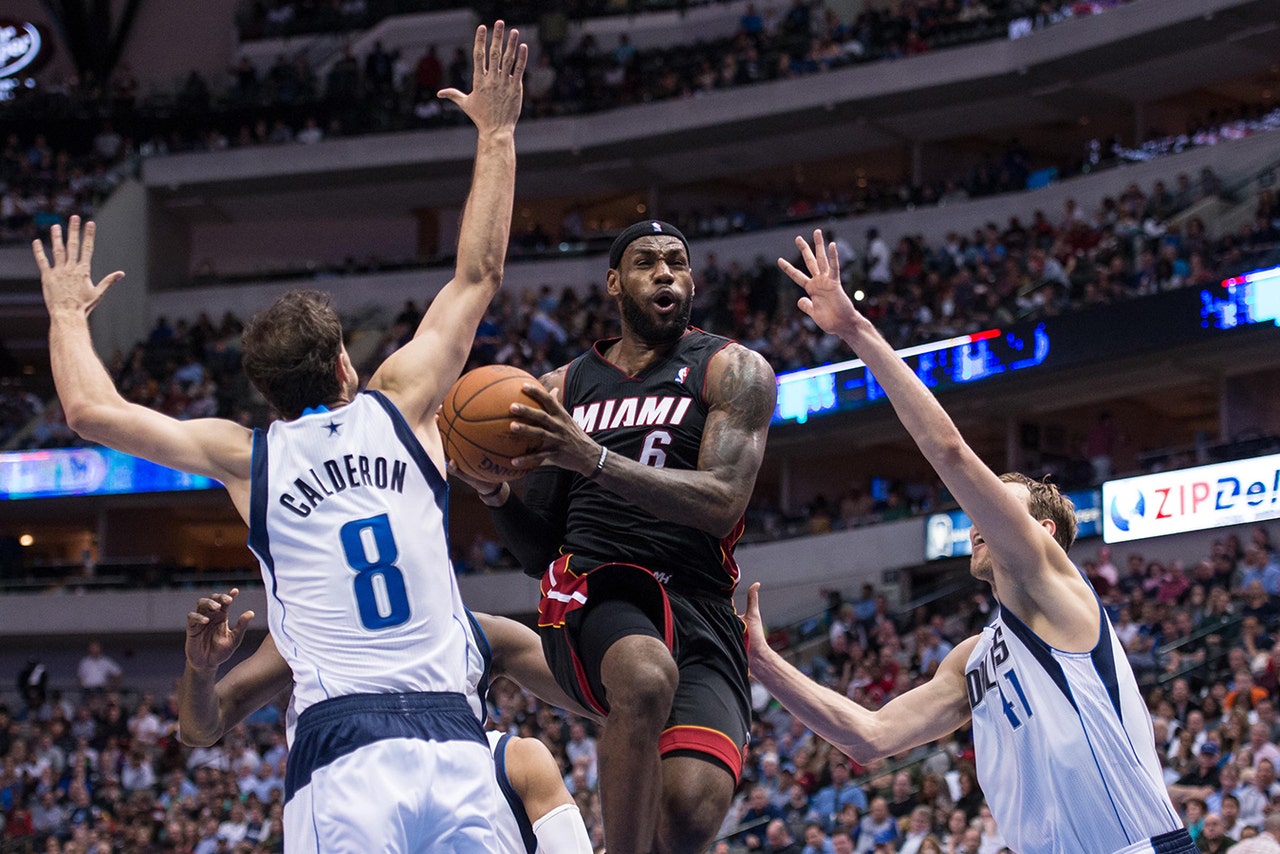 The 2011 Dallas Mavericks helped create the monster that destroyed them with a flurry of violent dunks and deep three-pointers Tuesday. This was LeBron James displaying everything in his arsenal.
And when the Mavs blinked with just over seven minutes left in what had been a tight game throughout, James slammed the door in a 117-106 Heat win at the American Airlines Center. It happened so fast that even Mavs coach Rick Carlisle sounded a bit shell-shocked after the game.
James had 42 points, nine rebounds and six assists in the game. And as he iced his knees and soaked his feet late Tuesday, James looked back at what he learned from the 2011 Finals.
"This team has been a reason why I am the player that I am today, because they beat us," James said. "When they beat us, I went into a place I haven't been before in a long time. I went back to the fundamentals of the game. I went into breaking down every aspect of my game to get better, because I didn't perform at the level I knew I could have or should have during those Finals.
"The Mavericks are probably the reason why I am who I am today."
Told of James' comments, Mavs star Dirk Nowitzki muttered, "Good for him."
James was brilliant throughout Tuesday's game, but he saved his best for the finishing stretch. After the Mavs took a 95-92 lead on Vince Carter's four-point play, James scored eight unanswered points. He claimed after the game that someone on the Mavs' bench said he wasn't going to hit another three-pointer. If that's true, Mavs coach Rick Carlisle needs to identify the player and send him directly to the D-League. It's not like James needs extra incentive to annihilate the Mavs.
"I don't know if I'd be taunting the best player in the game," said Chris "Birdman" Andersen, who finished with 18 points.
Andersen, primarily a screener and rebounder, connected on a three-pointer in the game's final minute. Standing on the opposite free throw line, James flapped his arms like a bird to celebrate. He was joined by a large contingent of Heat fans, many of whom hadn't had time to remove the price tags from their jerseys. When I asked Andersen why he'd been trying to develop a long-range game, he delivered this gold:
"Birdman ain't gonna be able to fly forever," he said.
But this night was about the best basketball player on the planet doing whatever he wanted. Shawn Marion frustrated James with his defense in the 2011 Finals. But Marion was no match for him Tuesday. Watching James in transition has to be one of the most remarkable things in professional sports. He just appears to be playing at a completely different speed than anyone else on the court. Once he sees an opening, there's no one quick enough (or crazy enough) to alter his path.
It's hard to believe this is the same man who shrunk in the spotlight of the 2011 Finals. On Tuesday, he checked back into the game with seven minutes left and the Mavs clinging to a three-point lead. He intercepted a pass and then tied the game with a three-pointer. He sparked a 14-0 run that basically ended any hopes of a Mavs upset.
James finished with 12 points in the quarter while Nowitzki was 1-of-4 from the field for two points. Dirk admitted after the game that age has robbed him of stamina in those situations. But he knows Carlisle can't afford to rest him for long periods. Nowitzki finished with 22 points, nine rebounds and seven assists, but those numbers paled in comparison to James'.
"He's been the best player in the world the last two years, carried them to a championship," Nowitzki said of James. "I mean, if he shoots the ball like that, you can't guard him."
Someday the Mavs can take pride in having played such a vital role in James' development. But that was something much different they were feeling once he got through with them Tuesday.
Now, about that comment from the Mavs sideline?
---
---