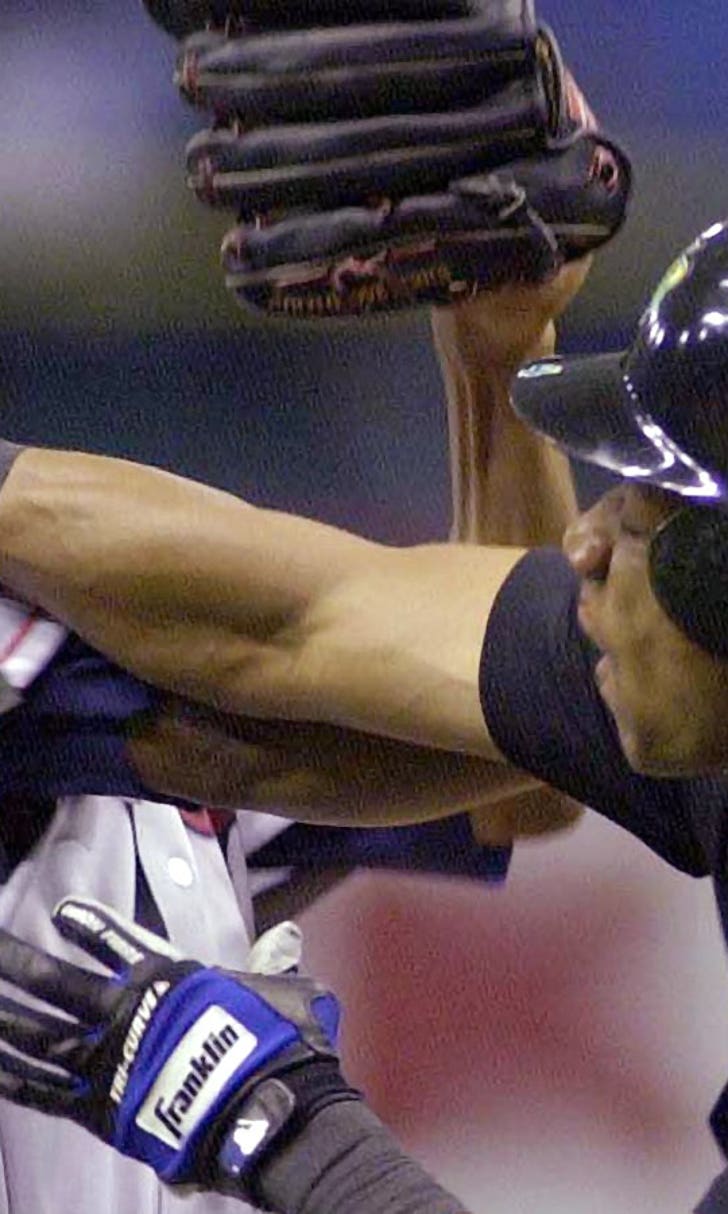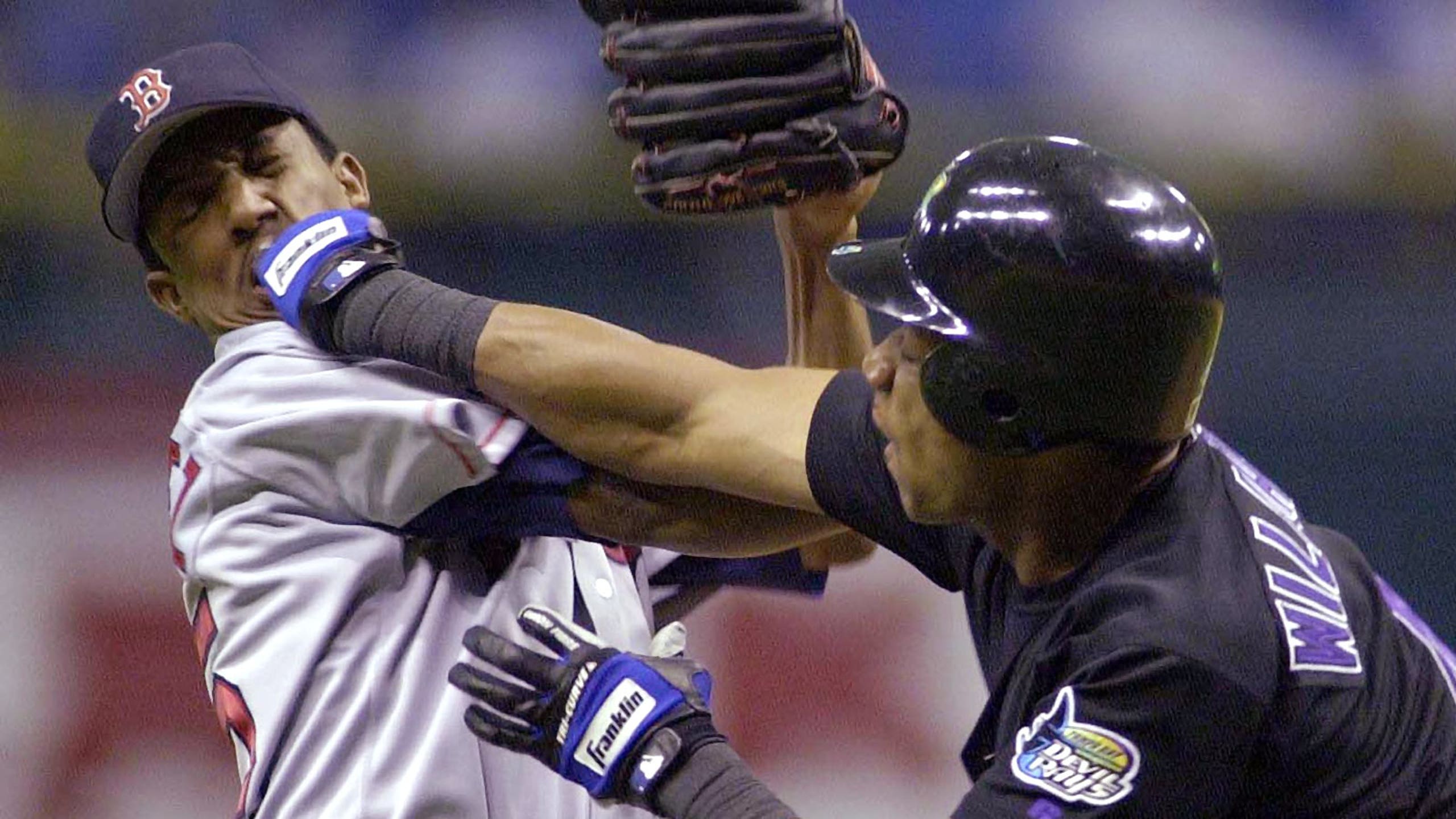 That time Pedro hit Gerald Williams and what made him so great
BY foxsports • January 8, 2015
On August 29, 2000, Pedro Martinez pitched one of the greatest games of his career. In the regular season contest at Tampa Bay, Pedro posted a line of 9IP-1H-0R-0BB-13K. His game score for that performance was a 98, the highest mark of any start in his career and one he achieved three times.
Pedro took a no-hitter into the ninth inning of that game before John Flaherty broke it up with a single. The real drama, though, happened in the first inning, when Pedro was facing his very first hitter of the night in Gerald Williams.
A 1-2 two-seam fastball got away from Pedro and hit Williams on the wrist. Williams immediately looked at his wrist as he took a few steps toward first base. He then looked out at Pedro, back at his wrist and at Pedro one last time before deciding to beeline it straight for the Red Sox ace. A melee broke out.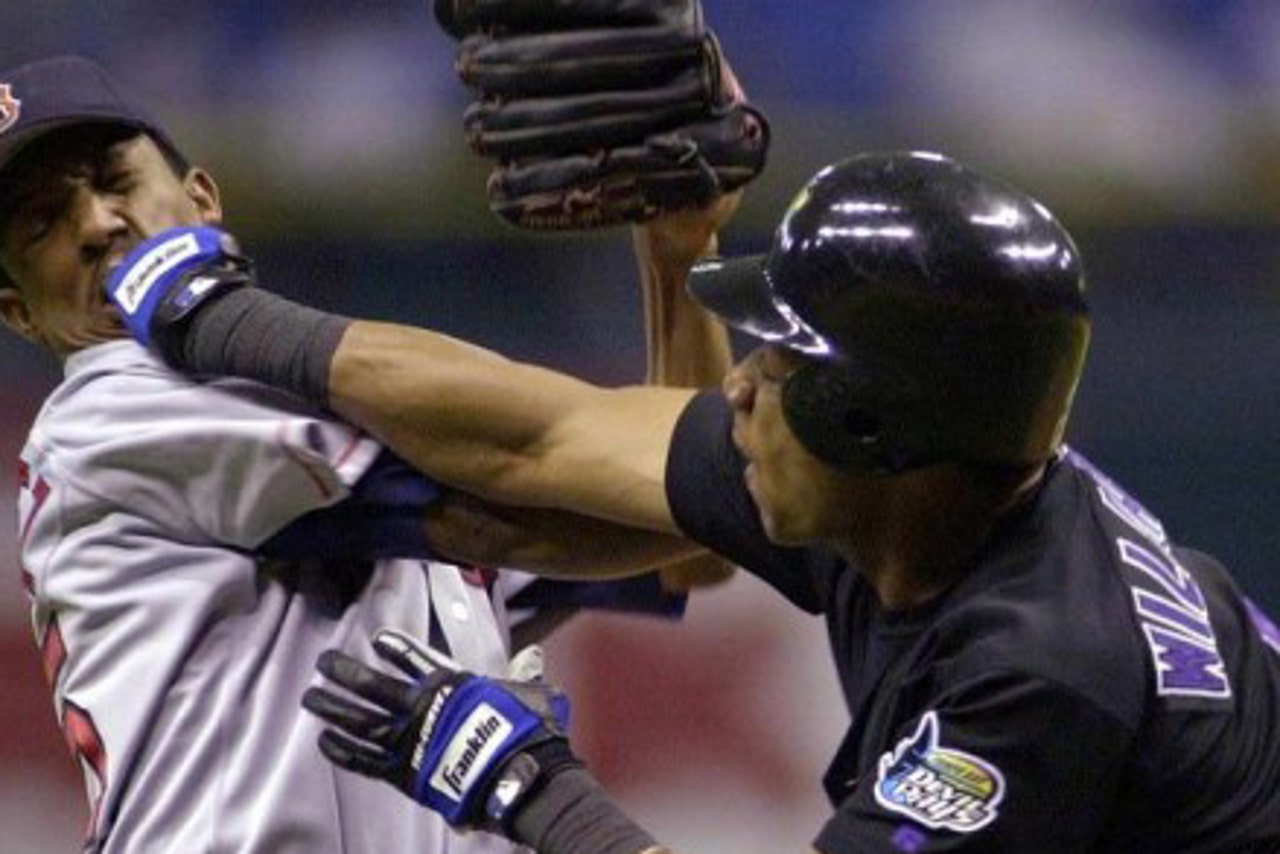 Gerald Williams and Pedro Martinez, Aug. 29, 2000.
This was always one of my favorite times watching a batter charge a pitcher. It was the look on Williams face -- he seemed stunned that Pedro hit him, astonished really -- and at some point after looking out at Pedro he realized it was time to make a stand. When a batter charges a pitcher, the reaction is almost immediate, if some time passes by usually the batter will not make the move. That didn't happen here.
I have always liked Gerald Williams. We were teammates at AAA Memphis two years after the incident, and I had to ask him about.
"I gave him a chance," Williams told me, "but he didn'€™t take it. I saw no remorse on his face and I knew I had to go out there."
Williams wasn'€™t going to be punked by Martinez. Had Pedro relayed any body language that made Williams feel that the hit by pitch was an accident and that he felt sorry for hitting him, he would have never charged the mound. But it didn't go down like that, it never would with Pedro on the hill. 
I had been told by many pitching coaches over my career that if you hit a guy by mistake, act like you did it on purpose. It's a mental game, show no weakness or you might lose your edge. "I hit you, I don't care, it is part of the game, now take your base." No one personified this more than Pedro Martinez.
He was never afraid to pitch inside, he was never afraid to hit a batter and he was never remorseful when he did. He went on to retire 24 straight batters after hitting Williams and nearly threw a no-hitter. That mental edge, along with the great repertoire he possessed, is why he became a Hall of Famer this week. 
---
---