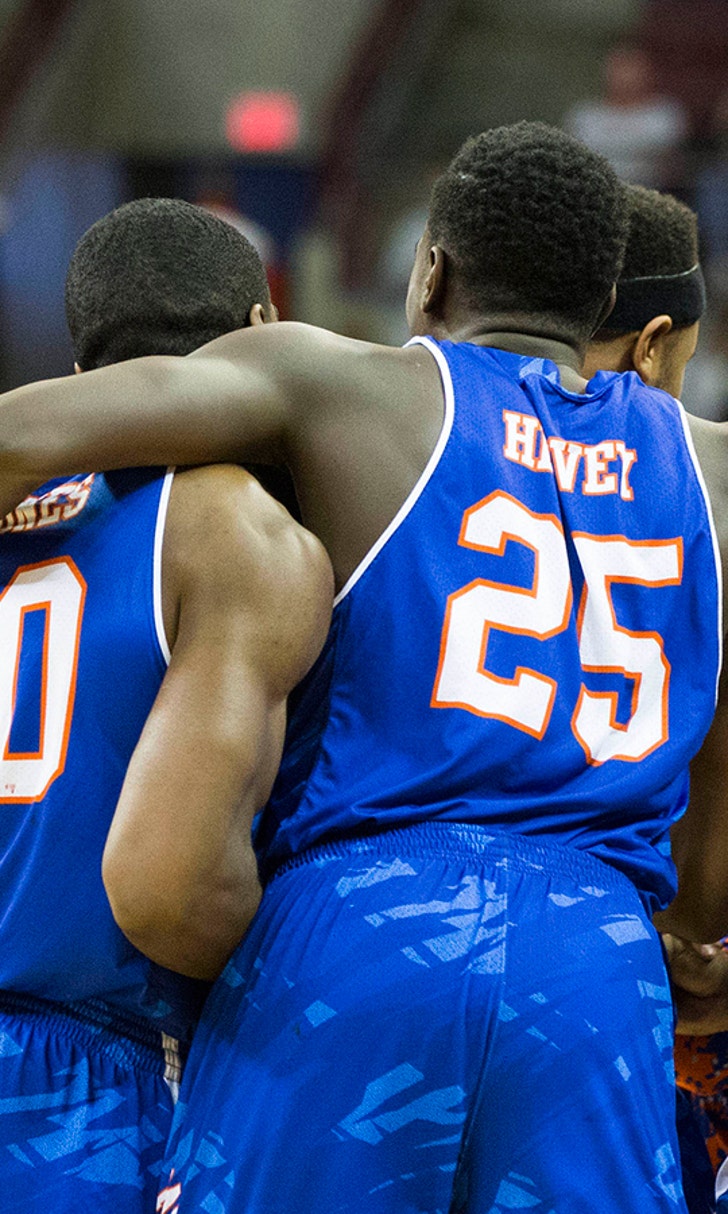 Texas-Arlington goes on the road and shocks Ohio State
BY foxsports • November 20, 2015
COLUMBUS, Ohio (AP) -- Scott Cross was subdued in the postgame interview room, but the Texas-Arlington coach admitted he hadn't been immediately after his team beat Ohio State 73-68 on Friday night.
"I just celebrated in the locker room with the guys and enjoyed it," the 10th-year Mavericks coach said. "I whooped when I got out in the hall. I felt bad about that because I shouldn't do that, but yes we enjoyed every second for the two minutes were we in the locker room."
He had good reason to be excited: The Mavericks beat Ohio State for the first time in three tries, the first two coming in 1973 and '74.
Kevin Hervey scored 18 points, Erick Neal added 17 and Faith Pope 11 for the Mavericks.
Cross called the win the best for his program since a December 2007 win at Wichita State.
It was also the first for the program in seven tries against a Big Ten team.
Ohio State lost to a current member of the Sun Belt for the first time since a 68-64 setback at Louisiana-Lafayette in December 1997. The Buckeyes' only previous home loss to a current Sun Belt team was December 1980, a 76-67 final against South Alabama.
The 1980-81 Buckeyes went 14-13, and the 1997-98 Ohio State team finished 6-22 overall, tying the school record for losses in a season.
Nobody expected anything like the latter from this group, but coach Thad Matta admitted he had entered the night with some questions about his previously 2-0 team.
"You know it's funny because I told them at shoot around one of my worst fears was we haven't had our head held under water yet and I'm excited to see how you respond in those times," Matta said. "And we talked about it as a staff this morning, what will we be made of when push comes to shove? And tonight we didn't respond when we needed to respond. There's no question about it."
Texas-Arlington (2-1) trailed 34-32 at the half but scored the first 7 points of the second to open up a 39-34 advantage. The Mavericks maintained the lead throughout the second, stretching it to as many as 9 on multiple occasions.
The closest the Buckeyes would get in the final 18 minutes was 3 points.
"I'm still kind of learning this basketball team and tonight was a great eye opener in terms of where our toughness is mentally, physically," Matta said. "We've got a long, long way to go and we knew that. I haven't felt real good yet about this team, but we'll come back and get after it and hopefully we'll be a better team on Tuesday."
Ohio State had a hard time getting any flow in its offense and struggled mightily from the free-throw line, going 13 for 27 (48 percent).
Keita Bates-Diop scored 16 points to lead the Buckeyes while Jaquan Lyle had 15 and Marc Loving finished with 12.
------
TIP-INS
UT-Arlington: The Mavericks shot only 61 percent from the charity stripe in their first two games, but they made 19 of 22 (86 percent) against the Buckeyes.
Ohio State: Daniel Giddens was a force defensively for Ohio State, coming off the bench to block four shots in his first four minutes on the floor. He finished with six.
THAT'S A FIRST
The Mavericks scored first -- marking the first time Ohio State had trailed this season.
DOING DIRTY WORK
The Mavericks won the battle on the boards 46-37, and they scored 15 points off 18 offensive rebounds. UTA outscored the Buckeyes 34-22 in the paint.
QUOTE OF THE NIGHT
"I've been thinking about it all the time. It's time for us to knock off a BCS-type of program," Cross said. "We play at least three or four every year so it was time for us to do that."
UP NEXT
UT-Arlington plays at Memphis on Monday night.
Ohio State hosts Louisiana Tech on Tuesday night.
MORE FROM FOX SPORTS SOUTHWEST: 
- PHOTOS: Cowboys Cheerleaders Auditions
- Ranking NFL quarterback salaries
- Highest paid player on every NFL team
- Oldest player on every NBA team
---
---