Royals' tempers tested in Game 2 after Giants reliever loses his cool
BY foxsports • October 23, 2014
KANSAS CITY, Mo. -- No one seemed to have any idea why Giants relief pitcher Hunter Strickland tried to incite a riot -- or at least a fight -- with Royals catcher Sal Perez in Game 2 of the World Series.
Not even Strickland himself.
"I really don't know," he said. "I was just mad about giving up the homer, I guess."
The events unfolded during the Royals' game-turning, five-run sixth inning that led to a 7-2 win Wednesday night, evening the World Series at one game apiece.
Strickland came on in relief and gave up a two-run double to Perez. One batter later, Omar Infante belted a two-run homer and suddenly the game was out of hand. But as Perez reached home plate and Infante neared the plate, Strickland suddenly started shouting at Perez.
Amateur lip readers in the press box seemed to agree that Strickland said something to the effect of "Get back in the dugout." And then he seemed to shout at Perez, "Let's go!" as he dared him to come to the mound.
At first, Perez seemed to apologize, pointing to his eyes and mouth, saying something and then turning his palms up. But Perez then seemed to get angered by Strickland's words and took a step toward the mound before being intercepted by the plate umpire.
Perez wasn't sure what was said.
"I really don't know," he said. "I think it started when I was at second base. He kept looking at me. So after Omar hit the bomb, (Strickland) start to look at me and I ask him, 'Why you look at me?' And he says, 'Get out of here.'
"So I say, 'You don't have to treat me like that. Omar hit a bomb. I didn't hit a bomb. I hit a double.' But I don't know what happened with that guy."
Perez said he didn't mean any disrespect by standing at home waiting for Infante.
"Hey, I want to high-five my teammate," Perez said. "I'm happy. I'm happy for Omar."
Third-base coach Mike Jirschele said he had no idea what caused the conflict.
"There didn't seem to be a problem and then Omar gets to the plate and I hear (Strickland) say like, 'You wanna go?'" Jirschele said.
Infante wasn't sure why Strickland was upset, either.
"We were happy and we were celebrating," Infante said. "That's what you do."
Both benches emptied temporarily and the relievers came charging in from the bullpen, but order quickly was restored.
Royals manager Ned Yost said he didn't ask Perez what happened.
"I'm managing the game," Yost said. "I'm really not trying to interrogate anybody to ask them what happened."
Giants manager Bruce Bochy said he hadn't talked to Strickland, either.
"I think it was all just frustration," he said. "He's an intense kid."
Asked if the incident might cause some bad blood in the series and further motivate the Royals, Perez smiled and said, "Maybe."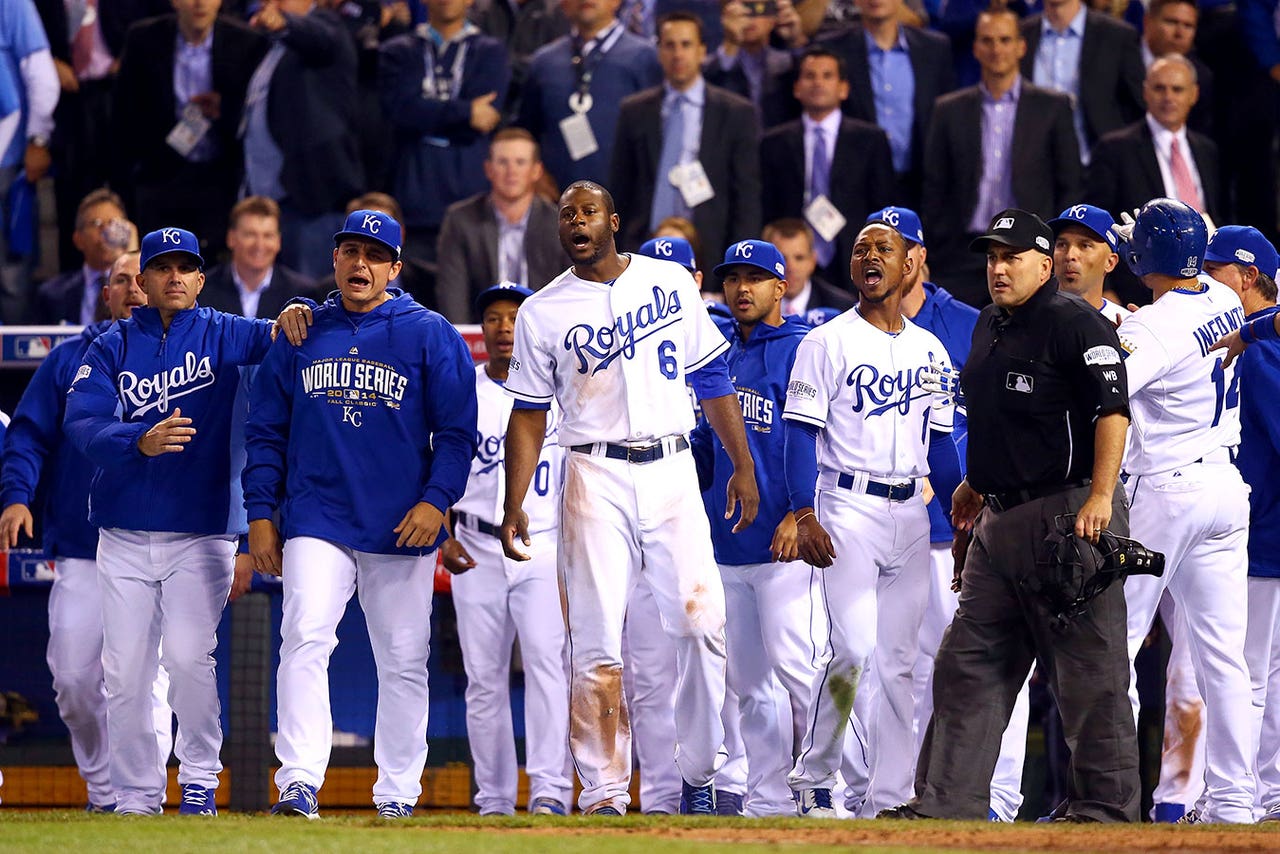 CLICK HERE to check out more photos from Game 2 of the World Series. 
You can follow Jeffrey Flanagan on Twitter at @jflanagankc or email him at jeffreyflanagan6@gmail.com.
---
---