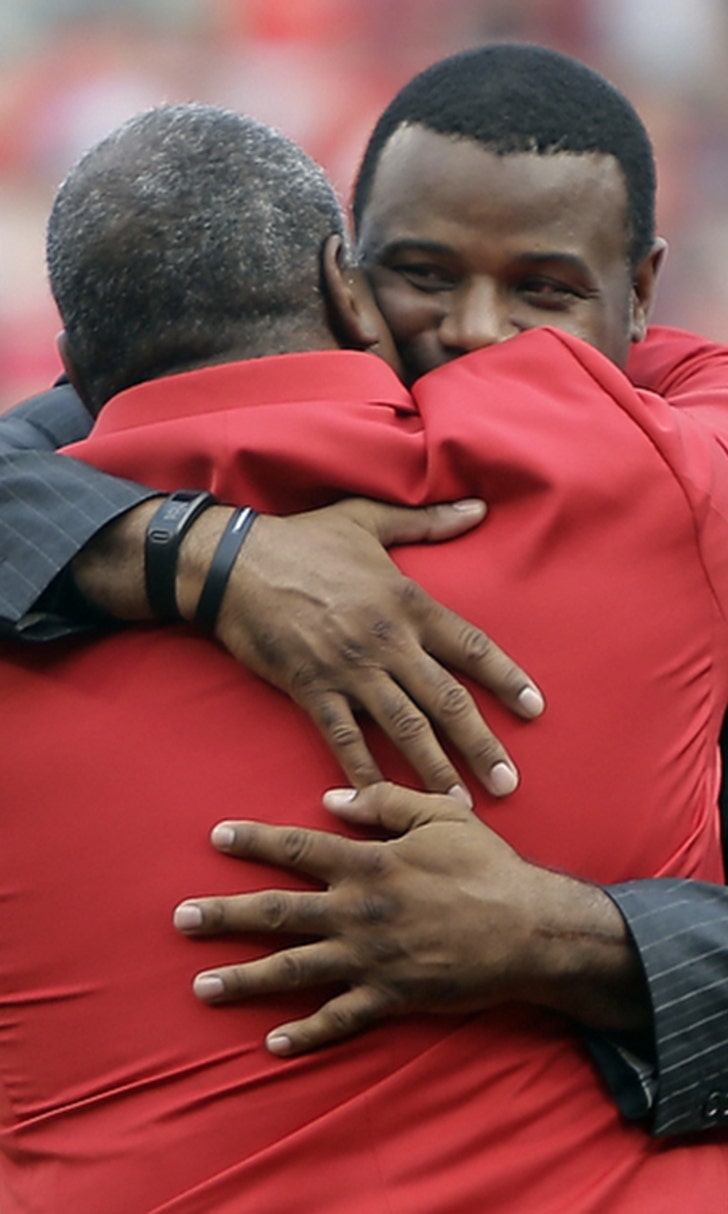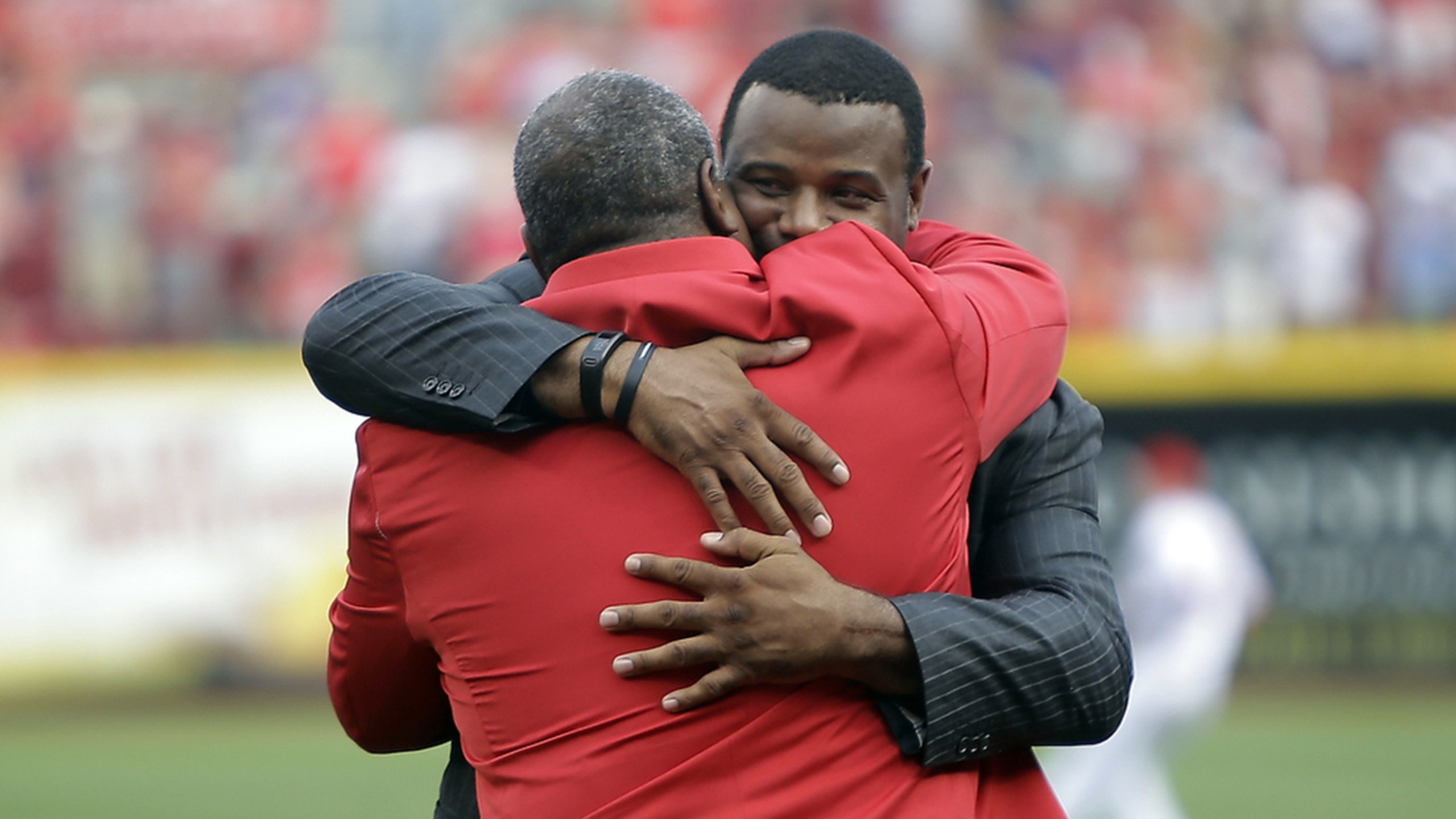 Reds Hall of Fame is family affair: Jr., Parker, Oester, Beckley honored
BY foxsports • August 9, 2014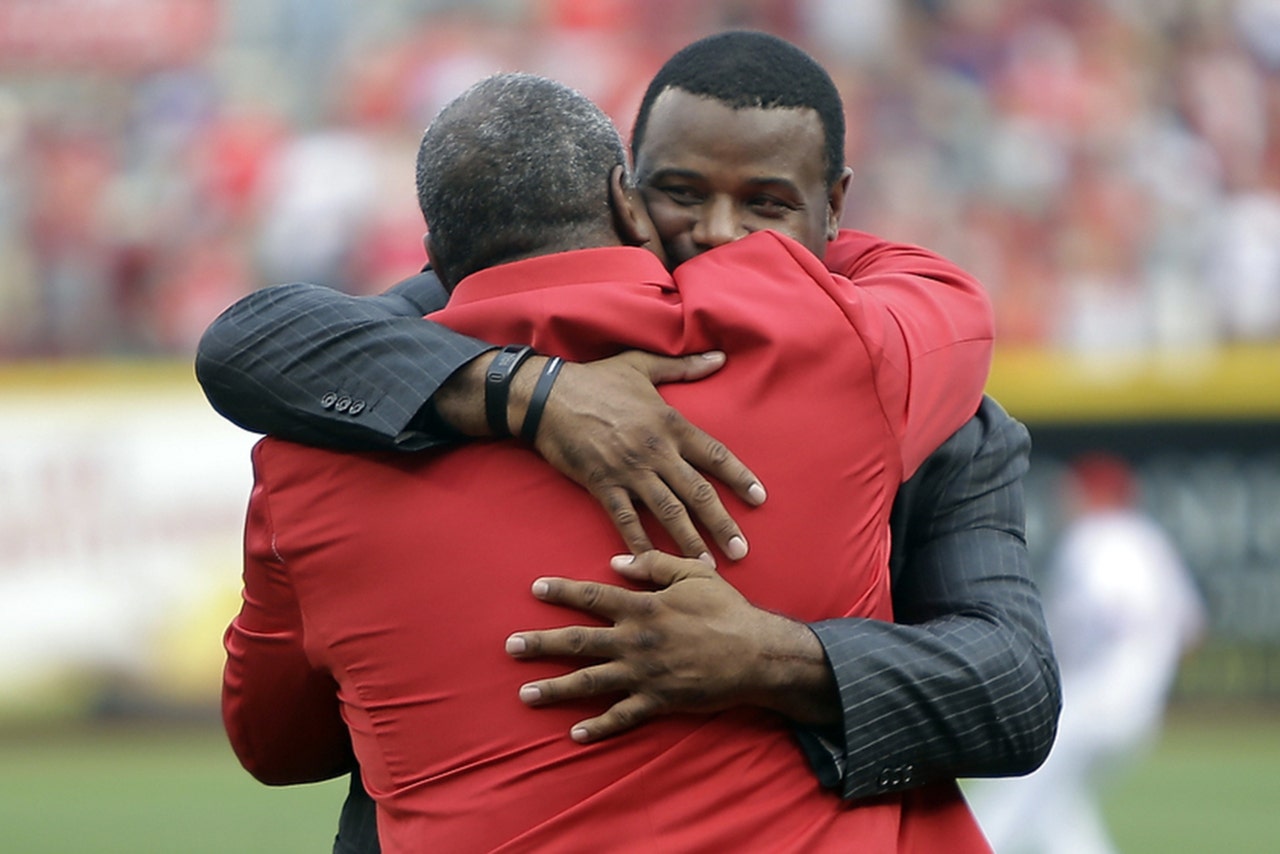 It's been 30 years since Dave Parker and Eric Davis first met. It was the 1984 baseball season and Parker was a newcomer to the Reds. Davis was a newcomer to the big leagues.
"Son," was how Parker greeted Davis Saturday evening.
"Still son after all these years," was Davis' reaction as the two embraced bear-hug style.
Parker will be formally inducted into the Reds Hall of Fame Sunday night, an honor bestowed upon Davis in 2005. He'll be joined by Ron Oester, Ken Griffey Jr. and Jake Beckley, a turn of the 20th century player. This weekend at Great American Ball Park is a celebration of this year's class and all of the hall's membership.
Saturday night at the stadium was a chance for this year's class to speak to the masses of fans before the Reds played the Miami Marlins. It was a chance for them to catch up with former teammates, fellow ballplayers who already own red jackets. It was a family reunion.
One generation of players passes along lessons of the game to the next, and they pass along the lessons to the next. It was an underlying theme to the celebration.
"He reminded me of my father so much, even though my father didn't play professional sports but when he came here in '84 he kind of strong armed and adopted me," Davis said of Parker. "A lot of the things that I have done and accomplished are because of him. The most important thing that I'm proud of is: He taught me how to be a professional. Even though at the time he came here he was going through some trials and tribulations in Pittsburgh that was his No. 1 thing, to do as I say not do as I did. That always resonated with me."
Davis is one of five Reds HOF members who are currently working in the organization. He is a special advisor to GM Walt Jocketty. Former pitcher Mario Soto holds the same role. Hall of Famer Joe Morgan is a senior advisor to owner Bob Castellini. Tom Browning, who tossed the franchise's only perfect game, is the pitching coach for the Class-A Bakersfield Blaze. Three-time All-Star Ken Griffey Sr. was the manager of the Blaze for three seasons until he became the roving minor-league hitting instructor this year. It's just the latest in positions he's held throughout the organization.
What Parker did for Davis, Griffey Sr. has done for countless other players. It's how he was taught when he came to the big leagues with the Big Red Machine. The stars spoke, the youngsters listened.
"A lot of people don't know it, but that's what Pete (Rose) did with us when we came up — Davey (Concepcion), myself, (George) Foster, (Dan) Driessen, (Ed) Armbrister — Pete did the same thing. He took care of us and made sure everything was OK. If there were any problems, just come to him. He was just there to help us."
Griffey Sr.'s greatest student was his own son. Griffey Jr. didn't speak about milestones Saturday when he addressed the crowd. He spoke about the lessons his father taught him, especially the lesson of always being himself. Don't try to be Senior. Being Junior was going to be tough enough.
Junior choked up as he delivered that message to the crowd.
The Griffeys are the first father-son combination to be inducted into the Reds Hall of Fame.
"It makes it a lot more special," said Senior, who was inducted 10 years ago. "I didn't know he was going to be inducted, either. It was even better for me when I found out. I was so excited he was going to be inducted and I had no idea we were going to be the first father-and-son in the Reds Hall of Fame. We have a lot of firsts between the two of us in the history of baseball and I've been enjoying every minute of it."
Oester, Parker and Griffey Jr. are Cincinnati natives. It gave playing for the Reds added meaning to them.
"Growing up in Cincinnati, I saw all of the veterans play," said Oester during an afternoon news conference. "Then I got to play with a lot of the guys, and to be able to coach Ken Griffey Jr. and Sean Casey it really was an unbelievable feel."
Parker came to the Reds from Pittsburgh. He was with his hometown team just four years but in those four seasons he averaged 27 homers and 108 RBI. He was named the team MVP three of those seasons but his impact was felt more than just on the field.
Davis and his career are proof.
"Every team I played for I usually got a young player and called him my baseball son and Eric was my first," said Parker. "He's my No. 1 son."
---
---