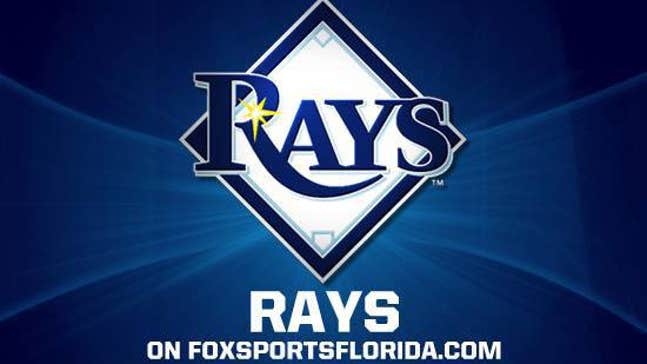 Rays jump all over Rick Porcello, Red Sox in split-squad victory
Updated
Mar. 4, 2020 8:02 p.m. EST

PORT CHARLOTTE, Fla. (AP) -- Red Sox right-hander Rick Porcello was hit hard in Boston's 13-5 loss to a Tampa Bay Rays split-squad on Sunday.
Porcello was charged with eight runs and 10 hits in three innings. Porcello, who went 9-15 with a 4.92 ERA last year in his first season with Boston, struck out two and walked none.
"The results weren't very good, but I was throwing strikes," Porcello said. "I don't like the line, for sure. I don't like giving up eight runs on 10 hits. ... It's a work in progress and it's getting there."
Porcello allowed seven straight hits after retiring the first two batters in the second. Manager John Farrell said pulling Porcello wasn't an option.
"If we're talking about it when it's the regular season, sure that's a different story," Farrell said, "but we're trying to get his pitch count built up."
Hank Conger hit a two-run homer for Tampa Bay and finished with three RBIs.
Rays second baseman Logan Forsythe had his third multihit game of the spring, collecting two singles. Erasmo Ramirez allowed one run and five hits in four innings.
"(Ramirez) looks good," Rays manager Kevin Cash said. "He got into some jams, and they kind of singled him to death there. Sometimes you want that to happen to see how a guy responds in a spring training setting. He got out of it both times."
MONCADA'S DAY
Red Sox prospect Yoan Moncada made his second start of the spring and went 1 for 3 with a strikeout.
The 20-year-old Cuban infielder, who signed with Boston last March, said he is grateful the Red Sox gave him chance to play at the major league level in camp.
"It felt good to play in my second big league game and play at this level," Moncada said through a translator. "I'm just happy to be out there and give it my all out there."
Farrell said he has been pleased with Moncada's maturation.
"The defensive side is a clear area of development for him," he added, "but being in the setting and in the speed of (this) game, that's helpful for him. There is work to be done defensively."
STARTING TIME
Rays: Ramirez threw 44 of his 61 pitches for strikes.
Boston loaded the bases with no outs in the second, but Ramirez got out of the jam with back-to-back strikeouts and a groundout to shortstop.
"In that moment, I was a little worried," Ramirez said. "You try not to throw harder -- just execute. Things I can control is (just) throw the heaters and show I'm still in control on the mound."
Red Sox: Porcello threw 52 pitches, 38 for strikes. He also threw a wild pitch that allowed a run to score.
TRAINER'S ROOM
Rays: RF Corey Dickerson said his left forearm is sore after getting hit by a pitch Saturday. Dickerson was at designated hitter Sunday against the Red Sox. The injury did not require X-rays or an MRI. ... 1B Steve Pearce said his right calf was feeling better and took BP in the cage Sunday. ... RHP Matt Andriese (tightness in his left abdominal muscle) was scratched from his start against Toronto in Dunedin. Cash said he will play catch Monday.
Red Sox: C Blake Swihart left in the fourth inning with a jaw contusion after Rays 1B Patrick Leonard hit a foul ball into Swihart's head. Farrell said Swihart passed concussion protocol and is day to day. ... LHP Eduardo Rodriguez threw a long-toss session from 120 feet, and Farrell added Rodriguez is "progressing nicely" from his knee injury. "It was another productive day for him," Farrell said, "and we'll get him on the mound when he's ready for the next step." ... RHP Carson Smith (back spasms) threw a bullpen session in Fort Myers and told Farrell he felt good afterward.
CUBA BOUND
Cash said the Rays will have an "unofficial" roster by Monday afternoon for their trip to Cuba on March 21 and 22.
"It won't be finalized, but we will have a list of guys who are going," Cash said. "Those who aren't going will work on that off day (March 21) in camp."
The Rays play an afternoon game against the Cuban National Team in Havana.
UP NEXT
Rays: RHP Chris Archer is set to make his third start of the spring against Atlanta on Monday.
Red Sox: RHP Joe Kelly will start against Pittsburgh on Monday. RHP Carlos Marmol is one of six relievers scheduled to follow Kelly.
ROSTER MOVES
The Red Sox reassigned RHP William Cuevas to minor league camp.
---
---