Milwaukee Bucks
Milwaukee Bucks
Preview: Bucks at Bulls
Published
Mar. 23, 2018 10:08 a.m. ET
CHICAGO -- The Chicago Bulls have become accustomed to playing short-handed as they continue to build for the future.

But the Milwaukee Bucks, who are clinging to a playoff spot in the Eastern Conference, will face the Bulls on Friday missing a key component to what has kept them in postseason contention thus far.



The Bucks will likely be without star Giannis Antetokounmpo on Friday after he sprained his right ankle of Milwaukee's loss Wednesday to the Los Angeles Clippers. According to the Milwaukee Journal-Sentinel, Antetokounmpo -- the Bucks' leading scorer -- is listed as doubtful for Friday's game at the United Center.

The Bucks are 2-2 in games in which Antetokounmpo has not played this season.

"Just have to figure it out," Bucks center John Henson told reporters, according to the Journal-Sentinel. "We were without Khris (Middleton last season), one of our best players, we were without Jabari (Parker) -- so we have to figure it out like we always have with one of our best players being hurt. We've just got to play the right way, move the ball a little more. Jabari's not a bad replacement. I think we'll be fine."

Coupled with the loss of Antetokounmpo, the Bucks must improve defensively -- an issue that has led to four losses in Milwaukee's past seven games. During that stretch, the Bucks (37-34) have surrendered an average of 117 points and have given up at least 100 points in each of the seven games.

As the Bucks continue to press toward a playoff berth, Middleton maintained that if the Bucks are to improve down the stretch, it has to start on the defensive end of the floor.

"It's way too easy for the other team," Middleton said, according to the Journal-Sentinel. "There's no resistance. We're giving up too many three-balls, too many layups."

The Bulls, meanwhile, continue to limp toward the finish line. Rookie Lauri Markkanen remains out with back spasms while Zach LaVine (left tendinitis) is out until at least next week -- and possibly for the remainder of the season -- the Bulls will have to rely on much of the young talent they have shifted their focus to play out what's left of the season. Guard Antonio Blakeney will also miss the remainder of the season because of a broken bone in his left wrist, and injury suffered in Monday's loss at New York.

Chicago (24-47) enters Friday game riding a three-game losing streak and hasn't fared well with Markkanen, LaVine and Kris Dunn (toe injury) out of the lineup. The Bulls were blown out 135-102 by the Denver Nuggets on Wednesday at home when they allowed the Nuggets to surge out to a large lead and never came close to recovering.

Now, with nothing more than a shot at a draft lottery pick to play for, the Bulls will attempt to end their skid against the Bucks -- while knowing it's uncertain when they will have any part of their Big Three back from injury.

Still, the Bulls don't want to allow injuries to be an excuse for a lack of effort.

"We're down a couple of guys, three big pieces to our ball club, guys who can put the ball in the hole, get stops on the other end, too," forward Bobby Portis told reporters after Wednesday's loss, according to Bulls.com. "Against Cleveland (without them), we competed well. We're a young basketball team. We should go out each and every night, play as hard as we can, get up and down and play both ends of the floor."


---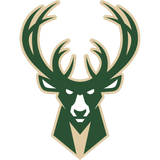 Get more from Milwaukee Bucks
Follow your favorites to get information about games, news and more
---