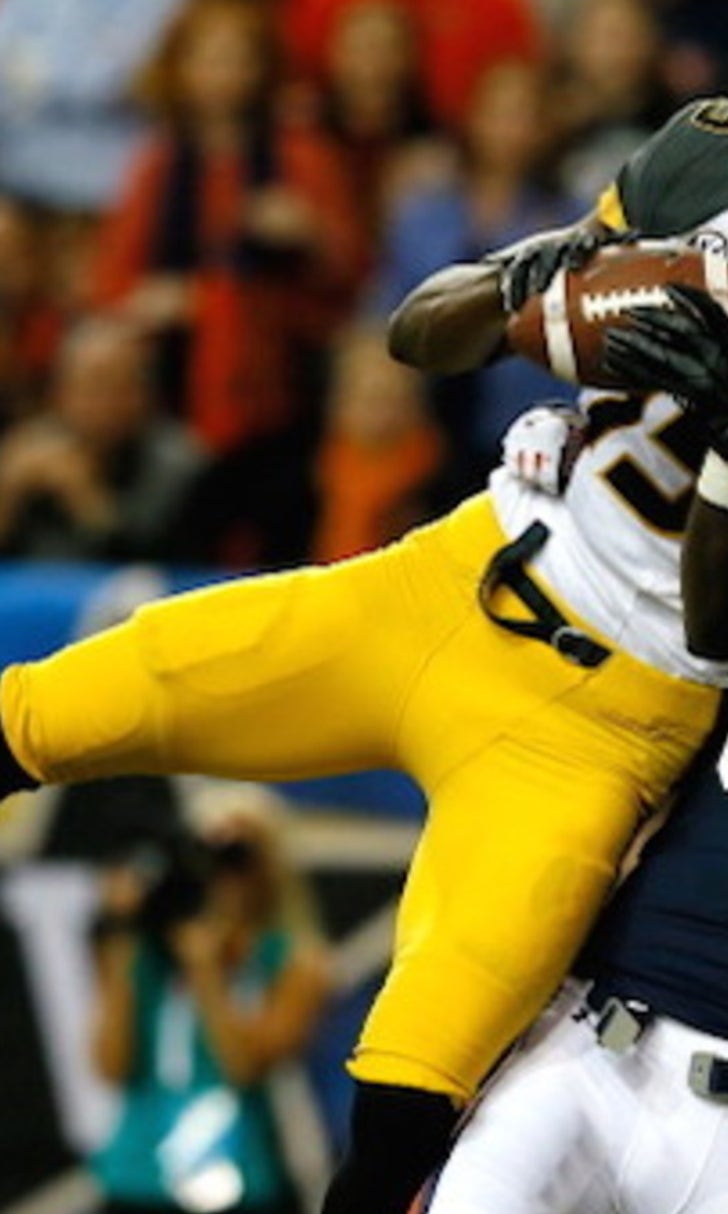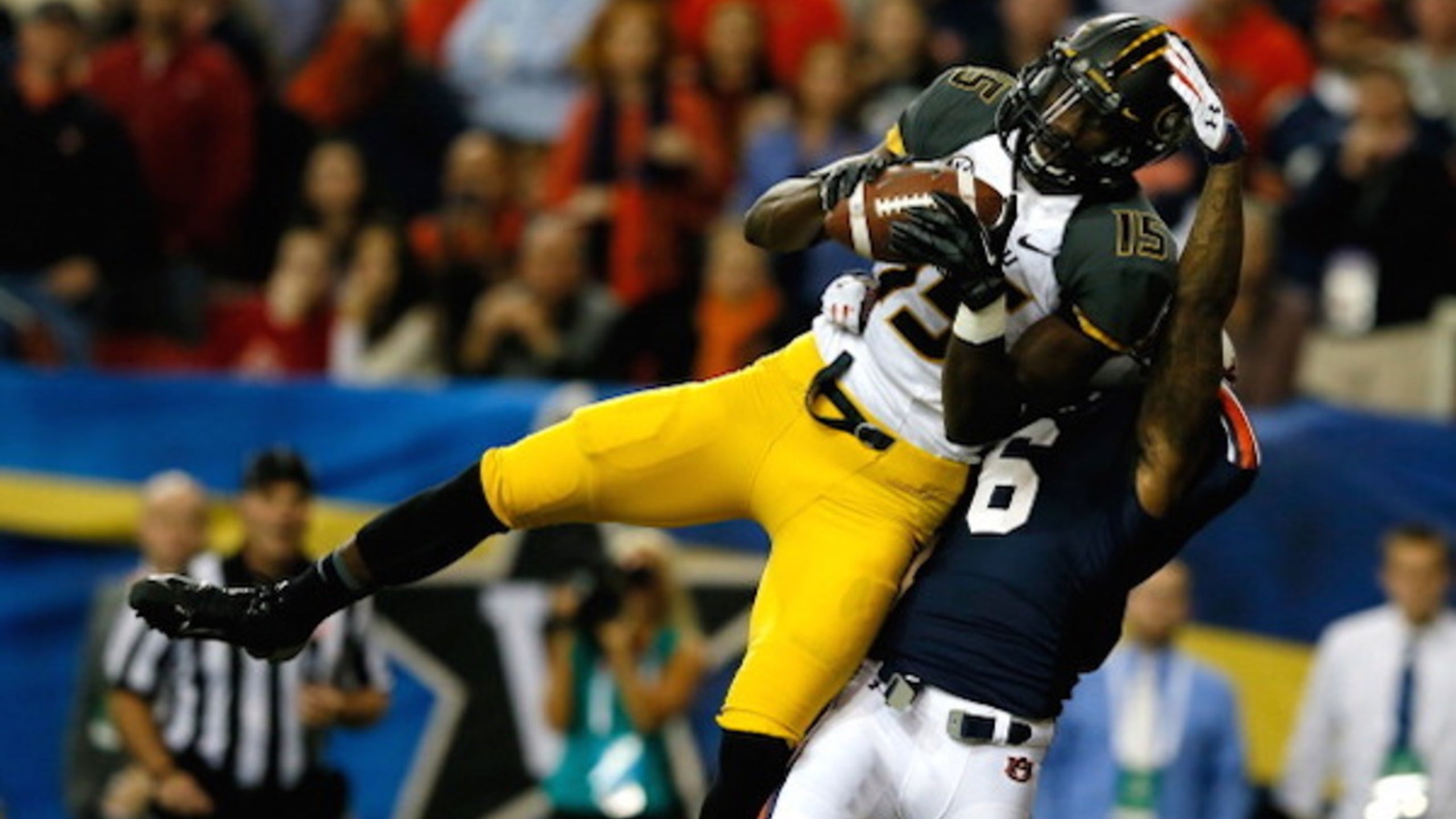 Predicting preseason stars for all 32 NFL teams
BY foxsports • July 24, 2015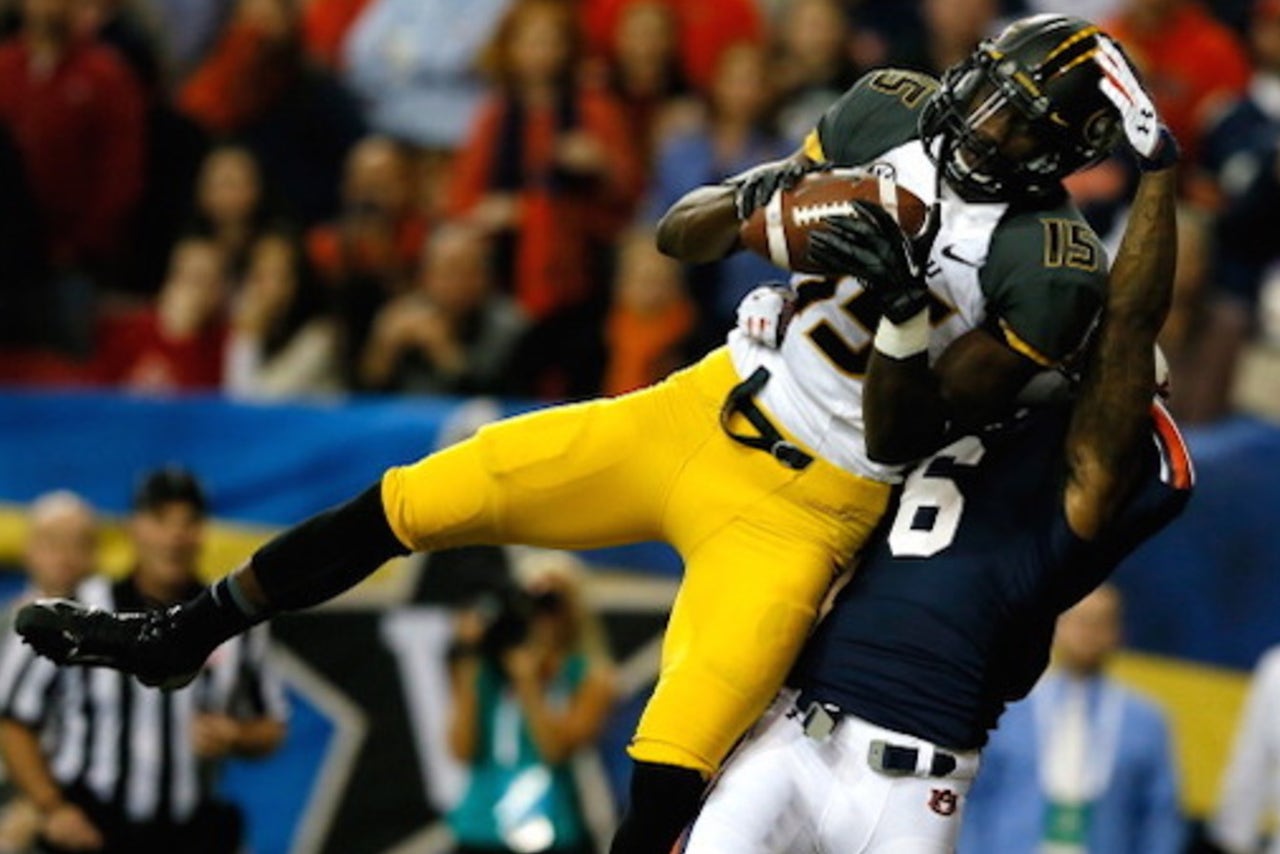 By Jesse Reed
NFL preseason games are mostly yawn-inducing affairs, but every team features at least one player who takes advantage of an opportunity and blows us all away.
Whether it's a sixth-round running back, an undrafted linebacker or a first-round pass-rusher who puts his skeptics to shame, these guys make the games worth watching.
Here are the players who have a good chance to shine during the preseason for their respective teams.
Arizona Cardinals: David Johnson, RB
Johnson, selected in the third round, has a chance to earn a huge role within Arizona's offense this year. The Cardinals will be taking a very close look at him throughout the preseason, and the dynamic playmaker will deliver both on the ground and through the air.
Atlanta Falcons: Justin Hardy, WR
Drafted in the fourth round this year, Hardy has already caught the eye of Atlanta's coaching staff and quarterback Matt Ryan. He worked with the first-team offense this spring and will certainly receive plenty of snaps this summer. The Falcons likely hope he'll eventually replace Roddy White, who is nearing the end of his career.
Baltimore Ravens: Timmy Jernigan, DE
In his third year, Jernigan has big shoes to fill. The Ravens plan on using him in place of departed Haloti Ngata, who was traded to the Detroit Lions. Jernigan will play plenty this preseason as the team determines if he's capable of taking on this big role, and the former Florida State star is ready to shine.
Buffalo Bills: Bryce Brown, RB
Third-and fourth-string running backs receive plenty of work during preseason games. Brown, formerly of the Philadelphia Eagles, is behind Fred Jackson and LeSean McCoy on the depth chart and will be fighting Anthony Dixon for the third spot. He's going to rack up the yards this summer in Greg Roman's run-heavy offense.
Carolina Panthers: Kony Ealy, DE
In a supporting role as a rookie last year, Ealy showed excellent promise as a pass-rusher, logging four sacks. With Greg Hardy out of the picture, the Panthers are looking for Ealy to continue ascending. He'll be on the field plenty this summer and will absolutely abuse second-and third-string offensive tackles.
Chicago Bears: Shea McClellin, ILB
McClellin's first three seasons in Chicago have been riddled with frustration, but his fortunes are about to change. New defensive coordinator Vic Fangio loves what he sees so far and has moved McClellin from his defensive end spot to inside linebacker. McClellin will have a legitimate shot to earn a starting role there, and he will likely be one of the most heavily used defenders this preseason while the team determines his fate.
Cincinnati Bengals: AJ McCarron, QB
Geoff Hobson, editor at Bengals.com, believes Cincinnati may keep just two quarterbacks this year, and he's pegged McCarron to join Andy Dalton for that second spot. Josh Johnson is McCarron's competition, and both will certainly see plenty of action this preseason. Look for McCarron to really stand out in his second year after missing most of his rookie season.
Cleveland Browns: Duke Johnson, RB
Talk about electric. Johnson has that "wow" factor every team searches for. In addition to becoming an integral part of Cleveland's running game, the team plans on using him at receiver at times. He's going to make an immediate impact this summer and will be a joy to watch.
Dallas Cowboys: Devin Street, WR
Street was the man who stood in for Dez Bryant during the star receiver's contract impasse. He's expected to make the 53-man roster and could see regular-season action as the team's 4th receiver. Count on Dallas to give him plenty of chances to elevate himself during the preseason.
Denver Broncos: Shane Ray, OLB
The Broncos got a steal with Ray, who fell in the draft due to a foot injury. It's not a concern now, however, as he indicated recently (via DenverBroncos.com): "My foot feels great. I feel like 100 percent," he said back in early July.
Behind DeMarcus Ware and Von Miller on the depth chart, Ray will be going up against second-team offensive tackles (and worse) throughout the preseason. Based on his college tape, those are matchups he'll win on a regular basis.
Detroit Lions: Quandre Diggs, CB
A player who made a name for himself this spring, Diggs could potentially work himself into the starting lineup this year with a strong camp and preseason. He's going to work mostly from the slot, which is a premier position in the league these days.
Green Bay Packers: Jake Ryan, ILB
The Packers need to see what they have in Ryan, who could potentially start inside this season. The team would surely love to see him emerge as a go-to player this year, which would allow Clay Matthews to return to his natural outside linebacker spot.
Houston Texans: Benardrick McKinney, ILB
The Texans have been missing a complementary player to Brian Cushing for a while now, and they hope McKinney can be that guy. A massive linebacker, he's going to fill up the stat sheet every week this summer on his way to a starting role.
Indianapolis Colts: Phillip Dorsett, WR
Blazing, light-up-the stadium speed is Dorsett's hallmark. He's going to challenge T.Y. Hilton as the team's fastest player this year, and he is also a sure-handed receiver. Fans should expect him to burst onto the scene with some amazing deep catches this preseason.
Jacksonville Jaguars: T.J. Yeldon, RB
One of the most underrated players at any position coming out of this year's draft, Yeldon can do it all. And he'll have to for the Jaguars to win many games this year. Jacksonville desperately needs to cultivate a strong rushing attack to keep young quarterback Blake Bortles from getting sacked like crazy. Yeldon is the answer.
Kansas City Chiefs: Albert Wilson, WR
Slated to compete with rookie speedster Chris Conley for the starting role opposite Jeremy Maclin, Wilson is going to get a long look this summer. Whereas Conley is a deep burner, Wilson is more of a possession receiver. The undrafted free agent from a year ago will emerge as the clear No. 2 guy with a strong preseason.
Miami Dolphins: Jay Ajayi, RB
Provided his knees hold up, Ajayi is going to be a preseason superstar. He's reportedly the favorite to earn No. 2 status behind Lamar Miller, and the Dolphins are going to let him run wild to see if he can hold up to the rigors of the NFL game.
Minnesota Vikings: Stefon Diggs, WR
The Vikings will be trying different receiver combinations this summer to give Teddy Bridgewater the best possible group to work with during the season. Diggs has the look of a sleek slot receiver and could work himself into a starting role in this capacity.
New England Patriots: Trey Flowers, DE
One of the biggest steals of this past draft, Flowers (4th round) is a tremendous force on the edge. Though not the fastest defensive end, his power will overwhelm backup offensive linemen, who will be tasked with attempting to block him during preseason games.
New Orleans Saints: Stephone Anthony, ILB
Anthony is currently behind starting inside linebacker David Hawthorne on the Saints depth chart. That could change soon, however, if Anthony has a strong preseason. Big, fast and athletic, Anthony will put running backs into the turf and is known for getting into passing lanes in the middle of the field.
New York Giants: Owamagbe Odighizuwa, DE
With Jason Pierre-Paul sidelined for the time being, rookie pass-rusher Odighizuwa is going to have a tremendous opportunity to shine this preseason. It shouldn't surprise anyone if he ends up playing more defensive snaps than most this summer, and it's going to be a pleasure to watch him work.
New York Jets: Devin Smith, WR
The speedy receiver out of Ohio State has the potential to earn regular-game playing time this summer. It's not going to be easy, given the depth at the receiver position, but Smith isn't just a one-trick pony. He'll prove that by showing off his repertoire during preseason games to potentially unseat Jeremy Kerley as the team's No. 3 pass-catcher.
Oakland Raiders: Clive Walford, TE
Every quarterback needs a trusty tight end in his lineup. Walford could be that guy for Derek Carr in Oakland, but he still has a lot to prove. The Raiders must find out if Walford is starting material, meaning he's going to play a lot of snaps this preseason. Given what we saw from him at Florida, he's going to thrive.
Philadelphia Eagles: Josh Huff, WR
Huff was used sparingly as a rookie last year but will have a legitimate shot to overtake Riley Cooper on the outside in Chip Kelly's offense this season. NJ.com noted he was "very impressive" this spring, and it's a given the Eagles will see if he can build off that momentum this summer with plenty of work.
Pittsburgh Steelers: Bud Dupree, OLB
The Steelers are counting on Dupree to become a force as a pass-rusher. While still raw, he possesses the talent and physique to become a nightmare off the edge. Dupree is currently behind Arthur Moats on the depth chart, and he's going to receive a lot of attention this summer as the team evaluates him.
San Diego Chargers: Denzel Perryman, ILB
Donald Butler and Manti Te'o are listed as the starters on San Diego's depth chart, but neither should feel comfortable with Perryman breathing down their necks. The dynamic linebacker out of Miami plays like a bat out of hell and has excellent instincts for stuffing the run—the biggest weakness in San Diego's defense last year.
San Francisco 49ers: Mike Davis, RB
Carlos Hyde is set to start this year for San Francisco, but the No. 2 spot is wide open. Davis has a real shot at stealing the job from Kendall Hunter, who is coming back from a knee injury. He'll be getting tons of late-game action during the summer, meaning he'll likely lead the team in rushing.
Seattle Seahawks: Chris Matthews, WR
After last year's Super Bowl performance, Seattle knows what kind of potential Matthews possesses. He's going to be given every opportunity to earn more playing time for the 2015 season, meaning he'll be on the field an awful lot this summer. Given his size, speed and high-point prowess, Matthews could be a star in the making.
St. Louis Rams: Stedman Bailey, WR
Entering his third year, Bailey is the best option for the Rams as the starting slot receiver. Tavon Austin was supposed to be that guy, but his career never took off. Bailey is a quick mover with excellent after-the-catch skills. He's quickly going to become a favored target of Nick Foles in the passing game.
Tampa Bay Buccaneers: Charles Sims, RB
Lovie Smith loved Matt Forte during his tenure in Chicago. Sims has often been compared to Forte, and while he has yet to emerge as the go-to guy for Tampa Bay, he will be given a serious look for the starting running back position this summer. A smooth runner who is equally skilled catching the ball, Sims is a complete back.
Tennessee Titans: Dorial Green-Beckham, WR
There may not be a more naturally-talented rookie receiver than Green-Beckham in the entire league. However, he is also one of the least accomplished receivers in the league when it comes to honing one's craft. The Titans are banking on Green-Beckham to learn quickly on the job. He'll be given a ton of preseason work in order to facilitate that development.
Washington: Matt Jones, RB
It's a given that Alfred Morris will carry the bulk of the load in Washington's running game this year.
Or is it?
Jones will have a chance to prove his worth with a heavy workload this summer after the first quarter when Morris leaves the game. A skilled receiver as well as a dynamic runner, Jones will be a huge preseason star.
More from Sportsnaut:
---