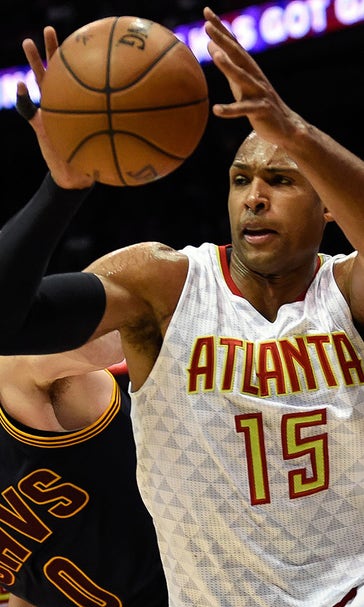 Pivotal decisions await Hawks after second straight Cavaliers sweep
May 8, 2016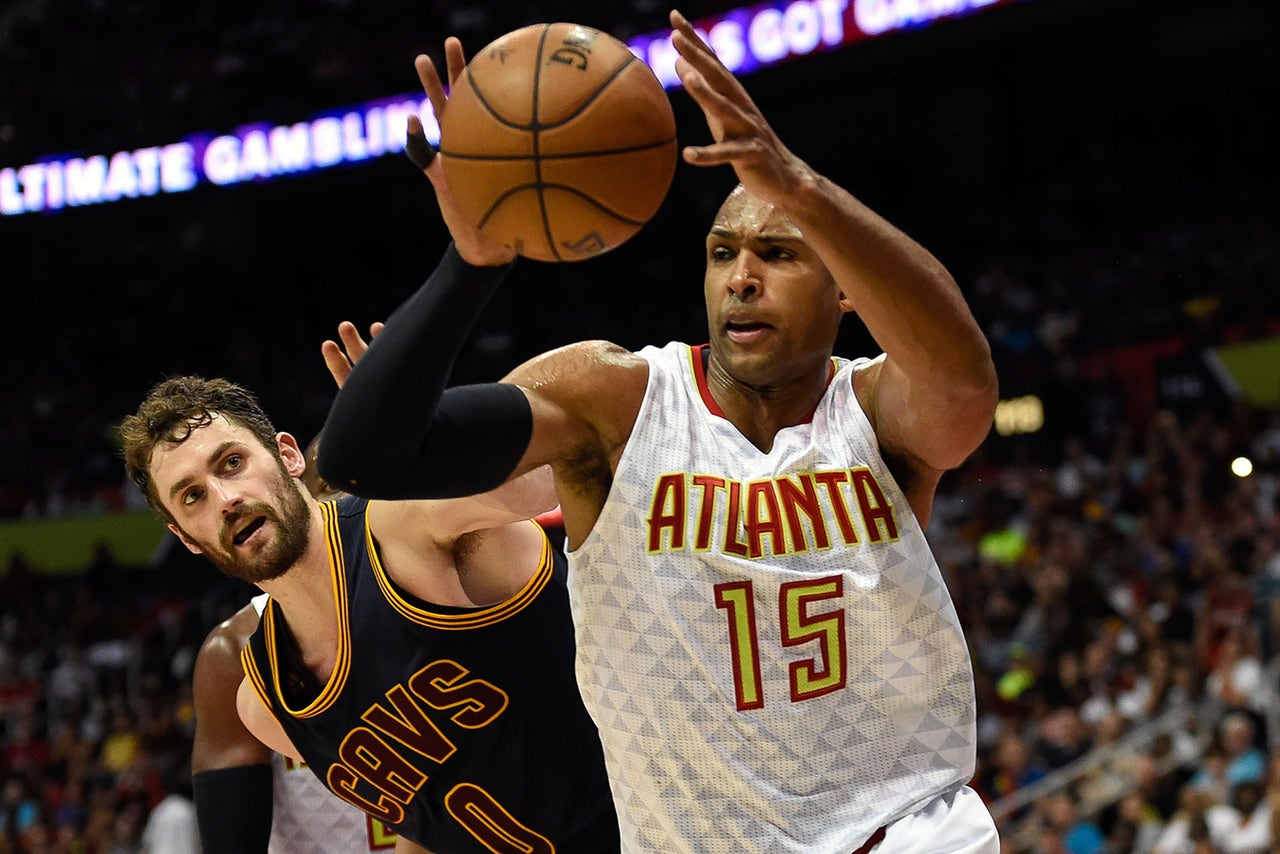 ATLANTA — The Atlanta Hawks are at risk of headlining an expanding list of would-be Eastern Conference contenders who fell short over the past decade, windows slammed shut in the time of LeBron.
As the Cleveland Cavaliers celebrated their convincing sweep on Philips Arena's floor, the Hawks were relegated to background photographs, perhaps joining the likes of the 2011 Derrick Rose-led Chicago Bulls, the aging 2012 Boston Celtics and Frank Vogel's 2013 and 2014 Indiana Pacers teams as franchises whose successful runs were bookended by LeBron James. The King's teams have captured the past five Eastern Conference titles, and an undefeated run through the Hawks and Pistons leaves few doubts concerning the sixth.
Atlanta's players believed this run was different — truly bought into their demonstrable improvement, particularly on the defensive end — and yet the result was all too familiar. The Hawks now own an NBA-worst 0-12 playoff record against LeBron James and the Cavs, three sweeps in eight seasons.
"We wanted to beat this team so bad. It left a bad taste in our mouth last year," Hawks forward Paul Millsap said after his team's 100-99 Game 4 loss. "This year we thought we had them figured out, and they do something completely different than what they did last year. That's the frustrating thing about it."
Kyle Korver's pre-series statement on the Hawks' improved playoff readiness was not necessarily false. Setting aside the best volume outside shooting performance in league history in Game 2, the Hawks held fourth-quarter leads in every other game against the Cavaliers. Opportunities were there.
Cleveland was simply better: James was typically dominant, Kyrie Irving and Kevin Love took over for stretches and first-year coach Tyronn Lue was able to coax production or key plays out of complementary pieces like Channing Frye, J.R. Smith, Iman Shumpert and Richard Jefferson. As a group, they've knocked down 134 of their 290 3-point attempts this postseason.
"It's like they had an answer for everything we tried to throw at them," Hawks guard Kent Bazemore said. "LeBron did a tremendous job of getting his guys shots. Kevin Love was on fire tonight — he did exactly what we dared him to do. They've just got a special group over there. That's a Cavs team that hadn't played that well against us all year.
"It just seems like they're peaking at the right time."
The question for head coach and president of basketball operations Mike Budenholzer and general manager Wes Wilcox moving into a pivotal offseason will be how — and how long — to keep this window open.
The Hawks face free agency decisions with two starters in Al Horford and Kent Bazemore, and the only players under club control past the 2016-17 season are non-starters Dennis Schroder and Tim Hardaway Jr. (qualifying offers) and 7-foot-3 rookie Edy Tavares (team option).
A foundation that captured 108 regular-season wins and three playoff series victories in two years should not be taken lightly, especially for a franchise that has so rarely tasted lasting success, but it is an aging core and roster decisions loom. Budenholzer was, unsurprisingly, noncommittal on the franchise's offseason plans in his post-game comments: "Our season just ended minutes ago. At the appropriate time we'll sit down, we'll discuss. I know we feel strongly about our group and we've got a great group to work with, player-wise. Front office and coaching staff, at the appropriate time, we'll take a look and discuss all those things. But we love our group."
Horford is the starting line.
The 29-year-old center enters free agency as arguably the second-best unrestricted option on the market behind Kevin Durant and he's looking for a lucrative contract that will carry him toward the end of his career. With the salary cap spiking due to the NBA's new TV deal — the new cap is expected to fall between $86 and $92 million — Horford is practically guaranteed a nine-figure windfall this summer.
When asked after Game 4 and during exit interviews if he wants to stay in Atlanta, the four-time All-Star answered yes. He did not say at what price.
Unlike any other potential suitors, the Hawks can tack on a fifth year to Horford's presumed "max" deal, totaling approximately $38 million more than any other offer after 7.5 percent annual raises, but there are possible hangups on both sides: Should the Hawks exercise their financial advantage and pay a player entering the back end of his prime an extra $35-plus million more than any other franchise can offer? And, after nine consecutive playoff runs without a single Finals appearance, the past two ending in decisive sweeps, will Horford eventually consider a change of scenery? These are franchise-altering questions.
Horford helped spearhead the NBA's second-most efficient defense this past season while averaging 15.2 points and 7.8 rebounds per game. He added an outside shot, making 67 more 3-pointers than he did in his previous eight seasons combined. He posted the best defensive rating of his career, averaged 1.5 blocks per game for an underrated rim-protecting frontcourt and, generally, showcased his all-around effectiveness on a nightly basis. He's a star, though rarely recognized as one.
For Atlanta to remain competitive at the top of the East, barring a minor miracle in free agency, the front office will need to retain its former top-five pick.
A five-year max deal locks up Horford through his age-34 season at a premium, though, and while his game projects to age well, that's a financial gamble for a franchise that has struggled to take the next step. Horford is the safe, perhaps even the smart, move — he would keep the Hawks' window open for at least one more season — but there are potential ramifications on the back end. It doesn't help that, perhaps aside from Schroder, the franchise boasts practically zero young assets to build around in a post-Horford/Millsap world.
"I know in my heart that this is a special place. People should want to be a part of it." - @Al_Horford

— Atlanta Hawks (@ATLHawks) May 9, 2016
"I love our team. I love who we are," Millsap said. "I love the guys on this team, the character of these guys. I think that individually we can get better. That's from me going down the line. I think our coach said the same thing, as a collective group we can all get better.
"If we keep everybody here, I think that we continue to grow. We will grow with each other. We will get better. We will get to the next level. I think that's what this team wants to do: We want to take that next step."
Last offseason, Atlanta's decisions were all but made for them. Budenholzer and Wilcox were operating under enough cap limitations that when the Orlando Magic pursued Millsap and the Toronto Raptors offered wing DeMarre Carroll, they could only keep one — and the choice to retain a skilled All-Star big man would have been copied by 29 other front offices. Absorbing Tiago Splitter's affordable two-year contract was another no-brainer.
(Flipping the No. 15 overall pick into Tim Hardaway Jr. on draft night remains a controversial decision, though no available rookie would have turned the tides of the Cavaliers series. After turning their past six first-round picks into Schroder, Hardaway Jr., a protected 2018 first-round pick and some cap space during the 2014 offseason, the Hawks eventually need to utilize the draft to re-stock with young talent.)
Keeping the cornerstones following a 60-win season and ownership change — riding momentum in a market starved for a winning franchise — required little discussion.
Tearing down a top-four team in the Eastern Conference involves far more risk, for while the offseason hinges on The Great Horford Debate, complementary moves will follow.
Bazemore, a 26-year-old unrestricted free agent, has enjoyed a Carroll-esque rise in the Hawks organization, going from bench celebration icon to NBA starter in a two-year span, and will cash in along with the rising cap. The Hawks do not hold his Bird Rights and if another team offers around $12-16 million annually that's another wing spot to fill. Assuming veterans Kirk Hinrich and Kris Humphries walk into the open market, the front office will also need to decide on 24-year-old bench option Mike Muscala's team option.
From a big-picture perspective, however, the franchise's point guard conundrum will likely be the second-largest domino to fall. Budenholzer placed his team's last-ditch effort against Cleveland into the hands of Schroder in Game 4, benching starter Jeff Teague with just five points in 22 minutes. This tug-of-war carried on throughout the season. The coach's post-game statements never altered in tone nor message — the staff used a "ride the hot hand" approach; it continues to express public confidence in both guards — but with Teague entering the final year of his contract a move could be made as early as this offseason.
Schroder remains both electric and sporadic, as his 21-point Game 4 can attest, and while Teague grades out as the more consistent option, he's had his own late-game issues. If Horford walks and the Hawks are unable to lure another top-tier free agent, attempting to plug holes and keep the remaining core together would only result in mediocrity: a Nos. 4-7 seed in the East with diminishing upside and Millsap entering his own player option. (Even if Horford sticks around, Atlanta's point guard situation is worth monitoring throughout the offseason.)
This is the predicament the Hawks find themselves in: How long can they ride this wave, and how many times will it continue to break on the shores of Lake Erie?
"I actually feel better about how we played in this series this year than we did last year," Hawks guard Kyle Korver said. "Our record wasn't as good as it was last year and this was a series earlier, but except for Game 2 I feel like we had our chances in each game."
The 2015-16 season added credence to the franchise's values. There were fewer wins and the playoff run was not as deep, but its player development remains top-notch (losing assistant coach Kenny Atkinson to the Brooklyn Nets will sting) and the focus on the collective continues to keep the Hawks competitive.
Summer of 2016 brings crucial decisons, though, and the current window is either narrowing or already closed.
---
---