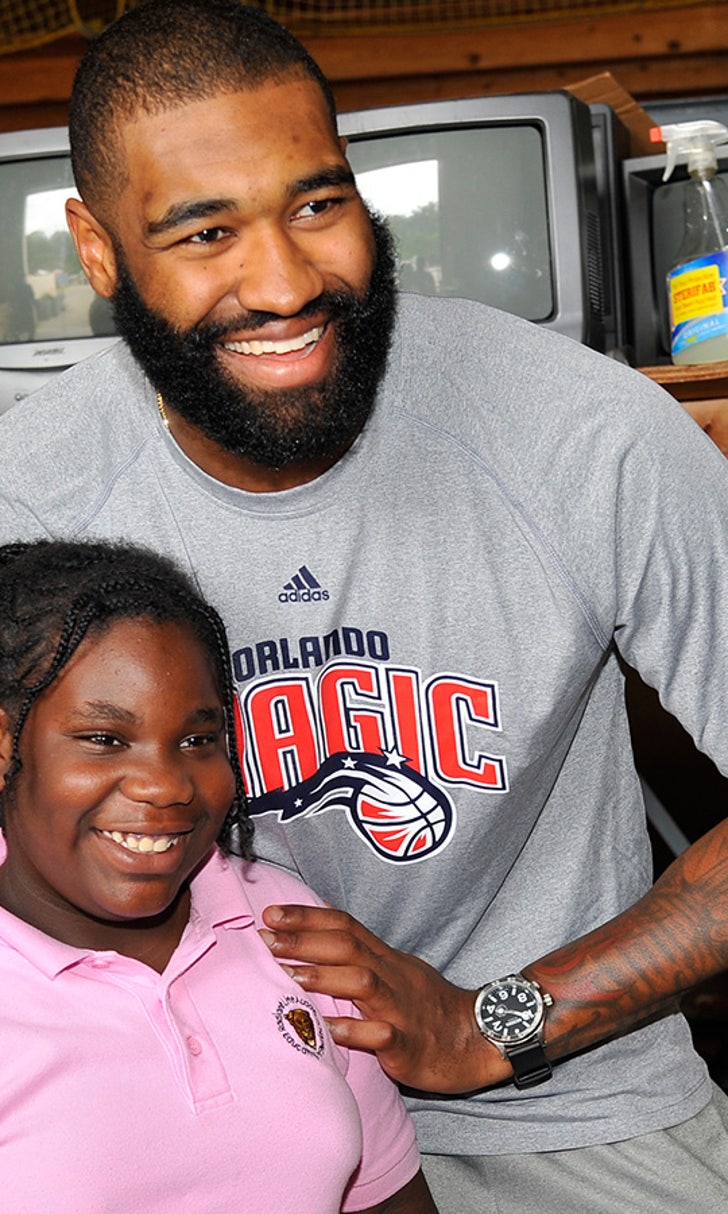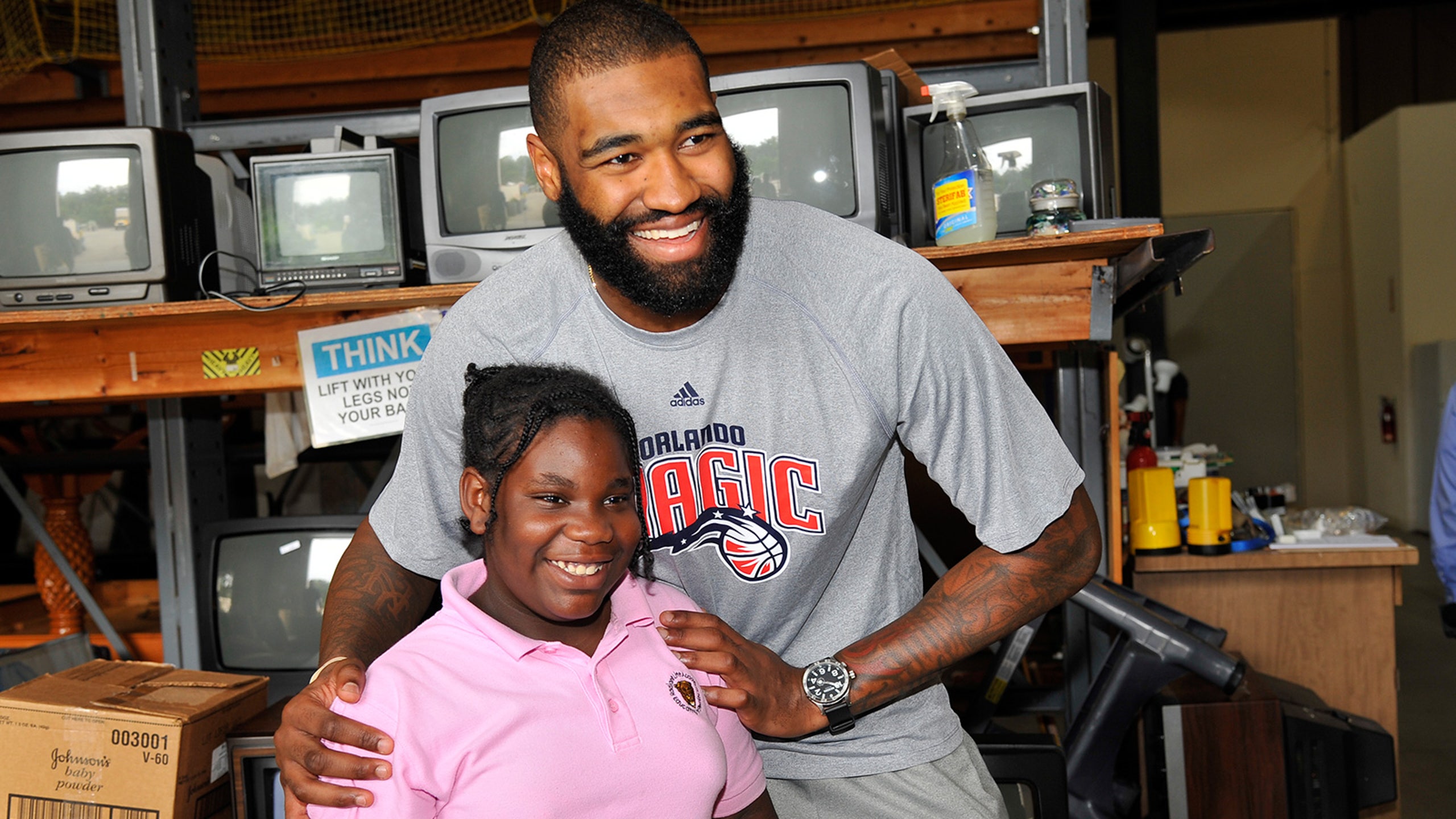 Magic players help those in need as part of NBA Cares Week of Service
BY foxsports • October 22, 2014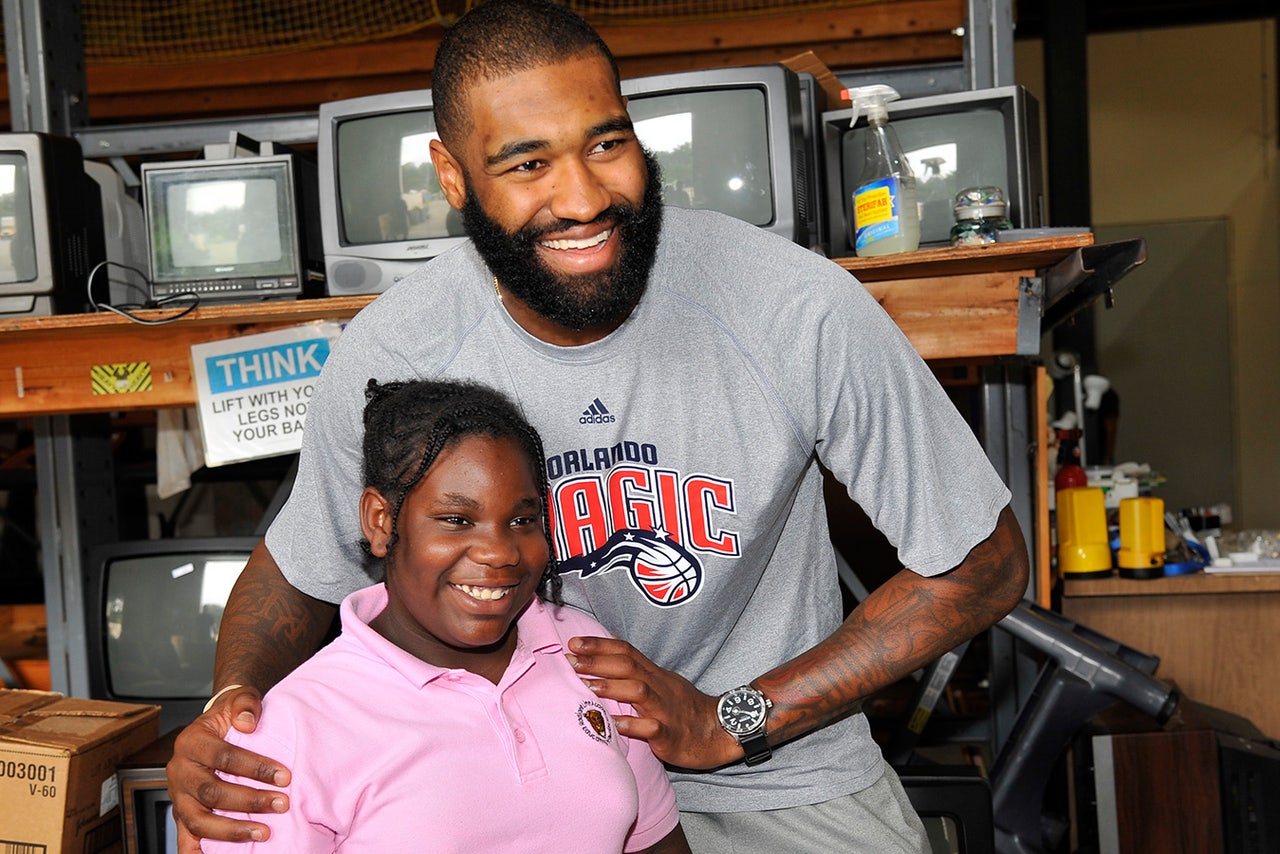 ORLANDO -- While using every inch of his 6-foot-10 frame to stock clothing and other household goods on a shelf high overhead, Orlando Magic power forward Kyle O'Quinn had a revelation on Tuesday: Much of the stuff in his home that he never uses could go to much better use by Central Florida families in need.
So not long after joining Magic teammates Victor Oladipo and Ben Gordon, Community Ambassadors Nick Anderson and Bo Outlaw and several Magic employees to unload, sort and stock items donated to The Mustard Seed Furniture and Clothing Bank, O'Quinn planned to clean out his closets and give away items that others in need could get much more use out of.
"Being here to help out with something like this, it lets you know that the stuff is going to good places where the people really need it," O'Quinn said. "I've always been big on getting rid of (clutter). But until somebody came to me today and said, 'Somebody could use that stuff that you're not using.' That made me look at things a different way and value them more. Instead of just putting stuff I don't use in the trash or dropping it off, I want to bring it here so that people who need it can use it. I want to make sure that I get stuff into the right hands because I want to help out as many people as I can."
The work done by O'Quinn, Oladipo and Gordon on Tuesday (Oct. 21) was in conjunction with NBA Cares Week of Service. The Magic are partnering with the Department of Defense and the NBA for the "Hoops for Troops, Commitment to Service" program. The three players, community ambassadors and Magic employees worked on Tuesday to assist The Mustard Seed in sorting items that will eventually go to families that need essentials for everyday life.
Oladipo unpacked clothes, picture frames and toys from plastic bags, while Gordon was put in charge of separating silverware and dishes into groups of four so that they could be donated to families with two-to-three children.
More comfortable now that he's about to begin his second NBA season, Oladipo has pushed to be involved in more community events and he said he was humbled on Tuesday to be a part of a process that will help so many families in need for items that often get overlooked or taken for granted.
"It feels really good being able to give back to the less fortunate," said Oladipo, who just seconds earlier stopped to read from a picture frame with an inspirational poem titled, "Hear What Jesus Has To Say."
"We're so blessed and fortunate to be in the position that we are today as NBA players, and we have the opportunity to give back to those who are less fortunate and in need," Oladipo continued. "It's just an honor and a blessing that I'm able to do this. It excites me being able to help out and I want to do what I can when I have the chance."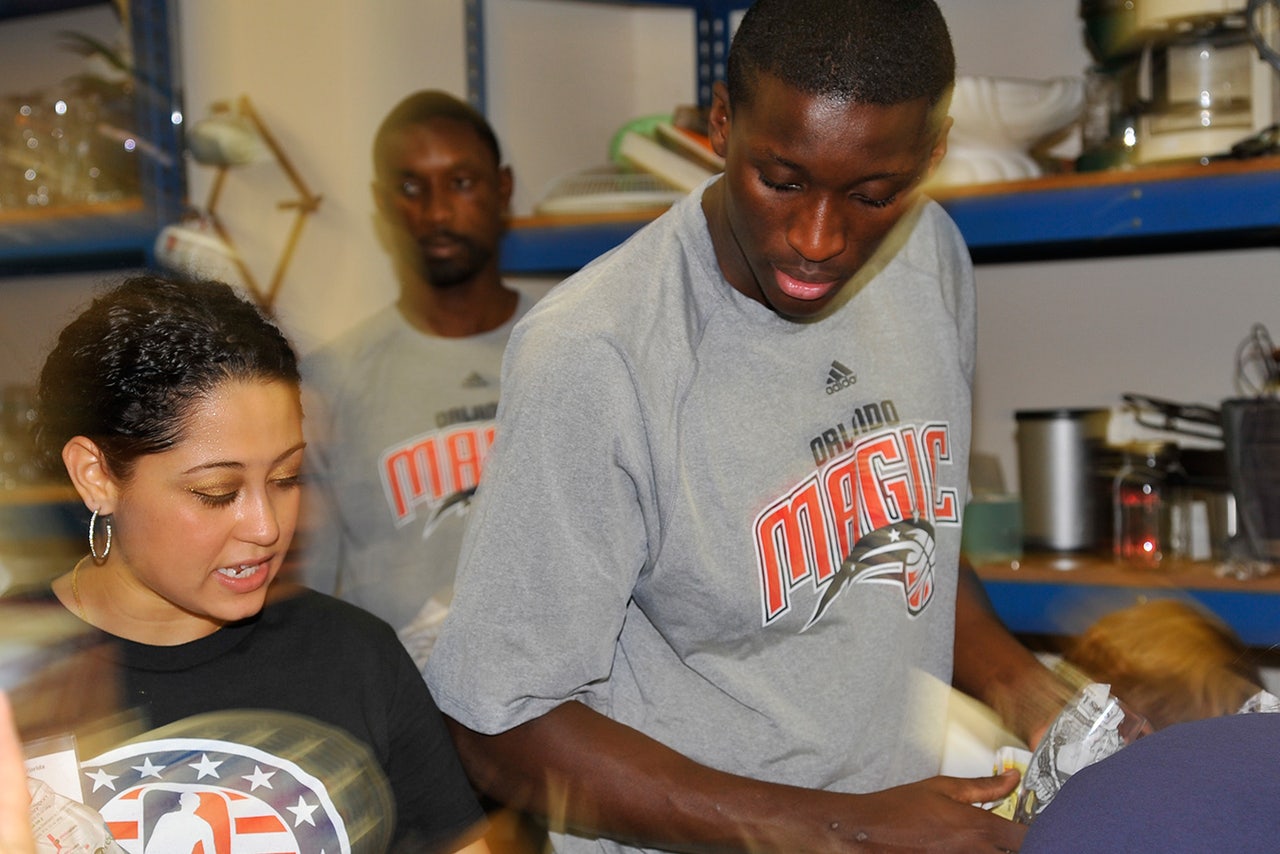 Magic guard Victor Oladipo sorts clothes with fellow volunteers at The Mustard Seed Furniture and Clothing Bank.
The Magic will add to its participation in NBA Cares Week on Thursday when the organization pairs up with Habitat for Humanity for a home dedication in the Pine Hills community. It is the sixth time that the Magic have sponsored a Pine Hills-based home. David and Matilda Duppins and their four children will become the latest family to live out the dream of home ownership thanks to the Magic and Habitat for Humanity.
As for The Mustard Seed, it is the only furniture bank in Central Florida that offers household items to the community, according to Mustard Seed Marketing Outreach Coordinator Corrine Daly. She said that help from high-profile players such as Oladipo, O'Quinn and Gordon and assistance from the Magic would spread the word of the volunteer help that the facility needs.
"We are a modestly staffed organization and we rely heavily on volunteers. When people who are community leaders come out and help us do the things that we are doing, it really encourages our staff, our volunteers and our company to continue providing the services that we do," Daly said. "We would never have the reach that a team like the Magic have, so to have their players and employees here in our facility and helping us, it's crucial to our success.
"This help says that the Magic are keeping things local and they care about the Orlando community," Daly continued. "We're a grassroots organization born in Orlando, we believe in this community and we don't try to go beyond our community. The Magic coming out to help us says that they appreciate what we're doing and they want to help us in our mission of helping people."
Gordon, who signed a free-agent deal with the Magic in July, has made it known that he wants to be involved with people in the community in an attempt to help those who are much less fortunate than him. In September, Gordon teamed with the Christian Service Center to stock a "Love Pantry" with food and hygiene essentials at Hungerford Elementary School in Eatonville.
"Anytime you have a chance to do something like this, where you are literally affecting people's lives, you should always jump at that opportunity," Gordon said. "We're grateful to be of service because we know there are families out there who need these items and we're looking forward to making sure they get what they need and put it to good use."
O'Quinn, who has steadily evolved into a leader for the Magic because of his hard work on the court and his broad communication skills, said he identified with the struggles of many Central Florida families because life wasn't always easy for him while growing up in the Jamaica, Queens section of New York City. O'Quinn had two hard-working parents and they saw to it that he had most of the essentials needed, but life was still a daily struggle. He hopes that the work that the Magic are doing in the community can help some of those who are in need build happy and safe homes.
"Every day life is real because people out there are trying to stay alive and maintain. The little things that the Mustard Seed helps with, from furniture, to silverware, to clothing, it might not be in their budget. So for this place to help those families out who are in need, it's huge,'' the Magic center said. "Growing up I was always looking to someone doing the right things and someone that I could follow. We're lucky enough now where we're in a position that draws attention and when you do the right thing it helps to show kids the right way to do things. Most of us (NBA players) came from situations similar to what these people are going through, so it means a lot to me to be able to help those people out who need it the most.''
---
---