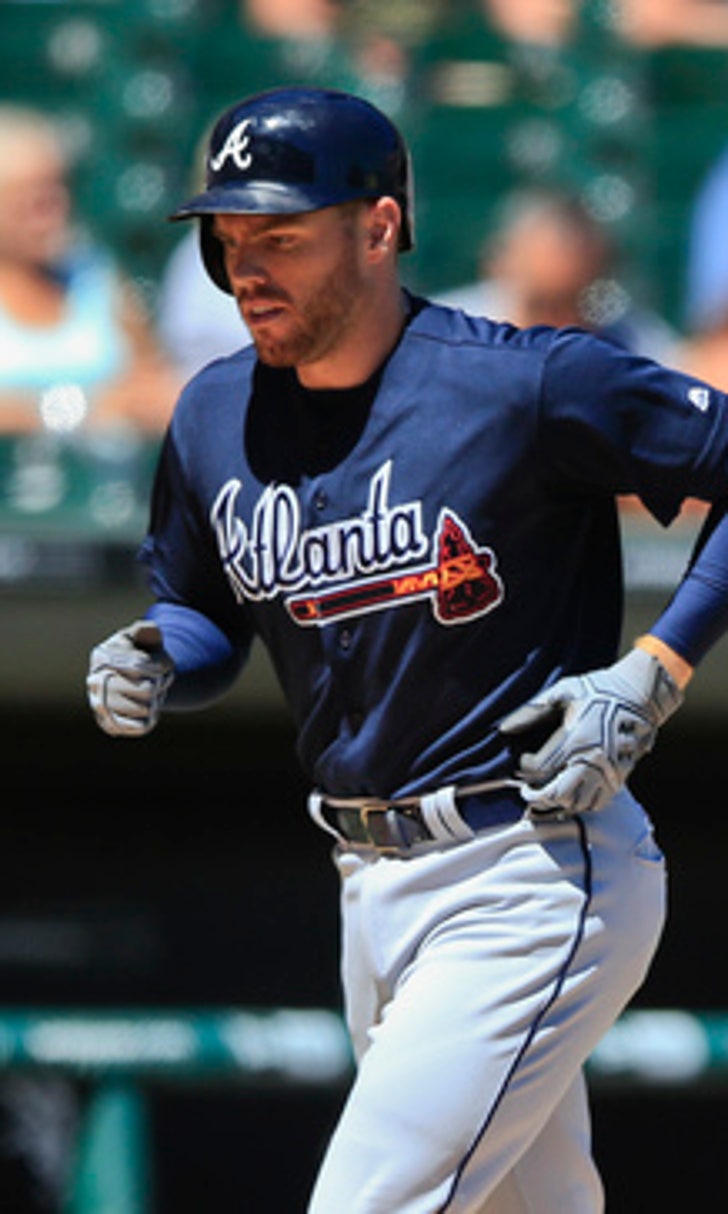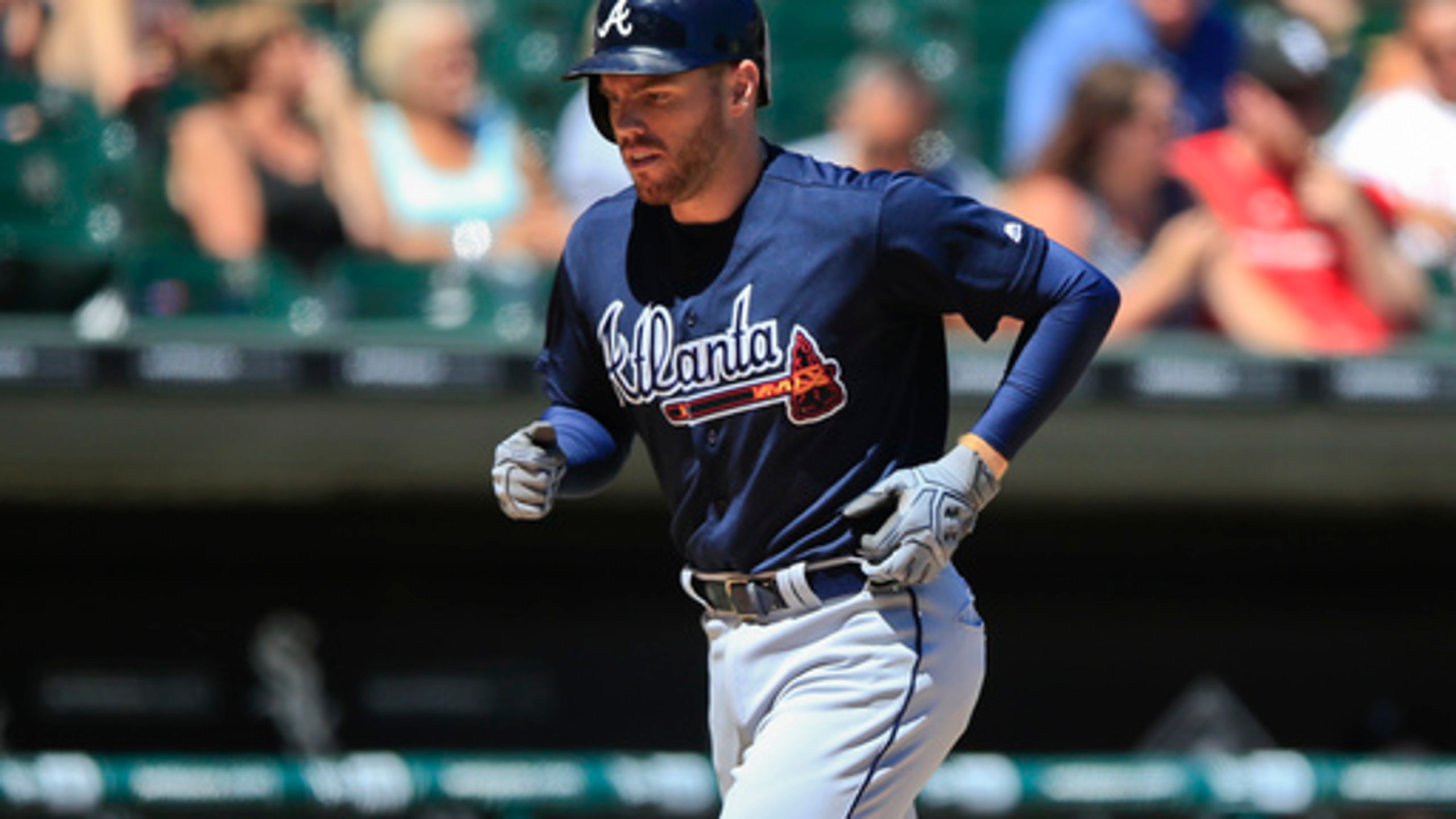 Get Freddie Freeman in your daily fantasy lineup - quickly!
BY foxsports • September 1, 2016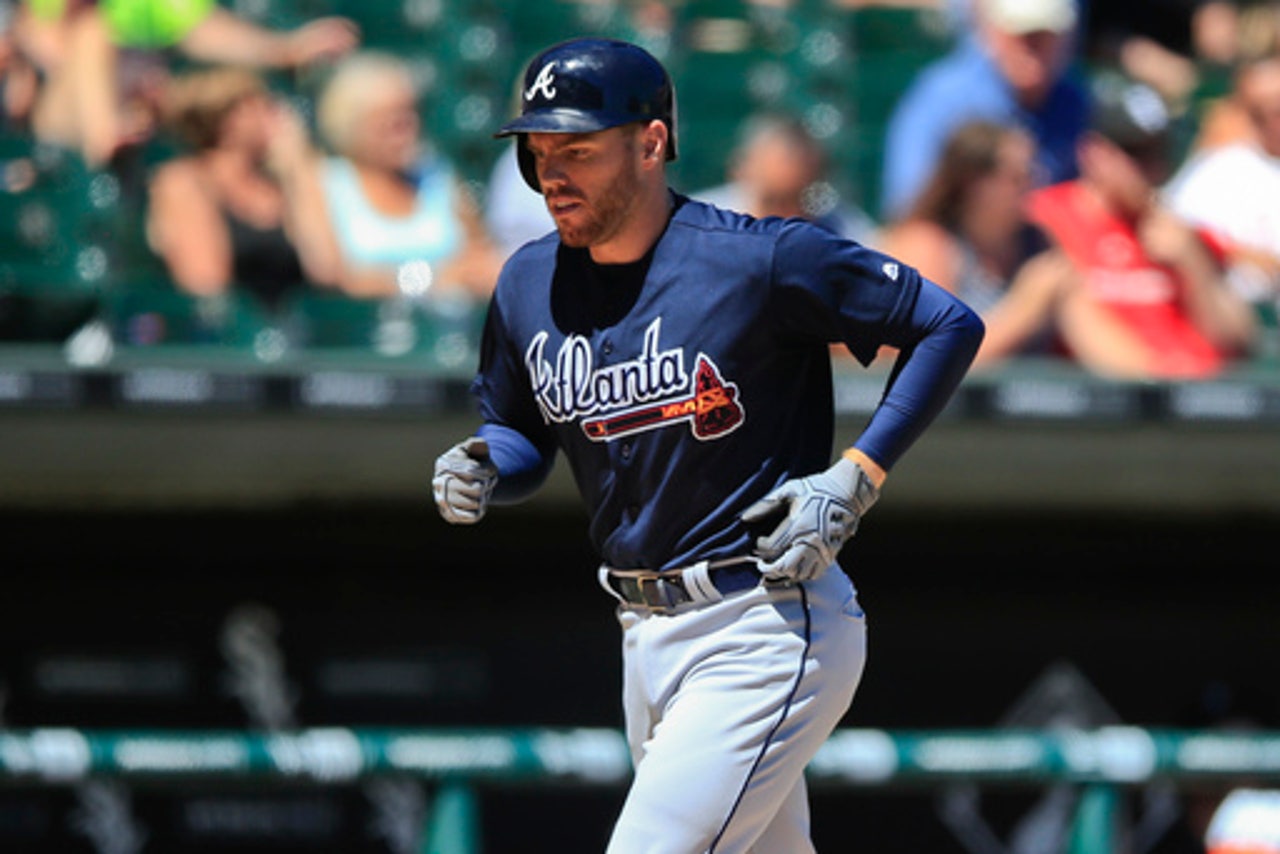 Welcome to today's daily fantasy post! Remember that you can find our posts on the DFS home page, as well as the fantasy page. Bookmark those sites now!
Also, please scroll to the bottom of this article to see the latest tweets from Ryan Fowler (@FOXSportsFowler), D.J. Foster (@FOXSportsFoster), Adam Meyer (@FOXSportsMeyer) and me (@jhalpin37). That way, if information surfaces for any last-minute changes, you can see our thoughts instantly.
Let's get to today's interesting facts, using DraftKings prices. There are only four games today, starting with Padres-Braves at 12:10 p.m. ET. Please note that much of the information in this post is being published several hours prior to game times, so check MLB lineups later to confirm that any recommended players are included.
5 Things to Watch:
1. Jacob deGrom is a minus-200 favorite over the Marlins, and comes in at just $9K. Why? Because he's allowed 13 earned runs in nine-and-two-thirds innings over his last two starts. deGrom was skipped on Monday, so he hasn't started in eight days.
2. There's a threat of rain today in Atlanta, with weather.com pegging noon for the start of possible showers, and a 60 percent chance of scattered thunderstorms starting at 2 p.m. They should be fine.
3. Your best-looking BvP stat for the day is Justin Morneau's four homers in 32 at bats vs. Ervin Santana, but only one of those has come since 2011, so don't get too excited.
4. The Red Sox have announced that they'll call up blue-chip prospect Yoan Moncada on Friday. Moncada, who figures to spend his time at third base, has hit 15 homers with 45 stolen bases across Double A and Triple A this season. As talented as Moncada is, he'll probably bat low in the order, and we usually don't like that in DFS.
5. Speaking of callups, MLB rosters can expand to 40 players starting today, though most won't change much until minor-league seasons end next week. Teams that aren't in contention will start playing guys you've never heard of, and randomly benching some that you have. We'll help you with the former group, but make sure not to assume everyday playing time for the latter when creating lineups.
Our recommendations for the day are below!
Yesterday's recap:
Corey Kluber was a strong must-start, whiffing 11 Twins on his way to a win. "Deal of the Day" Luke Weaver didn't win, but he did strike out 10 Brewers in six innings. A Blue Jays' stack netted home runs from Jose Bautista, Michael Saunders and Russell Martin.
Must Start of the day: Freddie Freeman, ATL
Of the premium 1B options, he'll cost a few hundred bucks more than Anthony Rizzo at $5,400, but faces a lesser starter in Jarred Cosart. Freeman has averaged 11.7 DK points over his last 10 games, without a single outing below seven points.
Deal of the day: Tyler Flowers, ATL
The deals aren't too good on this four-game slate, but Flowers is $3,600, bats sixth, and has five double-digit DK points in his last 10 games. He's not exactly facing an ace in Cosart, either.
Avoid of the day: Jose Quintana, CHW
I like Quintana a lot, but he's the most expensive SP on the board against a slightly above-average Twins' lineup. He could have a good game, but there are better ways to spend your money.
Stack of the day: New York Mets
The Cubs are the chalky but expensive option. The red-hot Mets (46 runs in their last seven games) against the extremely hittable Jose Urena will let you use better pitchers. Jose Reyes and Yoenis Cespedes are musts, and you should check the Mets lineup before filling in the rest. Heck, Jay Bruce might even be ready to help you. Beyond the Mets, I won't argue if you want to stack Braves.
Starting pitchers:
Mike Foltynewicz, ATL: Folty ($10K) has been solid lately, averaging 17.4 DraftKings points over his last five starts. He faces a Padres' lineup that ranks as MLB's worst over the last 30 days, with a .284 wOBA and strikeouts in 26.5 percent of at-bats.
Jacob deGrom, NYM: See "5 Things" note above. deGrom is probably too good to let his slump continue, and the cheap pitchers really aren't good today.
Mike Montgomery, CHC: If you insist on using an inexpensive starter -- GPP's aren't won by playing it safe -- Montgomery ($4,600) has missed plenty of bats while spending much of the season as a reliever. He'll face the Giants, who don't strike out much but are a bit below average (.317 wOBA) vs. LHP.
Catchers:
Buster Posey, SF: Posey is expensive at $5,300, but hits LHP extremely well (.400 career wOBA).
Tyler Flowers, ATL: "Deal of the day."
Willson Contreras, CHC: Nice price at $3,600 vs. Montgomery.
First basemen:
Freddie Freeman, ATL: "Must start of the day." And it's a 12:10 start, so don't be late.
Wil Myers, SD: Hasn't hit too well lately, but can get on the board with both power and speed, and is budget-friendly at $3,600.
Second basemen:
Javier Baez, CHC: Sooooo much more of a threat for the longball than anyone else in his price range ($3,500). Spend $5,200 on Dozier if you want to, but Baez isn't a bad consolation prize. Also fits at 3B.
Tyler Saladino, CWS: $3,100. Bats low in the order, but has homered in two of his last five starts. Also fits at SS.
Third basemen:
Kris Bryant, CHC: He's obviously a monster, with seven double-digit DK games in his last 10 starts. A fine play if you can pay the $5,500 freight.
Adonis Garcia, ATL: $4,200, and has five hits in his last two games.
Martin Prado, MIA: The inexpensive option at $3,100. Bats second or third in the order, but doesn't have much power.
Shortstops:
Jose Reyes, NYM: $4,400, with four double-digit DK games in his last 10. Nice matchup vs. Urena and his 5.83 ERA. Also fits at 3B. Mets' stack.
Tim Anderson, CHW: Has been batting second for the ChiSox. $3,900 today, hitting .349 in his last 10 games, has 18 SB between the minors and majors this season.
Outfielders:
Yoenis Cespedes, NYM: Cespedes is on a tear, batting .375 with five HR over his last 10 games. Spend the $5K if you can. Mets' stack.
Curtis Granderson, NYM: $4,200, has a .406 wOBA vs. LHP. Mets' stack.
Jorge Soler, CHC: Bats fourth sometimes, worth the $3,800 if he's in that spot today.
Miguel Sano, MIN: HE'S SO DUE! OK, that's usually a bunch of baloney, but the slumping Sano is a deep threat vs. LHP Jose Quintana for $3,100.
Byron Buxton, MIN: It sounds like my pal Buxton ($2,300) could be back in the Twins' lineup as soon as today. He struck out a ton at Triple A, but had a stretch last week of four straight games with a home run.
---
---