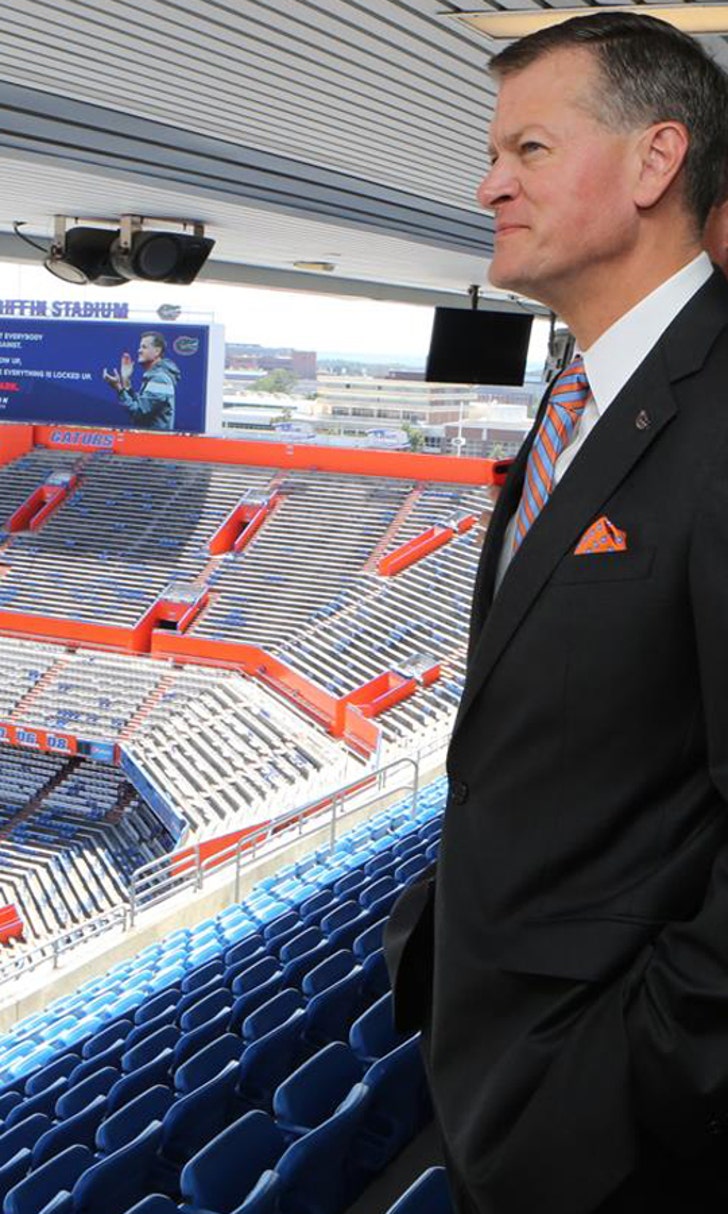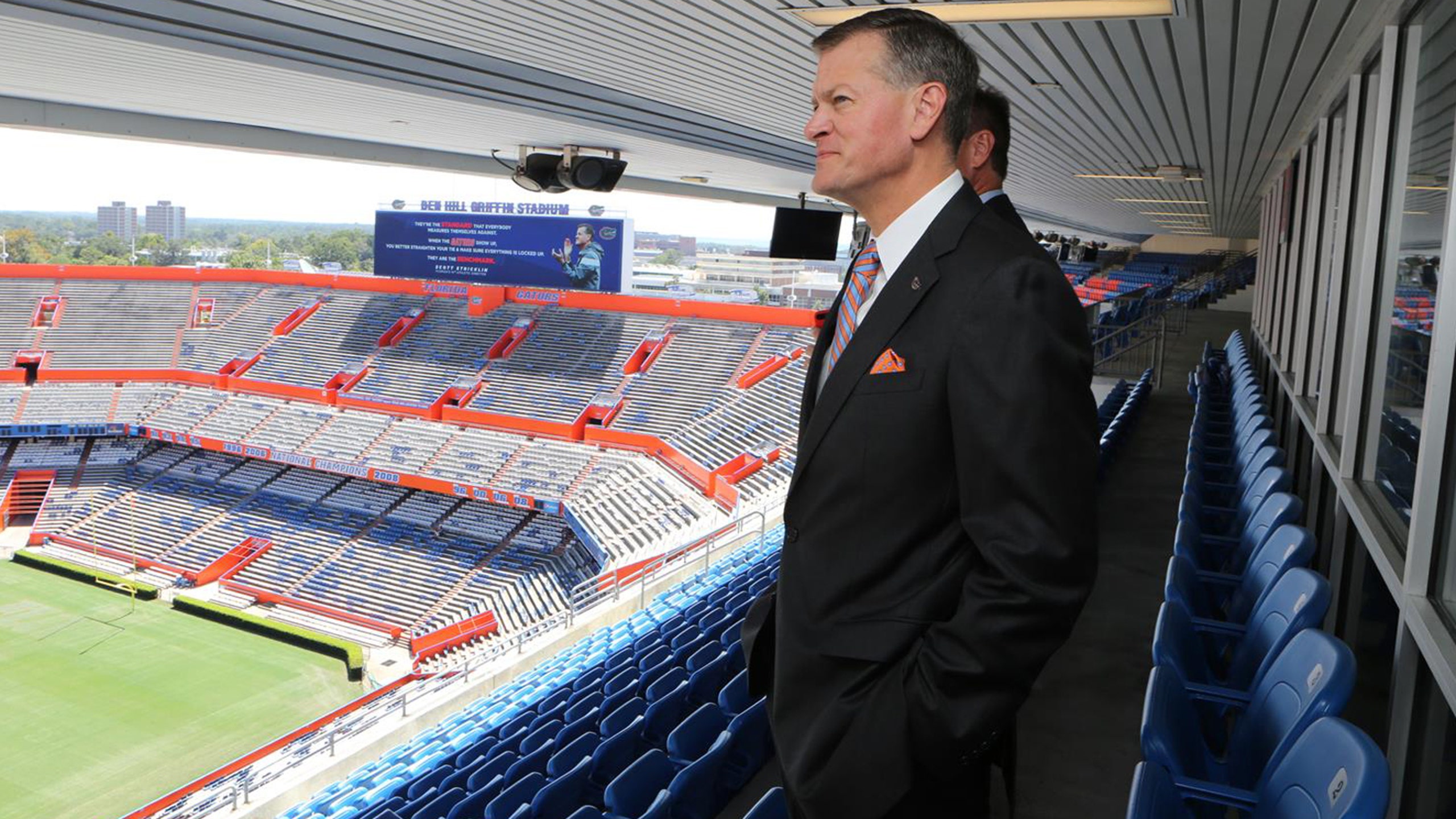 For Scott Stricklin, Florida's pull too much to pass up
BY foxsports • September 27, 2016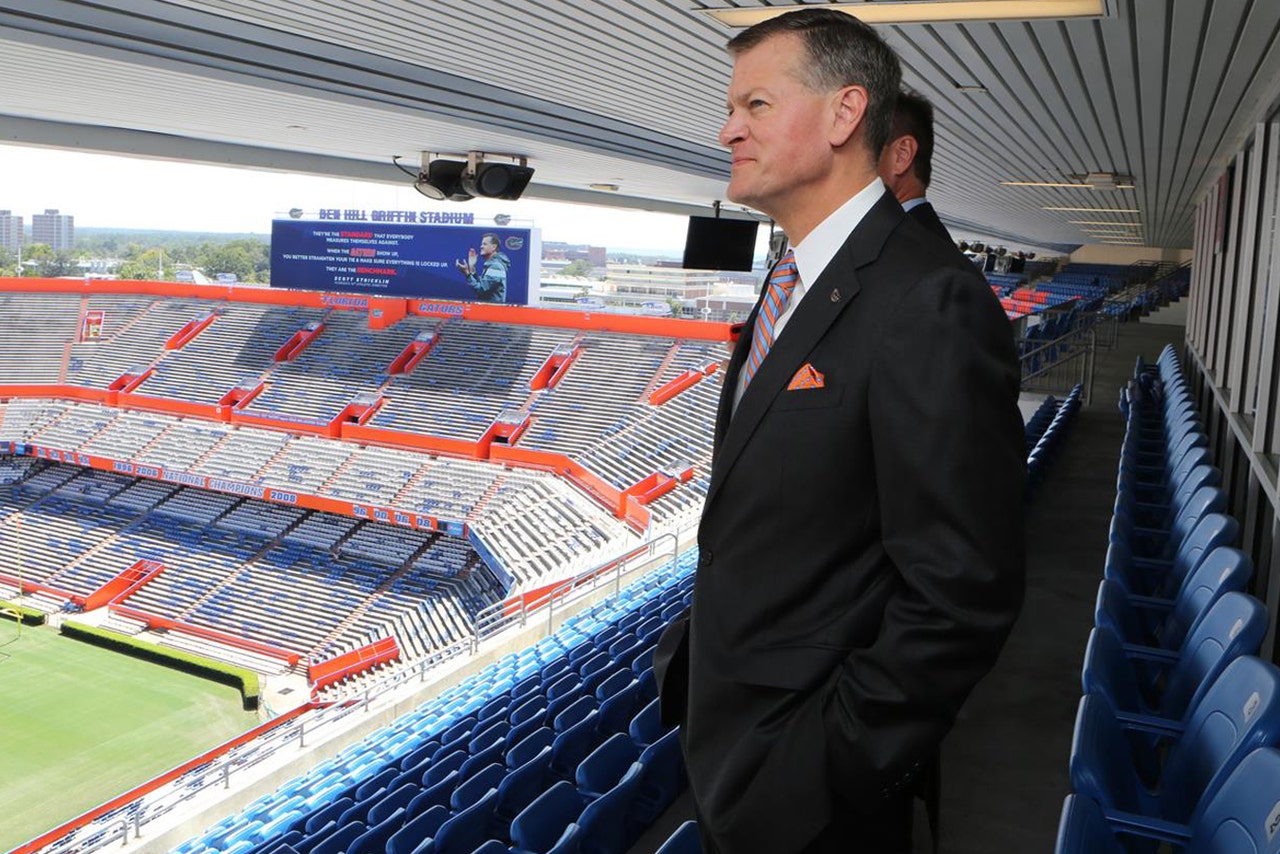 GAINESVILLE, Fla. -- Scott Stricklin has made plenty of trips to the University of Florida during his career in college athletics, but this time is unlike any other.
As a former sports information director for teams at Southeastern Conference rivals Mississippi State, Auburn and Kentucky, Stricklin came to town to beat the Gators.
Those days are over.
"I don't care what sport you're putting on, if the jersey has orange and blue in it, I want that team to win and I want everybody else to want that team to win," Stricklin said. "That has to be part of who we are."
Stricklin's sudden shift in perspective became reality on Tuesday morning when he officially became the 14th athletic director in UF history, agreeing to a 6-year contract worth $1.076 million annually. There is an introductory press conference today at 1 p.m. to introduce Stricklin as Jeremy Foley's replacement.
Stricklin is considered one of the most innovative minds in the SEC, working his way from an intern in the Mississippi State sports information office all the way up to a place in the athletic director's chair at his alma mater. In between his graduation from Mississippi State in 1992 and his return to Starkville 2010 as the school's athletic director, Stricklin served in various administrative roles at Auburn, Tulane, Baylor and Kentucky.
Kentucky Athletic Director Mitch Barnhart first met Stricklin when he interviewed him for a position overseeing media relations for the Wildcats' basketball program in 2003.
It didn't take long for Barnhart to offer him a job, one Stricklin held from 2003 to 2008.
"He is one of the brightest people I've met," Barnhart said. "He has this unique combination of book intelligence and street smarts. The combination of the two gives him a real ability to be very thoughtful. It served us well when he was here.
"It was apparent that he was going to be a great one in college athletics."
Stricklin's star has continued to shine.
His breadth of experience and accomplishments has now earned him the job of leading one of the country's most successful athletic departments, a job held by Foley since March 1992, a few months prior to the end of Stricklin's time as a college undergraduate.
Shortly after announcing in mid-June that he planned to retire Oct. 1, Foley and his administrative staff began identifying potential candidates to replace him.
Stricklin was at the forefront of the search from the start.
"Scott is about the right things and running the business the right way," said Foley, who will continue on the job until Stricklin takes over on Nov. 1. "He has passion for student-athletes and loves working with and supporting coaches. Those two qualities alone make him a great fit for Florida."
Today marks a significant beginning -- and end -- to the 46-year-old Stricklin's professional journey.
The kid from Jackson, Miss., fulfilled a dream when he returned home to his native state to become Mississippi State's AD in May 2010. Stricklin made an impact on his return to Starkville as a fundraiser, program champion and industry leader, earning Athletic Director of the Year honors for FBS schools from the National Association of College Directors of Athletics during the 2015-16 academic season.
His roots run deep in Starkville.
Besides graduating from Mississippi State, his wife Anne is the daughter of Bulldogs alum and Basketball Hall of Famer Bailey Howell, who returned to the Magnolia State after he completed his NBA career.
"It runs pretty deep with him and he probably doesn't understand this move," Stricklin said. "He's pretty biased on the other side, but he obviously loves us. The fact that leaving Mississippi State is personally so hard speaks a lot for what Mississippi State means, but I also think it speaks a lot to what Florida is. I feel this is where I need to be."
Life was good for the Stricklins and their two daughters, Abby and Sophie, during their time at Mississippi State.
Florida's athletic directors
| | |
| --- | --- |
| Athletic director | Tenure |
| A.L. Buser | 1919 |
| W.G. Kline | 1921-22 |
| James L. White | 1923-26 |
| Captain E.M. Yon | 1927-29 |
| Edgar Charles Jones | 1930-36 |
| Josh Cody | 1936-40 |
| Percy Beard (acting AD) | 1942-45 |
| R.B. Wolf | 1946-50 |
| Bob Woodruff | 1950-60 |
| Ray Graves | 1960-79 |
| Bill Carr | 1979-86 |
| Bill Arnsparger | 1987-92 |
| Jeremy N. Foley | 1992-2016 |
| Scott Stricklin | 2016-present |
The decision to uproot his family and move to Gainesville was a difficult one for personal and professional reasons. As Stricklin navigated the emotions and questions that come with such a life-altering shift, he used his daily jogs and quiet time to reflect.
"It's going to take a while for it to sink in," Stricklin said. "I've gone through a long process of just dealing with that. I spent a lot of time in prayer. I feel I've been led here."
Former SEC Commissioner Mike Slive crossed paths with Stricklin for the first time when he was head of Conference USA from 1995 to 2002. Stricklin joined the league as the sports information director of Tulane's football program.
Much like Barnhart a few years later, Slive immediately recognized Stricklin as someone on the path to major success.
"In the years I worked with Scott, he was always very thoughtful, innovative, and always understood the role of the conference. Someone I really have a lot of respect for," Slive said. "He's got all the tools. He has proven experience as an athletic director. When you take that plus his knowledge of the SEC, that's a very significant hire by Florida."
Stricklin moved to Baylor following his time at Tulane, taking over as assistant athletic director for communications and marketing. While in Waco, Stricklin dealt with one of the most notorious scandals in NCAA history when Baylor basketball player Carlton Datson was convicted of murdering teammate Patrick Dennehy.
The fallout cost Bears coach Dave Bliss his job and the men's basketball program faced numerous NCAA violations.
Stricklin helped lead the school through the storm and earned respect within the industry for the poise he showed during the turmoil. Barnhart, whose staff over the years has included current athletic directors Stricklin, Arizona's Greg Byrne, Oregon's Rob Mullens and Minnesota's Mark Coyle, views Stricklin as one of his closest and most-trusted colleagues.
They often met at Barnhart's home to discuss important issues within Kentucky's athletic program.
"He is very adept at maneuvering through some really tough stuff. I needed somebody by my side who could give me that assistance at Kentucky, and it was quickly apparent that Scott was capable of really, really, great things," Barnhart said.
"We were going through a really difficult time on a decision to retain a coach or to make a change. His perspective and his counsel was probably some of the best counsel I have ever received. He is a quick study."
Slive said Stricklin's abilities run deeper than running a single athletic department. While at Mississippi State, Stricklin was a prominent voice the league office relied in during expansion talks and the formation of the SEC Network.
The personable Stricklin can't help but shake his head sometimes at how his career has evolved since his start in Mississippi State's sports information office when he dropped by to see if he could volunteer on the first day of his freshman year.
"I fit the qualifications in that I had a pulse," he said. "I started stuffing envelopes and carrying boxes, all that stuff. But I was in an SEC athletic department. Mississippi State will always be very special to me. It's my family, it's my school, and I have a lot of great memories there."
The focus now is to make new memories at Florida. The Gators are in the middle of significant facility upgrades that include a $65 million renovation of the O'Connell Center and the unveiling of a $100 million master facility plan proposed to the University Athletic Association Board earlier this month.
Stricklin has some loose ends to tie at Mississippi State over the next month, but when he moves into Foley's old office in a few weeks, he will be ready to guide the Gators into the future.
"They're the standard that everybody measures themselves against," Stricklin said. "When the Gators show up you have to straighten your tie and make sure everything is locked up. They are the benchmark.
"Professionally, that is an incredible challenge. That gets my juices flowing. We've got to figure out how we're going to be a part of continuing that, but there's no standing still. You either go forward or you fall behind, but how do you go forward from here? That kind of gets me fired up."
Stricklin has a favorite quote he has relied on to guide him throughout his career: "Success is the enemy of innovation."
Under Foley's direction, the Gators won 27 national championships and steered clear of NCAA violations that hampered the department prior to his ascension to athletic director. Stricklin understands the expectations are high.
That won't change.
Foley did it his way. Stricklin will do it his. He will strive for similar results.
"I'm not Jeremy," he said. "I think Jeremy and I have a lot of the same thoughts and ideas about how you do this, but I'm not going to be him. I'm not his personality. There are going to be some things over time that are going to be different. I want to be a fresh set of eyes. You have to be innovative and creative regardless of where you are. Nothing stays the same."
Oh, and one other thing for anyone wondering.
As close as Mississippi State is to his heart, his competitive side always peaked when the school he worked at faced the Bulldogs. Those losses stung the most.
"It's like losing to your brother," he said.
---
---