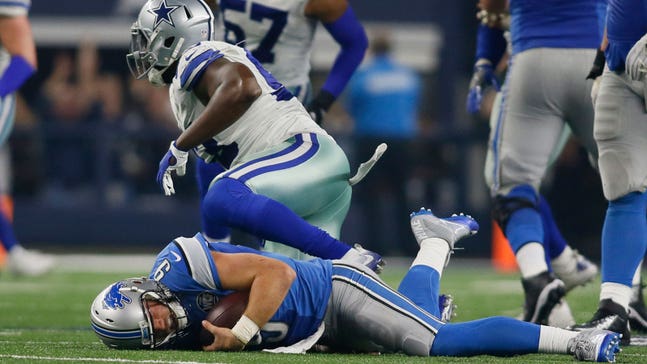 First division title since 1993 still there for Lions
Published
Dec. 27, 2016 10:02 p.m. ET
ALLEN PARK, Mich. (AP) -- Detroit coach Jim Caldwell is looking on the bright side -- the Lions have a chance this weekend to win their first division title since 1993.

Never mind the fact that their NFC North lead has vanished, and if Detroit loses to the surging Green Bay Packers, the Lions could end up out of the postseason entirely.

"I'm glad to be right where we are," Caldwell said Tuesday. "We've had a chance to control our own destiny for a number of weeks and we still do. Even in the last ballgame we still have an opportunity to control our destiny."

That's all true, but forgive Lions fans if they have a sinking feeling heading into Sunday night's regular-season finale against Green Bay.

The Packers have won five in a row to pull even with Detroit atop the NFC North. Whoever wins this weekend takes the division. Whoever loses would be out of the playoffs if Washington beats the New York Giants earlier Sunday.

It's the type of opportunity the Lions would have probably been excited about back at the beginning of the season, but Detroit (9-6) is only in this position because of back-to-back road losses against the Giants and Cowboys.

The Lions had a chance to clinch a playoff berth Monday night, but lost 42-21 to Dallas .

"I can't wait to get back out there and have a chance to win a division," Detroit receiver Golden Tate said after Monday's game.

"It's pro football. We've got to get up for this one back at home. We're still in a great position. Be upset because we're competitors, but it's time to move on."

The Lions will indeed be at home Sunday for probably the biggest game they've ever played at Ford Field. But the Packers have some advantages too. They played Saturday, for one thing, so they'll have had two more days than Detroit to rest and recover.

"We try to find advantages in being disadvantaged," Caldwell said. "So we look at it from a little different way. What's a little too difficult for anybody else is just right for us.

"That's how we look at it. We take the time that we have, we get prepared, we go play. They'll play with all the vigor that you could ever expect at home. It's going to be a great crowd. It's going to be a great atmosphere, nationally televised game, for all the marbles. That's going to be fun."

There will certainly be a lot at stake. If the Giants win Sunday, the Lions and Packers would clinch playoff berths and would simply have the NFC North title left to play for -- but if Washington wins, then Green Bay-Detroit becomes an elimination game for the loser.

(A tie between Green Bay and Detroit would put both the Packers and Lions in the playoffs, but that's an unlikely outcome and would result in Green Bay taking the division, not Detroit.)

Three weekends ago, the Lions beat Chicago to improve to 9-4, and they were still a couple games ahead of Green Bay. At that point, Detroit had won eight of its past nine.

But of those eight victories, only one was by more than seven points, and since then, the Lions have come back to earth. They struggled to score in a 17-6 loss to the Giants, then they had a hard time stopping Dallas.

Green Bay beat Detroit 34-27 earlier this season, and when the teams met in Detroit last year, the Packers prevailed on a game-winning desperation pass.

It would be extra sweet for the Lions to wrap up the division by beating Green Bay head to head.

That possibility -- and not the grim alternative -- is what Caldwell wants to focus on.

"Oftentimes teams don't get that opportunity. They haven't earned that opportunity," Caldwell said. "Our guys have earned it.

"So yeah, I'm excited about where we are. You just don't get in this position very often. It's hard to get here and I'm excited about the opportunity for our guys and I know our guys will be excited about it as well."

NOTES: Caldwell wasn't about to get into any speculation about what a loss this weekend could mean for his job security. "I think it's all about the team. I think it's the team, the team, the team. Period. All right?" Caldwell said. "Coaches don't worry about themselves or anything of that nature. This is a big game for our entire organization. It's huge."
---
---